Time for a quick break from standard stroke play as the PGA TOUR heads down to TPC Louisiana. 2022 Zurich Classic odds have been released and will attempt to navigate this two-man teams event. It has become a bit polarizing, as golf fans either hate the change of pace and choose to skip watching and/or betting it, or they enjoy seeing some of the game's best pair up in a refreshing new format. I fall in the latter camp.
I really like this event, and it's continued to attract some very competitive fields over its short history. The winning duo will each receive $1M, 400 FedEx Cup points, and invites to the upcoming PGA Championship, Sentry Tournament of Champions, and THE PLAYERS Championship. Therefore, it will hold every competitor's full attention. It's also a great opportunity to find an edge in the golf betting market and in DFS with many not knowing exactly how to approach research or handicapping Zurich Classic odds. That is (hopefully) where we step in!
ZURICH CLASSIC ODDS: THE FAVORITES
Scroll to the bottom for complete outright odds and to compare prices across legal U.S. sportsbooks in your state.
THE FIELD AT A GLANCE
There are 160 players in the field this week, which technically makes this the largest field of the PGA TOUR season. With that said, the field will be grouped into 80 teams of two, with the top-33 players and ties advancing through the cut.
This year, we have a star-studded field with five of the top six-players in the OWGR rankings teeing it up. That list is highlighted by Scottie Scheffler who makes his first appearance since his dominant victory at The Masters. He'll be partnered up with fellow Texas-native and 2019 Zurich Classic champion, Ryan Palmer.
The marquee pairings at the top of Zurich Classic odds boards include Viktor Hovland & Collin Morikawa, Patrick Cantlay & Xander Schauffele, Sam Burns & Billy Horschel, and Cameron Smith & Marc Leishman.
The Team Aussie pairing of Smith & Leishman are back again to defend their title after beating the South African duo of Louis Oosthuizen and Charl Schwartzel in a playoff last year. Ryan Palmer, Billy Horschel, and Scott Piercy are past Team Stroke Play winners of this event, who are back in the field with new partners this year. Brian Stuard, Justin Rose, and Bubba Watson also return to TPC Louisiana as past winners of the Zurich Classic when it was an individual stroke-play tournament.
Team Stroke Play Format & Field Overview
Thursday: Four-Ball (Best Ball)
Friday: Foursomes (Alternate Shot)
CUT: Top 33 & Ties Advance
Saturday: Four-Ball (Best Ball)
Sunday: Foursomes (Alternate Shot)
Here is the official explanation from the Zurich Classic website of how the format is broken down:
For Four-Ball play, the players on each team will each play his own ball throughout the entirety of the round, with the best score on each hole recorded. Example: On the first hole, both golfers on each team tee off. Player A pars the hole and Player B birdies it. The team will be credited with a birdie.

For Foursomes play, players will rotate tee shots. One player will hit the tee shots on all the odd-numbered holes, and the other will hit the tee shot on even-numbered holes. Example: Player A and Player B are partners. On the first hole, Player A tees off; Player B plays the second shot; Player A plays the third shot; and so on until the ball is holed. The total strokes taken will result in the team's score for that hole.
Last year, Team Leishman & Smith won with a final score of -20. They shot -18 across their two rounds of Four-Ball and just -2 across their two rounds of Foursomes. With that in mind, it will be especially important to bet teams in the Zurich Classic odds with birdie-making upside, as you'll need to create separation on Thursday and Saturday to stay in contention.
INTRODUCTION TO TPC LOUISIANA
TPC Louisiana is a 7,400 yard Par-72 Pete Dye-designed course which rests in Avondale, Louisiana. If TPC courses share an identity of fan-friendly, templated scoring holes, and Pete Dye Courses share a tendency for positional angles off-the-tee and around-the-green emphasis, this course definitely leans more towards the former. There are persistent bunkers and some fun, random hazards like trees in the center of the fairway that have Dye's hands all over them, but there are plenty of scoring opportunities on this course as well.
Over the years, we've seen plenty of players both individually and in team play find success here despite not being strong off-the-tee, so I would view this as a glorified second-shot course which emphasizes strong approach play to avoid greenside water and bunkers.
In terms of its history, the Zurich Classic had been a standard Individual Stroke Play event from 1938 through 2016. Brian Stuard won the 2016 Zurich Classic, and if Brian Stuard wins an event, it needs to be gutted and reinvented completely to protect the TOUR's integrity. Stuard has still not won another TOUR event since.
Traits And Recent Notable Facts
At 7,400 yards, TPC Louisiana is top-10 in terms of total distance on TOUR, and features four Par-4s over 470 yards. The Par-3s are also amongst the most difficult we see on TOUR, each sitting over 200 yards with water hazards threatening. In the alternate shot format, we've seen teams strategically structure their order to give stronger long-iron players the par-3s, as three out of four par-3s fall on odd-numbered holes.
The rough at TPC Louisiana is not very penal, so players can get away with slight misses off the tee. The course plays below sea level in one of the wetter climates of the country, which should naturally set up softer conditions, favoring players who are longer off-the-tee and precise with their irons. The greens at TPC Louisiana are Bermuda with Poa overseed, similar to what we've seen most recently at the Valspar and WGC Dell Match Play.
TPC LOUISIANA COURSE SPECS
Yards: 7,400
Par: 72 (4x 3's / 10x 4's / 4x 5's)
Greens: Bermuda (overseeded with Poa)
Course Architect: Pete Dye
Comp Courses: TPC Twin Cities, TPC River Highlands, TPC Sawgrass, Austin CC, TPC Scottsdale
Past Winners: Leishman & Cam Smith ('21), Rahm & Palmer ('19), Horschel & Piercy ('18), Blixt & Cam Smith ('17)
Hole-by-hole Breakdown:
EVENT HISTORY AND COURSE COMPS
Over the first four years this event has been contested as a team event, there are 11 individuals with multiple T10 finishes: Cameron Smith, Billy Horschel, Ryan Palmer, Bubba Watson, Charley Hoffman, Nick Watney, Tommy Fleetwood, Charl Schwartzel, Seamus Power, Martin Laird, and Jason Dufner.
Billy Horschel & Cam Smith
Billy Horschel and Cameron Smith are your two co-course horses here and if they ever were to decide to join forces in the future, we'd probably have to bet in markets without them. Smith has won in two of the first four Zurich Classic team events – first with Jonas Blixt in 2017, then again with Marc Leishman last year.
Horschel was a winner of this event in 2018 with Scott Piercy and also won individually at the 2013 Zurich Classic. Horschel finished T4 with current partner, Sam Burns in 2021, just two strokes shy of the leaders.
Up until 2016, Justin Rose was #1 SG: TOT at this track, so the Rose & Stenson pairing may also be worth some consideration at longer odds as well.
Course Comps
This is definitely a subjective week to use the good old fashioned eye test over any hyper-analyzed stat modeling, but if we want to reference some recent courses that reward a similar style of play, I like TPC Twin Cities, TPC River Highlands, TPC Sawgrass, Austin CC, and TPC Scottsdale as a collection of TPC and/or Pete Dye Courses which favor plus-distance and reward the best iron players that given week.
The 2021 3M Open leaderboard jumped out to me especially, as Cameron Champ, Louis Oosthuizen, Charl Schwartzel, Keith Mitchell, Brandt Snedeker, and Pat Perez each finished top-20 at both. Mito Pereira makes his Zurich Classic debut this week and finished T6 at the 2021 3M Open, I'm just saying.
KEY STATS TO CONSIDER
Recent Form (SG: TOT, SG: T2G)
Birdies or Better Gained
SG: T2G (>7,400 Yard Courses)
P4: 450-500
SG: P – Bermuda
Comp Course History
This is definitely a week I'll be ditching the advanced metrics and taking a subjective route instead. I'm mainly focused on which teams are comprised of the players with the best total form (SG: TOT L36), while also interested in the players who are aggressive enough to generate the most birdie opportunities (Birdies or Better Gained), as this will help teams create separation on the Four Ball days.
The top-10 teams in terms of average SG: TOT rankings are Schauffele & Cantlay, Horschel & Burns, Smith & Leishman, Morikawa & Hovland, Lowry & Poulter, Garcia & Fleetwood, Niemann & Pereira, Homa & Gooch, Zalatoris & Riley, and Todd & Kirk.
The top-10 teams in terms of Birdies or Better Gained are Schauffele & Cantlay, Horschel & Burns, Smith & Leishman, Zalatoris & Riley, Watson & Varner III, Morikawa & Hovland, Theegala & Hossler, Smith & Leishman, Hadwin & Svensson, Scheffler & Palmer, and Rai & Lipsky.
With this being a team format, there is merit to the thought that you are only as strong as your weakest link, as you cannot excel in alternate shot on Friday and Sunday single handedly. With that in mind, the top-10 players who represent the second-best combination of SG: TOT + Birdie or Better Gained on their teams are Sam Burns, Xander Schauffele, Sahith Theegala, Davis Riley, Marc Leishman, Collin Morikawa, David Lipsky, Bubba Watson, Greyson Sigg, and Ian Poulter.
While I won't be running a model this week, there is still historical Strokes Gained data available at TPC Louisiana from its individual stroke play days. Based on the correlation charts below, below we can see Bogeys Avoided and SG: OTT are less important on this track than Tour average. On the other hand, SG: Ball Striking, SG: APP, and SG: Par 5 see the biggest boost in importance at TPC Louisiana.
TEAM SPOTLIGHT: ADAM HADWIN & ADAM SVENSSON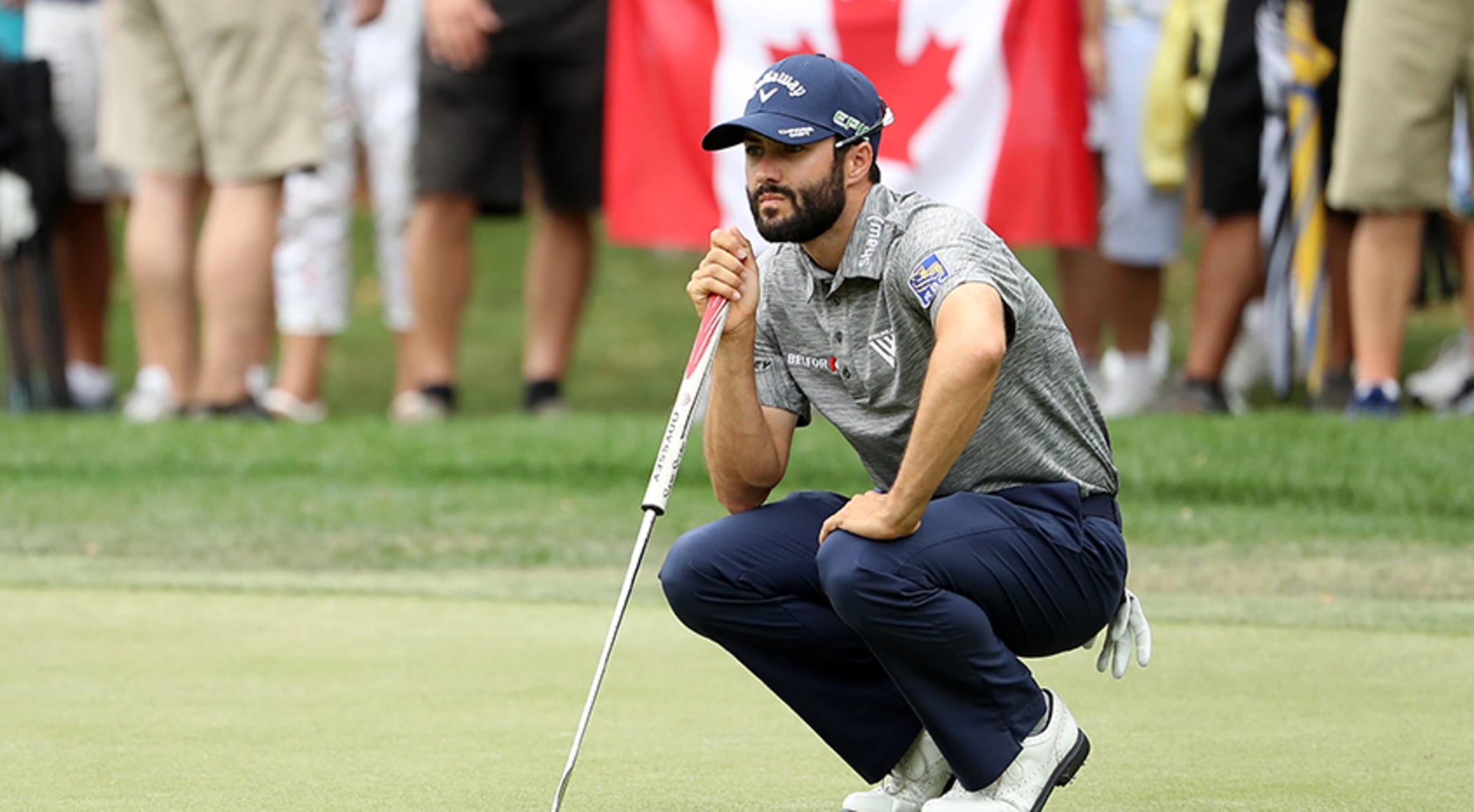 The Canadian "Adams Family" seems poised to make a run in this format, as both are percolating entering the 2022 Zurich Classic.
I've started to make a routine of betting Adam Svensson as first round leader over the last couple months, as he's a volatile birdie-maker who seems to negate his birdies with as many bogeys over the course of four rounds. That makes Four Ball the perfect format to showcase his game in, as the blowup holes won't kill Team Canada if Hadwin can continue on with his steady, mistake free game. As a team, Hadwin (29th) and Svensson (31st) rate out as 8th overall in this field in terms of average Birdies or Better Gained over the last 36 rounds.
Looking at recent results, Hadwin continues to stay in hot form with three T10s over his last four starts, and a solid T26 in his latest appearance at the RBC Heritage. Despite the volatile scoring, Svensson's also pieced together some solid performances in his rookie season with T10s at the Sony Open and Honda Classic. He also matched Hadwin with a T26 at the RBC Heritage, proving the duo is already perfectly in sync.
When combining recent form with birdie-making ability, Svensson & Hadwin rated out as the 15th overall team in this field, which should present upside value when pricing and odds are released on Monday.
WHAT TO WATCH FOR AT THE 2022 ZURICH CLASSIC
I'm not going to attempt to bucket these team pairings into projected pricing tiers this week, so in lieu of any short-listed player pools, I've pulled together the below ranker chart to evaluate each team based on average trending form and birdie making ability entering this event. When odds are released,
I'll compare against these rankings to identify where the greatest value lies. At a glance, I would anticipate Zalatoris & Riley, Theegala & Hossler, Straka & Sigg, and Stuard & Knox as being potential values on the betting board.

I won't be running a model this week, with standard Stroke Play metrics not really translatable to the Team Stoke play rules.
With Zurich Classic odds open, I'm eyeing Hadwin & Svensson, Niemann & Pereira, Horschel & Burns, and Stuard & Knox. It's a good week to take a step back from the stat modeling and just enjoy a fun change of pace format, hoping for the best that we can get a Sunday sweat to look forward to.
I'll be back Wednesday with my official betting card. Best of luck navigating 2022 Zurich Classic odds!
Zurich Classic Odds