Queue the walk-up music, the 2022 Zurich Classic is just about upon us! I don't know what it is about this tournament, and I may be in the minority, but I'm actually really excited to watch these next four days of action with some appealing combos in the mix. I lot of weeks feel like a hope and a prayer when constructing a betting card, but for whatever reason, I've got an aura of confidence behind my Zurich Classic bets this week. Probably a kiss of death, but we'll see!
Sometimes it's nice to remove yourself from the minutiae of strokes gained modeling and course fit research and simply play the guys who pass the eye test. "I could see those guys doing well here" is ultimately the extent of my decision making process for this week, but who am I to go against my gut?
Click on the odds below if you'd like to add my 2022 Zurich Classic bets as well.
MY BETTING CARD: HOW I BUILT MY ZURICH CLASSIC BETS
Although it's a different, somewhat gimmicky event with a short 80-team field, there was still enough value across sportsbooks to fill out a full card of outrights, FRLs, and props. Generally speaking, I really just looked to target volatile, high upside pairings who can get aggressive in attacking pins, and possess the upside to post 20-under par over four days of Best Ball and Alternating Shot formats. A simple formula of average SG: TOT + Birdie or Better Gained was the extent of handicapping I rolled out for my player pool this week.
In terms of unit allocation, I'm back to my usual structure for outrights (3U in to pay 24U each), props (3U in to pay out 3U+ each) and FRL (0.5U in to pay out 10U+).
It's been a busy couple weeks so I unfortunately won't be around for The Lines Discord again tonight, but will definitely be back the following week for The Mexico Open, which should be a fun chat for a brand new event.
Free Pick'Em Contests! Compete for prizes every day by entering our free betting games. NFL, MLB, golf and more!
ZURICH CLASSIC BETS: OUTRIGHTS (3 UNITS)
Billy Horschel & Sam Burns
My Bet: +1500 (Bet365)
I am going right back to the well betting Team Horschel & Burns for the second year in a row at this tournament. This pairing felt like a headscratcher the first time around, with Billy Horschel being a lunatic and Sam Burns being a very normal guy. But for whatever reason, they seem to really like each other's company and will be pairing up as a team for the third time after also teaming up at the 2021 QBE Shootout. Between Horschel's stellar course history, and Burns' LSU ties and perfect course fit on a long Bermuda track, this pairing rates out as my number one overall group, and is the clear cut best value at the top of the board in my opinion.
Joaquin Niemann & Mito Pereira
My Bet: +2900 (FanDuel)
I was obviously going to bet Team Chile regardless of the price this week. Joaquin Niemann has kept me in the green over the last couple months since his win at the Genesis and Mito Pereira will of course always find himself on my card one way or another. They have a great chemistry as childhood buddies, and combine as one of the elite pairings in this event from a recent form standpoint.
Adam Hadwin & Adan Svensson
My Bet: +6500 (DraftKings)
I would have considered the spotlight Adams Family group at half this price, so this was easily the first bet I started my card with when odds opened on Monday. In this format, I'm very drawn to a pairing that has one aggressive birdie-maker (Svensson) and another solid all-around player (Hadwin), and that is this group personified. Their games compliment each other well and should position themselves to score in both the Best Ball and Alternating Shot formats.
Beau Hossler & Sahith Theegala
My Bet: +13000 (DraftKings)
This is definitely a tournament that pays to have some longshot bomb exposure, and the combination of Hossler and Theegala offers birdie-making upside that few others in the 100-1 and up odds range possess. Hossler is capable of regularly draining 20-footers for birdie and Theegala is one of my favorite FRL candidates on a week to week basis for his birdie making ability and aggressive style of play, which should translate well to Best Ball.
Tom Hoge & Paul Barjon
My Bet: +20000 (FanDuel)
My card was complete, and then I saw Tom Hoge, who ranks 5th in SG: TOT, all the way down here at 200-1. Paul Barjon is not a top-10 player in this field, but he's no slouch either with a T10 under his belt recently at The AmEx, another Bermuda Pete Dye course which favors longer hitters. A longer course like TPC Louisiana will suit Barjon's strengths, and should actually complement Hoge's shortcomings off the tee well.
FIRST-ROUND LEADER (0.5 UNITS)
It was a very straightforward approach to selecting First Round Leaders this week. With Thursday kicking off in Four Ball (Best Ball) format, I simply referenced the below chart of top duos in Birdies or Better Gained over the last 36 rounds, and bet any pairings in the top-15 with 80-1 or longer odds. This theoretically should present the best value and upside to go low and string together a high clip of birdies. In this case, there were four groups that fit the mold – their odds are below!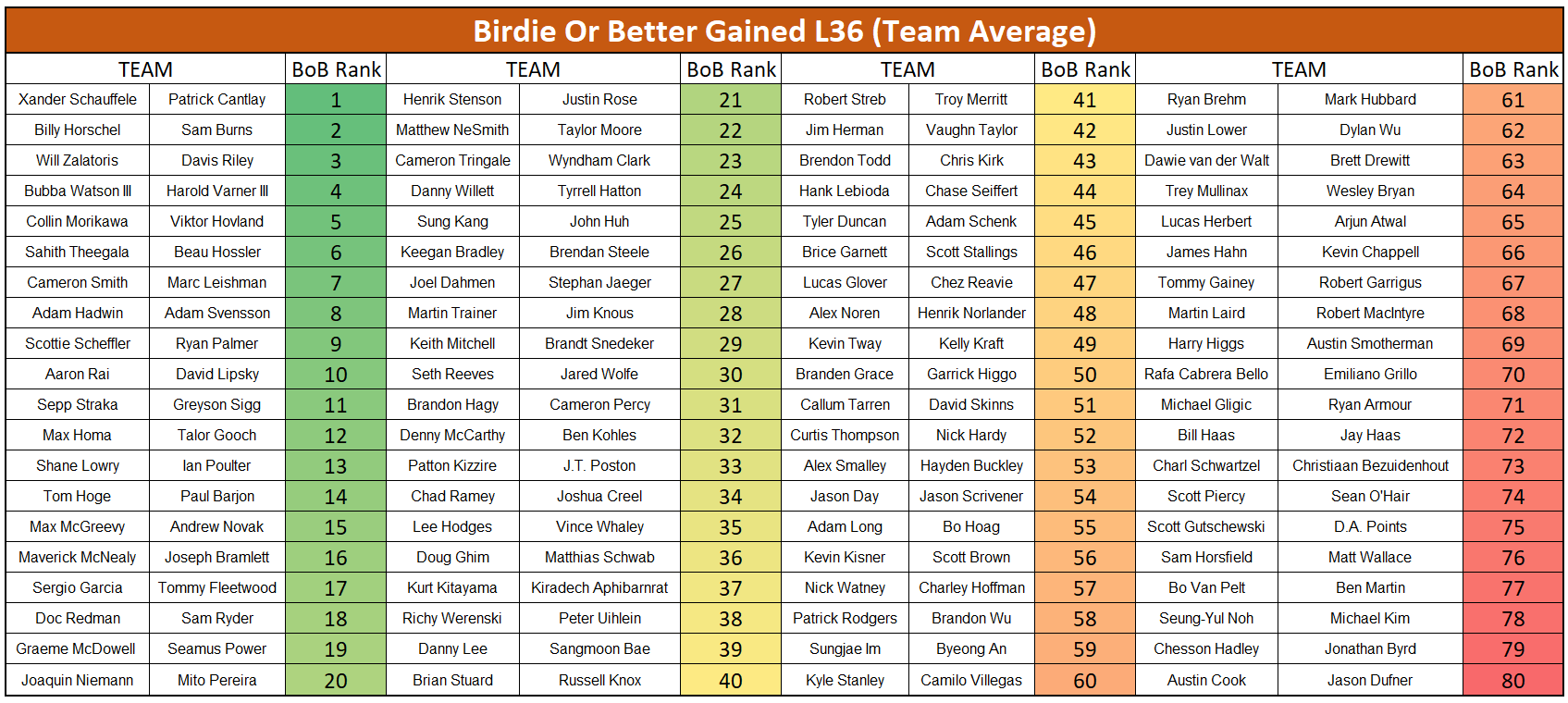 PROPS (3 UNITS)
Top-10 Finish: Scottie Scheffler & Ryan Palmer +110 (DraftKings)
It's a little too random of a format for me to call this a full blown lock, but it is my conviction bet of the week. Ryan Palmer is not a top-10 caliber player in this field, but he never has been in his last four appearances at the Zurich Classic since converting to the team play format. He's still finished inside the top-10 on three out of four occasions. This year, he's paired with the hottest player on planet Earth in Scottie Scheffler, making his first appearance since dominating Augusta National. I don't think that this pairing will win, but I would be shocked if they don't find themselves inside the top-10 come Sunday.
Top-20 Finish: Adam Hadwin & Adam Svensson +160 (DraftKings)
As it turns out I am much higher on this Canadian pairing than the public and oddsmakers at large, as I would have had these odds at even or shorter to finish top-20. Adam Hadwin is one of the hottest players in this field right now, ranking 6th SG: TOT over the last two months, and the addition of Svensson into his group should heighten the ceiling for birdie opportunities in Four Ball.
Top-10 Finish: Beau Hossler & Sahith Theegala +700 (DraftKings)
I see plenty of upside in this group with a pair of volatile scorers who can pour in a string of birdies. It's going to be boom or bust with these two, so I'm skipping past the top-20 odds and doubling down on the outright bet with a T10 placement at 7-1 odds.
ONE AND DONE
My Pick: Billy Horschel
Ryan Palmer is your free square this week, if you want him. It's a cheap way to get your exposure to Scottie Scheffler in OAD, on a player in Palmer who has held his own year over year at this event, even if with the help of a top-10 player in the world each time.
That said, I don't think the Palmer & Scheffler group is going to win this week, and the purse drops off precipitously after the winning group, so if Palmer is the consensus play, I'm happy to pivot to Billy Horschel who has even better course history, and in my opinion, the best chance to win this tournament.
Since the purse is not huge here (winning individuals take home $1M each), and given the volatile format, it's not the spot you want to "waste" one of your elite players. With Horschel, his best fits are behind him on this year's schedule, so if you still have him available, I think he's a great play this week.
If not Horschel, and you're not interested in Palmer chalk, I also like Marc Leishman, Ian Poulter, and Davis Riley as OAD considerations.
ZURICH CLASSIC BETS
That'll do it for the Zurich Classic bets. Best of luck this week, see you at the Mexico Open!