To celebrate the NBA 75th anniversary and the start of the 2021-22 season, special WynnBET NBA prop bets are live on the app, pitting current stars against legends of the past.
Bettors in Arizona, Colorado, Indiana, and New Jersey can take these wagers at any point prior to the regular season tipping off Tuesday. Markets include Kevin Durant versus Michael Jordan's career scoring average, Steph Curry to match Larry Bird's seven three-pointer game, and whether James Harden will beat Magic Johnson's combined points and assists average from his 1986-87 MVP campaign.
Click on the odds to bet on any of these fun props to tip off the season.
If you don't have a WynnBet account, you can cash in on two great promos to lock in some of these WynnBet NBA 75th anniversary props. New users can get either a $1,000 risk-free bet for their first wager after signing up, or new users can bet $1 to win $100 in free bets. Details can be found under the Promotions tab on the WynnBet app. CLAIM NOW
WynnBET NBA 75th Anniversary Legends vs. Stars Props
Michael Jordan's Career PPG (30.1) vs. Kevin Durant's PPG in 2021-22
Durant is averaging 27 PPG in the regular season throughout his career and was right on that number (26.9 PPG) in his first season with the Nets last year. The potential absence of Kyrie Irving could boost his usage rate this year.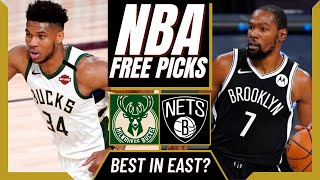 Will Russell Westbrook + LeBron James + Anthony Davis Score 100 Combined Points on Oct. 19 vs. Wilt Chamberlain's 100-point game in 1962?
An NBA 75th anniversary bet with juicy odds for you. This is a considerable longshot given the pace of play for the Lakers and their underrated depth. They do open against a Warriors team that likes to play fast, but even 80 combined points from a star trio is a longshot prediction.
Kobe Bryant's Career PPG (25) vs. LeBron James' PPG in 2021-22
LeBron is averaging 27 PPG for his career and has been around 25 PPG in consecutive seasons. He hasn't fallen below 25 PPG since his rookie campaign. So this is one of the smarter bets to take as the Lakers look to bounce back from a down year.
Larry Bird's Seven Three-Point Field Goals in One Game vs. Stephen Curry To Record More in One Game in 2021-22
Among these WynnBet NBA props, this is an easy market to back Curry considering he tallied at least seven treys in an incredible 25 games last season. He averaged over 5 triples per game and should continue to fire away until Klay Thompson (Achilles) is back to full speed.
Shaquille O'Neal's PPG + RPG in 99-00 (43.3) vs. Giannis Antetokounmpo's PPG + RPG in 2021-22
Giannis posted averages of 29.5 PPG and 13.6 RPG (43.1 total) in the 2019-2020 season to earn a second consecutive MVP award. His averages combined to around 40 last year and in his first MVP season. So it's a bit of an underdog play taking him to top 43.3 combined PPG and RPG.
Hakeem Olajuwon's PPG + RPG in 93-94 (39.2) vs. Joel Embiid's PPG + RPG in 2021-22
Embiid averaged a career-high 28.5 PPG last season with 10.6 RPG and he's grabbed 11.3 RPG throughout his career. With Ben Simmons unlikely to play much of a role this year, Embiid could see a rise in his averages.
Magic Johnson's PPG + APG in 86-87 (36.1) vs. James Harden's PPG + APG in 2021-22
Harden is projected to lead the NBA in APG (10.7) and his scoring prop sits at 24.7 PPG. If Kyrie Irving doesn't play all year, Harden could easily surpass both of those averages.
Dirk Nowitzki's Career-High in Points (53) vs. Luka Doncic to Score a Higher Total in 2021-22
Luka's current career high is 46 points and he topped 42 points in four different games last season. Yet he's still tasked with distributing to his teammates and might become more of a facilitator with legendary PG Jason Kidd taking over as his coach.
Tim Duncan's PPG + RPG in 01-02 (38.2) vs. Nikola Jokic's PPG + RPG in 2021-22
Jokic averaged 26.4 PPG and 10.8 RPG (37.2 total) in his MVP season last year and is only averaging 18.5 PPG and 9.8 RPG in his career. He should post big numbers again this season, but is getting plus odds on this number for a reason.
Bill Russell's Career BPG (8.6) vs. Rudy Gobert's Most Blocks in a Game in 2021-22 (Greater than Russell's average)
Taking Rudy Gobert to block at least 9 shots in a game in today's NBA is foolish. Gobert was exposed by the space-and-pace Clippers during the playoffs last year and that is the trend the NBA is heading towards. So teams won't be challenging him at the rim often enough to get to this number.
Charles Barkley's Third-Year PPG + RPG (37.6) vs. Zion Williamson's Third-Year PPG + RPG (2021-22)
Zion underwent foot surgery this offseason and is playing under his third coach (Willie Green) in three seasons. He averaged 27 PPG and 7.2 RPG last season, and likely won't get to double-digit rebounding numbers this year.
Kareem Abdul-Jabbar's PPG in 75-76 (27.7) vs. Anthony Davis' PPG in 2021-22
Davis is averaging 24.5 PPG in his career with the Lakers and is unlikely to see a higher usage rate this year with his team adding 11 new players, including Russell Westbrook.
Oscar Robertson's PPG + RPG + APG in 61-62 (41) vs. Russell Westbrook's PPG + RPG + APG in 2021-22
Westbrook has 184 career triple doubles and averaged a triple double, while scoring over 22 PPG, in four of his last five campaigns. He's getting great odds to maintain that production on a new team.
Isiah Thomas' 25 Points in a Quarter in 1988 vs. Damian Lillard to Score More Than 25 in any quarter in 2021-22
Lillard has dropped 60-plus points three times since 2019 and he continues to carry the Blazers offense each season. He scored 23 points in the fourth-quarter and overtime during a playoff loss to the Nuggets last June.
Allen Iverson's Sophomore PPG + APG (28) vs. LaMelo Ball's Sophomore PPG + APG (2021-22)
Ball averaged 15.7 PPG and 6.1 APG (21.8 total) to be named Rookie of the Year last season. His numbers should increase, but he likely won't score enough to get over this mark.
Dwyane Wade's PPG + APG in 08-09 (37.7) vs. Bradley Beal's PPG + APG in 2021-22
Beal is the favorite (+340) to lead the NBA in scoring after narrowly losing out on the scoring title to Steph Curry with 31.3 PPG last year. He added 4.4 APG for 35.7 total and could ramp up as a playmaker with Westbrook no longer on the Wizards.
Kevin Garnett's PPG + RPG in 03-04 (38.1) vs. Jayson Tatum's PPG + RPG in 2021-22
Tatum continues his meteoric rise and he could have an MVP-caliber season under new coach Ime Udoka. Last year, Tatum averaged 26.4 PPG and 7.4 RPG (33.8 total) in a down year for the Celtics.
Jerry West's PPG + APG in 69-70 (38.7) vs. Trae Young's PPG + APG in 2021-22
Young averaged 28.8 PPG and 9.5 APG (38.3 total) in the playoffs last year after totaling 33 PPG and APG in the regular season. He's a clutch performer, but likely won't top The Logo's averages.
More Sportsbook Promos To Tip Off NBA Season
If these WynnBet NBA prop are not for you or if the WynnBet NBA sign-up promos do not apply to you since you already have an account, consider these great promos at other sportsbooks in your area.
RANK
OPERATOR
BONUS
INFO
ACTION