For most golf fans, the most anticipated event of the year is likely a major. Not so for me. I prefer the Wyndham Championship. After waiting through the entire 2022 PGA TOUR season, the main event has finally arrived as the PGA TOUR heads to Greensboro, N.C., at Sedgefield Country Club for the final PGA TOUR event before the FedEx Cup Playoffs begin. Let's start our weekly previews with a look at Wyndham Championship odds.
For anyone unfamiliar, I made an infamous guarantee before the 2021 Wyndham Championship that Kevin Kisner would win. It was a controversial take at the time, considering he'd finished at the bottom of the leaderboard at the WGC FedEx St. Jude in the week prior. His effort to sandbag with the purpose of boosting his betting odds in the following week has since become known as "Kisnering."
The Kisner guarantee came to me while on vacation in the Bahamas. In an effort to achieve that same moment of clarity, I've headed up north to the serene landscape of Lake Placid seeking answers for the 2022 Wyndham. Fortunately, one clear player fits the Kisner mold in this year's field. So, we will bet with conviction yet again.
The Wyndham Championship really does lend itself to confident betting. Its high concentration of eight par 4s in the 400-450 yard range, funneled approach shots from the 100-175 yard range, and nuanced, undulated Donald-Ross designed Bermuda greens have produced repeatable results for accurate putting specialists. It's a great week to lean heavily on course and comp course history. And like last week's Rocket Mortgage Classic, it should reward elite putters and wedge players with emphasis especially on Driving Accuracy and Bermuda Putting. We'll run through the key facts and info about Sedgefield CC for the 2022 Wyndham Championship.
WYNDHAM CHAMPIONSHIP ODDS: THE FAVORITES
Scroll to the bottom for complete outright odds to compare prices across legal sports betting in your state.
WYNDHAM CHAMPIONSHIP FIELD AT A GLANCE
With the beginning of the FedEx Cup Playoffs looming next week, most elite players have opted to skip this week and instead rest up before the three-week playoff push which starts in Memphis. Instead, we'll see a high concentrating of mid- to low-tier players who will either be jockeying for position or simply vying for a place within the top 125.
The Wyndham Championship lacks a headliner without any OWGR top-10 players present, but Will Zalatoris, Billy Horschel, Sungjae Im and Shane Lowry represent a solid contingent of top-25 OWGR players. Other notables in the field include Tyrrell Hatton, Webb Simpson, Corey Conners, Kevin Kisner, Russell Henley and Harold Varner III.
Past winners of the Wyndham Championship back to tee it up this week include Kisner, Jim Herman, JT Poston, Si Woo Kim, Davis Love III, Camilo Villegas, Simpson and Ryan Moore.
INTRODUCTION TO SEDGEFIELD COUNTRY CLUB
Standing at 7,131 yards, Sedgefield CC represents your prototypical short, positional course on the PGA TOUR. It rewards precision off the tee over distance and calls for a repeated dosage of wedges and mid-iron approaches. The top-10 players in SG: TOT at Sedgefield CC are Webb Simpson, Kevin Kisner, Kevin Na, Patrick Reed, Billy Horschel, Henrik Stenson, Jim Herman, Si Woo Kim, Sungjae Im and Denny McCarthy. That paints an explicitly clear picture that driving distance matters not at this course. Elite putting skills separate players from the field.
How It Breaks Down
As a par 70, Sedgefield CC features a standard mix of two par 5s, four par 3s, and 12 par 4s. The 7,131 yardage falls just below TOUR average from a per-hole standpoint. What makes Sedgefield CC so unique, and so repeatable for top course horses, is its concentration of short par 4s. Eight par-4s measure between 400-450 yards. That in turn has produced an average of nearly 30% of approach shots from 150-175 yards, well above the TOUR average.
The top 10 in Par-4: 400-450 are Adam Svensson, JT Poston, Tyrrell Hatton, Brendon Todd, Im, Will Zalatoris, Andrew Putnam, Ryan Armour, Aaron Baddeley and Joohyung Kim. From the funneled range of 100-175 yards, the top 10 in Proximity to the hole are Scott Stallings, Mark Hubbard, Justin Rose, Russell Henley, Chase Seiffert, Adam Long, Ben Kohles, Sam Ryder, Zalatoris and Ryan Moore.
Beyond the par 4s, the course features two very reachable par 5s and two short par 3s under 175 yards. Contenders have historically capitalized and scored in what has typically been known as a birdie-fest most years.
Just six holes at Sedgefield CC have a scoring average above par. That includes the two 500+ yard par 4s and two 225+ yard par 3s. The 507 yard par-4 18th is the most difficult hole on the course. It has produced some very exciting finishes on Sundays, most recently including the six-man playoff in 2021.
Traits And Recent Notable Facts
A similar story to what we just saw at last week's Rocket Mortgage Championship, Sedgefield CC provides an easy layout that should produce a winning score near -20 and reward the player who catches the hottest putter. Compared to other PGA TOUR courses, Sedgefield CC has ranked as the easiest course for SG: APP every year since 2015. Elite iron players should unload on these pins for birdie opportunities. But average iron players can still manage spike approach weeks.
With angular, more narrow fairways than TOUR average and tricky Bermuda rough, there is a large emphasis on keeping the ball in the fairway. That has drastically mitigated any advantage from longer hitters, with forced layups throughout. Sedgefield CC has routinely ranked top 10 in scoring difficulty from outside the fairway. Plodders who can remain in control of their ball off the tee should have a leg up on the field.
SEDGEFIELD COUNTRY CLUB COURSE SPECS
Yards: 7,131
Par: 70 (4x 3s / 12x 4s / 2x 5s)
Greens: Bermuda
Architect: Donald Ross (Renovation by Kris Spence in 2007)
Historic Cut Line: -2
Median Four-Round Score: -8 ('21), -8 ('20), -10 ('19), -10 ('18), -8 ('17),
Comp Courses: Waialae CC, Colonial CC, Detroit GC, Harbour Town, East Lake, Sea Island Resort, TPC River Highlands
Past Winners: Kevin Kisner -15 ('21), Jim Herman -21 ('20), JT Poston -22 ('19), Brandt Snedeker -21 ('18), Henrik Stenson -22 ('17)
Hole-by-hole Breakdown:
COURSE HISTORY AND COURSE COMPS
Similar to Donald Ross' Detroit Golf Club, I'm viewing long-term putting — especially on Bermuda greens — as a prerequisite skillset for success at this event. I will not chalk this up as a week where any given player can catch a streaky putter and win. Combine that putting emphasis with a concentration of wedge shots and premium on driving accuracy, and we start to see a very repeatable list of names in contention year over year.
Course history has proven highly predictive of future success at this event. Course stalwarts like Webb Simpson, Si Woo Kim, Patrick Reed, Billy Horschel and Kevin Kisner have each done well regardless of preceding form. That group alone has accounted for 22 top-10 finishes and four wins over the last eight years.
Of that group, Simpson stands out as the king of Sedgefield CC. He's finished inside the top 10 in 10 out of 13 career appearances, including a current stretch of five consecutive finishes of T7 or better. It is one of, if not the, most dominant displays of course history by any individual on the PGA TOUR.
Fifteen players have avoided missing the cut here over the last five years with a minimum of three appearances: Simpson, Horschel, Denny McCarthy, Sungjae Im, Kisner, Harold Varner III, Harris English, Roger Sloan, Richy Werenski, Mark Hubbard, CT Pan, Scott Piercy, Andrew Landry, Russell Knox and Mackenzie Hughes.
Only nine players have recorded multiple top-10 finishes over the last five years: Simpson, Horschel, Kisner, Ryan Armour, Rory Sabbatini, Im, Russell Henley and Nick Taylor.
Course Comps
I always weight comp course history highly in my weekly models, but the correlation on comp short, easy, Bermuda tracks is as strong here as any other course on the PGA TOUR. So, I'll put a significant premium on comp course history this week in an effort to overlook results on driver-heavy or difficult scoring venues.
We have many options for comps to Sedgefield CC but Harbour Town, Waialae CC, Sea Island Resort stand out as the three best. All fit the sub-7,200 yardage, Bermuda greens, easy scoring conditions, emphasis on driving accuracy and overlapping success from players like Webb Simpson, Russell Henley and Kevin Kisner.
In addition to these, I also like TPC River Highlands, Innisbrook Resort and Colonial CC as angular, positional courses which emphasize accuracy and precision with short and mid irons. Detroit Golf Club and East Lake each share the same Donald Ross connection and are also worth a closer look, particularly for reference putting on similarly designed greens.
Combine performance across this list and the top-10 players in Comp Course History here are Henley, Kisner, Corey Conners, Tyrrell Hatton, Brian Harman, Simpson, Brendon Todd, Horschel, Shane Lowry and Justin Rose.
KEY STATS TO CONSIDER
SG: APP
Fairways Gained
Prox 100-175
SG: Putting (L36) / SG: P (Bermuda) / 3-Putt Avoidance
Birdies or Better Gained
Par-4 Scoring: 400-450 Yards
SG: Ball Striking (<7,200 Yard Courses)
Course & Comp Course History
Although Sedgefield CC has proven the easiest course on the PGA TOUR to gain strokes on approach, it's still very much a point-and-shoot golf course. The best iron players in the field have typically contended. The top-10 players in SG: APP entering this week are Will Zalatoris, Russell Henley, Shane Lowry, Aaron Wise, Harold Varner III, Mark Hubbard, Luke Donald, Corey Conners, Lee Hodges and Scott Stallings.
While SG: OTT has proven relatively inconsequential at this event, strength in Fairways Gained goes a long way in positioning contenders to generate scoring opportunities. The top 10 in driving accuracy entering this week are Chez Reavie, Ryan Armour, Brendon Todd, Martin Laird, Satoshi Kodaira, Joohyung Kim, Brian Stuard, Jim Herman, Ryan Moore and Andrew Putnam.
The recipe for success at Sedgefield CC simply boils down to hitting a high clip of fairways and greens in regulation, and then making putts. Total SG: P, SG: P (Bermuda) and 3-Putt Avoidance have all been highly predictive. The top-10 putters weighted across those key categories are Brian Gay, Tyrrell Hatton, Chesson Hadley, Kelly Kraft, Vincent Whaley, Christiaan Bezuidenhout, Justin Rose, Adam Long, Denny McCarthy and Lowry.
Looking across these three key categories of Driving Accuracy, SG: APP and Weighted Putting, just 12 players rank above average in each: Lowry, Russell Henley, Justin Rose, Billy Horschel, Sungjae Im, Adam Long, Hubbard, Webb Simpson, JT Poston, Bezuidenhout, Hank Lebioda and Doc Redman. Honing in on the key categories of SG: APP, Comp Course History, Fairways Gained, Prox 100-175, and SG: P (Bermuda), five players rate above average: Lowry, Henley, Rose, Armour and Bezuidenhout.
Correlations
Looking at the correlation charts this week, there is a clear emphasis on approach play and putting when compared to the TOUR average. SG: APP, Total Proximity, SG: Short Game and SG: P each make significant jumps inside the top 10 of importance at Sedgefield CC. Further, the next stat just outside the top 10 at Sedgefield CC is 3-Putt Avoidance, a testament to the severely undulated and sloping Donald Ross greens. On the other hand, Par-3 Scoring, Par-5 Scoring and Par-4: 450-500 take the largest steps back in terms of importance.
Only 11 players in the field rank above average in each of the above 10 key stat categories: Shane Lowry, Corey Conners, Scott Stallings, Sungjae Im, Tyrrell Hatton, Brian Harman, Mark Hubbard, CT Pan, Sebastian Munoz, Christiaan Bezuidenhout and Davis Riley.
PLAYER SPOTLIGHT: DENNY MCCARTHY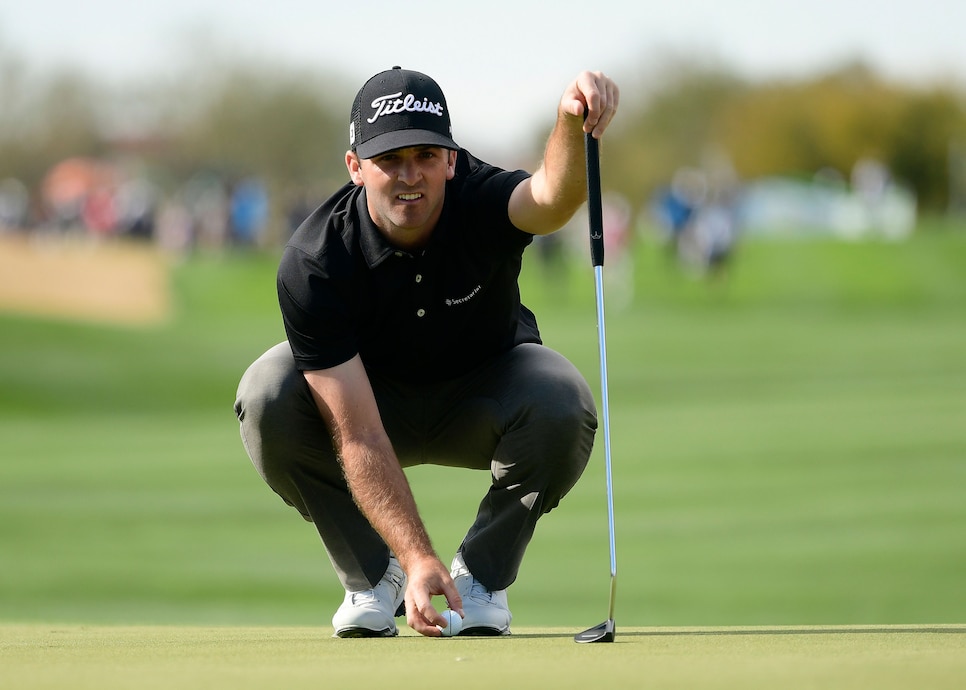 It is unfair for any player to have to fill Kevin Kisner's shoes as the next Wyndham Championship spotlight player. While I had a fun bit guaranteeing Kisner would win the 2021 Wyndham and then watching as every domino fell into place, you can't force a conviction play for the sake of following up a conviction play.
But.
We do have a candidate who is as up-to-par for the task as Kisner. So, I can earnestly give my take that Denny McCarthy will win. I've had my eye on McCarthy in this spot for about two months now. This pick was contingent on one final piece to make it official: a missed cut in his prior start.
The unique layout of holes which funnel a high volume of short wedge shots make immediate preceding form not predictive for the Wyndham Championship. Kisner lost a total of 16 total strokes in his two starts prior to his 2021 win. Jim Herman lost 13 strokes over his prior three starts. JT Poston also entered off a missed cut prior to his 2019 win. So McCarthy fits the trend of having a short week and key areas of focus prior to the Wyndham Championship.
The next prerequisite for a Wyndham Championship contender is prior course history. The formula of accuracy off the tee, precise wedges and skilled putting on nuanced Donald Ross Bermuda greens has proven repeatable year over year. Like Kisner, McCarthy has an unblemished resume at Sedgefield CC, a perfect 4-for-4 in made cuts. He has finished no worse than T36 with top-15 finishes in each of his last two trips. In all four prior appearances, McCarthy has gained on the field in Driving Accuracy, Approach and Putting, the most consequential areas needed at Sedgefield.
Hot 2022 For McCarthy
Looking ahead to 2022, McCarthy's form leading in looks better now than it's ever been. He is in the midst of a career 2022 campaign that includes three top-five finishes over his last five starts. At any Donald Ross course, I'm going to put an added emphasis on long-term putting prowess. The nuanced complexes at Sedgefield will expose the below-average putters in the field. Putting is the strength of McCarthy's game. He has not lost strokes putting since the Sony Open in January.
In addition to his dominance on the greens (No.1 in SG: P and SG: Short Game, No. 8 in SG: P [Bermuda]), McCarthy's all around game has improved as well. He ranks top 30 in PR: 400-450, Birdies or Better Gained, Fairways Gained and Prox: 150-175.
While less a pure putting contest than the Rocket Mortgage, top-tier putters have risen to the top at this event with more consistency than any other on TOUR. With that in mind, I'm happy to ride with the best statistical putter in 2022 on his preferred surface of Bermuda greens. If one event exists that would make the most sense for Denny McCarthy's first career PGA TOUR win, it's the 2022 Wyndham Championship. I'm betting on it with confidence regardless of where odds open on Monday.
WHAT TO WATCH FOR AT THE 2022 WYNDHAM CHAMPIONSHIP
We have another Donald Ross putting contest wedge-fest in store this week to follow up the Rocket Mortgage. Unlike last week however, this course features a premium on hitting fairways that will mitigate any advantage from bombers and bring the expected winning score down to a more modest range in the high teens under. The Wyndham Championship also brings forth added drama for fringe players looking to punch their tickets into the FedEx Cup Playoffs and guarantee their PGA TOUR cards for the following season. With at least a dozen LIV defectors currently inside the top 125, it does make this final week a little less climactic. Players who fall outside of that mark will still get in as backfills for the banned players.
With all the course-fit profiles in mind, I'm leaning early towards the below player pool. Naturally, I'm looking their way in the 2022 Wyndham Championship odds as well. I've broken the list down by projected pricing/odds tier for DraftKings.
In my model, I'm emphasizing SG: APP, Comp Course History, Par-4 400-450, Birdies or Better Gained and Weighted Putting (L36, Bermuda, and 3-Putt Avoidance), followed by a more balanced mix of SG: Ball Striking (<7,200 Yard Courses), Fairways Gained and Prox 100-175.
Model Favorites
Shane Lowry takes No. 1 overall honors for this week's model. He ranks above average across all key metrics and sits top 10 in the priority stat categories of SG: APP, Comp Course History, SG: Ball Striking (<7,200 Yard Courses). There was not a significant gap between Lowry and the next closest player in the model, but a T23 and T7 over his last three appearances at the Wyndham Championship make him an interesting consideration at the top of the board.
After Lowry, the rest of my model's top 10 features Russell Henley, Adam Svensson, Corey Conners, Justin Rose, Scott Stallings, Adam Scott, Billy Horschel, Sungjae Im and Kevin Streelman.
When odds open on Monday, I'll center my card around presumptive 2022 Wyndham Championship winner Denny McCarthy but will also leave room on the card for players like Lowry, Henley and Svensson if odds are appealing. Check back in later this week for more updates, and best of luck navigating the 2022 Wyndham Championship odds!
Follow TheLines
2022 WYNDHAM CHAMPIONSHIP ODDS BOARD
Compare Wyndham Championship odds across legal U.S. sports betting apps in your state when sportsbooks open markets on Monday.