We have reached the second month of baseball season and, despite the fact that the vast majority of the 162-game season remains to be played, World Series futures are already on the move at sportsbooks.
The oddsmakers have made big changes in potential payouts for some teams. We'll take a look at which odds have likely moved due to on-field performance and which odds have likely moved due to increased handle percentage, comparing opening day handle percentage at DraftKings Sportsbook to now.
First, let's take a look at the biggest shifts in World Series futures in terms of potential payout.
Further below, two tables will show how odds have shifted both in terms of potential payout and implied probability. For example, +1000 odds equal an implied probability of 9.1%. The data in the May 4 column come from the best available odds across several legal sportsbooks.
You can use our World Series futures page to track live odds and shop for the best price.
Claim Your $1,050 Bonus at DraftKings Sportsbook

Up to $1,050 FREE
New User Bonus. T&Cs Apply.
DraftKings Promo: Bet $5 Win $200
PLUS $50 Free On Deposit

PLUS Up to $1,000 Deposit Bonus

To Claim: Click Play Now
World Series Futures: Four Biggest Movers Up The Board
Kansas City Royals: 110-1 down to
No team has seen their World Series odds shorten more than the Royals in terms of potential payout. According to DraftKings Sportsbook, there's been a slight change in handle percentage since Opening Day, increasing from 0.3% to 0.5% of all money wagered on World Series futures. Through May 3rd, Kansas City has a record of 16-11 to lead the AL Central; however, KC has a run differential of -5. Based on that, their expected win-loss record is 13-14. The Royals are 13th in team OPS and a 4.48 team ERA is good enough for only 22nd in baseball. Royals pitchers have struggled putting runners on base, ranking 5th in walks per nine innings.
San Francisco Giants: 110-1 down to
The percentage of money bet on the Giants to win the World Series has not changed since Opening Day at DraftKings Sportsbook– the handle percentage remains 0.2%. This is a move based on the early success of the Giants. At 17-11, San Francisco holds a half-game lead over the Dodgers in the NL West after May 3rd. Their expected record matches that 17-11 mark as well, supported by a +25 run differential. That's second in the National League, behind only the Dodgers. The Giants have the second-best team ERA in baseball at 3.00, behind only the Padres. A huge part of that has been their starting pitching, where San Francisco's starters lead Major League Baseball with a 2.34 ERA and are second in innings pitched. The starters also lead MLB in ground ball percentage. That has made up for a 20th-ranked bullpen ERA of 4.30.
Boston Red Sox: 45-1 down to
This is also a change in odds based on early team success. According the DraftKings Sportsbook, the World Series futures handle percentage for the Red Sox has not changed from Opening Day, still at 2%. Is Boston back? Maybe. Their 17-12 record after May 3rd is justified by a +20 run differential. The Red Sox have a top-10 bullpen ERA in the early going and 3.98 ERA from starting pitching, ranking 12th in baseball. Their pitching stats are pretty much middle of the road across the board, but the offense has lifted the Sox. Boston is second in baseball in team OPS.
Milwaukee Brewers: 45-1 down to
Many sharp baseball bettors were on the Brewers in Spring Training, with odds before Opening Day that were even longer than +4500. The NL Central was thought to be wide open, but the popular preseason projection systems from FanGraphs and PECOTA were on the Brewers. However, the change in odds at DraftKings Sportsbook does not appear to be based on increased handle. The operator reports the same 1% handle on the Brewers from Opening Day.
So far, the Brew Crew is still making the algorithms look good. They are tied with the Cardinals in the NL Central after May 3rd at 17-12, but a deeper dive does show some concern. Milwaukee has a -2 run differential and an expected win-loss record of 14-15. St. Louis has a +20 run differential. The Brewers' starters rank sixth in baseball with an ERA of 3.17 and a ground ball percentage that trails only the Giants. They are also 7th in strikeouts per nine innings. Milwaukee may need its offense to get going though to maintain this all season, ranking just 25th in team OPS. Add in an 18th-ranked bullpen ERA of 4.27, and there's more cause for concern.
Video: Cardinals Among World Series Values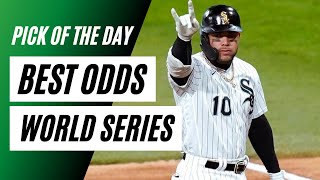 World Series Futures: Biggest Changes in Potential Payouts
| Team | March 29 odds | May 4 odds | Payout Change |
| --- | --- | --- | --- |
| Kansas City Royals | 11000 | 7000 | -4000 |
| San Francisco Giants | 11000 | 8000 | -3000 |
| Boston Red Sox | 4500 | 2000 | -2500 |
| Milwaukee Brewers | 4500 | 2200 | -2300 |
| Los Angeles Angels | 3500 | 2500 | -1000 |
| Houston Astros | 2500 | 2000 | -500 |
| Oakland Athletics | 2500 | 2200 | -300 |
| New York Mets | 1000 | 950 | -50 |
| Los Angeles Dodgers | 350 | 325 | -25 |
| San Diego Padres | 800 | 900 | 100 |
| New York Yankees | 550 | 725 | 175 |
| Minnesota Twins | 1800 | 2200 | 400 |
| Toronto Blue Jays | 2200 | 2600 | 400 |
| Chicago White Sox | 850 | 1300 | 450 |
| Atlanta Braves | 1000 | 1500 | 500 |
| Cleveland Indians | 4000 | 4500 | 500 |
| Tampa Bay Rays | 2500 | 3200 | 700 |
| Cincinnati Reds | 3500 | 4500 | 1000 |
| Philadelphia Phillies | 3500 | 4500 | 1000 |
| St. Louis Cardinals | 2200 | 3500 | 1300 |
| Chicago Cubs | 3500 | 5500 | 2000 |
| Washington Nationals | 3500 | 5500 | 2000 |
| Seattle Mariners | 8000 | 10000 | 2000 |
| Baltimore Orioles | 11000 | 15000 | 4000 |
| Texas Rangers | 15000 | 20000 | 5000 |
| Miami Marlins | 6500 | 12000 | 5500 |
| Arizona Diamondbacks | 13000 | 20000 | 7000 |
| Detroit Tigers | 10000 | 20000 | 10000 |
| Pittsburgh Pirates | 15000 | 25000 | 10000 |
| Colorado Rockies | 15000 | 25000 | 10000 |
World Series Futures: Biggest Changes in Implied Probability
| Team | March 29 Implied Probability | May 4 Implied Probability | Implied Probability Change |
| --- | --- | --- | --- |
| Boston Red Sox | 2.2 | 4.8 | 2.6 |
| Milwaukee Brewers | 2.2 | 4.3 | 2.1 |
| Los Angeles Dodgers | 22.2 | 23.5 | 1.3 |
| Houston Astros | 3.8 | 4.8 | 1.0 |
| Los Angeles Angels | 2.8 | 3.8 | 1.0 |
| Oakland Athletics | 3.8 | 4.3 | 0.5 |
| Kansas City Royals | 0.9 | 1.4 | 0.5 |
| New York Mets | 9.1 | 9.5 | 0.4 |
| San Francisco Giants | 0.9 | 1.2 | 0.3 |
| Cleveland Indians | 2.4 | 2.2 | -0.2 |
| Seattle Mariners | 1.2 | 1 | -0.2 |
| Texas Rangers | 0.7 | 0.5 | -0.2 |
| Baltimore Orioles | 0.9 | 0.7 | -0.2 |
| Pittsburgh Pirates | 0.7 | 0.4 | -0.3 |
| Colorado Rockies | 0.7 | 0.4 | -0.3 |
| Arizona Diamondbacks | 0.8 | 0.5 | -0.3 |
| Detroit Tigers | 1.0 | 0.5 | -0.5 |
| Toronto Blue Jays | 4.3 | 3.7 | -0.6 |
| Cincinnati Reds | 2.8 | 2.2 | -0.6 |
| Philadelphia Phillies | 2.8 | 2.2 | -0.6 |
| Miami Marlins | 1.5 | 0.8 | -0.7 |
| Tampa Bay Rays | 3.8 | 3 | -0.8 |
| Chicago Cubs | 2.8 | 1.8 | -1.0 |
| Washington Nationals | 2.8 | 1.8 | -1.0 |
| Minnesota Twins | 5.3 | 4.3 | -1.0 |
| San Diego Padres | 11.1 | 10 | -1.1 |
| St. Louis Cardinals | 4.3 | 2.8 | -1.5 |
| Atlanta Braves | 9.1 | 6.3 | -2.8 |
| New York Yankees | 15.4 | 12.1 | -3.3 |
| Chicago White Sox | 10.5 | 7.1 | -3.4 |