Just when we thought we'd had enough variety on the schedule. Following a team stroke play event and the debut of the Mexico Open, we move to yet another non-standard event. The 2022 Wells Fargo Championship will happen at TPC Potomac for the first time. As always, our PGA TOUR preview will help you navigate Wells Fargo Championship odds.
TPC Potomac played host to the Quicken Loans National in June 2017 and 2018. With the President's Cup making its way to Quail Hollow Club in September, Wells Fargo has spared them of double hosting duty. The year Quail Hollow hosted the PGA Championship (2017) marked the only other time it didn't host the Wells.
Generally speaking, TPC Potomac starkly contrasts with Quail Hollow. It plays 400 yards shorter and rewards accuracy over pure driving distance. With that said, it's another formidable test that will reward players with strong all-around tee-to-green form and are elite off the tee in particular. Here's a look ahead at everything you can expect from TPC Potomac at Avenel Farms ahead of the 2022 Wells Fargo Championship.
WELLS FARGO CHAMPIONSHIP ODDS: THE FAVORITES
Scroll to the bottom for complete outright odds and to compare prices across legal U.S. sportsbooks in your state. When the full odds hit the boards Monday, you can find the top favorites listed here.
THE FIELD AT A GLANCE
After a loaded Florida Swing schedule leading into the Masters, the PGA TOUR's best seem to be taking it easy now. I would imagine that had the PGA Championship not moved from Trump Bedminster to Southern Hills, we'd see a much stronger turnout for this event. Instead, given the one-year departure from famed Quail Hollow and TPC Craig Ranch looming only 233 miles from Tulsa, next week's AT&T Byron Nelson slots in as a more logical tune-up spot.
With that said, 2021 Wells Fargo Champion Rory McIlroy highlights the field. While he may be the only top-10 player in action, the field boasts solid depth. Fifteen OWGR top-5o players will tee it up. Abraham Ancer, Tyrrell Hatton, Matt Fitzpatrick, Paul Casey, Webb Simpson, Tony Finau, Corey Conners, Marc Leishman and Russell Henley will all play.
Francesco Molinari, winner of the 2018 Quicken Loans National at TPC Potomac will also appear. Former Wells Fargo winners joining him include Max Homa, Jason Day, Brian Harman, James Hahn, Rickie Fowler and Lucas Glover.
INTRODUCTION TPC POTOMAC AT AVENEL FARMS
The President's Cup has relocated this event from its usual place in Charlotte up to Potomac. Last we saw TPC Potomac at the Quicken Loans in 2018, it played 7,107. Several holes appear to have been pushed back slightly with the new official yardage posted at 7,160.
Don't let that yardage fool you. Nearly 50% of approaches this week will come from over 175 yards. Players must be precise with both their drivers and long irons to find success here. It's a bit surprising that TPC Potomac hasn't attracted a stronger field of major contenders. This course simulates some of the difficult scoring conditions in store at Southern Hills and Brookline. With that said, it will be a grind, so it's understandable to see so many top names pass.
This course underwent some significant renovations in advance of hosting Quicken Loans in 2017. Those came with consultancy from two of the most prolific architects in the game in Pete Dye and Tom Fazio. They aimed to improve the course drainage and innovate the designs of hazards to pose a test for TOUR-caliber fields.
The course encourages a conservative approach, with aggressive tee shots thwarted by blocked-out angles and penal rough. OB fescue and tricky Scottish-style bunkers await for players who go pin seeking.
The optimal plan of attack involves clubbing down for accuracy off the tee and aiming for conservative landing areas on the green away from the pins. Play for pars on difficult stretches and take calculated risks for the sparse birdie opportunities.
This creates a very interesting dynamic for chasers on the weekend. They may be forced into a riskier game plan. Overall, the set up should favor players who are more experienced, particularly on these grounds.
How It Breaks Down
At 7,160 yards, this par 70 is still no walk in the park. It features just two par 5s, each difficult to reach in two (4.83 scoring average).
The best scoring opportunity comes from the drivable 299-yard par-4 14th. It surrenders an eagle rate of 4% and has made for some exciting shifts in momentum.
Of the twelve par 4s, eight will play at around 450 yards or longer. Two play at nearly 500 yards. The 470-yard par-4 11th is the most difficult hole on the course (4.42 average).
Traits And Recent Notable Facts
In 2017, TPC Potomac yielded the fourth-most difficult scoring average on TOUR, including majors. This course has plenty of bite. It also ranks top three in most penal rough and hazards outside the fairway, supporting an added emphasis on accuracy and keeping control of drives. That, in turn, allows control for spin on approach shots into these small, firm greens.
Additionally, the green-side bunkers, which feature a unique Scottish design, play consistently as top-five most difficult on TOUR for scrambling. Throughout this course, hazards and bogeys lurk for any misfires.
It's a been a while since we've seen a pure Bentgrass course on the PGA TOUR (Augusta excluded), so it's a good time to revisit the best Bentgrass putters in the field. The top-10 players in SG: P (Bent) here are Zach Johnson, Troy Merritt, Adam Schenk, Beau Hossler, Johnson Wagner, Rory McIlroy, Mackenzie Hughes, Abraham Ancer, Cam Davis and Webb Simpson.
TPC POTOMAC COURSE SPECS
Yards: 7,160
Par: 70 (4x 3s / 12x 4s / 2x 5s)
Greens: Bent
Architect: Ed Ault, Tom Clark, Ed Sneed (Redesigned in 2009 with input from Pete Dye, Tom Fazio, Davis Love III, and Fred Funk)
Historic Cut Line: +2 ('18), +5 ('17)
Median Four-Round Score: -3 ('18), +2 (-17)
Comp Courses: TPC River Highlands, TPC Deere Run, Harbour Town GL, Sedgefield CC, The Old White TPC, Colonial CC
Past Winners at TPC Potomac (Quicken Loans National): Francesco Molinari -21 ('18), Kyle Stanley -7 ('17)
Hole-by-hole Breakdown:
COURSE HISTORY AND COURSE COMPS
We should skip over Wells Fargo Championship event history at Quail Hollow and head straight to the course history. Aside from the May seasonality and a loose Tom Fazio connection, not much translates between Quail Hollow and TPC Potomac.
Only eleven players in the field this week made the cut in both the 2017 and 2018 Quicken Loans events at TPC Potomac: Sung Kang, Johnson Wagner, James Hahn, Marc Leishman, Kevin Tway, Bill Haas, Rickie Fowler, Nick Watney, Cameron Percy, Kevin Streelman and Seamus Power.
It's still probably premature to identify anyone in particular as a course horse with only two years of play. But, Francesco Molinari and Kang stand out in this field. In Molinari's lone trip to TPC Potomac in 2018, he trounced the field in Tiger-esque fashion, posting a -21 to clear the field by eight strokes. This was not a birdie-fest by any means in 2018. Molinari just made it look that way, matching Streelman and Abraham Ancer's course records with a 62 on Sunday.
Kang, while not exactly fitting the profile for this course, still managed to post top-five finishes in both Quicken Loans contests at TPC Potomac. For perspective, he only has six T5s in his career. I don't have a good explanation for why he's found success here. I'm still not jumping to play him entering off four consecutive missed cuts. But with so much unknown, I could see Kang as a popular flyer.
Course Comps
Just like last week's Mexico Open, I'm putting a lot of weight behind comp course history in my model. TPC Potomac measures under 7,200 yards, but it does not belong in a bucket with other short positional courses. While accuracy remains at a premium, long irons gain import due to a higher concentration of 450+ yard par 4s and long par 5s.
TPC River Highlands stands out to me as the best comp this week. It has the tight tree-lined angles, emphasis on accuracy off the tee, difficult scoring conditions, and overlap of success from other Pete Dye specialists. TPC Deere Run also ranks up there, with similar agronomy and hole layouts that favor the top ball-strikers.
After TPC River Highlands and TPC Deere Run, I also like Colonial CC as a short yet difficult par 70 on Bentgrass. It has opened the playing field to top off-the-tee players, regardless of their driving distance.
Harbour Town GL, The Old White TPC and Sedgefield CC are more tertiary comps. The style of play required to find success on these tracks with how TPC Potomac profiles.
Combine performance across this long list of challenging sub-7,200 yard courses, and the top-10 players in Comp Course History here are Webb Simpson, Matt Kuchar, Russell Henley, Patrick Reed, Sergio Garcia, Ancer, Brian Harman, Paul Casey, Rory Sabbatini and Streelman.
KEY STATS TO CONSIDER
Fairways Gained
SG: APP / GIRs Gained
SG: OTT / SG: OTT (<7,200 yards)
P4: 450+
SG: ARG
Prox 175+
SG: Putting (Bent)
SG: T2G (Difficult Conditions)
Course & Comp Course History
To put it simply this week, players will need to be in complete control of their golf ball off the tee. What makes TPC Potomac such a unique test is the volume of long-range approach shots required from 175+ yards. Players will need a combination of Driving Accuracy and Proximity 175+ to find success. Just four players rate out top 40 in both: Martin Laird, Russell Knox, Lucas Glover and Aaron Rai.
Player quotes from the 2017 and 2018 Quicken Loans National at TPC Potomac consistently reference "patience." Aggressively firing at flagsticks won't work on many holes. Instead, they need to play conservative approaches to the center of the greens. Accept the medicine of persistent 25-footers for birdie.
Eight players rate out top 30 in both GIRs Gained and SG: P (25+ Feet) and would stand to benefit from this type of conservative game plan. Adam Svensson, Paul Casey, Ryan Armour, Sergio Garcia, Nick Watney, Russell Henley, Joel Dahmen and Doc Redman all fit.
With a winning score of -7 in its inaugural season, we've seen TPC Potomac present a test to players' all-around games. And while Molinari's -21 winning mark in 2018 may overshadow that, single digits under par still made for a top-10 finish. In a weighted model of SG: TOT (Difficult Scoring Conditions), Bogey Avoidance and SG: T2G (L24 Rounds), my model's top-10 are Rory McIlroy, Matt Fitzpatrick, Corey Conners, Casey, Gary Woodland, Kevin Streelman, Knox, Brian Harman, Seamus Power, and Henley.
I hoped Mito Pereira would find his way into this group. He wound up just outside at 14th across these three metrics.
Approach And Off The Tee
These greens will play firm and difficult to hold, especially with pin locations that will bait players into conservative bailouts. It may pay to deprioritize SG: APP in favor of broader stat categories like GIRs Gained, Good Drives Gained or long range proximity.
With that said, this is the PGA TOUR, and approach play still rules all. The top-10 approach players entering this week are Henley, Casey, Cameron Percy, Knox, Luke List, Luke Donald, Tony Finau, Keegan Bradley, Laird, and Woodland.
SG: OTT is always an interesting stat to parse. Players who lack in either distance or accuracy can still rate out well. In the case of TPC Potomac, I'm favoring the top accuracy players. However, don't expect a course that completely discounts distance.
To compromise, I zeroed in on players who excel SG: OTT on courses under 7,200 yards. This will help isolate those who position their approach shots even when forced to club down. The top-10 in this category are McIlroy, Keith Mitchell, Conners, Sergio Garcia, Finau, Cam Davis, Dahmen, Abraham Ancer, Jhonattan Vegas and List.
Looking at the correlation charts this week, we see a notable dip in the importance of Par-5 Scoring compared to TOUR average. P4: 400-450 also sees a notable drop in importance with a majority of par 4s funneling to 450+ yards.
P4: 500+, Good Drives Gained, Fairways Gained, and SG: P 25 Ft+ see the highest jumps in importance this week.
PLAYER SPOTLIGHT: CAMERON YOUNG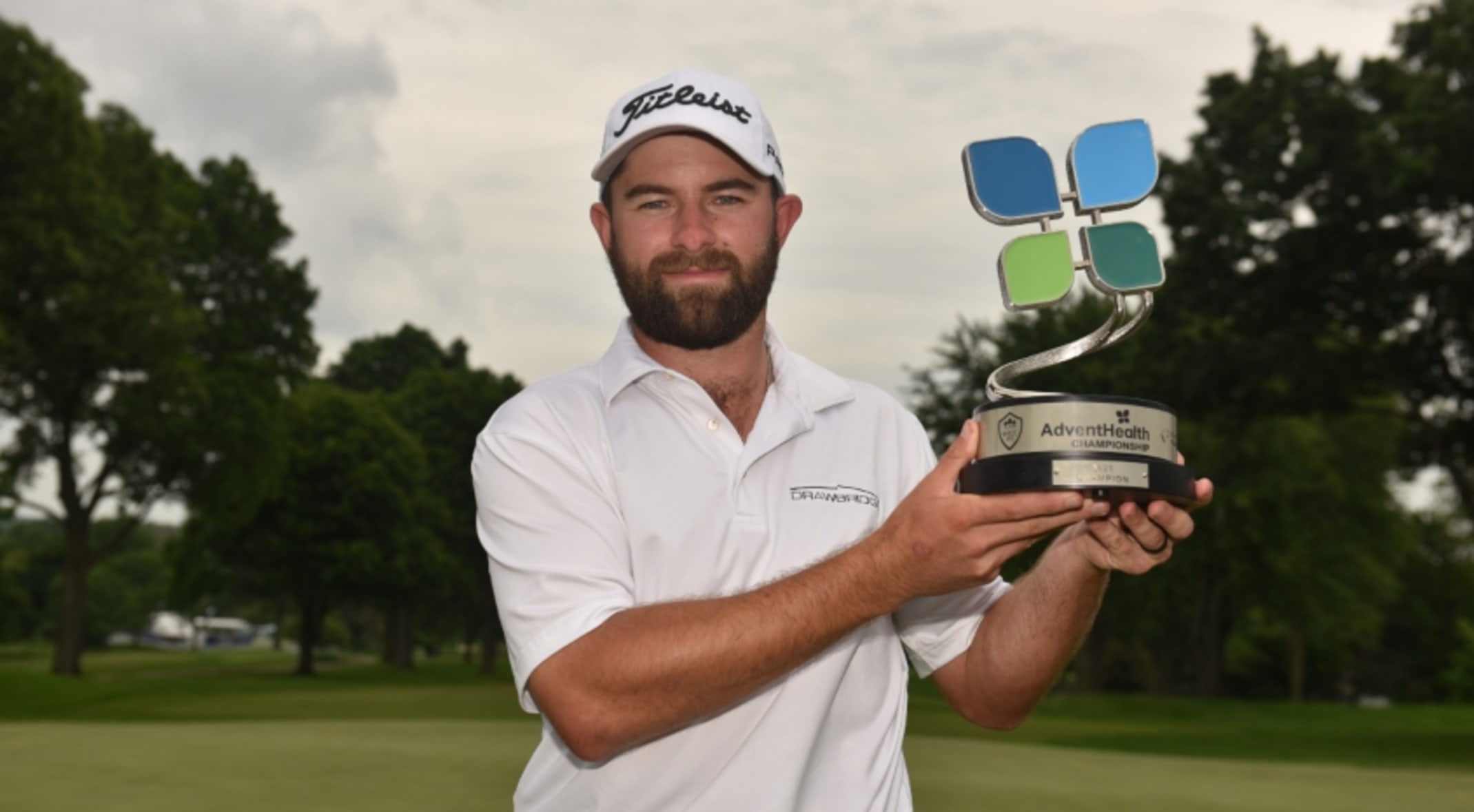 Cameron Young is maturing very quickly before our eyes on his PGA TOUR rookie campaign. He has already piled up three top-three finishes at three drastically different events.
Prior to the RBC Heritage, I may have pumped the brakes on Young at TPC Potomac. The course requires the strategy and patience that would typically disadvantage the younger, unseasoned players. At this point, however, he's handled every test thrown his way with poise. He earned spot in the top odds tier this week.
We will surely see the shortest odds all season on Young this week. I would guess he lands in the 25- to 35-1 range. The Bentgrass component has me most optimistic for Young at TPC Potomac.
A dominant force in the Met Golf scene throughout his junior career in New York, Young has a great familiarity with playing on Bentgrass. Shockingly, despite all the early success, he has yet to play a full event on Bentgrass. He played one unmeasured round on the Torrey Pines North Course, where he shot a 5-under 67. He also got two rounds in under his belt at Augusta National earlier this month. On the Korn Ferry Tour, both of his 2021 wins came on Bentgrass greens.
Considering Cameron Young ranks No. 1 in this field SG: T2G over the last 24 rounds, a return to familiar greens could be the final piece missing. Although the total yardage measures under 7,200 yards here, there's longer hitters may still find an advantage. Young ranks eighth in this field in Prox 200+ and first in Par 4: 450-500 scoring. That suggests he can continue this hot streak on a sneaky good course fit.
WHAT TO WATCH FOR AT THE 2022 WELLS FARGO CHAMPIONSHIP
While I'll miss having a full stroke play event at Quail Hollow this season, TPC Potomac works as a great consolation prize. I always look forward to watching a course that doesn't need distance to challenge the field. Although this event may not boast elite household names, it should provide a long list of appealing bets. Particularly so when compared to the lack of depth we just saw at the Mexico Open.
With all the course-fit profiles in mind, I'm leaning early towards the below player pool. Naturally, I'm looking their way in the 2022 Wells Fargo Championship odds as well. I've broken the list down by projected pricing/odds tier for Draft Kings.
In my model this week, I'm emphasizing SG: APP, Comp Course History, SG: OTT, Fairways + Good Drives Gained and Bogey Avoidance, followed by a more balanced mix of Prox 175+, Par 4: 450+, SG: TOT (Difficult Scoring Conditions) and SG: T2G (Recent Form).
Corey Conners somewhat surprisingly surpassed Rory McIlroy for the top spot. Conners fits the course well as a player who can consistently position himself off the tee. He has steadily found success in moderate to difficult scoring conditions where he won't be as stymied by a lukewarm putter.
McIlroy, Matt Fitzpatrick, Ryan Armour, Paul Casey, Russell Knox, Russell Henley, Martin Laird, Lucas Glover and Sepp Straka round out the model's top 10.
When 2022 Wells Fargo Championship odds open, I'm looking to start my card in the 20- to 30-1 odds range from a list including Casey, Conners, or Cameron Young. I'm also very high on Keegan Bradley and Cam Davis and will be looking to find the best numbers available across sportsbooks come Monday. Check back in later this week for more updates.
Best of luck navigating 2022 Wells Fargo Championship odds!
COMPARE 2022 WELLS FARGO CHAMPIONSHIP ODDS