Sportsbook operators have smiles on their faces after Sunday's NFL slate — with underdogs going 10-4-1 against the spread. It was also the first winning week for underdogs since late September, which gifted BetMGM its most profitable results ever. So how should bettors approach their Week 9 NFL best bets?
Let's dissect how I'm attacking the oddsboard this time around (35-20 overall, +11.43 units). Check back throughout the week, as I'll update this article with each of my bets.
Free Daily Picks: Subscribe to TheLines / PlayPicks YouTube Channel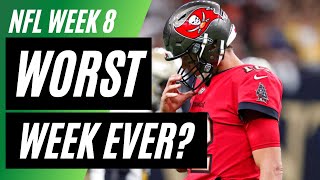 New York Jets at Indianapolis Colts
From a tempo standpoint, the Colts rank dead-last in neutral game pace while the Jets slot in at No. 27. That metric accounts for the seconds of game clock used per play — with the exception of the fourth quarter, final five minutes of the first half and when the score is within six points or less.
Expect Indianapolis to rely on its ground game while grinding clock in the process. Despite the notion that New York's front-seven can slow down the run, Robert Saleh's unit is yielding the fourth-highest rushing success rate (SR) over its last four games. The Bengals' Joe Mixon was bottled up in the Meadowlands, but Jonathan Taylor is a more patient rusher and should find open lanes.
A play is successful if a team gains:

50 percent of the yards needed to move the chains on first down
70 percent of yards to gain on second down
100 percent of yards to gain on third or fourth down
Those factors would normally cause me to give the under a look or back the favorite. But even with the spread adjusted down from the look-ahead line (Colts -14), it's still a little inflated after Indy's emotional loss to the Titans.
Although the Colts boast the top run defense during their recent four-game stretch, Matt Eberflus' passing defense is allowing the fourth-highest SR over that span. Couple that with defensive end Tyquan Lewis (knee) and presumably both of its starting safeties out on a short week, and backup Mike White is in position to repeat some of his success.
White was efficient on short throws (nine yards or less) against Cincinnati's zone defense, completing 24 of 28 passes for 263 yards, two touchdowns and an interception. The Colts' zone is letting up the seventh-most passing yards in that category, which will present offensive coordinator Mike LaFleur with an opportunity to continue to utilize the intermediate passing game over an inconsistent rushing attack.
The total (O/U ) could increase, as each offense presents an edge, but I'll take two possessions in what should be a methodically-paced game with the turnover-prone Carson Wentz involved.
Eli's Week 9 NFL Best Bets: Jets +10.5 (PointsBet — placed on Monday, Nov. 1 at 5pm ET; bet down to +9.5)
Best Available Odds: Jets
Result: Loss (-1.00 unit)
Cleveland Browns @ Cincinnati Bengals
I hit on this game in my NFL Week 9 underdogs column.
Result: Win (+0.91 units)
New England Patriots @ Carolina Panthers
Here's another matchup via the underdogs piece.
Result: Loss (-1.00 unit)
Arizona Cardinals at San Francisco 49ers
With reports surfacing that MVP candidate Kyle Murray is dealing with an ankle sprain, the expectation is he'll be limited against the 49ers or miss this matchup entirely. San Francisco already slowed down Arizona to the tune of 5.1 yards per play (YPP) in Week 5. Its rushing defense should be in a more preferable position because of the injury.
Kyle Shanahan's biggest offensive advantage lies on the ground. The Cardinals are allowing the 10th-highest rushing SR and are without defensive end J.J. Watt (shoulder), their best run defender, for the remainder of the season.
San Francisco is generating the league's sixth-highest rushing rate, riding speedster Elijah Mitchell for much of the last two contests. It also boasts an above-average SR, and the potential return of All-Pro tight end George Kittle (calf) adds a boost to Shanahan's outside zone run scheme. Kittle missed their most recent meeting with the injury.
It worked to a tee the first time around, as Mitchell & Co. posted 5.43 yards per rush attempt. Even though that was with Trey Lance under center, the game plan still applies.
Moreover, 49ers quarterback Jimmy Garoppolo has performed efficiently despite the overall poor public opinion. The 29-year-old ranks No. 12 among QBs in expected points added (EPA) per play — ahead of the Ravens' Lamar Jackson and Chargers' Justin Herbert.
EPA is calculated by expected points scored based on the down, distance, and field position at the start of a play — juxtaposed with the play's conclusion.
If Kittle suits up, Garoppolo should have success off play-action with Arizona's linebackers struggling to match up against the pass. Zavan Collins, its top coverage LB, suffered a shoulder injury in Week 8 and could miss this game.
Don't wait too long to bet San Francisco, as the market will be all over any sign that Murray and wideout DeAndre Hopkins (hamstring) are out.
Eli's Week 9 NFL Best Bets: 49ers +2 (FanDuel — placed on Tuesday, Nov. 2 at 1:15pm ET; bet up to 49ers -2)
Best Available Line: 49ers
Result: Loss (-1.00 unit)
Tennessee Titans @ Los Angeles Rams
You can find this bet in the underdogs breakdown.
More NFL Week 9 Odds