The first full-field, designated, elevated PGA TOUR event of the year has arrived. Much-anticipated odds for the 2023 WM Phoenix Open at TPC Scottsdale are now out. Not only is the field full, but the crowd will packed as well, as the WM Phoenix Open attracts the masses like no other. With a seating capacity of up to 350,000, this event is third all-time in terms of attendance for a United States Sporting Event, peaking with over 216,000 fans in attendance in 2018.
Don't expect the traditional golf clap this week. This will be the most energized golf viewing experience of the year. It rarely disappoints with its exciting risk-reward holes down the finish.
If you have a buddy who usually doesn't care for golf or golf betting, consider getting them onboard this week, starting with this WM Phoenix Open Odds Guide for Novice Golf Bettors. It's a very entertaining watch, all of the best PGA TOUR players are here, and it usually produces some fun Sunday Super Bowl crossover props. Last year, you could have cashed on the Jon Rahm Longest Drive > LA Rams Passing Yards prop with just a little bit of golf research. And we all know there's about to be a big Sunday void in every sports fan's life after this week. So, gather 'round for some golf!
Here's a look at everything you can expect to help navigate 2023 Waste Management Phoenix Open odds.
2023 OPENING WM PHOENIX OPEN ODDS: THE FAVORITES
Nine of the last 10 winners of this event were also either Major champions or winners at THE PLAYERS, so with another loaded field in store, we should expect another high-octane event, the perfect precursor to Super Bowl Sunday, which is also conveniently located in Scottsdale this year.
Scroll to the bottom of this article to compare complete outright odds across legal U.S. sportsbooks. Find the favorites in Phoenix this week with odds shorter than 20-1.
THE FIELD AT A GLANCE
As a designated and elevated event this year, all the game's best flock to Scottsdale this week. It'll produce one of the strongest fields we'll see all season outside of the Majors. Of the OWGR top-20, 18 of those players are in the field this week. Cameron Smith is no longer qualified after forfeiting his PGA TOUR status in favor of the LIV Tour, leaving Will Zalatoris as the only top player eligible for this week who has decided to skip.
World No. 1 Rory McIlroy highlights the star-studded field coming off of a victory in his latest start at the Hero Dubai Desert Classic. Despite his No. 1 ranking and seven consecutive top-5 finishes (including three wins), he'll likely take a backseat on the betting board to ASU alum and Scottsdale resident, Jon Rahm.
Scottie Scheffler is back to defend his title after picking up his first career PGA TOUR win this time last year in a playoff against Patrick Cantlay. Other past winners of this event returning to the field this week include Webb Simpson, Rickie Fowler, Gary Woodland, and Hideki Matsuyama.
INTRODUCTION TO TPC SCOTTSDALE
After three consecutive weeks of course rotations and a couple of gimmicky pro-am set-ups, we are back to normal tournament golf on the PGA TOUR. We have a full arsenal of historical Strokes Gained data to project success at the 2023 Waste Management Phoenix Open.
Course History at TPC Scottsdale is the third most predictive of any course on TOUR, behind Augusta National and Waialae CC. Players who have seen success here in the past are more likely to repeat it here than most other courses. For placement betting in particular, it's become a sound strategy to rely on a repeatable floor of the top course history players here. However, debutants like Patrick Cantlay, Sahith Theegala, and Matt Fitzpatrick showed last year that a lack of prior experience does not impede your chances of contending.
It would seem the sticky course history has more to do with the unique atmosphere than it does the course fit. You are stepping into the arena at TPC Scottsdale with the most raucous crowds all year. Some relish the spotlight and feed off of the crowds; others have struggled to reconcile it. A history of excelling in high-adrenaline competition like THE PLAYERS, Majors, or Ryder and Presidents Cups prove to be a consistent throughline in contenders over the years and a subjective narrative worth considering before placing your 2023 WM Phoenix Open bets.
In short, TPC Scottsdale is not a "Specialist's course" where one-dimensional players can lean on a particular strength of their game to gain on the field. To contend at the WM Phoenix Open– like Majors– it takes a player whose Ball Striking is the strength of their game and who can confidently scramble for pars under pressure.
How It Breaks Down
TPC Scottsdale is average in distance by TOUR standards. It sits at just over 7,200 yards as a Par-71 that trades one par-5 for an additional par-4. Its elevation, dry desert climate, and firm conditions, produces the longest average driving distance of any course on TOUR each year: 305 yards. That's 16 yards longer than TOUR average, opening the door for shorter players like Webb Simpson and Chez Reavie.
The course features 10 par-4s between 400-500 yards. All three par-5s stand between 550-600 yards, reachable for most of the field. Approach buckets are evenly spread and do not vary much from the TOUR average, so I'll be bypassing any Proximity range modeling in favor of broad SG: APP. Of note, approaches from 200+ yards are the least frequent here given the distance boost in these desert conditions. It may be an opportunity to buy low on players who typically struggle from long range but are strong on Approach otherwise. Some of those buy-low candidates who specialize from inside 200 yards include Russell Henley, Andrew Putnam, Tommy Fleetwood, Tony Finau, Hideki Matsuyama, Lee Hodges, and Erik van Rooyen.
A number of risk/reward holes on this course bring water into play– notably the drivable par-4 17th. Players who are strong off the tee and can get aggressive taking on these water hazards will have a leg up in generating birdie-or-better opportunities.
The greens at TPC Scottsdale roll pure and fast on an over-seeded hybrid grass blend. Those smooth greens have yielded the third-highest make percentage on putts from outside 15-feet on TOUR. That opens the door for historically-weaker putters like Hideki Matsuyama, Chez Reavie, Kyle Stanley, Kevin Stadler and Bubba Watson to find success here. It's not a week I tend to look very closely at Putting form leading in.
Traits and Notable Facts
What makes TPC Scottsdale unique compared to other PGA TOUR courses is the persistence of hazards that neighbor the fairways. The 2″ rough is not especially penal here. In many cases, it serves beneficial to players stopping the ball from trickling into water hazards or natural desert cacti. It ranks top five in Missed Fairway Penalty Fraction each of the last seven years as a result, so players in control of their ball off the tee in these firm conditions are best suited to avoid blow-up holes.
TPC SCOTTSDALE COURSE SPECS
Yards: 7,261
Par: 71 (4x 3s / 11x 4s / 3x 5s)
Greens: Bermuda over-seeded with Bent, Poa, and Rye (Firm & Fast)
Average Green Size: 7,069 sq. ft. (Large)
Average Fairway Width: 31 Yards (Below Average)
Rough: 2″ Rye & Fescue
Architect:

Tom Weiskopf

Historical Cut Line: Even to -2
Comp Courses: TPC Summerlin, TPC Sawgrass, Stadium Course, The Summit Club, Silverado Resort, Southern Hills, Shadow Creek, PGA National, TPC Twin Cities, Recent British Links Courses
Hole-by-hole Breakdown:
WM PHOENIX OPEN ODDS: BETTING TRENDS & COURSE HISTORY
| Year | Winner | Pre-Tournament Odds | Winning Score | Field Median Score |
| --- | --- | --- | --- | --- |
| 2022 | Scottie Scheffler | +2800 | -16 | -7 |
| 2021 | Brooks Koepka | +5000 | -19 | -10 |
| 2020 | Webb Simpson | +1400 | -17 | -9 |
| 2019 | Rickie Fowler | +2200 | -17 | -6 |
| 2018 | Gary Woodland | +5000 | -18 | -7 |
| 2017 | Hideki Matsuyama | +1100 | -17 | -8 |
| 2016 | Hideki Matsuyama | +2800 | -14 | -4 |
| 2015 | Brooks Koepka | +4000 | -15 | -5 |
| 2014 | Kevin Stadler | +12500 | -16 | -4 |
| 2013 | Phil Mickelson | +2500 | -28 | -11 |
In nine of the last 10 years, the winner of this event opened between 10-1 and 50-1. Given the pressure and intensity from the crowd, the cream tends to rise to the top here. It may be best to target a shorter pool of players towards the top tier of this field when considering WM Phoenix Open outright odds.
Course History
The Waste Management Phoenix Open has seen equal shares of success from both short and long hitters, but the prevailing trend has always been Ball Striking. With ample water and desert hazards throughout the course, consistent players off the tee with elite approach skills rise to the top.
Hideki Matsuyama
The only multi-winner of this event in the field this week is Hideki Matsuyama. He has displayed the most sustained dominance in this event.
Matsuyama has a clean resume at TPC Scottsdale with no missed cuts and six top-16 finishes over his first first eight appearances. He enters this week off a streak of nine straight made cuts and a T9 in his latest appearance at the Farmers Insurance Open. He will be set up well to contend once again in Scottsdale.
The Rest
After Matsuyama, the rest of the top 10 in Event History rounds out with: Jon Rahm, Webb Simpson, Xander Schauffele, Justin Thomas, Brendan Steele, Rickie Fowler, Scottie Scheffler, Matt Kuchar, and Patrick Cantlay.
There are few real surprises here. Top players with a strong history in Majors or The PLAYERS Championship have risen to the top of leaderboards. However, Steele was able to post top-15 at both THE PLAYERS and PGA Championship in 2022.
Looking at recent finishes, 15 players in this field delivered multiple T10 finishes over the last five years: Justin Thomas, Xander Schauffele, Jon Rahm, Matt Kuchar, Gary Woodland, Billy Horschel, Scottie Scheffler, and Chez Reavie. Just outside that list, Rickie Fowler, Hideki Matsuyama, Max Homa, James Hahn, Martin Laird, and Chris Kirk each recorded multiple top-15 finishes here recently. Matt Fitzpatrick, Sahith Theegala, and Patrick Cantlay impressed with top-10 finishes in their WMPO debut's last year as well.
Four players avoided missing the cut over the last five years (min. three appearances): Justin Thomas, Xander Schauffele, Jon Rahm, Max Homa, Billy Horschel, JT Poston, Alex Noren, Sungjae Im, Brian Harman, Adam Hadwin, Corey Conners, Keegan Bradley, Sam Ryder, and Stewart Cink.
Comp Courses
Water hazards, stadium set ups, and risk/reward drivable par-4s are common across TPC courses. While there are plenty of scoring opportunities on this course, the winning score has not surpassed 20-under par since Tom Weiskopf's renovation in 2014. In terms of Comp Courses, I'm looking closely at other events with firm & fast, moderate scoring conditions.
If I could pick one comp to TPC Scottsdale, I would probably side with TPC Sawgrass. Both TPC courses are similar in length, feature a similar closing stretch of risk/reward holes, emphasize Ball Striking and Scrambling, and have produced overlapping winners in Rickie Fowler, Webb Simpson and Phil Mickelson.
I'm also looking closely at desert golf courses as comps for this week. Many desert-style courses share the same look and feel, with similar greens complexes. There's also a skill to understanding distance control in thin desert air. TPC Summerlin and Stadium Course stand out as top desert comps, while The Summit Club and Shadow Creek are other interesting recent events to reference.
I'm also looking to courses like TPC Twin Cities, PGA National, Southern Hills, and Silverado Resort as strong non-desert style comps.
I also like some of the recent British Links courses like The Renaissance Club, St. Andrews, and Royal St. George's. The firm and fast conditions and oversized greens reward a similar skillset of control of the tee and elite approach play that are needed at TPC Scottsdale.
Looking across each of those comp courses, the top-10 players in SG: TOT are Justin Thomas, Jon Rahm, Collin Morikawa, Sungjae Im, Matt Fitzpatrick, Rory McIlroy, Xander Schauffele, Tom Hoge, Tony Finau, and Shane Lowry.
KEY STATS TO CONSIDER FOR 2023 WM PHOENIX OPEN ODDS
SG: APP / SG: BS
SG: OTT
Birdie or Better Gained
Bogey Avoidance
Scrambling Gained
P4: 400-500
P5: 550-600
SG: P (L36, Firm & Fast Greens)
Course & Comp Course History
The argument can be made that SG: OTT is less important with a mitigated distance advantage. I don't necessarily agree because elite OTT players thrive in both avoiding hazards and generating scoring opportunities with added distance. The top-10 in terms of SG: OTT entering this week are Cameron Young, Rory McIlroy, Scottie Scheffler, Jon Rahm, Cameron Champ, Keith Mitchell, Hayden Buckley, Taylor Pendrith, Brendan Steele, and Tony Finau.
While the importance of SG: OTT may be up for debate this week, there's no question SG: Approach will be even more crucial this week than usual. The top-10 players in SG: APP in this field are Tom Hoge, Tom Kim, Xander Schauffele, Collin Morikawa, Brendan Steele, Tony Finau, Rory McIlroy, Corey Conners, Shane Lowry, and Russell Knox. Honing in on the most elite Ball Strikers in the field this week, there are six players who rank top 25 in terms of both SG: APP and SG: OTT: Rory McIlroy, Scottie Scheffler, Brendan Steele, Tony Finau, Corey Conners, and Xander Schauffele.
Putting
This event usually sets up as a "Team No Putt" week. Greens roll flat and true, absent of the skilled greens reading that was necessary at recent Poa events. Players like Matsuyama, Kyle Stanley, and Kevin Stadler have won here despite ranking near last in SG: P leading in. This is not a week I'll be looking to place much weight on putting in my modeling.
Scrambling
With dry, firm desert conditions, there is an added emphasis on Scrambling. Greens will not be as receptive as other recent birdie-fest courses we've seen. While I'm not emphasizing putting stats this week, Scrambling is a combo stat that I'll be using to work around that. Nine players rank top-50 in SG: OTT, SG: APP and Scrambling: Tony Finau, Rory McIlroy, Patrick Cantlay, Sungjae Im, Xander Schauffele, Max Homa, Jason Day, Ben Taylor, and Callum Tarren.
The ideal player for TPC Scottsdale should be elite in SG: Ball Striking (Top-30), and above average in Scrambling Gained, Comp Course History, Birdies or Better Gained, and Bogey Avoidance. Ten players in this week's field fit that criteria: Tony Finau, Rory McIlroy, Xander Schauffele, Patrick Cantlay, Sungjae Im, Jon Rahm, Tom Kim, Shane Lowry, Corey Conners, and Callum Tarren.
Correlation And TPC Scottsdale
The correlations stats are fairly on par with the TOUR average. That tends to be a sign that favors the best overall players. Scrambling Gained, SG: P, and SG: Short Game make the biggest jump compared to TOUR average, each falling inside the top-11. In terms of stats to deprioritize, Prox: 125-175 and Prox: 200+ have proven to be the least correlated.
Ten players rate above average in each of this week's top-10 correlated stats with success at TPC Scottsdale: Tony Finau, Rory McIlroy, Xander Schauffele, Patrick Cantlay, Sungjae Im, Jon Rahm, Max Homa, Ben Griffin, Jason Day, and Greyson Sigg.
PLAYER SPOTLIGHT: COLLIN MORIKAWA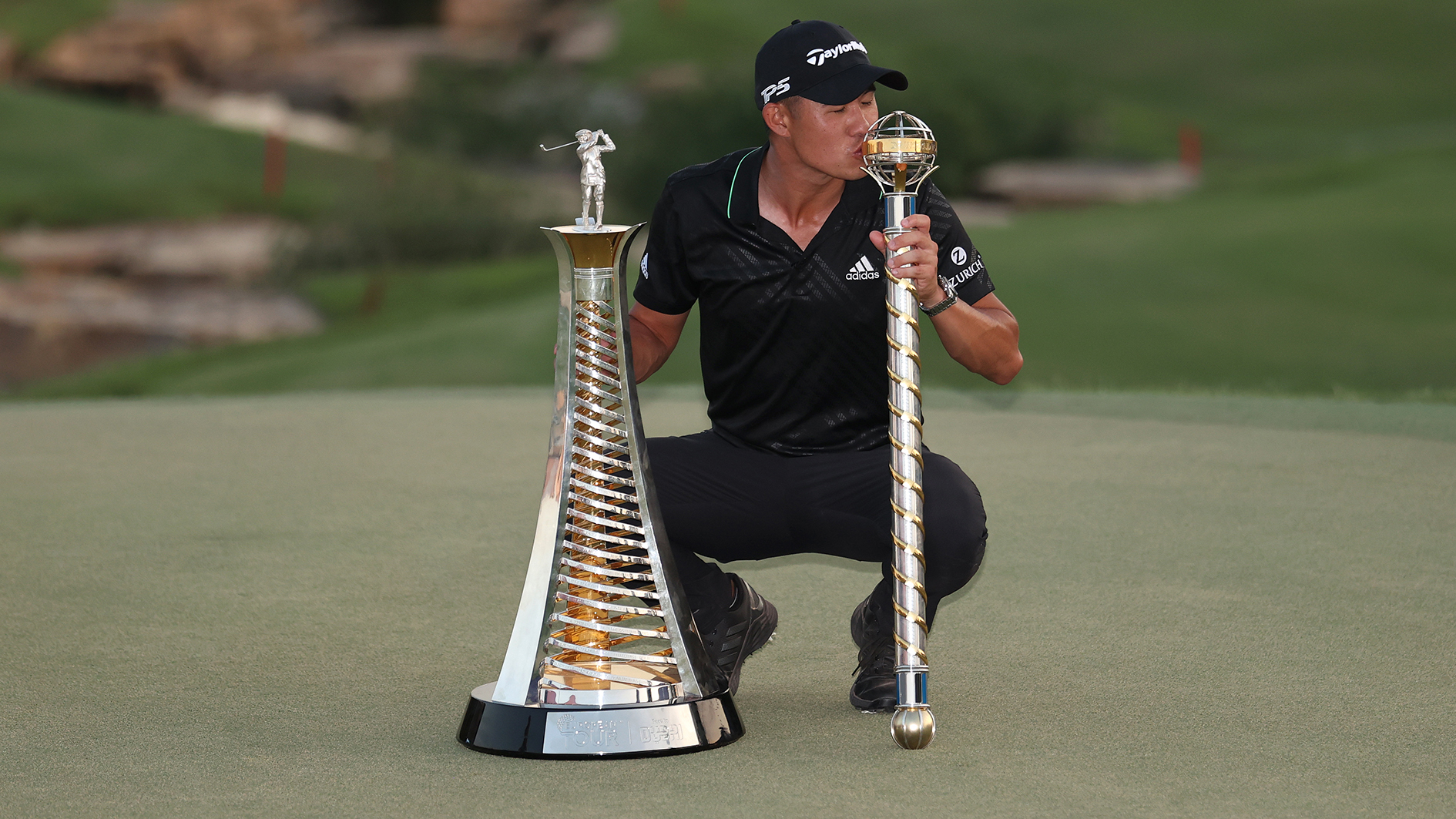 Who are the elite ball strikers who performed best in high pressure events, but would be even better suited on a shorter course that does not rely purely on distance for scoring difficulty?
One player embodies those traits most and continues to land at a value price on odds boards: Collin Morikawa.
Morikawa is already a two-time Major champion, Ryder Cup standout, and six-time winner across the PGA TOUR and DP World Tour. His winless drought since November 2021 has given us bettors a nice discount despite his continued elite form. In four starts this year, Morikawa finished T15, 6th, 2nd, and 3rd. His approach form never left during this winless streak, but an improvement with the putter since the December break means the sky is the limit for Morikawa in 2023.
He looked sharp in his previous start on a bomber's course in Torrey Pines. A layout in TPC Scottsdale– which emphasizes approach play and neutralizes his average driving distance in favor of position off the tee– should breed even better results. Morikawa debuted here in 2020, where he led the field in SG: T2G, but finished a modest T25 due to a cold putter.
It's Collin's performance on Comp Courses that gives me the most optimism about his chances (No. 3 in the field). A Las Vegas resident, he's performed well in desert conditions. That's highlighted by a win at the DP World Tour Championship in Dubai and a T2 finish at the 2021 CJ Cup at his home course, The Summit Club. An emphasis on position off the tee in calm, firm conditions while hitting into oversized greens should feel reminiscent of Royal St. George's, where Morikawa picked up his second Major win.
Early odds show Morikawa opening at 25-1, a price I'm comfortable jumping on already.
WHAT TO LOOK OUT FOR AT 2023 WM PHOENIX OPEN ODDS
Last year's WM Phoenix Open brought fireworks. Sam Ryder notched an ace on the infamous par-3 16th stadium set up, which was coupled with other shirtless escapades from Harry Higgs and Joel Dahmen.
Expect even more energy in Scottsdale this week– the city also hosts the Super Bowl on Sunday. WM Phoenix Open attracts its strongest field yet, with heightened implications of this now being a designated, elevated event. I expect battle-tested players who thrive in high pressure moments to rise to the top. That is why we've seen such a strong correlation with players who have won here and in Majors.
With all the course-fit profiles in mind, I'm leaning early toward the 2023 WM Phoenix Open odds player pool below. I've broken the list down by projected pricing/odds tier for Draft Kings:
For my model in Fantasy National this week, I'm prioritizing SG: APP, Course & Comp Course History, Par-4 Scoring, and SG: OTT followed by a more balanced mix of BoB Gained, Scrambling Gained, P5: 550-600, Good Drives Gained, SG: P, and SG: TOT (2023 Season).
Model Favorites
Tony Finau emerges as the No. 1 player in the model this week. He has some puzzling history at this event, with a playoff loss to Webb Simpson in 2020 and five missed cuts dating back to 2016. Finau lives in Scottsdale and has a great track record on other Comp Courses (No. 9 in Comp Course History), but you'd expect to see a better track record. He has seven top-10s and three wins over his last 10 starts, so it's possible the poor course history may create an appealing opportunity to jump on discounted odds for the hot form.
After Finau, my model's top 10 rounds out with: Rory McIlroy, Xander Schauffele, Patrick Cantlay, Sungjae Im, Jon Rahm, Tom Kim, Max Homa, Scottie Scheffler, and Shane Lowry.
Collin Morikawa will be my first bet of the week, already standing at an appealing 25-1 price on DraftKings. I don't expect other books to post longer odds than that. If they do, we'll hope a cash out option is available. In addition to Morikawa, I also have my eye on Patrick Cantlay, Tony Finau, and Tom Kim to round out a tight outright card, but we'll wait and see where the best value is when all sportsbooks release odds Monday.
Thanks for reading, and good luck navigating 2023 WM Phoenix Open odds!
2023 PHOENIX OPEN OPENING ODDS