The aptly-named Waste Management Phoenix Open is a dumpster fire of drunken fan debauchery. I, for one, could not be more excited for it. The People's Open is the most electric week of golf from a crowd standpoint, and has delivered fireworks repeatedly. As always here at TheLines, we'll go over an early look at the tournament, giving you what you need to know before the Waste Management Phoenix Open odds even hit the board.
In six of the past seven years, this event has went to playoff or was won by Brooks Koepka. Eight of the last nine winners of this event were also either major champions or winners at THE PLAYERS, so with another loaded field in store, we should expect another high-octane event as everyone's amuse-bouche to Super Bowl Sunday.
If you have a buddy who usually doesn't care for golf or golf betting, consider getting them onboard this week. It's a very entertaining watch. Lots of the game's best players feature, and it usually produces some fun Sunday Super Bowl cross-over props. Last year, you could have cashed on the Rory McIlroy Longest Drive > Kansas City Chiefs Passing Yards prop with just a little bit of golf research. And we all know there's about to be a big Sunday void in every sports fan's life after this week. So, gather round for some golf!
Here's a look at everything you can expect to help navigate 2022 Waste Management Phoenix Open odds.
WASTE MANAGEMENT OPEN PHOENIX FAVORITES
Scroll to the bottom of this article to compare complete outright odds across legal U.S. sportsbooks. Here are the top-five favorites in Phoenix this week.
THE FIELD AT A GLANCE
The field is set at a tighter-than-normal 135 players, and is concentrated with some big name studs at the top. It's a refreshing sight after last week's hit and giggle at the AT&T Pebble Beach Pro-Am.
The field is headlined by world No. 1, Arizona State University alum, and Silver Leaf member, Jon Rahm. We'll see six top-10 OWGR players in total this week, also including Viktor Hovland fresh off his DP World Tour win, Patrick Cantlay, Justin Thomas, Xander Schauffele and Hideki Matsuyama.
There are 17 players in total inside the top 30 OWGR, which also includes Jordan Spieth, Louis Oosthuizen, Daniel Berger, Sam Burns, Scottie Scheffler, Tony Finau, Brooks Koepka, Webb Simpson, Billy Horschel, Abraham Ancer and Matt Fitzpatrick. I will go out on a limb and say the winner this week will come from this group of players.
Koepka and Matsuyama in particular stand out as two-time winners of this event within the last seven years.
Webb Simpson, Rickie Fowler, Gary Woodland and Kyle Stanley look to join that list of multi-winners this week.
INTRODUCTION TO TPC SCOTTSDALE
The same course for four straight days? Hallelujah! After three consecutive weeks of course rotations and a couple of gimmicky pro-am set-ups, we are back to normal tournament golf on the PGA TOUR. That means a full arsenal of historical Strokes Gained data to project success at the 2022 Waste Management Phoenix Open.
Course History at TPC Scottsdale is the third most predictive of any course on TOUR, behind only Augusta National and Waialae CC. That means players who have seen success here in the past are more likely to repeat it here than most other courses. We should weight past course performance more heavily than we would most weeks.
That has more to do with the atmosphere than the course fit. You are stepping into the arena at TPC Scottsdale with the most raucous crowds all year. Some relish the spotlight and feed off of the crowds, others have struggled to reconcile it. Last year, the crowds were limited to 5,000 patrons per day due to COVID-19 protocols. It was the first event to allow fans back since the COVID restart, so it likely felt like more than just 5,000 people, but this year will leave nothing to the imagination. We are back to a fully packed 50,000 fans.
Balanced Framework
Sitting just over 7,200 yards as a Par-71 that trades one par-5 for an additional par-4, TPC Scottsdale is average in distance by TOUR standards. Given the dry desert climate and firm conditions, however, it produces the longest average driving distance of any course on TOUR each year: 305 yards. That is 16 yards longer than TOUR average. That opens the door for shorter players like Webb Simpson and Chez Reavie to hang around.
There are a number of risk/reward holes on this course that bring water into play, most notably the drivable par-4 17th. Players who are strong off the tee and can get aggressive taking on these water hazards will have a leg up in generating birdie-or-better opportunities.
The greens at TPC Scottsdale roll pure and fast on an over-seeded hybrid grass blend. Those smooth greens have yielded the third-highest make percentage on putts from outside 15-feet on TOUR. That has opened the door for historically weaker putters like Hideki Matsuyama, Reavie, Kyle Stanley, Kevin Stadler and Bubba Watson to find success here.
COURSE SPECS
Yards: 7,261
Par: 71 (4x 3s / 11x 4s / 3x 5s)
Greens: Bermuda overseeded with Bent, Poa, and Rye (LOL)
Architect: Tom Weiskopf
Historical Cut Line: Even to -2
Median Four-Round Score: -10 ('21), -9 ('20), -6 ('19), -7 ('18), -7 ('17)
Comp Courses: TPC Summerlin, TPC Sawgrass, Stadium Course, The Summit Club, Concession
Recent Winners: Brooks Koepka ('21, '15), Webb Simpson ('20), Rickie Fowler ('19), Gary Woodland ('18), Hideki Matsuyama ('17, '16)
Hole-by-hole Breakdown:
EVENT HISTORY AND COURSE COMPS
The Waste Management Phoenix Open has seen equal shares of success from both short and long hitters, but the prevailing trend has always been Ball Striking. With ample water and native desert hazards throughout the course, consistent players off the tee with elite approach skills have risen to the top.
Hideki Matsuyama
Hideki Matsuyama is the top dog in terms of course history at TPC Scottsdale. The 2022 ZOZO and Sony Open champion won this event in 2016 and 2017, and leads the TOUR in SG: TOT, SG: T2G, SG: BS, and SG: APP at this event. Prior to last year's modified, fan-absent event, Matsuyama had gained a staggering 5.5+ strokes on Approach in each of his first six appearances here. He'll be atop odds boards this week, entering his favorite course on TOUR in the midst of one of the hottest starts to a season of his career.
After Matsuyama, the rest of the top 10 in Event History is rounded out by Bubba Watson, Webb Simpson, Jon Rahm, Brendan Steele, Xander Schauffele, Matt Kuchar, Justin Thomas, Rickie Fowler and Branden Grace. Aside from Steele, there are no real surprises here. Good players tend to play well at this event.
It is a little unexpected to see Brooks Koepka fall just outside the top-10 with his two victories here. In four career appearances, he has a T41 and a T42 to go along with the two wins.
Multiple Top-10 Finishes
Looking at recent finishes, there are 15 players in this field have delivered multiple T10 finishes over the last five years: Jon Rahm, Matt Kuchar, Rickie Fowler, Justin Thomas, Xander Schauffele, Webb Simpson, Bubba Watson, Daniel Berger, Branden Grace, Gary Woodland, Louis Oosthuizen, Chez Reavie, Martin Laird, James Hahn and Jordan Spieth.
Course Comps
Water hazards, stadium set ups, and risk/reward drivable par-4s are a common staple across TPC courses. While there are plenty of scoring opportunities on this course, the winning score has only reached 20-under par once in the last 14 years. I'm looking closely at other events with moderate scoring conditions.
If I could pick one comp to TPC Scottsdale, I would probably side with TPC Sawgrass. Both TPC courses are similar in length, feature a similar closing stretch of risk/reward holes, emphasize Ball Striking and Scrambling, and have produced overlapping winners in Rickie Fowler, Webb Simpson and Phil Mickelson.
I'm also looking closely at desert golf courses as comps for this week, as many of these desert-style courses share the same look and feel, with similar greens complexes. There's also a skill to understanding distance control in thin desert air. TPC Summerlin and Stadium Course stand out as top desert comps, while The Summit Club, which just hosted the 2022 CJ Cup, is another interesting recent event to reference. I also threw in The Concession as a tertiary comp given the constant water hazards, risk/reward holes, and emphasis on approach with larger greens. But, there is definitely more of a distance advantage at Concession than what we'll see here.
Looking across each of those comp courses, the top-10 players in SG: TOT are Patrick Cantlay, Justin Thomas, Jon Rahm, Webb Simpson, Louis Oosthuizen, Adam Hadwin, Tony Finau, Abraham Ancer, Billy Horschel and Xander Schauffele.
KEY STATS TO CONSIDER
SG: APP / SG: BS
SG: OTT
Birdie or Better Gained
Scrambling
P4: 400-500
P5: 550-600
Course & Comp Course History
This event usually sets up as a "Team No Putt" week. Aside from the wins by Matsuyama and Stanley, Kevin Stadler ranks dead last on TOUR in SG: P L100 rounds and he's won here. Having just watched Luke List prevail at Torrey Pines over a loaded field, I'm removing SG: P from my model this week and zeroing in on the best Ball Strikers. The top-10 in SG: BS are Jon Rahm, Daniel Berger, Viktor Hovland, Luke List, Russell Henley, Corey Conners, Justin Thomas, Kyle Stanley, Patrick Cantlay and Mito Pereira.
The argument can be made that SG: OTT is less important with a mitigated distance advantage. I don't necessarily agree because elite OTT players can really thrive in both avoiding hazards and generating scoring opportunities with added distance. But Webb has won here and lost again in a playoff, so I get it. In any case, SG: Approach will be even more crucial this week than usual. The top-10 players in SG: APP in this field are Daniel Berger, Russell Henley, Tom Hoge, Viktor Hovland, Luke Donald, Jon Rahm, Chez Reavie, Justin Thomas, Mito Pereira and Adam Scott.
The greens at TPC Scottsdale are a bit of an anomaly. Fantasy National lists these greens as Bermuda because I guess they have to pick something, but they are officially listed as "TifEagle Bermuda overseeded with velvet Bentgrass, Poa trivialis and Perennial Ryegrass." So…I'm just gonna throw any grass stats out the window for this week. I know that Hideki Matsuyama is a bad Bermuda putter over the course of his career but putts pretty well at TPC Scottsdale. So, I'm just thinking of the greens as a flat surface this week without diving any further.
With dry, firm desert conditions, there is an added emphasis on Scrambling. The greens will not be as receptive as other recent birdie-fest courses we've seen. While I'm not modeling any putting stats this week, Scrambling is a combo stat that I'll be using to work around that. There are 10 players who rank top-50 in SG: OTT, SG: APP and Scrambling: Jon Rahm, Louis Oosthuizen, Sam Burns, Patrick Cantlay, Jason Dufner, Martin Laird, Aaron Wise, Hideki Matsuyama, Daniel Berger and Mito Pereira.
Correlation And TPC Scottsdale
The correlations stats are fairly on par with the TOUR average. That tends to be a sign that favors the best overall players. Scrambling Gained and SG: Short Game make the biggest jump compared to TOUR average, each falling inside the top-10. In terms of stats to deprioritize, Prox: 125-175 and Prox: 200+ have proven to be the least correlated.
There are just six players who rate out above-average in each of this week's top-10 correlated stats with success at TPC Scottsdale: Jon Rahm, Patrick Cantlay, Seamus Power, Sam Burns, Russell Henley and Aaron Wise.
PLAYER SPOTLIGHT: JON RAHM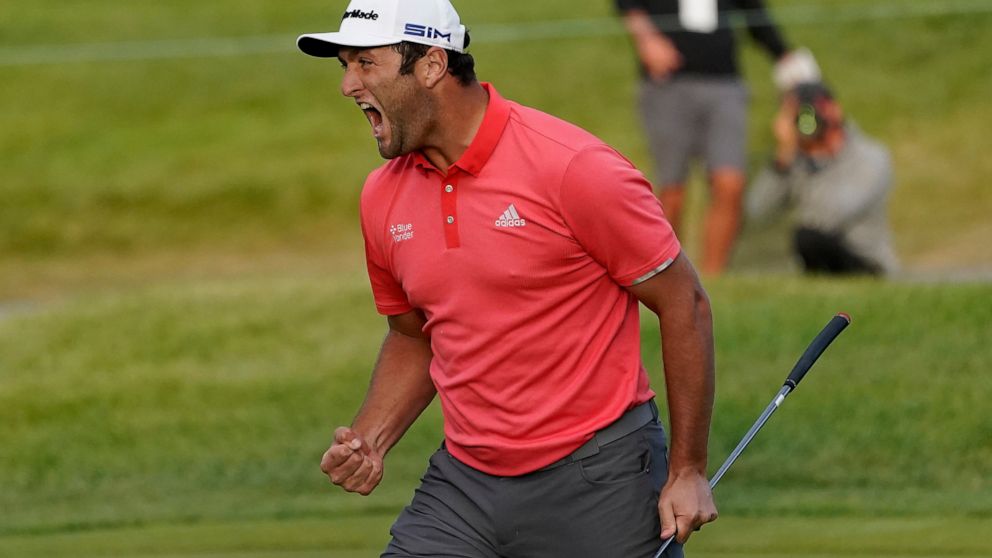 I'm actually doing it you guys. I have convinced myself that this is the week that Jon Rahm actually takes down a golf tournament instead of hanging around neck and neck all week only to fizzle away on the back nine on Sunday.
With Rahm, we are now very overdue for some win regression, both this season and at this golf course. He has won once since the BMW Championship in August 2020. A positive COVID test likely cost him the 2021 Memorial Trophy — he withdrew with a commanding lead heading to the final round. Had he won, he would have cruised to victory at the TOUR Championship, won Player of the Year and be viewed in a very different light than he is today.
That's not the reality we live in, and instead the "what-ifs" just continue to pile on.
Rahm In Phoenix
At the Waste Management Phoenix Open, Rahm has had an incredibly stable floor, finishing between T5 and T16 in all of his six career appearances. That is good enough for No. 1 in Course History over the last five years and No. 4 in total Course History, but he's still not the first name you think of when it comes to this event. The finishes have been more the result of backdoors, without really scaring the leaderboard on Sundays.
When it comes to desert golf, I'm partial to players who live in that area and play in those conditions regularly. That's why Kevin Na has been so dominant at TPC Summerlin, for example. In Rahm's case, he's a Scottsdale lifer. He went to school at Arizona State University down the road in Tempe, lives in Scottsdale now, and belongs to local Silver Leaf Country Club. As world No. 1, he should have the biggest crowd of the year on his side in this home game.
With top players like Matsuyama, Justin Thomas, and Webb Simpson entering with better results at this event, I'm naïve enough to think the Rahm odds premium may begin to dwindle this week. If he opens at +900 or longer, I'll give him a serious thought as a single bullet play.
WHAT TO WATCH FOR AT THE 2022 WASTE MANAGEMENT PHOENIX OPEN
This event concluded with fireworks in 2021 as Brooks Koepka rode a chip-in eagle on 17 to mount a giant comeback victory on Sunday. Xander Schauffele was in the mix throughout the week before sending a nervy tee shot into the water on 17. This event also kickstarted Jordan Spieth's 2021 resurgence tour. He came out of nowhere with a Saturday 61 to take a share of the lead before a mediocre Sunday 72. This was also the coming out party for KH Lee, AKA TPC Lee, who finished T2 and looks poised for another good week having picked up his first career victory at the AT&T Byron Nelson since last year.
With all the course-fit profiles in mind, I'm leaning early towards the below player pool for DFS. Naturally, I'm looking their way in the 2022 Waste Management Phoenix Open odds as well. It's broken out by projected pricing/odds tier for DraftKings.
FINAL THOUGHTS ON 2022 WASTE MANAGEMENT PHOENIX ODDS
For my model in Fantasy National this week, I'm prioritizing SG: APP and SG: OTT followed by a more balanced mix of Comp Course History, BoB Gained, P4: 400-500, Scrambling, and P5: 550-600.
Arizona homer Jon Rahm is back in the No. 1 spot this week, as he tends to be whenever he's in the field. In six career appearances, he's never finished worse than T16. As my spotlight player of the week, I'll be eying him closely when odds open on Monday.
After Rahm, my model's top 10 is rounded out by Patrick Cantlay, Viktor Hovland, Luke List, Justin Thomas, Daniel Berger, Russell Henley, Adam Scott, Louis Oosthuizen, and Sam Burns.
From a betting perspective, I'm going to let the value on the odds board dictate where I start my card. There's a long list of quality ball-strikers who are going to make sense this week. I would expect to see some variance across sportsbooks. If the value isn't there on Rahm, I'm also looking closely at Hovland, Hideki Matsuyama, Berger, or Simpson. Like Torrey Pines, I definitely will want exposure to a top-five player in this field, given the track record of elite players here. Check back below here at TheLines to see where odds open on Monday!
Thanks for reading, and good luck navigating 2022 Waste Management Phoenix Open odds!
Waste Management Phoenix Open Odds Board
Here are the complete Waste Management Phoenix Open odds to compare numbers across sportsbooks.