I'll have another in Texas. I'm feeling extra spry after my second bachelor party in three weeks, ready to take on the 2022 Valero Texas Open odds.
Truth be told, if I could remove one event from the TOUR schedule, it would be this one. TPC San Antonio is a pretty vanilla course without much of an identity. The event lacks much notable history despite celebrating its 100th anniversary this year. The list of winners fails to excite, and it takes place a week before the best event in golf. In fact, if you want Masters content, you can already find some here.
The dreaded content lookahead week. I swear it's not the hangover talking, I just find it hard to get pumped for the Valero Texas Open.
Nevertheless, we persist.
Most of the best in the world have skipped straight to Augusta. But, the Valero Texas Open is the last chance for most players to qualify for the Masters. So, we know that a majority of those teeing it up this week are fully motivated. Here's a look ahead at everything you can expect from the Oaks Course at TPC San Antonio ahead of the 2022 Valero Texas Open.
VALERO TEXAS OPEN FAVORITES
Scroll to the bottom for complete outright odds and to compare prices across legal U.S. sportsbooks in your state.
THE FIELD AT A GLANCE
As of this writing, five players in the OWGR rankings top 20 have entered the Valero. That bunch is highlighted by Rory McIlroy, playing pre-Masters for the first time since 2013. Other top names include Hideki Matsuyama, Bryson DeChambeau, Jordan Spieth and Abraham Ancer.
Spieth will defend his 2021 title. Corey Conners, Andrew Landry, Kevin Chappell, Charley Hoffman, Jimmy Walker, Martin Laird, Brendan Steele and Zach Johnson round out a long list of previous champions back this week.
INTRODUCTION TO THE OAKS COURSE AT TPC SAN ANTONIO
Greg Norman designed the AT&T Oaks Course at TPC San Antonio, which I'm sure will come up approximately zero times on the broadcast. Norman brought on Sergio Garcia in a consulting role when designing it. Garcia's involvement presumably serves to try and attract the game's best in lieu of skipping. Ironically, Garcia himself has only played once, with an MC in 2018.
I'll say up front that this is my least favorite course on the PGA TOUR. I describe TPC San Antonio as a ho-hum, non-descript assortment of holes, lacking any unique identity or defining characteristics.
As a 7,500 yard par 72, it features the standard breakout of 10 par 4s, four par 5s, and four par 3s. It ranks annually in the 10 longest courses on the TOUR and features some of the least penal rough both around the fairways and greens.
As advertised, the Oaks Course features a heavy tree lining. Kevin Na famously recorded a 16 on the par-4 ninth hole here back in 2012. Players who spray their drives will certainly find themselves counting penalty strokes. Despite its length, players with moderate distance who can avoid lateral punch outs and set up their second shots have seen repeated success.
The course's high winds have caused drastic swings in winning scores. In 2016 and 2017 in high sustained winds, -12 proved good enough. The next three years featured more moderate conditions and yielded winning scores of -17 or better. In 2019, when Corey Conners won at -20, the course received a ton of rain in tournament week, softening up the conditions and making scoring easier.
This year, at least for now, the forecast calls for dry conditions and moderate wind. I would anticipate another winning score in the -16 to -18 range.
How It Breaks Down
Despite the length, driving distance hardly correlates at all with success at this course. Players like Jordan Spieth, Ryan Moore, Brandt Snedeker and Kevin Streelman have shown they can thrive. Wind is a defining characteristic, and it's interesting to note that the course layout was designed so that holes that play uphill will naturally play downwind, while downhill holes will play into the wind. This has effectively neutralized any significant advantage from bombers.
Additionally, similar to what we just saw last week at the Corales Golf Course, three of the four par 5s at TPC San Antonio will play around 600 yards. That limits longer hitters from reaching in two, leveling the scoring opportunities.
Thirteen holes have a scoring average over par. Only the par-5 18th hole features a birdie rate over 33%. With three par 5s playing around 600 yards and two par 4s playing nearly 500 yards, we see a notable funnel of 19% of approach shots coming from over 250 yards, double the TOUR average.
Players hit the narrow fairways at slightly below the TOUR average rate. The rough, both around the fairways and greens, is not grown out and has not been penal for off-center shots. Players also hit greens in regulation at a rate of about 61% here, well below TOUR average. Easier-than-average scrambling conditions mitigate that, though. Just like Valspar and THE PLAYERS, the greens will feature an over-seeded blend of Bermuda and Poa.
TPC SAN ANTONIO OAKS COURSE SPECS
Yards: 7,494
Par: 72 (4x 3's / 10x 4's / 4x 5's)
Greens: Bermuda (with Poa overseed)
Architect: Greg Norman & Sergio Garcia
Historic Cut Line: +2
Median Four-Round Score: -2 ('21), -6 ('19), -2 ('18), +1 ('17), -3 ('16)
Comp Courses: TPC Summerlin, GC of Houston, Silverado Resort, Corales Golf Club, Detroit Golf Club
Past Winners: Jordan Spieth -18 ('21), -20 Corey Conners ('19), Andrew Landry -17 (18), Kevin Chappell -12 ('17), Charley Hoffman -12 ('16)
Hole-by-hole Breakdown:
EVENT HISTORY AND COURSE COMPS
Looking at recent course history, 11 players have multiple T15 finishes over the last five years: Charley Hoffman, Corey Conners, Kevin Chappell, Chris Kirk, Kevin Streelman, Ryan Palmer, Brandt Snedeker, Branden Grace, Matt Kuchar, Lucas Glover and Jimmy Walker.
Ten players have made the cut in each appearance over the last five years (min. three starts): Hoffman, Conners, Streelman, Snedeker, Grace, Kuchar, Martin Laird, Graeme McDowell, JT Poston and Brendan Steele.
Charley Hoffman
Some call the Valero Texas Open the Charley Hoffman Open. Over the last five years, Hoffman has a win and two runner-up finishes, with a total of 44 strokes gained. For context, Corey Conners ranks second with just 27.
Hoffman has played this event every year over the past decade. He has never missed the cut and only twice finished outside the top 15.
Hoffman finds himself in some of the poorest form of his career. But it hasn't seemed to matter with him, as he clearly has a thing for this course. It'll be interesting to track just how much the sportsbooks value course history when Valero Texas Open odds hit on Monday.
Course Comps
I struggle to find a perfect comp course for TPC San Antonio, which contributes to my dislike. Given the combination of wind exposure, length hidden in long par 5s, and a fairly lackluster strength of field year-over-year, I actually like Corales Golf Course quite a bit. Tapping into players who ride momentum from a strong finish at that event last week makes some sense. Top-10 finishers at the 2022 Corales Championship in the field this week include Chad Ramey, Alex Smalley, Jhonattan Vegas, Adam Schenk, Brian Stuard, David Lipsky and Martin Trainer.
Silverado Resort & Spa, host of the Fortinet Championship is another interesting comp course, given the length, tree-lined hazards and lack of penal rough despite tight fairways. I'm also looking at GC of Houston and Detroit Golf Club for the similar parkland style and overlapping leaderboards. TPC Summerlin rated out as DataGolf's No. 1 comp. The top-10 players SG: TOT across these comp courses are Jordan Spieth, Bryson DeChambeau, Tony Finau, Henrik Stenson, Rickie Fowler, Rory McIlroy, Zach Johnson, Lanto Griffin, Hideki Matsuyama and Matt Wallace.
KEY STATS TO CONSIDER
SG: APP
SG: ARG / Sand Saves Gained
Good Drives Gained / Fairways Gained
Birdies or Better Gained / Opportunities Gained
Par 4 Scoring
SG: Putting (Bermuda)
Course & Comp Course History
The Strokes Gained numbers would suggest that TPC San Antonio is a bona fide second shot course, reduced to an Approach and Around-The-Green contest as long as players can avoid taking themselves out of position on tee shots. With that in mind, I'm leaning more heavily on Good Drives Gained over SG: OTT, a stat that typically favors more accurate drivers. The top-10 players in Good Drives Gained entering this week are Martin Laird, Russell Knox, Adam Hadwin, Corey Conners, Alex Smalley, Matthew NeSmith, Hayden Buckley, Brian Stuard, Chez Reavie and Jim Herman.
Approach play is important every week on the PGA TOUR. Precise irons gain even more import at TPC San Antonio, though. The top-10 players in SG: APP entering this week are Luke Donald, Knox, Hideki Matsuyama, Mito Pereira, Tony Finau, NeSmith, Luke List, Keegan Bradley, Patton Kizzire and Laird.
With players hitting greens in regulation well below the TOUR average rate, we must factor in short game stats. Ideally, I'm looking for players who excel in Good Drives Gained, SG: APP, SG: ARG, and SG: P (Bermuda). Just six players in this week's field rate out above-average in each of those categories: Matsuyama, Hadwin, Andrew Putnam, Ian Poulter, Pat Perez and Donald.
Looking at the correlation charts this week, we see a notable dip in the importance of Par-4: 450-500 and Par-3 Scoring relative to TOUR average. Instead, SG: APP, Par-4 Scoring, Bogey Avoidance and Good Drives Gained make the greatest jumps. Driving Distance, Prox 200+ and 3-Putt Avoidance are among the least correlated stats with success.
Eleven players in the field rank above average in each of the above key stat categories: Matsuyama, List, Rory McIlroy, Kizzire, Knox, Gary Woodland, Jhonattan Vegas, Chris Kirk, Aaron Rai, JJ Spaun and Maverick McNealy.
PLAYER SPOTLIGHT: MAVERICK MCNEALY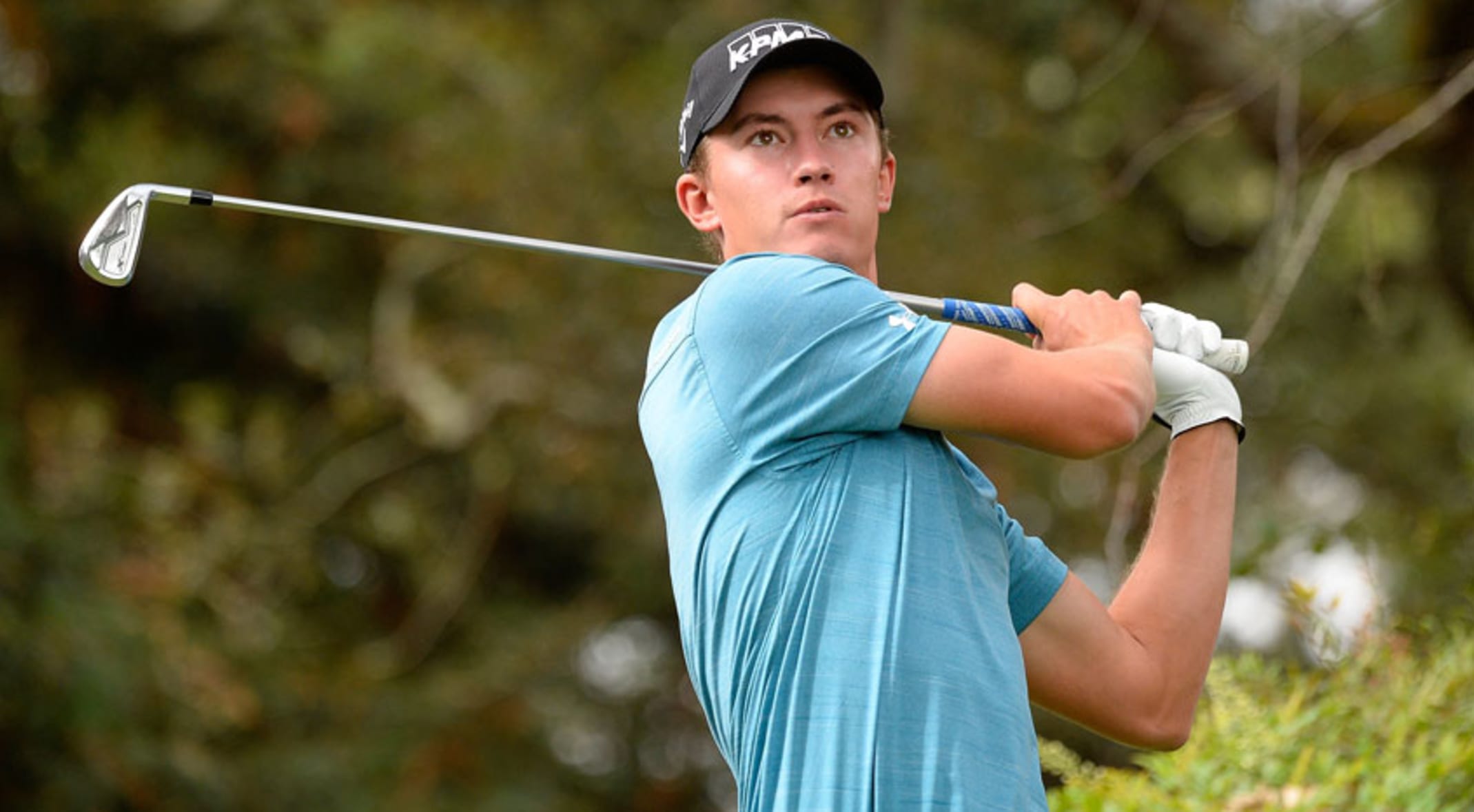 In a week which features plenty of intangible question marks between match play fatigue and Masters lookaheads, Maverick McNealy finds himself perfectly positioned to avoid any concerns. He could not have looked much better at the WGC Dell Match Play, going 2-0-1 in group play with comfortable wins of 8 and 6 over Joaquin Niemann and 2 and 1 over Russell Henley. A playoff loss to Kevin Na kept McNealy from advancing, but that may also keep his odds in check.
McNealy currently stands as the highest-rated OWGR player in the field not qualified for the Masters. So, he has plenty of motivation, unlike the other top names who may simply be tuning up.
McNealy has made it through the cut in 11 of his first 12 starts to kick off the 2022 season and has eight top-30 finishes. His best came at the Fortinet Championship, one of the better comp courses to TPC San Antonio, also featuring narrow tree-lined fairways with short, non-penal rough.
He will make his tournament debut this week but looks to profile well for this course, ranking 16th overall in my model. He rates above average in each of the key stats, as well as each of the most correlated stats, which suggests he should have a high floor.
WHAT TO WATCH FOR AT THE 2022 VALERO TEXAS OPEN
Most players in the field are hoping to catch the last charter to Augusta and qualify for the Masters with a victory. A majority of players already qualified have already skipped town from Austin to Georgia, but there's still plenty of firepower at the top of the board. And while this looks like an obvious tune-up, lookahead spot for the elites, note that Jordan Spieth, Brooks Koepka, Tony Finau and Patrick Reed have finished top three here over the last several years. You can't completely overlook the top names at Valero.
With all the course-fit profiles in mind, I'm leaning early towards the below player pool. Naturally, I'm looking their way in the 2022 Valero Texas Open odds as well. I've broken the list down by projected pricing/odds tier for DraftKings.
In my model this week, I'm emphasizing SG: APP, Good Drives Gained, Opportunities Gained and Par-4 Scoring, followed by a more balanced mix of GIRs Gained, Comp Course History, SG: ARG and SG: P (Bermuda).
Top honors in this week's model go to Hideki Matsuyama, who is now looking to catch Scottie Scheffler with a third win in this early 2022 season. Adam Hadwin, Corey Conners, Luke List, Rory McIlroy, Matthew NeSmith, Patton Kizzire, Mito Pereira, Martin Laird and Russell Knox round out the top-10.
When 2022 Valero Texas Open odds open, I'm also eying Maverick McNealy, Gary Woodland and Jhonattan Vegas on a short list of potential bets. Check back in later this week for more updates. Best of luck navigating 2022 Valero Texas Open odds!
COMPARE 2022 VALERO TEXAS OPEN ODDS