Will US Sports Betting Legislation Be Out Of Date As Soon As It's Passed?
From outside the United States, the current scramble to produce state legislation for
sports betting
looks a bit like the US has just discovered VHS video recorders. The rest of the world has long since moved on. A quick scan of legislation proposed in various states looks like it was designed for the steam age. Where are the current big regulatory issues in gambling regulation;
esports
, virtual sports, in-game and crypto-currencies? Conspicuous by their absence.
Esports betting is the next next thing
The most popular esports are
League of Legends
(LOL),
CounterStrike Global Offensive
(CSGO),
StarCraft 2
and
Overwatch
although there are many others which garner a large audience. If any US politicians have noticed the existence of
Twitch
, they should have picked up that on June 24,
Riot Games
became the first channel to pass
one billion views
, almost entirely for broadcasts of their esport game League of Legends.
At a
Nevada Gaming Policy Committee meeting
chaired by
Governor Brian Sandoval
,
Arthur Manteris
, vice president of
Station Casinos
' sportsbooks made the simple statement: "Gamblers make viewers, and viewers make gamblers," adding that the viewing figures are: "Numbers the world has never seen before." Manteris has
forty years experience
of sports betting in
Las Vegas
. Governor Sandoval listened, and not long after the meeting in May 2016, the
Downtown Grand Casino
with its partner
William Hill
, took the
first legal esports bet
in
Nevada
. Online esports betting still isn't legal in Nevada, but it is available in casinos.
New Jersey's
latest sports betting legislation
includes what appears to be
a ban on esports betting
:
"A prohibited sports event includes all high school sports events, electronic sports, and competitive video games but does not include international sports events in which persons under age 18 make up a minority of the participants."
Sports attorney
Daniel Wallach
told Compete
that there was still some wiggle room and that the regulator could rule on a case-by-case basis to allow some esports betting. Nevertheless, it doesn't look good.
Esports is experiencing triple-digit growth
Over the last four or five years, esports betting has been the
fastest growing area of sports betting
. Sports betting operator
Pinnacle
has seen triple-digit growth for the last five years.
Narus Advisors
and research firm
Eilers & Krejcik Gaming
have forecast
that global wagers on esports will be
$6.7 billion in 2018
growing to
$13 billion by 2020
. That's a small but significant fraction of the global online sports betting market and it's growing at internet speed.
Virtual sports
Virtual sports are a closer complement to traditional sports. Using big data about players and team performance they enable
virtual versions of traditional sporting fixtures
to be played out. Bettors can watch the matches with high-quality video game graphics, and even engage in in-game betting. Sports data firm
BetRadar
is one of the biggest names in the virtual sports betting business. Here's their 2018 promotional video showing the sports they offer as virtual products and the quality of the video graphics.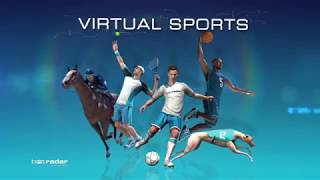 If you skipped the video, you missed the list of sports that they offer globally; soccer, basketball, tennis, horse racing and dog racing.
No hockey, no American Football, no baseball
. This is the legacy of the federal ban on sports betting, the most advanced betting technology in the rest of the world has
ignored
the most popular US sports. Nevada and New Jersey are two states where at least some virtual sports betting is allowed, the question is whether other states will follow when they pass their own sports betting legislation.
Skins, crypto & loot boxes
One characteristic of modern video games and esports is that the game developers monetize play by offering
virtual goods
for sale. These goods, such as weapons, armor, boxes with surprise contents (loot boxes) and other in-game advantages/enhancements can also be won by playing. Collectively known as
skins
, they have become a de facto in-game currency, and can sometimes be
used for betting
. The regulators of today need to define what counts as money for the purposes of gambling. The
UK Gambling Commission
has made
a good stab at the problem
. US regulators need to follow suit, especially with the proliferation of
modern cryptocurrencies
. With everyone so excited about the legalization of sports betting, it's easy for politicians to miss the fact that the industry is
moving on into a virtual age
. The legislation they produce risks excluding players and US businesses from an important development or at least
leaving gamblers to the risks
of placing their bets on the black market.
RELATED ARTICLES
---