Mass hysteria in Massachusetts beckons, as we gear up to handicap 2022 U.S. Open odds for the season's third Major at The Country Club in Brookline this week. The world of golf has flipped on its head over the last couple weeks with LIV inserting itself into the picture, luring some big PGA TOUR names away with blank checks.
Some of those that have defected will now join those that have stayed at the USGA-run major championship. Let's dive into the storylines and all the key stats you need to know before betting 2022 U.S. Open odds.
US Open Golf Pick'em! Make your picks for every round and win up to $500 in gift cards. Free to enter!
US OPEN ODDS: THE FAVORITES
Scroll to the bottom for complete outright odds and to compare prices across legal sports betting apps in your state. These are the best available odds on the top-10 favorites.
Boston Tee Party
Players leaving for the LIV golf tour has created a rift between purist players who relish competition in the name of legacy and honor to the TOUR which has built them up to become millionaires and global stars, and the ones who are comfortable putting all of that aside for generational wealth via controversial Saudi government funding.
From an integrity standpoint, there is an atmosphere of good versus evil in the air at the 2022 U.S. Open, and while it remains to be seen how the LIV players will be received by the media and fans in their first cross-TOUR event since being suspended by the PGA TOUR, it will undoubtedly create must-see drama for the week ahead. The U.S. Open has always been my favorite Major to watch, and I couldn't be more excited with the stakes at hand for this one.
US OPEN Odds: Field AT A GLANCE
We don't need to spend too much time over-analyzing the field this week. All of the top players in the world are here as we would expect at a 156-man Major championship, but it's significant to note that the USGA did not go out of its way to un-invite any qualified LIV players who defected from the PGA TOUR. U.S. Open qualifying is not run by the PGA TOUR. It was not a surprise to hear that the USGA would not ban the likes of Dustin Johnson, Bryson DeChambeau, Patrick Reed and Phil Mickelson from competition, as the ethos of the U.S. Open is to be
open
to any players who meet the qualification criteria.
Fran Quinn is a 57-year-old Korn Ferry Tour journeyman in the field by way of regional qualifying. So if he's in, there was never a doubt whether the big name LIV players would be denied.
Phil Mickelson will garner the most attention this week, making his first appearance stateside since the Farmers Insurance Open in January after presumptively being banned by the PGA TOUR and self-withdrawing from the first two Majors of the year. It will be a circus to watch Phil navigate the myriad of questions thrown his way by the media this week.
Notably absent is Tiger Woods, who's chosen to skip The Country Club and get his body to full strength for The Open next month. Paul Casey is the only Official World Golf Rankings top-50 player absent from U.S. Open odds, withdrawing earlier this week as he continues to recover from an ailing back injury.
The list of former U.S. Open champions teeing it up this week includes
Jon Rahm, Bryson DeChambeau, Gary Woodland, Brooks Koepka, Dustin Johnson, Jordan Spieth, Martin Kaymer, Justin Rose, Webb Simpson, Rory McIlroy,
and
Jim Furyk.
INTRODUCTION TO THE COUNTRY CLUB
The Country Club will be hosting the U.S. Open for the first time since Curtis Strange won in 1988, and poses a refreshing challenge to the field, relying on the unique, natural topography of the gritty, rocky New England landscape to challenge players with constant, uncomfortable hazards around both the fairways and greens. Unlike most U.S. Open tracks chosen by the USGA, length is not The Country Club's best defense, but the constantly threatening hazards, miniscule greens, and long rough we've come to expect at a U.S. Open have this course quoted by some players in the field as the most challenging golf course they've ever played.
At the risk of sounding like a broken record in any given Major championship preview, this course will expose and exaggerate any flaws in your game from tee to green, so players who want to find themselves in contention this week will need to enter in great all-around form.
What will set The Country Club apart from other Major venues is its emphasis on accuracy off the tee, with several forced layups, blind approach shots, tiny greens, and unusual natural hazards. Players will need to be firing off the tee, on approach, and around the greens to remain in contention this week, and won't be able to mask any shortcomings across those areas on this course. I'm looking for players who are best at Total Driving with an emphasis on Driving Accuracy, to pair with elite skillsets in long-range approach and short game to narrow in on a player pool this week.
Course History
It is by coincidence, but perfect timing, that in the face of these "Tour Wars" currently dominating golf headlines, The Country Club will play host to the first "mixed" field of players across we can now say are three prominent professional Tours between the PGA TOUR, DP World Tour, and LIV.
The Country Club is one of the five charter clubs which founded the USGA, and the storied history of this golf course dates all the way back to 1893. Over its long history, the Country Club has hosted nine Men's & Women's U.S. Amateurs, three prior U.S. Opens, and the 1999 Ryder Cup. These grounds are renowned as one of the most difficult Major Championship golf courses by modern golfers who've had the opportunity to play, and it's refreshing to see that this classical design has not needed to rely on length to pose a challenge in the modern game.
Gil Hanse, who also led the Southern Hills restoration project, was brought on for renovations in 2009. His contributions include expanding the green sizes to allow for additional pin location options, and re-routing the 18-hole tournament layout, introducing a new set of holes from the 27 options on property at The Country Club, a nice luxury that makes for a fresh, new experience at The Country Club every time we come back.
The Greatest Game Ever Played
Amateur Francis Ouimet put American golf on the map in 1913 when he defeated Ted Ray and Harry Vardon in the U.S. Open the first time The Country Club played hosts. It's a fascinating reminder of how important historical moments are in the game of golf in the face of today's affairs with big names casting tradition aside for LIV cash grabs.
American players have won each professional event contested at The Country Club, with Julius Boros winning the 1963 U.S. Open, Curtis Strange winning the 1988 U.S. Open, and Team USA winning the 1999 Ryder Cup. It'll be interesting to see if that patriotism continues to shine through with these New England crowds.
We'll hear plenty of chatter about the 2013 U.S. Amateur this week, as that was the last prominent event hosted at The Country Club, albeit on a different routing of holes throughout the property. Matt Fitzpatrick was the winner that year over a field that also included Corey Conners, Scottie Scheffler, Max Homa, Xander Schauffele, Justin Thomas, Cameron Young. Fitzpatrick still has not won on U.S. soil since, but he'll be amongst the most popular plays this week given his trending form and prior (albeit distant) success on this course.
What Makes The Country Club Similar To Other US Open Venues
As long as the USGA continues to govern the set-up of U.S. Open venues, they will continue to share the same intent of testing the field's all around skillsets and ultimately rewarding the best all-around player over those four days. At The Country Club, we'll continue to see the rough grown out to extreme lengths, which should put an emphasis on hitting fairways. A majority of the par-4s (eight in total) will play over 450 yards, a staple feature across U.S. Open venues, and the greens will be rolling firm and fast, making it increasingly difficult to hold a high percentage of greens in regulation, and will put players in nefarious positions to scramble from obscure and difficult hazards surrounding the greens.

Stat categories like Bogey Avoidance and Par-4 Scoring: 450+ have been standout indicators of success at U.S. Opens over the last decade and it should continue to be at a premium this week at the Country Club. In general, players who are comfortable in difficult scoring conditions, and who can manufacture pars by leaning on the their OTT, APP, and ARG profiles throughout the event have found repeated success at U.S. Opens, and that profile should be no different this week.
What Makes The Country Club Completely Different From Other US Open Venues
At 7,264 yards, The Country Club will play about 350 yards shorter on average than the previous two U.S. Open host courses of Torrey Pines and Winged Foot. A look through the leaderboard of the last two U.S. Open would suggest that players who sacrificed distance to the field simply had no chance to hang around in contention for four days on those course;
that will very much not be the case this week at The Country Club
.
Until now, Pebble Beach was an exception on the U.S. Open course rotation over the last decade in terms of not relying on pure length to challenge the field. At Pebble Beach in 2019, the small greens and tucked pin locations posed the greatest challenge to the field, which will be the case once again this week. Chez Reavie and Henrik Stenson finished top-10 in 2019 by way of accuracy alone, which is an outlier by U.S. Open standards, but one we may expect to see again at The Country Club.
It's also worth noting that with added length this year compared to 2019, players with below-average driving distance will be at a disadvantage, however The Country Club will place a greater premium on driving accuracy than driving distance, which is a refreshing reprieve from recent U.S. Open venues.
THE COUNTRY CLUB COURSE SPECS
Yards: 7,264
Par: 70 (4x 3s / 12x 4s / 2x 5s)
Greens: Bent & Poa Blend
Architect: Willie & Alex Campbell (Renovations from Gil Hanse since 2009)
Comp Courses: Pebble Beach ('19 U.S. Open), Muirfield Village, Bay Hill, Colonial CC, Innisbrook Resort, Riviera CC, St. George's G & CC, TPC Potomac, Torrey Pines, Olympia Fields
Past U.S. Open Winners: Jon Rahm -6 ('21), Bryson DeChambeau -6 ('20), Gary Woodland -13 ('19), Brooks Koepka +1 ('18), Brooks Koepka -16 ('17)
Hole-by-hole Breakdown:
The Country Club is short by Major standards, but still packs plenty of bite as a 7,264-yard, Par-70 course.
The layout features just two Par-5s; one is easily reachable in two for the full field featuring a dramatic, undulated false front that will reject approaches to the front of the green, the other likely impossible to reach in two with multiple tiers that will force players to layup up for a blind approach over 125 yards out on their third shot if their tee shot misses the fairway. The 619-yard 14th is hardly a reprieve like we tend to expect from Par-5s, and will bring Bogey into play for players who find themselves out of position on either of their first two shots.
The par-3s on property feature an interesting mix of long and short. The 131-yard 11th is a new addition to the championship routing. The short, downhill shot into a table-top green is surrounding by OB areas and should provide plenty of entertainment with players hitting knock down wedges into tight pin locations that will exaggerate misses. The remaining par-3s will have a scoring average over-par and players will be happy to walk away with pars for each throughout the week.
The par-4s also feature a unique mix of long and short for holes at a Major championship. The 310-yard 5th is driveable, and longer hitters may opt to take aggressive lines at the 375-yard 7th and 17th if tees are up, although the layout will tempt players to lay back more conservatively given the constant hazards in play. There are eight par-4s measuring 450-yards or longer, including three at 499+.
Unlike the linear, lengthy layouts of Torrey Pines and Winged Foot, there is a steep penalty for erratic drives at The Country Club, and players who are not in complete control of their golf ball will find themselves punching out of fescue and tree lines, or dropping out of penalty areas. This course is bomb-and-gouge-proof, and will require a thoughtful strategy of club choice to attack most of the par-4s. The tiny greens are the second smallest for a Major championship behind Pebble Beach, and will be rolling firm and fast with severely undulation with a blend of Bent and Poa.
EVENT HISTORY AND COURSE COMPS
At the RBC Canadian Open we had limited course history to reference from the 2010 Canadian Open at the same course. This year, after the 2009 Hans renovation and re-routing of tournament holes, we essentially have nothing to look back on for reference. So in lieu of course history, we turn to Event and Comp Course History instead.
US Open History
As mentioned earlier, the USGA embodies the same core characteristics in each of its chosen venues, and even if length is lacking a bit this year compared to most, the ability to grind in difficult conditions, particularly out of thick rough and hard-to-hold greens that emphasize short game, will continue to be paramount.
Dating back to 2013, the top-10 players in U.S. Open Event History are Brooks Koepka, Dustin Johnson, Xander Schauffele, Louis Oosthuizen, Hideki Matsuyama, Rory McIlroy, Patrick Reed, Jim Furyk, Jon Rahm, and Adam Scott.
Course Comps
I usually spend a majority of my research time identifying the best course comps to project recent results within the past year onto the field for the upcoming week. In Majors, I tend to de-prioritize this importance of Comp Course History, as the atmosphere of a standard TOUR event is not comparable to that of a Major championship. With that said, there's still value in referencing results on regular TOUR courses that ask for a similar style of play. In this case, Bogey Avoidance in difficult conditions and long rough, Total Driving, and all around tee-to-green strengths are still translatable.

I don't think we have a perfect example of a one-to-one comp with The Country Club this week, but TPC Potomac would jump out to me as the closest we've got. Both put a large emphasis on total driving to keep the ball in play for difficult, often blind approaches into tight greens. Both courses also feature similar Northeast agronomy with deceptive length as a Par-70, and require strength in all facets of a player's game from tee to green.

The long, thick rough both around the fairways and greens will define this course, especially when compared to Southern Hills and Augusta National, which played tight and open as hosts of the first two Majors of the year. Courses like Muirfield Village, Bay Hill, Colonial CC, Innisbrook Resort, Riviera CC, Torrey Pines, and Olympia Fields all feature penal rough which has led to difficult scoring, and should be fairly translatable for the task at hand in Brookline.

Wrap that altogether, and the top-10 players in comp course history are Patrick Cantlay, Jon Rahm, Rory McIlroy, Max Homa, Sergio Garcia, Xander Schauffele, Matt Fitzpatrick, Tony Finau, and Sungjae Im.
KEY STATS TO CONSIDER
Total Driving (Driving Accuracy + Driving Distance)
SG: APP
SG: ARG
Prox: 175+
Par-4: 450-500 / Par-4: 500+
Par-3 Scoring
SG: TOT (Difficult Scoring Conditions)
Bogey Avoidance (Difficult Scoring Conditions)
SG: Putting
Comp Course & Event History
We do not have relevant course stats to pull from to directly ascertain how players will need to profile to find success at The Country Club with the course not hosting a full field event since the 1988 U.S. Open. The Country Club has hosted a pair of U.S. Amateurs and a Ryder Cup since then, but in each instance, the routing of the course has been rearranged from the 27 holes on property. So with that said, while we need to project course fit in absence of recent results, there's always a bevy of information at our disposal in a Major week.
You won't have to search hard to find hole by hole breakdowns and overhead visuals of each hole this week. The overarching takeaway from the visuals of this course is that players cannot afford to put themselves out of position off the tee with how penal the rough is going to be, especially when hitting into small, firm, fast, elevated, and undulated greens. With that in mind, I'm putting a significant emphasis on Total Driving in my models this week. The top-10 players in SG: OTT, who are also above average in both Driving Distance and Driving Accuracy are: Jon Rahm, Cameron Young, Sergio Garcia, Mito Pereira, Keegan Bradley, Max Homa, Patrick Cantlay, Matt Fitzpatrick, Viktor Hovland, and Aaron Wise.
After Total Driving, SG: APP will also be crucial, as is the case whenever we shrink the size of landing areas on the greens. With many blind shots on this course, the best iron players who can confidently hit their numbers are going to stand out by the end of the week. The top-10 on approach heading into this week are: Will Zalatoris, Cameron Smith, Max Homa, Aaron Wise, Russell Henley, Viktor Hovland, Scottie Scheffler, Jordan Spieth, Mito Pereira, and Collin Morikawa.
If I were to construct the perfect player to take on The Country Club, they would need to be above-average in Driving Accuracy, Driving Distance, SG: APP, SG: ARG, SG: TOT (Difficult Scoring Conditions), and Bogey Avoidance (Difficult Scoring Conditions). Just nine players fit that criteria this week: Xander Schauffele, Patrick Cantlay, Cameron Young, Matt Fitzpatrick, Aaron Wise, Mito Pereira, Keegan Bradley, Sebastian Munoz, and Davis Riley.
Stats By Length
At The Country Club, what you see on the scorecard is what you'll get for the most part, as compared to other modern courses we're used to seeing week to week on the PGA TOUR, they do not have as many options to move tee boxes around. They'll instead rely on moving the pin locations more drastically, but that means we can more confidently model off of hole distance ranges and expected proximity for this week.
Looking at the scorecard, there are eight holes that will play over 450 yards, with three playing at 500 yards or longer. The top-10 players in scoring from 450+ yards are: Rory McIlroy, Sebastian Munoz, Sungjae Im, KH Lee, Brian Harman, Aaron Wise, Seamus Power, Gary Woodland, and Xander Schauffele.
I would expect a high dispersion when we look back at driving distance per player this week, as players will face a dilemma from the tee box on many holes as to whether they should pull driver or lay back off the tee. But by looking through each hole's layout, it seems the course is baiting players to set up a volume of long-iron approaches from beyond 175 yards out. The top-10 players in Proximity 175+ are: Kurt Kitayama, Shane Lowry, Viktor Hovland, Aaron Wise, Abraham Ancer, Dustin Johnson, Xander Schauffele, Gary Woodland, Hideki Matsuyama, and Justin Thomas.
I don't always model off of Par-3 Scoring, but rounds will get away quickly for players who cannot avoid trouble on them. The best Par-3 scorers in this week's field are Brian Stuard, Sepp Straka, Tom Hoge, Xander Schauffele, Shane Lowry, Talor Gooch, Aaron Wise, Viktor Hovland, Will Zalatoris, and Scott Stallings.
Modeling off of the exact 18-hole hole distances, the top-10 players who are best suited for The Country Club's dispersion of exact hole distances across the Par 3, 4, and 5s are: Rory McIlroy, Max Homa, Justin Thomas, Xander Schauffele, Billy Horschel, Sungjae Im, Jon Rahm, Cameron Smith, Keegan Bradley, and Aaron Wise.
Correlation
From a correlations standpoint, while we don't have anything to go off for The Country Club, there's still merit in pulling what it's taken to find success at past U.S. Opens in order to project an ideal profile for this week, given the constant throughline of the USGA governing.
Looking over the stats, it's a de-prioritization of Par-5 Scoring and SG: OTT at the U.S. Open compared to TOUR average, which makes sense considering the USGA has historically converted usual Par-5s into long par-4s at most U.S. Open tracks, commonly playing to Par-70. From an OTT standpoint, with tight fairways and thick rough, we've seen players start to freely swing driver over the last few contests, accepting that fairways will be difficult to hold and instead opting to play their second shots closer to the hole. I don't think that approach is going to translate at The Country Club, however, as a majority of holes will force less than driving off the tee with natural hazards looming just off the fairways. Par-4 400-450 is another stat which takes a giant step backwards in importance at the U.S. Open compared to average, as the USGA has typically extended tee boxes back to play closer to to 500 yards and reward a player with an all around complement of both distance and accuracy. There is just one Par-4 at The Country Club which falls between 400-450 yards.
The stats which take the biggest leap forward in terms of importance at a U.S. Open are Par-4: 500+, SG: ARG, Driving Distance, and Doubles Avoided. Each of these categories will continue to be crucial at The Country Club, although I'd expect Driving Accuracy to play a more important role than Driving Distance this week, with forced layups taking driver out of the players' hands on several of the par-4s. Notably, each of these stats rank inside the top-15 of importance at the U.S. Open while outside the top-25 on average.
Just nine players in the field rank above average in each of the above key stat categories I'm looking for this week:
Justin Thomas, Rory McIlroy, Xander Schauffele, Shane Lowry, Sam Burns, Aaron Wise, Mito Pereira, Keegan Bradley,
and
Sebastian Munoz.
PLAYER SPOTLIGHT: COLLIN MORIKAWA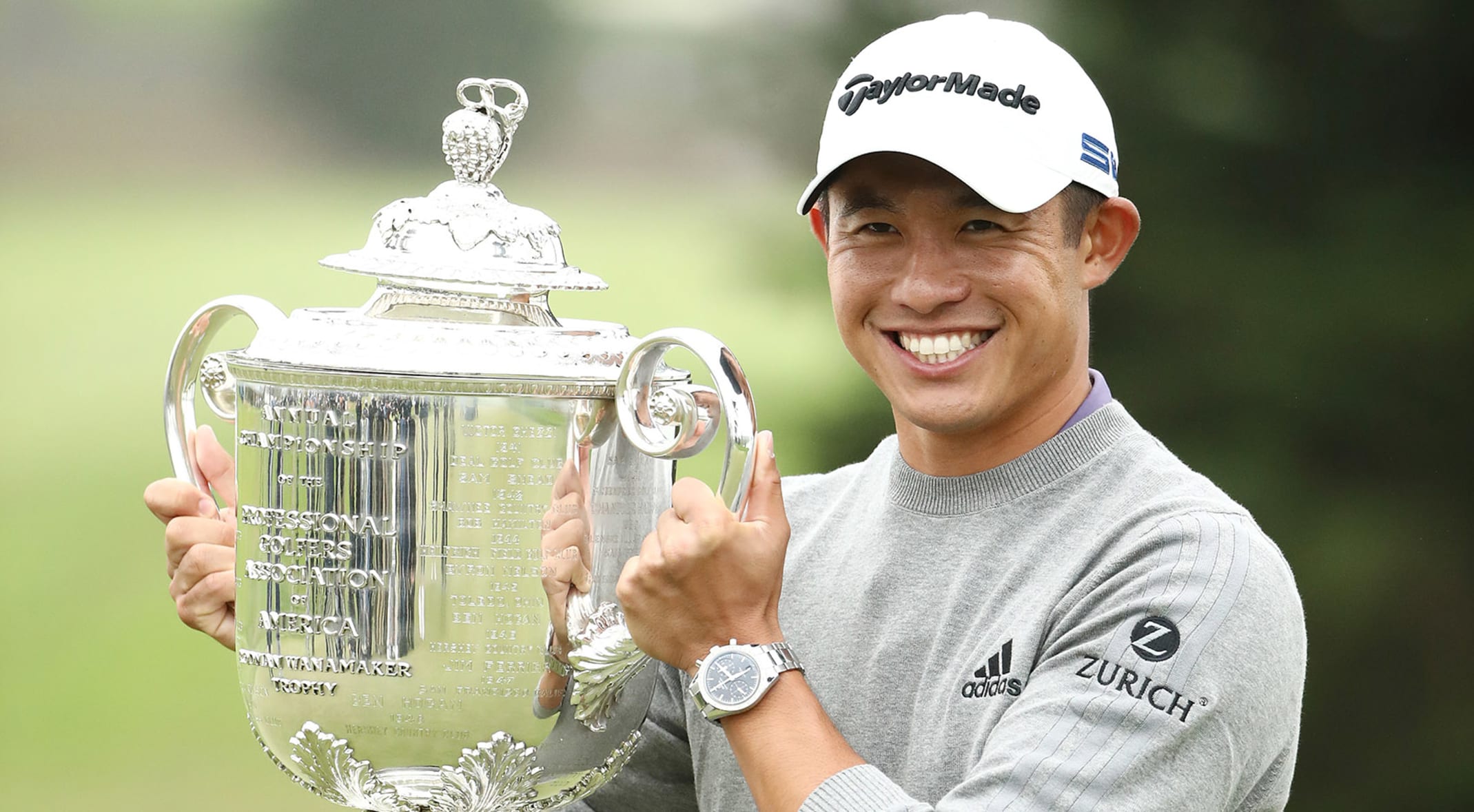 Compared to the first two Majors this season, there is actually a long list of longshots I think can contend at The Country Club, which can happen when the total course yardage is stripped down to 7,200 yards and driving paradigm shifts from distance to accuracy, a more attainable skill for the larger field. I've convinced myself that players at the bottom of the board like Mito Pereira, Keegan Bradley, and Kevin Na can win this event, but if I'm picking one player who I think will win the event, it's Collin Morikawa at a still-tantalizing price across most sports books, and what should be depressed ownership on Draft Kings from a DFS perspective at $10,000 off of a few lackluster results leading in.
The 25-year-old, 2-time Major champion has immediately come out the gates to prove his game peaks in Major championships. With ten Majors under his belt now, he's made it through the cut all but once with five top-10s over that span. In every Major Championship since 2020, Collin has gained strokes in both Driving Distance, Driving Accuracy, and SG: APP, proving he is able to dial up his ball striking ahead of the tournaments that matter most. The only "dud" we've seen of Collin in a Major came at the 2020 U.S. Open at Winged Foot, which we can give a pass given the course fit there is the antithesis of what he does best. But what's more encouraging than one of the best players in the world ball-striking well in Majors has been his putter in these biggest stages.
While the flat stick has been a liability for Morikawa throughout his early career, he has gained strokes putting in 70% of his Major appearances, suggesting he is ready to put in the work on the putting green while fully focused in a Major week. For that reason, I'm content to overlook the recent putting woes which have caused him to lose strokes putting in six of his last eights events. The two exceptions over that span? The Masters (T5) and The Genesis (T2). In fact, Morikawa has gained strokes putting a total of four times in the 2022 season, and finished T5 in each of those events. If we're to believe there's a 70% chance Collin gains strokes putting in any given Major, then the path to contention is very clear for Morikawa.
Of all the Major venues we've seen Morikawa compete at thus far, The Country Club may just be the best fit yet for his game since he made his Major debut at Pebble Beach at the 2019 U.S. Open. At just over 7,200 yards, it mitigates any leg up from pure bombers like we'd seen at the last two U.S. Opens at Torrey Pines and Winged Foot, and instead rewards a premium on hitting fairways, while still possessing plus-distance. Morikawa is one of only two players this week who ranks above average in Driving Distance and top-10 in Driving Accuracy. I'm obligated to point out that Mito Pereira is the other.
Also encouraging for Morikawa at The Country Club are the miniscule greens, which are second only to Pebble Beach in terms of smallest average green size at a Major. Small greens will always put an emphasis on approach, his greatest skill, and his elite form in total driving should position him well to attack aggressive pins from the fairway. A key identity to The Country Club is its volume of blind approach shots, and if there's one player I trust to hit greens blindfolded, it's Collin Morikawa.
This is a very appealing spot to back Morikawa, as we get the benefit of buying low on recent results despite the ball striking form remaining at elite levels, now entering an ideal course fit with optimism that the putter can recover in this environment. I have my bets hedged on Morikawa capturing the third leg of the career Grand Slam at 25 years old come this Sunday.
WHAT TO WATCH FOR AT THE 2022 U.S. OPEN
There is so much to watch for at this year's U.S. Open. For better or worse, golf has captured the attention of the casual golf fan at large with the latest LIV news, and they will be tuned in at scale to watch the drama unfold this week.
The circus begins on Monday with Phil Mickelson kicking off the first media interview, and I would expect the media to fan the flames surrounding the TOUR-defected LIV roster. It remains to be seen how the fans will react when following the LIV groups around. Will they badger them for their money-hungry, complicit sports-washing alignment with the Saudis, or do they not care at all? If you love a player like Phil Mickelson or Bryson DeChambeau, you may relish the Majors as a fleeting opportunity to still watch them play in person. If you hate them for selfishly taking a giant paycheck to fragment the game of golf and depriving golf fans from seeing them compete regularly against the best players in the world week to week, or for giving hollow false promises and allegiance to a TOUR that fostered their global stardom, well you'll have a chance to say how you feel right to their face if you're in attendance too. It is a perfect world of a great, challenging, picturesque golf course hosting an incredible field of all the best golfers in one place, with a historical backdrop and "good versus evil" representation between rival TOURs. It's perfect drama, and will be must see TV all week from Monday to Sunday.
With all the course-fit profiles in mind, I'm leaning early towards the below player pool. Naturally, I'm looking their way in the 2022 U.S. Open odds as well. With odds and DFS pricing already released, I've broken the list down by actual pricing/odds tier for
DraftKings
.
In my model, I'm emphasizing SG: APP, SG: TOT (Difficult Scoring Conditions), Total Driving (Driving Accuracy + Driving Distance), Prox 175+, and Par-4: 450+ followed by a more balanced mix of SG: ARG, Par-3 Scoring, Bogey Avoidance (Difficult Scoring Conditions), Comp Course History, U.S. Open Event History, and SG: P. It's a lot to feed in this week, but there's a long list of boxes to check to become a Major champion, especially at The Country Club.
Model Favorites
Just as he was the last time we saw him in the field, Jon Rahm, the defending U.S. Open champion claims the No. 1 spot in my model. That's a credit to ranking No. 1 overall in Total Driving and SG: Ball Striking, and top-5 in SG: TOT (Difficult Scoring Conditions), Bogey Avoidance (Difficult Scoring Conditions), Comp Course History, and Prox 175+. He did not pass the eye test last we saw him at the Memorial, but still managed to find himself inside the top-10 without his best stuff anyway. Rahm's ability to find fairways with driving in hand is going to make him a dangerous presence in the field this week, especially if he can continue on with the short game touch he found at the Memorial.
After Rahm, the rest of my model's top 10 this week features Matt Fitzpatrick, Scottie Scheffler, Xander Schauffele, Rory McIlroy, Justin Thomas, Shane Lowry, Aaron Wise, Max Homa, and Hideki Matsuyama.
For my betting card, I've tried to stay patient and wait for odds to drift when Major week is officially upon us on Monday. I, however, have not done a great job of restraining myself so far. My card as it stands includes Futures on Collin Morikawa (33-1), Cameron Young (66-1), Mito Pereira (99-1), Keegan Bradley (150-1), and Kevin Na (210-1), each placed within the last couple weeks.
Still room for 1-2 more in the 20 to 35-1 odds range to add, so check back in later this week for more updates, as we continue to get more enticing offers across sportsbooks. Thanks for reading along, best of luck navigating the 2022 U.S. Open odds!
COMPARE 2022 U.S. OPEN ODDS
---
Follow TheLines on Twitter