Dustin Poirier and Conor McGregor have each finished the other during the course of their first two fights. Now, they'll settle the rivalry for good with the rubber match at UFC 264 on July 10.
Appropriately for the third fight in a 1-1 series, the betting markets see an evenly matched fight. Poirier, the current top-ranked lightweight contender in the promotion, can be bought at . The Irish legend, meanwhile, can be had at .
The co-main event will see top-four welterweights Gilbert Burns and Stephen Thompson square off. Each will attempt to position himself as a future challenger for the belt after experiencing setbacks in recent fights. Burns is priced as a underdog while Thompson's at .
Bet $20, Win $100 If McGregor lands a punch - Extra Winnings Paid in Free Bets!
Fight Night 264
Bet $20, Win $100

To Claim: Click Play Now

Win $264 If Either Fighter (McGregor vs Poirier) Gets a Knockout in Round 1
Fight Night 264
$50 Free Bet on Deposit

Up to $1,000 Deposit Bonus

To Claim: Click Play Now

How To Watch The Fights
Early prelims: 6:15 p.m. EDT on UFC Fight Pass
Prelims: 8 p.m. EDT on ESPN or ESPN+
Main card: 10 p.m. EDT on ESPN+ ($69.99)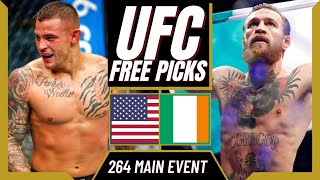 UFC 264 Betting Lines And Information
UFC 264 Main Card
Dustin Poirier () vs. Conor McGregor ()
Stephen Thompson () vs. Gilbert Burns ()
Tai Tuivasa () vs. Greg Hardy ()
Irene Aldana () vs. Yana Kunitskaya ()
Sean O'Malley () vs. Kris Moutinho ()
UFC 264 Prelims
Max Griffin () vs. Carlos Condit ()
Michel Pereira () vs. Niko Price ()
Sean Brady () vs. Kevin Lee ()
Dricus Du Plessis () vs. Trevin Giles ()
UFC 264 Early Prelims
Ilis Topuria () vs. Ryan Hall ()
Jennifer Maia () vs. Jessica Eye ()
Brad Tavares () vs. Omari Akhmedov ()
Zhalgas Zhumagulov () vs. Jerome Rivera ()
Alen Amedovski vs. Hu Yaozong
Poirier Vs. McGregor 3 Preview
The First Two Meetings
McGregor and Poirier first met in the octagon way back on Sept. 27, 2014 at UFC 178. McGregor had yet to ascend to superstar status but had authored four dominant wins with no losses. The betting market favored him at roughly -250.
The fight was brutal and quick. McGregor approached Poirier with aggressive, confident striking. He shrugged off some of Poirier's more wild shots, tagging him with punches and showcasing several spinning kicks. Less than two minutes in, McGregor rocked Poirier with a left behind the ear. Poirier collapsed to the canvas and McGregor finished off the effortless performance with a few punches.
Poirier waited more than six years for chapter two. On Jan. 23, 2021, they met once more.
Circumstances had certainly changed in the interim. McGregor had become the biggest name in the sport. Great for his wallet, but it also meant MMA didn't consume his life as it once had. His training had been less consistent in the ensuing years as he took forays into boxing and spent time expanding his business interests.
Poirier, meanwhile, had won 10 of his 12 decisions since their first fight. The difference in commitment to MMA showed.
At first, things looked similar to the initial fight. McGregor got the better of the boxing exchanges, scoring several flush punches. However, Poirier began building up damage on his opponent's lead leg with low kicks.
More of the same happened early in the second as McGregor traded punches for kicks. He began slowing down. Mobility shot, he found himself with his back to the cage eating a flurry of punches. Poirier landed a monster left, and moments later, he'd reduced McGregor to a pile of rubble despite closing around +250 again.
How Do They Match Up The Third Time?
The betting market has given Poirier significantly more respect this time around, making the fight a coin flip.
The fact is McGregor simply hasn't looked the same since he stopped taking MMA fights on a regular basis. He fought just three times since 2018, with two defeats coming in convincing stoppage fashion. He only victory came against Donald Cerrone in a fight tailor-made to ship McGregor a win thanks to the way their styles match up.
The losses may have robbed McGregor his old swagger. He seemed uncharacteristically humbled after the TKO loss to Poirier.
Furthermore, it's now been almost five years since McGregor was king of the MMA world. His punches still snap, but his footwork looked far more leaden when these two fought in January.
McGregor also seemed surprised Poirier attacked his lead leg so efficiently. According to the official stats, Poirier landed 18 of 21 leg strikes. Without an adjustment there, he'll likely wind up on the losing end of the rubber match.
Still, concerns exist for Poirier too. While his technical kickboxing has improved, he still shows a tendency to start brawling at times. He ate handfuls of power shots from McGregor in both of their fights.
And McGregor has historically boasted the best combination of power and chin in the division. Firefights with him generally end poorly for his opponents.
Props And Other Bets
Prop betting on the outcome favors either man to win by KO.
An interesting look could be on either to win by decision. Both having been finished by strikes by the other, they should respect each other's power a great deal. Perhaps they'll operate more cautiously than usual? DraftKings Sportsbook currently has Poirier by decision at +550 with McGregor at +700.
On the other hand, if you think someone's going down early, DraftKings offers +900 on the fight ending in the first minute. That seems incredibly unlikely.
As for the length of the fight, both fighters seeing the final bell is at +275 on DraftKings, while someone getting finished is at -400. Meanwhile, here are the over/unders by round:
Whatever action you like on the fight, make sure you take advantage of any promotional offers the sportsbooks use to capitalize on the hype around UFC 264. Expect an entertaining show from two of the best finishers in the business come July 10.