Bettors face an unprecedented sea of opportunities with the loaded UFC 249 card Saturday in Jacksonville, Fla.
In this article we'll take a look at the multitude of ways to bet on the main event, featuring lightweights Tony Ferguson and Justin Gaethje, as well as the rest of the 12-fight card that has sports fans raring for action.
UFC 249 fight card
Main card
Tony Ferguson vs. Justin Gaethje (interim lightweight championship)
Henry Cejudo vs. Dominick Cruz (world bantamweight championship)
Francis Ngannou vs. Jairzinho Rozenstruik
Jeremy Stephens vs. Calvin Kattar
Greg Hardy vs. Yorgan de Castro
Prelims
Donald Cerrone vs. Anthony Pettis
Alexsei Oleinik vs. Fabricio Werdum
Carla Esparza vs. Michelle Waterson
Uriah Hall vs. Ronaldo "Jacare" Souza
Vicente Luque vs. Niko Price
Bryce Mitchell vs. Charles Rosa
Ryan Spann vs. Sam Alvey
How to bet Tony Ferguson vs. Justin Gaethje
Tony Ferguson is -177 against Justin Gaethje (+150) in the lightweight division main event for the interim title. The winner will face division champ Khabib Nurmagomedov in the fall according to UFC President Dana White.
Ferguson has the lightweight division record of 12 straight wins. He hasn't lost since 2012. Gaethje is 21-2. It's the number one versus number four contender in the division.
Ferguson essentially forces bettors to lay 9-5 odds to win the bout. But if you're looking for more ways to get money down, there's no shortage of options at operators like DraftKings Sportsbook and FanDuel Sportsbook. Some examples:
A full distance fight is +350 and a stoppage within five rounds is -560.
The over-under is 2.5 rounds at +105 for the over and -148 for the under. Reasonable, square odds.
Winning method, fighter-round parlay. A Ferguson knockout, TKO or DQ in Round 3, exactly, pays 14-1.
View the full list of Ferguson vs.Gaethje betting options at DraftKings Sportsbook
RANK
OPERATOR
BONUS
INFO
ACTION
UFC 249 undercard
Here is a look at some of the major fights on this card, with both the moneyline odds and a teasing prop consideration.
Henry Cejudo (-225) vs. Dominick Cruz (+188)
Considerations: Is this the Santa Claus bet? Giving -225 to a former champion is hefty, unless one believes Cruz isn't ready.
Alternatives: The board screams "distance" for this fight, with over 4.5 rounds being -200 and the full five-round distance being -177. A KO, TKO or DQ, by either fighter, pays between +600 and +1800 if you can pick the right round.
Fabricio Werdum (-330) vs. Alexsei Oleinik (+260)
Most Werdum betters will say "thanks but no thanks" to the win line.
Alternatives: A Werdum knockout or TKO is +135 and the over-under in rounds is sporting at -134 for the over and +110 for the under.
Devil's Advocate: Both fighters are 42. Werdum hasn't fought in more than two years, and it was a loss. He is 3-3 over the last six. Oleinik won a fight in January and his last three triumphs have earned Performance of the Night.
Francis Ngannou (-270) vs. Jairzinho Rozenstruik (+220)
Rozenstruik backers will waste no time going right for the victory odds.
Alternatives: Ngannou bettors consider a reasonable KO/TKO prop of -130 and the over-under in rounds, 1.5, is a fair test. It's -110 on both counts.
Intriguing: FanDuel Sportsbook has a prop of the fight to start both Rounds 2 and 3. "Yes" for Round 2 is -136, and for Round 3 it's +176. The board is telling you oddsmakers think the fight has a strong likelihood to end in the second. You could parlay their hunch into isolating a second-round stoppage or taking a prop on one of the fighters to win in that round.
Ngannou has won seven of his last nine in the first round, including three in a row.
Rozenstruik's UFC career includes recent time durations of two, one, one, and five rounds, which was his last.
Anthony Pettis (-130) vs. Donald Cerrone (+115)
This might be the most playable moneyline on the board. Good odds if you believe Pettis can repeat his 2013 victory over the Cowboy. Still plus numbers for Cerrone, who was blasted out in 40 seconds by Conor McGregor in January and contemplated retirement.
The Cowboy, known for placing himself at a disadvantage by fighting anyone, anywhere, anytime, with little notice, is at it again. He told White he wanted to be the first UFC fighter to compete three times in eight days by appearing in all the upcoming cards.
He was kidding. We think.
Strategy: There is good value either side you pick if you time it. This bout will receive substantial moneyline plays. Recent streaks: Pettis 4-8, Cerrone 0-3.
Strange: This is the biggest moneyline mover in the past week. Cerrone was +139 early. On Monday, he was down to +110, but later went up to +115. Cerrone was getting money.
Pettis was between -122 and -139. That's important to pinpoint. It's the difference between laying 6-5 and 7-5 if you are a Pettis backer, or about $20 on a $100 wager.
Here are other headline fights on the card, with early-week odds from DraftKings Sportsbook (subject to change).
Greg Hardy (-200) vs. Yorgan DeCastro (+165)
Calvin Kattar (-250) vs. Jeremy Stephens (+206)
Ronaldo Souza (-125) vs. Uriah Hall (+106)
Bryce Mitchell (-162) vs. Charles Rosa (+136)
Carla Esparza (-162) vs. Michelle Waterson (+136)
Ryan Spann (-420) vs. Sam Alvey (+325)
UFC 249 betting tips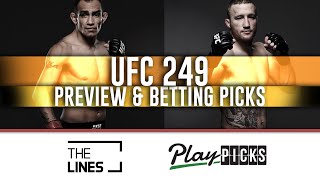 Unlike some other cards, this one has sparked betting interest on all the fights, with gamblers having chomped at the bit for action over the past couple of months. Here are five things to consider before placing your bets.
Tip #1
Moneyline odds change little between the sportsbooks, but prop bets are diverse and intoxicating. There are literally hundreds of wagers available, so bettors must decide whether to reach for big payouts on specific time-oriented bets or go strong on a couple moneylines.
Tip #2
The favorites are positioned just enough to be mildly prohibitive or nearly unplayable on this card. The exotics board rewards accurate guesswork regarding the distance of fights and stoppage methods. But picking a precise round for stoppage is sometimes no more than a stab. A good overview: know why you like the prop before playing it.
Tip #3
The noise intangible. Or lack thereof. Who feeds off the crowd? Nobody. There are no spectators. New territory for the fighters.
Tip #4
Conditioning. Difficult to assess. Fights have been on and off during the COVID-19 period. Would make you wary of laying too much money on a high-priced favorite.
Tip #5
Not all stoppages are created equal. A submission ends the fight, but is a separate bet than a knockout, technical knockout or disqualification. Some books incorporate the submission into the package of "stoppage" bets, which increase the chance of victory while paying shorter odds. It's a nice hedge for bettors.