The 2020 NFL Draft promises to be one quite unlike any other for pretty much all the wrong reasons.
The current health landscape will completely strip away the event's usual pomp and circumstance. Yet that can't sully the anticipation a quarterback-rich draft always brings. There's a certain palpable excitement a class with several first-round-worthy signal-callers lends to the entire process.
This year, we have the added intrigue of two quarterbacks that are arguably worthy of the first overall pick. Those would be likely top selection Joe Burrow and the player that was considered a likely shoo-in for that spot just a few months ago — Tua Tagovailoa.
No longer top projected QB
Tagovailoa's right hip dislocation and posterior wall fracture is the infamous culprit behind the Alabama product losing his status as the consensus first overall pick. He'd previously earned that distinction by posting a stellar 76:9 TD:INT over the 24 games he played during his sophomore and junior seasons.
However, there was good news on that front Thursday. Tagovailoa's agent Leigh Steinberg confirmed an independent doctor that conducted a voluntary medical recheck determined the quarterback's hip is once again structurally sound.
Is that enough to vault Tagovailoa back to the top spot?
Draft experts remain almost (more on that qualifier shortly) unanimously bearish on that possibility. LSU's Burrow is still widely expected to be taken at the top of the draft. Yet that just makes Tua – who's been frequently projected to go as early as No. 2 to the Redskins or to another team that trades into that spot — an intriguing wild card in terms of potential draft position and destination.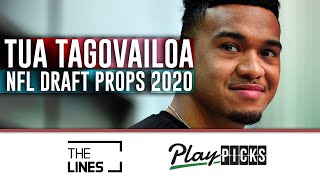 Abundance of betting markets
Bettors looking for action on the dynamic Crimson Tide alum have no shortage of wagering opportunities at DraftKings Sportsbook, FanDuel Sportsbook, BetMGM, PointsBet and FOX Bet.
The following is a listing, by sportsbook, of individual prop markets that include Tua:
DraftKings Sportsbook:
Draft position
Team to draft player
Second offensive player drafted
Top 5 pick
First QB drafted
Second QB drafted
Third QB drafted
FanDuel Sportsbook:
First overall pick
Second overall pick
Third overall pick
Giants' 1st pick
Team to Draft Player
BetMGM:
First overall pick
Second overall pick
First QB drafted
Second QB drafted
Third QB drafted
Player Draft position
Team to draft
Giants' 1st Pick
PointsBet:
First overall pick
Second overall pick
Third overall pick
Draft position
First QB drafted
Second QB drafted
Third QB drafted
Second Offensive player drafted
Team to draft
FOX Bet:
First overall pick
First QB selected
Claim Your $1,050 Bonus at DraftKings Sportsbook

Up to $1,050 FREE
New User Bonus. T&Cs Apply.
NFL Promo: Bet $5 Win $200
PLUS $50 Free On Deposit

PLUS Up to $1,000 Deposit Bonus

To Claim: Click Play Now
Redskins gaining steam as Tua destination?
The No. 1-slotted Bengals are badly in need of a franchise quarterback and have displayed no overt signs of souring on Burrow. Moreover, the current absence of pro days and in-person workouts eliminates the extremely remote possibility the LSU product somehow hurts his standing prior to Cincy turning in his card.
That means the best value by far (in terms of most probable outcomes) in the aforementioned Tua markets lies in those other than the first overall pick and first QB selected.
One scenario that's picked up some steam consists of the Redskins staying put at No. 2 and taking Tua, despite having just invested the 15th overall pick in Dwayne Haskins a year ago. The one caveat? That selection was made by the previous administration.
Ron Rivera is now primarily in charge in DC and will undoubtedly enjoy some sort of a honeymoon period. Nevertheless, there have been rumblings he may not want to stake his future under a notoriously impatient owner like Daniel Snyder with someone else's hand-picked quarterback.
If Washington does indeed commit to Tagovailoa, there will be some money made for those who take that prop, as seen below:
ALSO READ: Odds And Trends For The First QB Taken In 2020 NFL Draft
Potential first-round trades introduce slew of profit opportunities
And then there's a parallel draft universe, one that includes Washington trading out of the second pick.
CBS Sports' Bryan DeArdo recently outlined 10 potential first-round moves, several of them focused on teams trading up to take Tagovailoa:
Dolphins acquire No. 2 overall pick from the Redskins for the No. 5 overall pick and the 39th overall pick.
Chargers acquire the No. 2 overall pick from the Redskins in exchange for the No. 6 overall pick and a 2021 second-round pick.
Jaguars acquire No. 3 and No. 109 overall pick from the Lions in exchange for the No. 9 and 20 overall picks.
Miami acquires No. 1 overall pick from Cincinnati in exchange for the No. 5, 18 and 26th overall picks.
The biggest outlier in those scenarios is the final one. There, DeArdo sees the Dolphins surprisingly taking Tua as the top overall selection over Burrow.
For one, this contingency entails Cincinnati coming to the conclusion they can get better overall value by taking three of Miami's four first-round picks and another first-round-worthy quarterback such as Oregon's Justin Herbert with the fifth overall selection.
That's actually at least somewhat feasible, albeit still highly improbable.
What's arguably more of a stretch is the Dolphins giving up all that capital and then choosing Tua over Burrow. As alluded to earlier, that would have been a much more widely accepted notion last fall, before Tagovailoa's hip injury and Burrow's spectacular season.
On the off-chance DeArdo is on to something here, those who take a flier based on his scenario will be rewarded handsomely. The following are the current odds on the most profitable props that conform to the idea of the Dolphins blowing up the board and making Tua the first overall pick:
DraftKings Sportsbook:
FanDuel Sportsbook:
Tua first overall pick: +1900
BetMGM:
PointsBet:
FOX Bet:
Yet DeArdo's third scenario – the Jaguars, unsure of Gardner Minshew as their quarterback of the future, vault into the No. 3 spot to snag Tagovailoa – offers an even better return on investment in some cases.
Odds on Jacksonville drafting Tua:
New Players get up to $1,000 bonus at FanDuel Sportsbook
Up to $1,000 No Sweat First Bet
Available on Desktop, Android & iOS

To Claim: Click Play Now