Travis Kelce and the Kansas City Chiefs take on the Tampa Bay Buccaneers in the Super Bowl on Sunday at Raymond James Stadium. Here's some betting insights and tips around Kelce's prop bets in that matchup.
Get the best betting breakdowns and picks on TheLines sports betting podcast
Travis Kelce Super Bowl Player Props
Travis Kelce Props: What You Need To Know
If we had to use a popular movie quote to describe Travis Kelce this season, it would be Thanos' chilling line from Avengers: Endgame– "I am inevitable."
It doesn't matter who's lined up across from Kelce, he's been able to find production. Kelce nearly became the first tight end in NFL history to lead the NFL in receiving yards (his 1,416 fell about 100 yards short but landed him second) and he broke the All Time record for receiving yards by a tight end. When playing at least 90% of offensive snaps in a game, Kelce failed to hit 100 yards just once (Week 2 vs the Los Angeles Chargers, where he reeled in nine receptions for 90 yards and a touchdown).
Linebackers are too slow and lack the pass defending skills necessary to keep up with Kelce's pristine route running and solid hands; defensive backs just aren't big enough to body Kelce and lock him down, either. Even against Atlanta's Mykal Walker (PFF's third-graded pass defending linebacker), Kelce was able to pick up seven catches for 98 yards and a touchdown on below-average snap count (84% is sixth-fewest this season).
Tampa Bay possesses two of the most athletic linebackers in the NFL, Lavonte David and Devin White, who were able to buckle Kelce down at least somewhat in their Week 12 matchup. There, he recorded 82 yards and no touchdowns, but was able to haul in all eight targets (one of just three occasions this season with a 100% catch on targets). The Bucs don't have a big safety to match up with Kelce; their two safeties– Jordan Whitehead and Antonie Winfield Jr.– good as they are, average out to 5' 10" and about 201 pounds. Kelce (6' 5", 260 pounds) is just too big for that matchup.
White has been terrific for Tampa this postseason, recording three turnovers and nearly a pick-six against the Saints. David has been arguably the best linebacker in the NFL this season and possesses one of the fastest sideline-to-sideline abilities among backers and matches up the best with Kelce. When it's all said and done, though, Travis Kelce will generate production– he's been targeted at least 10 times in his last six games and nine of his last 10.
Travis Kelce: Super Bowl Prop Checklist
Best Super Bowl Prop Bets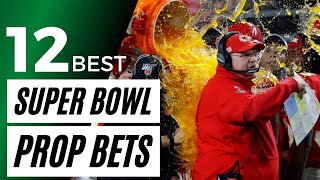 Check out TheLines YouTube channel to learn more about betting tips and picks for this week's NFL action.
Buccaneers vs. Chiefs Betting Odds
Claim Your $1,050 Bonus at DraftKings Sportsbook
New User Bonus. T&Cs Apply.
NFL Promo: Bet $5 Win $200

PLUS $50 Free On Deposit

PLUS Up to $1,000 Deposit Bonus
To Claim: Click Play Now

Powered By Data Skrive using data from