The Tiger Woods vs. Phil Mickelson heads-up match is less than a month away. All of the major details are now in place: Nov. 23, the day after Thanksgiving, at Shadow Creek golf course in Las Vegas.
HBO released the trailer for the series 24/7 THE MATCH: TIGER VS. PHIL on Monday. As if we needed more reason to get hyped for this.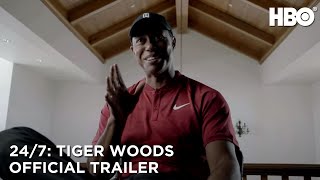 With the end-of-season up-tick in Woods' game, the match now carries even more weight and intrigue. We wrote about how perfect this was for gambling before, and not just because these two once had bad blood (their relationship was "cool at best, unfriendly at worst") and Mickelson has a propensity to gamble large sums of money.
Because this is a made-for-TV event with two hyper-competitive personalities, and wagering is part of the golfing culture in general, the prop bet possibilities should elevate this match to legendary status.
Unfortunately, reality hasn't met expectation yet, particularly on the prop betting side.
The most interesting props listed to date have to do with obvious (and lame) wagers like "What color shirt" will one of them wear.
Vegas, we're better than that.
Here's a list of props we'd like to see.
Let's make it interesting…
To date, the craziest made-for-(Internet)-TV golf betting event I witnessed was Erick Lindgren's June 2007 golf prop. It was around 115 degrees that day, and there were some legitimate, "Will he even live through this?" props being bandied about.
Lindgren was a man only against his own willpower. Mickelson and Woods are among the greatest golfers to ever swing a club. Props can go in so many different directions. Here's just a few:
Longest Drive: This plays well into the old 2003 equipment controversy, and is a genuine Alpha-male measuring stick. No-brainer. Bet Tiger.
How Many Cutaways to Tiger's Girlfriend: There have been similar Tom Brady-Giselle Super Bowl props, and given the, "Wait, who the hell is that?" stories this generated at Tiger's PGA Championship win, it's a solid prop. Bet the over, whatever it is.
Number of Awkward High-Fives: Love this one. First, all pro golfer high-fives are awkward. Second, will Phil and Tiger be friendly? They don't really like each other. If they pretend to like each other and attempt a high-five, it's immediately historically meme-worthy. Regardless, given their past history and competitiveness, if this is offered, take the under.
Over/Under on Swear Words: Tiger was not-so-secretly an a-hole. Phil was secretly an a-hole. With a suggested $19.99 PPV price, golf them up and let them let f-bombs fly. Tiger, even when on network TV, makes Ralphie's dad look like Mr. Rogers. Heavy bet the over if offered.
First to Hit Drive Out of Bounds and / or First to Hit Drive into Rough: As a glorified exhibition, these two will be pulling driver out early and often. A secondary prop to this would be, "What hole will golfer first drive into the rough…" Either way, bet Woods and early.
Number of Holes Tiger / Phil Use Driver: Everything about this match should be big. Including the club choice. Let it rip, take the over.
Total Tiger / Phil Putts: If Tiger wins, it's because his putting game is on. If you like Tiger, then you'd like the under on this one.
Over / Under on Tiger Fist Pumps: Again, if you're already betting Tiger, parlay the over on fist pumps.
Mickelson vs. Arizona State: Mickelson went to Arizona State. ASU plays their rivalry game against Arizona the day after Phil plays Tiger. Let's pit Mickelson's total vs. the over-under on ASU vs. Arizona. Maybe Herm Edwards can even give Phil a pre-packaged "You play to win the game!" pep talk.
Weigh-In Props: The match is in Vegas. Vegas is known for their fighter weigh-ins. Can't somebody sponsor a Mickelson-Woods pre-match weigh-in? It's the day after Thanksgiving, so bet the Lefty over.
Get In the Hole! Props: Least favorite thing about live golf are all of the "get in the hole" idiots. That could all change, of course, if it was a prop that I could take the over on. Turn a negative into a positive. Lean heavy on the over.
Step it up, Vegas. Everything about this match should be fun and semi-ridiculous. Time for the props to catch up.