"I came, I Sawgrass, I Conquered" is the Instagram caption I went with after completing 18 holes at TPC Sawgrass' Stadium Course this past November. It underwhelmed on likes. But I'm not afraid to go right back to it if the ensuing research helps us land a winner at THE PLAYERS Championship. We'll go over the odds and key info for THE PLAYERS Championship in our weekly preview.
I'll see what an 8-handicap's first-hand experience can tell us about the fifth major beyond the stats.
Last year, I partook in the community win of Justin Thomas at odds north of 20-to-1. Thomas put forth a Herculean weekend comeback with -12 the final two days.
TPC Sawgrass features water hazards on 17 holes, and Pete Dye's most famous design will bait players into taking these hazards on. The constant threat of hazards has resulted in incredibly volatile leaderboards over the years. Thirteen of the top-20 players in SG: TOT over the last 36 rounds have a MC at this event within the last three years alone. With that in mind, it's a good idea to diversify exposure and identify low-owned pivot plays for DFS, this week more than ever.
Here's a full look at everything to expect from the 2022 THE PLAYERS Championship.
THE PLAYERS FAVORITES
Scroll to the bottom of this article to compare full outright odds across legal U.S. sportsbooks.
THE FIELD AT A GLANCE
It's called THE PLAYERS for a reason — this field boasts the best of the best. This event had the fourth-highest strength of field in 2021 behind the PGA Championship, US Open and Open Championship. This year looks no different. The only top-100 players not scheduled to play are the injured Tiger Woods, Harris English and Steve Stricker, as well as Phil Mickelson. He's healthy but recovering from pride, ego or maybe something else entirely.
The 2015 PLAYERS champion, Rickie Fowler, is notably absent with the five-year past champion grace period expiring. He no longer qualifies by way of OWGR ranking. We will still see a list of former PLAYERS Champions including Justin Thomas, Rory McIlroy, Webb Simpson, Si Woo Kim, Jason Day, Matt Kuchar, Henrik Stenson, Sergio Garcia and Adam Scott.
Tiger Woods and Davis Love III are the only repeat winners at THE PLAYERS over the last 30 years, further evidence of its volatility.
INTRODUCTION TO TPC SAWGRASS
Much like the other Pete Dye designs we see on TOUR, TPC Sawgrass is a positional course. It mitigates the advantage of longer hitters and rewards players with elite approach and short game.
Once remnant swamp land, the foundational property for TPC Sawgrass was purchased in the 1970s for $1. The goal was transforming it into a state-of-the-art tournament golf course to host THE PLAYERS Championship (I am transcribing from what my tour guide told me). Today, we see a modern marvel and the quintessential tournament stadium course with some of the most pristine manicuring in golf.
The stakes don't get much higher than a purse of $20 million (top prize $3.6 million) in one of the toughest fields with an electric crowd. At par 72 sitting just under 7,200 yards, TPC Sawgrass rewards four days of well-rounded play. We've seen bombers like Rory McIlroy and Jason Day win as often as shorter specialists like Si Woo Kim, Matt Kuchar and Webb Simpson.
How It Breaks Down
Looking at the hole-by-hole breakdown, there are five par 4s funneled to the 450-500 range, which is fairly standard on TOUR. In contrast to the Arnold Palmer Invitational which hosts the longest par-3 average on TOUR, the par 3s this week average some of the shortest lengths on TOUR. There is a fairly balanced distribution of approach shots from 100-250 yards compared to the PGA TOUR baseline.
So, I'll look more closely at holistic SG: APP stats when modeling for this week. In general, the ability to gain strokes on approach and around the green is more difficult than average here. Players who excel in both categories should set up well for success.
With water hazards on 17 holes, players must keep the ball in play and avoid double-or-worse. This event has been top five in most penalty strokes taken in each of the last five years.
The greens have seen a significant shift since the tournament moved from May to March in 2017. Due to the earlier, colder season, the Bermuda grass has needed to be overseeded with Poa and Bentgrass, a similar mix to what we see at the Valspar, AmEx and WMPO. That contrasts with the rest of the Florida Swing. We must monitor how typical Bermuda specialists have fared on these new greens since 2017.
My Experience Playing TPC Sawgrass
I played in severely different conditions than what the pros will see this week (e.g. not from the tips or in front of crowds of thousands). But, in a week where we are trying to use as much information as possible, I'll share some highlights and learnings from my trip in November. Here are the main thoughts I had from my time on the course (live tweet thread here).
Highlights of My Round
A 40-footer for birdie on the par-5 second hole
The best 7-iron of my life on the par-5 11th for birdie
An 8-iron in for my second shot on the par-5 16th after pull hooking my drive down the left side cart path
Hit the 17th green
Lowlights of My Round
Doubled the par-4 first hole after pulling my first drive into the trees and ricocheting a failed hero shot backwards
Missed an eight-foot eagle putt on 11
Three-putt par from 30 feet on 16
Made bogey on 17 after failing to go up and down from 40 feet away on the second cut
What I Learned About TPC Sawgrass
You must score on the par 5s. Three of the four are very reachable in two, however the ninth hole is a challenge and requires two perfect shots and no hurting wind to reach.
There is no real penalty for being in the rough. It is much more important to create angles for your second shot and avoid the lateral water hazards and bunkers.
You needn't drive on many of the par 4s, but you need to work the ball in both directions through tight windows off the tee.
Near misses on approaches often run off into tiny, tricky bunkers around the green. These require touch and creativity.
Although not on the coastline, the wind can play a big factor here and brings the water into play often.
The pictures and TV do not do this immaculate course justice.
THE PLAYERS COURSE SPECS
Yards: 7,189
Par: 72 (4x 3's / 10x 4's / 4x 5's)
Greens: Bermuda, over seeded with Poa and Bentgrass
Architect: Pete Dye
Historic Cut Line: +1
Median Four-Round Score: -3 ('21), -5 ('19), -7 ('18), +3 ('17), -2 ('16)
Comp Courses: Stadium Course, Harbour Town, TPC River Highlands, TPC Scottsdale, Innisbrook Resort (Copperhead), Sedgefield CC
Past Winners: Justin Thomas -14 ('21), Rory McIlroy -16 ('19), Webb Simpson -18 ('18), Si Woo Kim -10 ('17), Jason Day -15 ('16)
Hole-by-hole Breakdown:
EVENT HISTORY AND COURSE COMPS
You'll be hard pressed to land on any one player with conviction here. Bryson DeChambeau, Jon Rahm and Brian Harman are the only players in the field who've finished inside the top 20 in each of the last two PLAYERS Championships. Stars like Rory McIlroy, Hideki Matsuyama, Xander Schauffele, Shane Lowry, Tommy Fleetwood and Paul Casey each have as many MCs as T10s at this event over the last three years.
Although elite names like Thomas, McIlroy, Day and Woods have shined, just as many unheralded players have authored top-five finishes. Jim Furyk, Jhonattan Vegas, Eddie Pepperell, Brandt Snedeker, Jimmy Walker, Jason Dufner, Kyle Stanley, Kevin Chappell, Colt Knost, and Ken Duke each have T5 finishes dating back to 2016. We should expect to see some parity on the leaderboard come Sunday.
Adam Scott
The 2004 PLAYERS champion has not let off much steam on these grounds since. Although Scott profiles best on longer, bomber tracks like Bay Hill, Riviera, and Torrey Pines, there's something about TPC Sawgrass that seems help him. He has made it through the cut a perfect nine out of nine times over the last decade. He has finished T12 or better in four of his last five appearances. Playing a 2-wood in place of his driver at the API turned some heads, but perhaps he was just tuning up for the positional play at TPC Sawgrass.
Others Excelling At THE PLAYERS
After Scott, the rest of the top 10 in Course History includes Thomas, Day, Si Woo Kim, Sergio Garcia, DeChambeau, McIlroy, Matsuyama, Matt Kuchar and Fleetwood.
Eight players in this field have delivered multiple T10 finishes over the last five years: Day, Thomas, Kim, Matsuyama, Fleetwood, Francesco Molinari, Daniel Berger and Harman. There are 10 players who have avoided missing the cut in four consecutive trips to THE PLAYERS: Day, Scott, Thomas, Dustin Johnson, Kim, Keegan Bradley, Justin Rose, Brooks Koepka, Garcia, Berger, and Rahm.
Course Comps
Shorter Pete Dye courses tend to correlate more than those from any other architect. For the most part, Dye courses share the same philosophy: force strategic, positional tee shots, and penalize wayward approaches with complex bunkering. The top-10 players SG: T2G on Pete Dye courses are Abraham Ancer, McIlroy, Patrick Cantlay, Casey, DeChambeau, Rahm, Day, Corey Conners, Keegan Bradley and Kevin Streelman. Webb Simpson and Kim are two of the more notorious Pete Dye standouts with four wins on Dye courses between them. They rank 11th and 12th in Dye history.
Unpacking those Dye courses, Harbour Town, Stadium Course and TPC River Highlands most closely resemble the layouts and design at TPC Sawgrass. They have produced overlapping leaderboards over the years of players who are accurate off the tee, possess strong irons and show crafty around-the-green play.
Aside from these other Dye courses, I'm also looking closely at Sedgefield CC and Innisbrook (Copperhead) as other Bermuda courses which favor a similar profile. TPC Scottsdale also features a similar assortment of risk-reward holes with abundant hazards. It has seen consistent success in recent years from players like Simpson, Matsuyama, Thomas, Kuchar and Fowler.
The top-10 players in SG: TOT across each of these comp courses are Simpson, Ancer, Cantlay, Scott, Kim, Rahm, Johnson, Thomas, Harman and DeChambeau.
KEY STATS TO CONSIDER
Good Drives Gained / SG: OTT
SG: APP
GIRs Gained
Bogey Avoidance
SG: ARG / SG: Short Game / Scrambling
Par 4: < 350 Yards
Par 5 Scoring
SG: Putting
Comp Course History
As per usual with Pete Dye courses, distance is simply nice to have at TPC Sawgrass, with many of the par 4s requiring forced layups with less than driver. With that in mind, I'm not looking too closely at the Driving Accuracy. The field should be inherently more accurate with other clubs in hand.
Even still, I'll look for players who excel in total driving to position themselves well and avoid the penalty areas. Good Drives Gained is my usual go-to stat on Dye Courses. This stat captures the players who are best at positioning themselves to hit greens in regulation and avoid tricky green-side complexes. The top-10 players in Good Drives Gained are Russell Knox, Martin Laird, Daniel Berger, Chez Reavie, Joel Dahmen, Adam Hadwin, Corey Conners, Jon Rahm, Kyle Stanley and Matthew NeSmith.
While distance doesn't rule, it's going to help on the four par 5s. Those with plus distance can reach them in two. The top-10 players in Par-5 Scoring entering this week are Patrick Cantlay, Bryson DeChambeau, Cam Smith, Matt Fitzpatrick, Seamus Power, Keith Mitchell, Maverick McNealy, Rory McIlroy, Jon Rahm and Max Homa.
I'm also interested in players who can capitalize on drivable par 4s, as the 300-yard par-4 12th will yield birdies for more than 25% of the field who take it on. The top 10 in Short Par-4 Scoring are DeChambeau, Russell Henley, Wyndham Clark, Justin Thomas, Brian Harman, Jason Day, Peter Malnati, Cam Smith and Matt Kuchar.
Approach And Short Game
While THE PLAYERS has bred a diverse cast of winning profiles over the years, the common through line seems to be "fairway to green" as the best Approach and Around-The-Green stockpile wins. With the medley of grass types on these over-seeded greens and number of forced layups off the tee to mitigate the need to hit drivers on most par 4s, I'm emphasizing the best iron and wedge players.
The top-10 players SG: APP over the last 36 rounds are Berger, Paul Casey, Tom Hoge, Rahm, Thomas, Henley, Knox, Collin Morikawa, Viktor Hovland and Shane Lowry. The top-10 players in SG: ARG over the same span are Kuchar, Stephen Jaeger, Kevin Na, Sungjae Im, Matt Jones, Talor Gooch, Scott Piercy, Ian Poulter, Denny McCarthy and Smith.
To wrap, the ideal player this week should be top 50 in SG: APP, SG: Short Game and Par 5 Scoring, and above average in Good Drives Gained and Comp Course History. Just five players fit that bill: Rahm, McIlroy, Scottie Scheffler, Louis Oosthuizen and Marc Leishman.
Correlation And TPC Sawgrass
Looking at the stat correlations this week for TPC Sawgrass, there are some notable shifts compared to TOUR average. Here, P4: 450-500, Par-5 Scoring, and Par-3 Scoring each fall outside the top 10. Instead, Good Drives Gained and total Par-4 Scoring make the most notable jumps in importance. Just outside the top 10, we also see notable jumps this week in the importance of SG: P 15-20 ft and SG: ARG. Meanwhile, Sand Saves Gained and Prox 200+ drop in importance.
Eleven players rate out above average in each of the above top-10 stat categories for TPC Sawgrass: Rahm, Cantlay, Thomas, Im, McIlroy, Power, Scheffler, Oosthuizen, Leishman, Sam Burns and Aaron Wise.
PLAYER SPOTLIGHT: SUNGJAE IM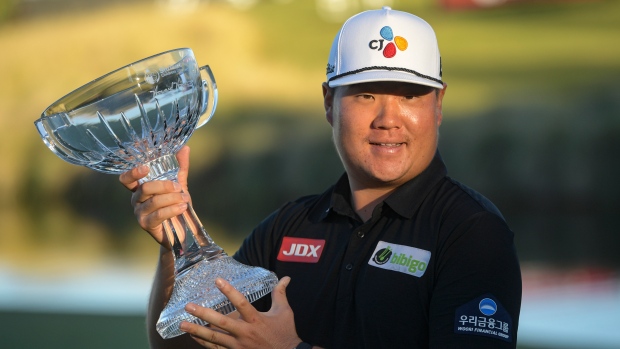 I don't always do a great job of restraining myself from the temptation of ever-present golf futures. But, since odds for THE PLAYERS hit the board several weeks ago, I've locked in on just one name: Mr. Sungjae Im.
Here's a fun fact to kick things off. Only two players at the 2021 PLAYERS Championship registered multiple rounds of 66 or better: the winner, Justin Thomas and the T17 finisher, Im. A couple of wayward water balls on Saturday hijacked Im's tournament as he shot 77 in his third round. But, when I look back at a player's course history, I'm encouraged whenever I see a ceiling of multiple low rounds on the same course.
TPC Sawgrass requires a strong all-around game to contend and emphasizes control off the tee, top-tier ball striking, and more often than not, an elite short game. Over the last 36 rounds, no one else in this field rates out top 25 in SG: Ball Striking, Driving Accuracy, and SG: Short Game.
It's no secret Im thrives in Florida. No other player has gained more total strokes across the Florida Swing since 2020. That span includes a win and T8 at the Honda and five additional top 30s across THE PLAYERS, API, Valspar and WGC-Workday.
With a win and six top-20 finishes over his last nine events, it's not Im-possible to envision Sungjae joining his country-mate Si Woo Kim in Sawgrass' locker room of champions.
WHAT TO WATCH FOR AT THE 2022 PLAYERS CHAMPIONSHIP
There is a lot to watch at THE PLAYERS, literally. The new PLAYERS app will allow us to track video of every single shot from every single player, akin to what we see at the majors. That definitely adds a layer of excitement to an already star-studded event, while slashing any hope of productivity in the latter half of the work week. For better or worse, I'll probably be glued to my phone from Thursday to Sunday.
Then, back to old Shot Tracer in the PGA TOUR App for the Valspar.
With all the course-fit profiles in mind and DFS pricing and odds already released, I'm leaning early towards the below player pool. Naturally, I'm looking their way in the 2022 PLAYERS Championship odds as well. I've broken the list down by actualized pricing/odds tier for DraftKings.
Current Players Championship odds