With the regular season nearly a month away, NFL betting markets are heating up — especially for Super Bowl odds. Taking that into account, which team should you have highlighted to make waves? Let's dig in. Click on any of the odds below to place a wager.
Free Pick'Em Contests! Compete for prizes every day by entering our free betting games. NFL, NBA, college basketball and more!
Claim Your $1,050 Bonus at DraftKings Sportsbook
1
New User Bonus. T&Cs Apply.
DraftKings Promo: Bet $5 Win $200

PLUS $50 Free On Deposit

PLUS Up to $1,000 Deposit Bonus
To Claim: Click Play Now

Last season, Lamar Jackson & Co. tallied an 8-3 record before undergoing a six-game losing skid. They missed the playoffs in the process, yet let's not forget just how banged up Baltimore was.
Below is a list of key names who suffered injuries, amounting to 11 in total. While injuries are customary for any team, they aren't to this degree. If Baltimore receives any sort of regression to the mean, its results will naturally improve.
| Name | Position | Injury | Games Missed |
| --- | --- | --- | --- |
| Marcus Peters | CB | Torn ACL | 17 |
| J.K. Dobbins | RB | Torn ACL | 17 |
| Gus Edwards | RB | Torn ACL | 17 |
| Derek Wolfe | DE | Hip | 17 |
| Ronnie Stanley | LT | Ankle | 16 |
| DeShon Elliott | S | Biceps/Pectoral Tear | 11 |
| Jimmy Smith | CB | Ankle/Hip/Neck | 9 |
| Tyre Phillips | LG | Knee | 7 |
| Rashod Bateman | WR | Groin | 5 |
| Marlon Humphrey | CB | Pectoral Tear | 5 |
| Lamar Jackson | QB | Ankle | 5 |
2019 MVP Primed To Explode?
Let's start with the obvious. Not only did Jackson — a contender in the NFL MVP odds market () — miss the back end of Baltimore's season, but he also received plenty of negative variance in late-down situations.
Although the 25-year-old has traditionally excelled on early downs (sixth-highest EPA/play among QBs with at least 100 snaps from 2019-2021), he notched quite a bit of the opposite on third downs last season, finishing with the eighth-lowest ranking in that department.
EPA/play, or Expected Points Added per play, is calculated by the expected points scored based on the down, distance, and field position at the start of a play ⁠— juxtaposed with the end result.
Even if you're doubter of his come the playoffs, consider that he ranked third overall in that category from 2019-20, which includes his postseason appearances. Assuming Jackson, who's in the midst of a contract year, reasserts himself in less advantageous instances, his numbers should float back towards the superior ranks.
On top of that, the Ravens ridded themselves of Marquise "Hollywood" Brown, who cost Jackson with more than handful of drops. Baltimore failed to add another hotshot playmaker to replace him, yet there's still time to do so before the trade deadline in November. Rashod Bateman, the 2021 first rounder, is expected to make a leap in his second season as well.
Plus, the seemingly healthier, duel-threat QB will benefit from a bolstered offensive line (as long as Ronnie Stanley's Week 1 timeline is accurate) and backfield — via the likes of J.K. Dobbins and Gus Edwards, who will return from a torn ACL a bit later in the season.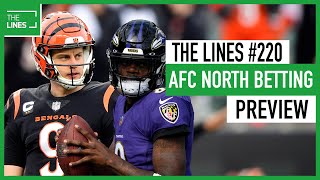 Ravens' Defensive Ceiling
Similar to Baltimore's offense, Mike Macdonald's unit should generate a less crowded injury report during the 2022 campaign.
Macdonald returns to M&T Bank Stadium with a promotion after serving as Jim Harbaugh's defensive coordinator at Michigan in 2021. He's alluded to the fact that he won't shy away from pressure-heavy schemes, like Don "Wink" Martindale's days of operating the Ravens' defense. Nevertheless, he'll maneuver away from the man-to-man look that consistently cost Baltimore while missing Marcus Peters, Marlon Humphrey, Jimmy Smith and DeShon Elliott, respectively.
The Ravens' former linebacker/defensive backs coach will reportedly employ more split safety (two-deep safety) coverages, too. It doesn't hurt that the Ravens added Marcus Williams — their first true free safety in a number of years — to help run things.
According to Pro Football Focus, the ex-Saints' ballhawk delivered a top-10 coverage grade at his position last season. The combination of Williams paired with Chuck Clark and first-round pick Kyle Hamilton on the opposite side positions John Harbaugh to showcase a fine set of safeties.
Couple that with Peters and Humphrey manning the outside, along with the addition of nickelback Kyle Fuller (a highly-rated edge rusher from that spot), and Baltimore won't find itself tied for the fifth-highest dropback EPA allowed this time around.
Unsurprisingly, the Ravens also accrued the NFL's fifth-lowest turnover differential (-11). But by nature, they should vindicate themselves in this category if their health isn't a major concern again — on both sides of the ball.
Bet Baltimore's Super Bowl Odds?
Even though the Ravens' Super Bowl 57 odds dipped to during the offseason, I'm still willing to back them at that price as a result of all of their misfortune in 2021.
The AFC isn't short on contenders with thinner Super Bowl odds, considering the Bills (), Chiefs () and Chargers () are all in the mix. With that said, there's still a sliver of value left with Baltimore — unlike the aforementioned teams — after its injury-plagued campaign and a sound coaching staff with Harbaugh at the helm.
An over 9.5 win total is worth a look as well, but the ones with respectable vig are long gone.
Continue the discussion in our Discord betting chat, where bettors discuss their favorite NFL bets, strategies and research. Follow TheLines on Twitter, too.
Best Super Bowl Odds Promos In Your State
RANK
OPERATOR
BONUS
INFO
ACTION