A great deal of mainstream media coverage of betting action on the Super Bowl will focus on popular bet types such as the point spread and moneyline. However, as seasoned bettors well know, there are infinitely more wagers can be placed on The Big Game.
The most common are naturally proposition bets, commonly known as "props". For the uninitiated, props are simply wagers that can be placed on a specific in-game occurrence that has a binary outcome. Props are typically available at sportsbooks at an individual player, team, or game level.
Prop bets give those placing them significantly more vested interest in a game as it unfolds. Unlike end-of-game wagers based on a point spread, moneyline or projected total, prop bets are settled before the final gun goes off. The higher degree of potential accelerated gratification (or disappointment) they offer and their straightforward nature make them significantly popular as "side bets."
As with other wagers, payouts depend on the odds assigned. With some props encompassing rather improbable events or players, favorable odds that leave the sportsbook with plenty of exposure can be common.
For example, a wager on whether the first score of the game will be a safety, whether there will be a blocked punt by either team in the game, or whether Tom Brady will score a rushing touchdown all qualify as unlikely occurrences to a varying degree. Given their low probability, these prop bets will fetch you some very favorable odds.
Examples of common football-based prop bets
In football, some of the more common props include:
What team will be the first to score
What the winning margin of victory for either team might be
What type of scoring play will lead to the game's first points
What teams will be in the lead at the end of any of the first three quarters
What the total amount of points in the first or second half will be
What player will be the first to score any points in the game
What player will be the first to score a touchdown
Whether a quarterback will throw for under or over a certain amount of yards
Whether a running back will rush for under or over a certain amount of yards
Whether a receiver will accumulate over or under a certain amount of receiving yards
What player will be named the game's MVP
Naturally, that list is far from comprehensive, especially when it comes to an event such as the Super Bowl.
Super Bowl props breakdown
Brett Collson, Matt Brown and Matt Perrault look at the various offerings at the sportsbooks in New Jersey and offer some of their favorite wagers ahead of Sunday's game.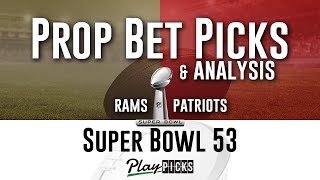 A prop smorgasbord on Super Bowl Sunday
As pointed out in the video, New Jersey sportsbooks have hundreds of Super Bowl LIII props available for bettors. The following is a look at the 10 most popular props at DraftKings Sportsbook as of Thursday afternoon, along with some of the favorite options on FanDuel Sportsbook, Caesars and FOX Bet.
Heads (-103)
Tails (-103)
Super Bowl MVP
Tom Brady (+110)
Jared Goff (+200)
Todd Gurley (+1200)
Aaron Donald (+1400)
Sonty Michel (+1600)
C.J. Anderson (+2200)
Julian Edelman (+2800)
James White (+2800)
First TD Scored
Sony Michel +600
Todd Gurley +700
Julian Edelman +750
Robert Woods +850
C.J. Anderson +900
Brandin Cooks +1000
James White +1000
Rob Gronkowski +1110
Highest Scoring Half
2nd Half (-120)
1st Half (+100)
Tie (+2200)
Player To Score First TD
Sony Michel (+600)
Todd Gurley (+700)
Julian Edelman (+750)
Robert Woods (+850)
Brandin Cooks (+1000)
Rob Gronkoswki (+1000)
James White (+1000)
Rex Burkhead (+1000)
C.J. Anderson (+1100)
James White Receptions
Over 5.5 (-148)
Under 5.5 (+112)
James White Receiving Yards
Over 51.5 (-115)
Under 51.5 (-115)
Either Team To Score 2-Point Conversion
Game Goes To Overtime
Total Rushing Yards in Game
Over 213.5 (-115)
Under 213.5 (-115)
Halftime Leader/Game Winner (not incl. overtime)
Patriots-Patriots (+140)
Patriots-Rams (+800)
Patriots – Tie (+2700)
Winning Margin
Patriots 1-6 points (+350)
Patriots 7-12 points (+500)
Patriots 13-18 points (+850)
Rams 1-6 points (+360)
Rams 7-12 points (+600)
Rams 13-18 points (+1000)
First Quarter Total
Under 27.5 (-110)
Over 27.5 (-110)
Both to Score TD
Sony Michel + Todd Gurley (+225)
Todd Gurley + C.J. Anderson (+250)
Sony Michel + Brandin Cooks (+275)
Player Prop Parlays
Tom Brady to throw for 300+ yards/ Patriots to win (+225)
Tom Brady to complete 28 + passes/ Patriots to win (+260)
Tom Brady to throw 3+ touchdowns/Patriots to win (+280)
Jared Goff to throw for 300+ yards/ Rams to win (+330)
Todd Gurley to rush for 75+ yards/ Rams to win (+340)
C.J. Anderson to rush for 50+ yards/Rams to win (+290)
Total INTs thrown
Over 1.5 (+120)
Under 1.5 (-140)
First Team to Score
Rams (-105)
Patriots (-115)
First Turnover
Interception (-140)
Fumble (+120)
Team to Make First Field Goal
Patriots (-110)
Rams (-110)
First Scoring Play
Patriots Field Goal +400
Patriots Touchdown Pass +250
Patriots Touchdown Run +500
Patriots Other Touchdown +2500
Patriots Safety +5000
Rams Field Goal +400
Rams Touchdown Pass +300
Rams Touchdown Run +500
Rams Other Touchdown +2500
Rams Safety +5000
Last Scoring Play
Patriots Field Goal +400
Patriots Touchdown Pass +250
Patriots Touchdown Run +500
Patriots Other Touchdown +2500
Rams Field Goal +400
Rams Touchdown Pass +300
Rams Touchdown Run +500
Rams Other Touchdown +2500
Rams Safety +5000
First TD Scorer for Rams
Todd Gurley +300
CJ Anderson +350
Brandin Cooks +400
Robert Woods +500
Josh Reynolds +700
Tyler Higbee +1000
Gerald Everett +1200
Jared Goff +2500
First TD Scorer for Patriots
Sony Michel +300
Julian Edelman +400
Rob Gronkowski +450
James White +550
Rex Burkhead +800
Chris Hogan +600
Phillip Dorsett +1500
Cordarrelle Patterson +2000
Tom Brady +2500
Total Touchdowns
Over 5.5- 2/5
Over 6.5- 17/20
Over 7.5- 7/4
Under 5.5- 2/5
Under 6.5- 17/20
Under 7.5- 7/4
Total Successful Field Goals
Over 2.5- 1/3
Over 3.5- 19/20
Over 4.5- 11/5
Under 2.5- 21/10
Under 3.5- 3/4
Under 4.5- 4/11
Team to Make Longest Field Goal
Rams- 5/6
Patriots- 10/11
Shortest Touchdown
Under 1.5 yards- 7/10
Over 1.5 yards- 21/20
Team to Score Last
Team to Score In Every Quarter
Rams No- 1/3
Rams Yes- 19/10
Patriots No- 11/20
Patriots Yes- 27/20
Two or More Touchdowns
Sony Michel- 12/5
Todd Gurley- 10/3
C.J. Anderson- 17/4
Robert Woods- 11/2
Julian Edelman- 6/1
Brandin Cooks- 6/1
Rob Gronkowski- 17/1
James White- 15/2
Completions
Tom Brady- Under 25.5 (17/20)
Tom Brady- Over 25.5 (17/20)
Jared Goff- Under 25.5 (17/20)
Jared Goff- Over 25.5 (17/20)
Receiving Yards
Julian Edelman- Under 87.5 yards- 3/4
Brandin Cooks- Under 72.5 yards- 17/20
Robert Woods- Over 71.5 yards- 17/20
Rob Gronkowski- Over 47.5 yards- 17/20