With 11-seed Loyola-Chicago just missing becoming the biggest NCAA Tournament longshot to win a title, it got us as TheLines thinking: "Well, who are the biggest longshots in sports betting history?"
Not all longshots are created equal. Some of these selections were no-brainers, etched in gambling lore forever. Others were a little more under-the-radar, but still bore note-worthy significance.
10. 2011 St. Louis Cardinals at 999-1
With 15 games left in the 2011 season, the St. Louis Cardinals were 4 ½ games behind the Atlanta Braves for the National League wild card spot. Las Vegas sportsbooks had them listed at 999-1 to win the World Series. Then Atlanta collapsed, the Cards went 11-4 in their final 15, and won the World Series over the Texas Rangers. While it takes a lot to make baseball exciting and interesting, a 999-1 run does the job.
9. 1999 St. Louis Rams 300-1 to win Super Bowl
Let's keep the list in St. Louis. While some would think that the 2001 Patriots would've been the worst pre-season Super Bowl odds to win a title, they were actually 60-to-1 and only the seventh worst preseason odds to hoist the Lombardi. The 1999 version of the team they beat for the Super Bowl that year, the St. Louis Rams, claim the honor for biggest pre-season Super Bowl longshot to win it all.
For historical context, the Rams of the late '90's were bad. Awful. Turrrible, as Charles Barkley would say. Their star free-agent QB signing, Trent Green, suffered a season-ending injury before week 1, so grocery bagger Kurt Warner took the reins. What happened next? The Greatest Show on Turf and an unlikely Super Bowl.
8. 2000 Olympic Wrestling Rulon Gardner at 2,000-1
Remember Rulon Gardner? Anyone? Bueller? Bueller?
Rulon was a Greco-Roman wrestler who went up against all-time great Alexander Karelin in the 2000 Summer Olympics. Karelin hadn't lost in over a dozen years, and Gardner never finished better than fifth in international competition.
So obviously Gardner captured Gold at 2,000-1 odds.
Gardner gave MMA a shot four years later in PRIDE, but retired after one fight. Karelin went on to help Russian influence the 2016 U.S. Presidential election.*
* Ok, he went on to a career in Russian politics, so basically the same thing.
7. 2007 Stanford vs USC
Dubbed "The Greatest Upset Ever," Stanford was a friggin' 41-point underdog to a[nother overhyped] USC juggernaut.
Under Jim Harbough's stewardship, Stanford won in the final minute 24-23 when Redshirt sophomore Tavita Pritchard, making his first career start, connected with Mark Bradford on a 10-yard touchdown pass. This was Stanford's first lead of the game.
Stanford and Harbough have independently had a good run of success since then. USC had one more season of glory in 2008 before falling behind the SEC for college football supremacy.
6. 2007 Appalachian St. vs Michigan
Ok, even though Stanford vs. USC is called "The Greatest Upset Ever," earlier in the 2007 season (Week 1), Appalachian St. REALLY shocked the world as a -33 point underdog.
Michigan was ranked fifth entering the season, Appalachian St. was a Division 1-AA team. No Division 1-AA team had ever beaten a Division 1-A team like Michigan. Until Appalachian St.
Michigan went on a spiral downward, eventually hiring The Greatest Upset Ever coach Jim Harbough to bail them out as head coach in 2015. Appalachian St. became a Division 1-A team in 2014. So it was kind of like the Circle of Life.
5. 2009 Kentucky Derby Winner Mine that Bird 50-1
Mine that Bird had everything going against him: a crappy name, good but not great bloodlines, no testicles, and 50-1 odds.
However, Mine that Bird overcame it all to have a fairly remarkable racing career. The gelding that was bought for only $9,500 amassed over $2.2M in earnings.
How surprising was Mine that Bird's back of the pack to 7-lengths victory? Even the announcer didn't know what was going on.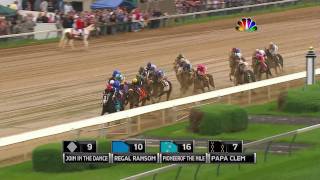 4. Buster Douglas at 42-1 KOs Mike Tyson
Now we're getting into rarified air.
By odds alone, Buster Douglas beating Mike Tyson in Tokyo, Japan in 1990 is far from the greatest longshot victory. However, it doesn't seem that way now.
Douglas was an undecorated unknown. Mike Tyson was Mike Fucking Tyson. He was 37-0 with 33 knockouts. He did this to other heavyweights.
Buster Douglas had nearly 7 years of age and 4 more losses on Tyson. Regardless, despite getting knocked down in the 8th round, Buster rallied and ended the era of Tyson with a 10th round knockout. Tyson was never the same as a boxer. Douglas was never again relevant after losing his next fight to Evander Holyfield.
3. Leicester City 5,000-1 to Win 2015 Premier League
At the start of the 2015 Premier League season, perennial relegation-candidate Leicester City opened at anywhere from 2,000-to-1 to 5,000-to-1 dogs to finish atop the table. In a weird season that saw typical favorites Manchester United, Liverpool and Chelsea finish 5th, 8th, and 10th respectively, Leicester went on an improbable run to claim their first Premier League title. Teams like Leicester City simply didn't win Premier League titles. And yet, they did.
Lucky punters who rode with the Foxes at thousands-to-1 odds were celebrating like Zlatan Ibrahimovic after his first MLS goal.
2. New York Jets +18 Super Bowl III
Again, it's not ALWAYS about the spread. While being an 18-point underdog is enormous, what the Joe Namath guarantee and New York Jets win did for the NFL and Super Bowl in general makes this longshot matter more.
Would the NFL still have grown to be the biggest American sport? Absolutely. Would their ratings still be improved with legalized sports betting? Absolutely again! But did Namath's guarantee and signature dropping of the mic #1 field walk-off moment help speed up the process? Maybe.
If nothing else, it certainly trumps his Suzy Kolber moment.
1. U.S. Hockey 1,000-to-1 1980 Winter Olympics
Do you believe in gambling miracles???
If you don't know the story of the U.S. Hockey team's improbable victory in the 1980 Olympics then you're either not American or you were born after Yo Gabba Gabba! went off the air.
But did you know they were 1,000-1 to win Gold?
From the improbability of scruffy college kids beating the best hockey players in the world to the Cold War importance of that victory to the absurd odds, there is no greater longshot.