We're back, baby! 2022 Sentry Tournament of Champions odds are here.
It's been about a month and a half since Talor Gooch won the last "meaningful" PGA TOUR event at the RSM Classic. Since then, our golf appetite has been satiated by a number of entertaining, albeit gimmicky, efforts to fill the void in the golf schedule.
We watched Brooks Koepka make quick work of Bryson DeChambeau in The Match. Viktor Hovland then won the Hit & Giggle at Tiger Woods' Hero World Challenge, Team Na & Kokrak quietly picked up their 5th combined win since the beginning of the 2021 Season at the QBE Shootout, and the PNC Championship became one of the biggest spectacles of the entire golf season, exceeding TV ratings of other major championships, as Team Daly narrowly edged out the charging duo of Tiger and Charlie Woods.
It's been a pretty eclectic stretch of golf for the casual golf fan to observe, but not exactly the brand of golf us degenerates can sink our teeth into to research, model, bet, and sweat. So thankfully after a nice holiday break, Sentry Tournament of Champions odds are here to bail us out, with real stakes, a formidable field, and ample ShotLink + Course History data for us to dig into and research.
2022 Sentry Tournament of Champions Odds To Win
Some legal U.S. sportsbooks have not released odds heading into New Years weekend. The odds board will update when they do, likely Monday. Click on the odds below to bet now.
The Field At a Glance
The ultimate display of meritocracy, the Sentry Tournament of Champions is exactly what it sounds like. An invite-only event reserved strictly for players who won a PGA TOUR event since the previous year's Tournament of Champions, which means for at least for one week, we can table the "win equity" debate when refining down our outright selections.
In one of my favorite displays of irony, Harris English broke an 8-year winning drought on the PGA TOUR at last year's "Tournament of Champions", after extended invites were offered to the top-30 players in the FedEx Cup standings to compensate for the COVID-shortened 2020 season. The 2021 PGA TOUR season bred 39 individual winners; Xander Schauffele did not win a PGA TOUR event last season, but the 2019 Sentry TOC champion is here on a special exemption for winning gold at the Tokyo Olympics, which rounds us out to a total a 40 players invited for this week's field.
Introduction To The Plantation Course at Kapalua
The Plantation Course at Kapalua is a breathtaking piece of property on the shores of Maui, Hawaii and arguably the most luxurious resort golfers and their families get the chance to stay at the entire year – an appropriate reward to offer all TOUR winners from the prior season.
Some players (cough, cough, Brooks Koepka) may view this week as a nice vacation to ease into the 2022 year after the holidays, while others will be motivated to square up against the best players in the world and add another win to their mantle versus a short field.
The course itself is long with dramatic elevation changes and severe undulations in both the fairways and greens complexes. These are some of the easiest combination of fairways and greens to hit on TOUR, making this another bona fide birdie best, favoring the best iron players, birdie-makers, and hot putters. Distance as always will only help players this week, as they can swing freely at these open fairways with little resistance from the sparse hazards on property.
As everyone knows, Maui boasts the densest humpback whale population in the world during these winter months. So, it's only appropriate we follow suit with some whale max unit plays out the gates this week to kick off 2022 in style. Here's everything you can expect ahead of this week's 2022 Sentry Tournament of Champions at the Plantation Course at Kapalua!
Plantation Course at Kapalua Course Specs
Yards: 7,596
Par: 73 (3x 3's / 11x 4's / 4x 5's)
Greens: Bermuda
Architect: Bill Coore & Ben Crenshaw (Original design & 2019 renovation)
Median 4-round Score: -15 ('21), -3 ('20), -9 ('19), -8 ('18), -12 ('17)
Comp Courses: Augusta National, Nine Bridges, Port Royal, Congaree, Caves Valley
Recent Winners: Harris English ('21), Justin Thomas ('20,'17), Xander Schauffele ('19), Dustin Johnson ('18, '13)
Other Past TOC Winners in the Field: Jordan Spieth ('16), Patrick Reed ('15)
The Plantation Course at Kapalua sits 7,596 yards long, making it one of the longest courses on the PGA TOUR schedule; however that distance is a bit deceptive for a few reasons. For one, it's the only Par-73 we see on TOUR, with just three Par-3s to go along with 11 Par-4s and four Par-5s. The course also features a number of dramatic elevation changes, causing the ball to carry farther and roll out more here than TOUR average. For example, the signature 18th hole is listed at 677 yards, but is still easily reachable in two for anyone with plus distance, given the downhill tee shot and downhill approach from fairway to green.
At a glance, the Plantation Course at Kapalua sets up to be one of the easiest tracks on TOUR. A 20-under-par winning score is the de facto barometer to classify a given tournament as a "Birdie Fest", and the winner of the Tournament of Champions has exceeded that mark in six of the last seven years. Just last year, a quarter of the field shot -20 or better.
Kapalua's best defense is the Mai Tai's wind, given its exposure to the coastline, and we saw in 2020 how sustained high winds over the weekend reduced Justin Thomas' winning mark to a more modest -14. That propensity for strong gusts should give pause to model players who perform well in easy scoring conditions, as we'll need to monitor the weather reports as we get closer to tournament week, whether conditions play calm and easy (a la 2021 Royal St. George's) or inclement and gusting (a la 2021 Port Royal). If the latter, Lucas Herbert may become appealing at long odds as a player who has already proven he can win at a windy, open, coastal resort course; however the basis of this week's research will assume we see normal, calm weather. If the elements remain calm, the tournament should come down to who can make the most birdies; the top-five players in Birdies or Better Gained entering this week are Cameron Smith, Bryson DeChambeau, Rory McIlroy, Sam Burns, and Jordan Spieth.
In terms of course history at Kapalua over the last five years, that list is led by Justin Thomas, who has two wins to go along with two additional T3s at the TOC since 2017. Xander Schauffele, Jon Rahm, Patrick Cantlay, and Marc Leishman round out the top five in SG: TOT L5 years at this event.
In terms of course comps, it's taboo to ever compare a course to Augusta National, especially a birdie fest track like Kapalua, but Augusta has been the clear top correlated course between overlapping winners. As I always say when using Augusta as a comp, it only goes one way; we should not expect a player to put on the green jacket just because he played well at that year's Tournament of Champions, but if he's consistently played well at The Masters, history shows he's a strong candidate to win at Sentry. Prior to Harris English's 2021 win at the TOC, the previous eight winners had either been Masters champions (Patrick Reed, Dustin Johnson, Jordan Spieth, Zach Johnson) or registered a top five at The Masters (Xander Schauffele, Justin Thomas). They are both comparable in the sense that each favors longer hitters who can take advantage of Par-5s, have wider fairways that forgive slight misses off the tee, and feature a massive property with distinct undulations.
This asks players to be more creative with different shot types both from the fairway and around the greens. Obviously the stakes are enormously different, there's a significant disparity in scoring difficulty, and we're far more exposed to the wind in Maui, but the foundational need for clever shot making helps in part explain the overlap between course horses.
Beyond Augusta, I also like Congaree, host of the 2021 Palmetto Championship which earned Garrick Higgo his ticket to Maui, as both courses are long with massive, open fairways, reachable Par-4s, and large, undulated Bermuda greens complexes. They're also both plantation courses, for what it's worth. Looking at SG: TOT L36 rounds across each of the noted comp courses, the top-five players in this field are Rory McIlroy, Jon Rahm, Justin Thomas, Patrick Reed, and Jordan Spieth.
Key Stats
Driving Distance
Par-5 Scoring
Par-4 <400 Yards

SG:

APP
Birdies or Better Gained
3-Putt Avoidance

SG: P (Bermuda)

Course & Comp Course History
What I find most fascinating about Kapalua, is that this is a rare Birdie Fest course that emphasizes Around The Green and Scrambling. That's because four Par-4s sit under 400 yards and set up <30-yard wedges for up and down birdies, and each of the four Par-5s will also leave players in a similar situation if they aren't already putting for eagle. Kapalua also yields an average of 75% Fairways and 75% Greens in Regulation, significantly above the TOUR average, as a credit to the over-sized fairways and greens on property. The lack of a need for precision off the tee means a distinct advantage for the longer hitters in this field.
To over-simplify, players with the most distance and best Short Game/Scrambling should position themselves best to score this week. There are just five players who rate out above average in Driving Distance, SG: Short Game, and Scrambling: Jon Rahm, Patrick Cantlay, Rory McIlroy, Sam Burns, and Talor Gooch.
Last year, Harris English gained a modest 3.4 strokes T2G in his TOC victory, leaning primarily on his putter with 6.8 strokes gained en route to his win. It's not uncommon to win a PGA TOUR event with a scorching hot putter, but the overarching takeaway from last year is that you don't need to be an elite ball striker to win at Kapalua, given how hard it is to miss these massive fairways and greens. If it does come down to a putting contest, the top-five Bermuda Putters entering this week are Cameron Smith, Sam Burns, Marc Leishman, Branden Grace and Abraham Ancer. The top-five players in 3-Putt Avoidance are Branden Grace, Sam Burns, Patrick Reed, Cameron Smith, and Seamus Power.
Each week, I like to look at the top-20 players in SG: TOT at that course historically to see which stat categories are most correlated with success at that particular course, and how that compares to the TOUR average ranks for correlated stat categories to see what pops week to week. I then pull together the top-10 average categories and top-10 categories for this course, and show the side-by-side comparisons in the charts below. This week, we see a fairly notable decrease in the importance of P5: 550-600 and SG: APP, which makes sense given the unique hole layouts at Kapalua, and the higher GIR% expected from the field. On the other hand, P5: 500-550 and SG: Short Game make the most notable jumps in importance at the Sentry TOC, each vaulting into the Top 10 this week. It's also worth noting the importance of Birdies/Birdie or Better, which are the top-two stats for historical success at TOC.
Taking each of the above key categories into account, there are just 3 players who rate out above average in all 10 top categories: Jon Rahm, Patrick Cantlay, and Sam Burns.
Player Spotlight: Patrick Reed
I've known for the last 6 months that I was going to bet Justin Thomas to win the 2022 Sentry Tournament of Champions, and I still hold that same conviction today that he has the best chance to win this event going into it. However the purpose of the spotlight feature is not to pick who's going to win, but rather to identify who might be overlooked on the odds board and present the best betting value. That man is Patrick Reed (click on his odds on the board above to bet now).
In a 40-man field where half the elites aren't fully dialed in and the bottom half of the board haven't shown any formidable form, Patrick Reed has already opened on some Sentry Tournament of Champions odds boards at a palatable . He's sixth in this field in Total Strokes Gained at Kapalua, which is a testament to him continuing to win PGA TOUR events each year and coming back every January. Since 2014, Patrick Reed has played in the Tournament of Champions every year but once, and in addition to his win in 2015, he's also had close calls with runner-up finishes in 2016 and 2020, as well as another T6 in 2017. Playing competitive golf in the Hawaii time zone the first week in January after an extended break is an adjustment in and of itself, so experience on the grounds will be as important this week to prep for tournament play as course fit & familiarity typically would be.
Patrick Reed enters 2022 with a laundry list of things to prove. A busy summer schedule essentially drove Reed into the hospital in August, as a bout with double pneumonia ultimately cost him his spot in the TOUR Championship Top 30, and later, a coveted spot on the Ryder Cup team for Captain America as he continued to nurse himself back to full strength.
Quietly, Reed enters this event with two top-three finishes in his last four starts, nearly winning both the Bermuda Championship and Hero World Challenge in similar windy, coastal conditions. While the ball striking numbers have not looked very promising lately, it's encouraging that Reed has never lost strokes OTT at the TOC in his seven career appearances. While a majority of this field will be happy to be here, lounging by the pool and out late at the resort casinos together, I expect Reed to be fully focused on this business trip to Maui. He should be looking to stack FedEx Cup points early on after falling outside of last year's Top 30, and with three of his nine career PGA TOUR victories coming in January, he's no stranger to getting off to a hot start.
What To Look Out For at the 2022 Sentry Tournament of Champions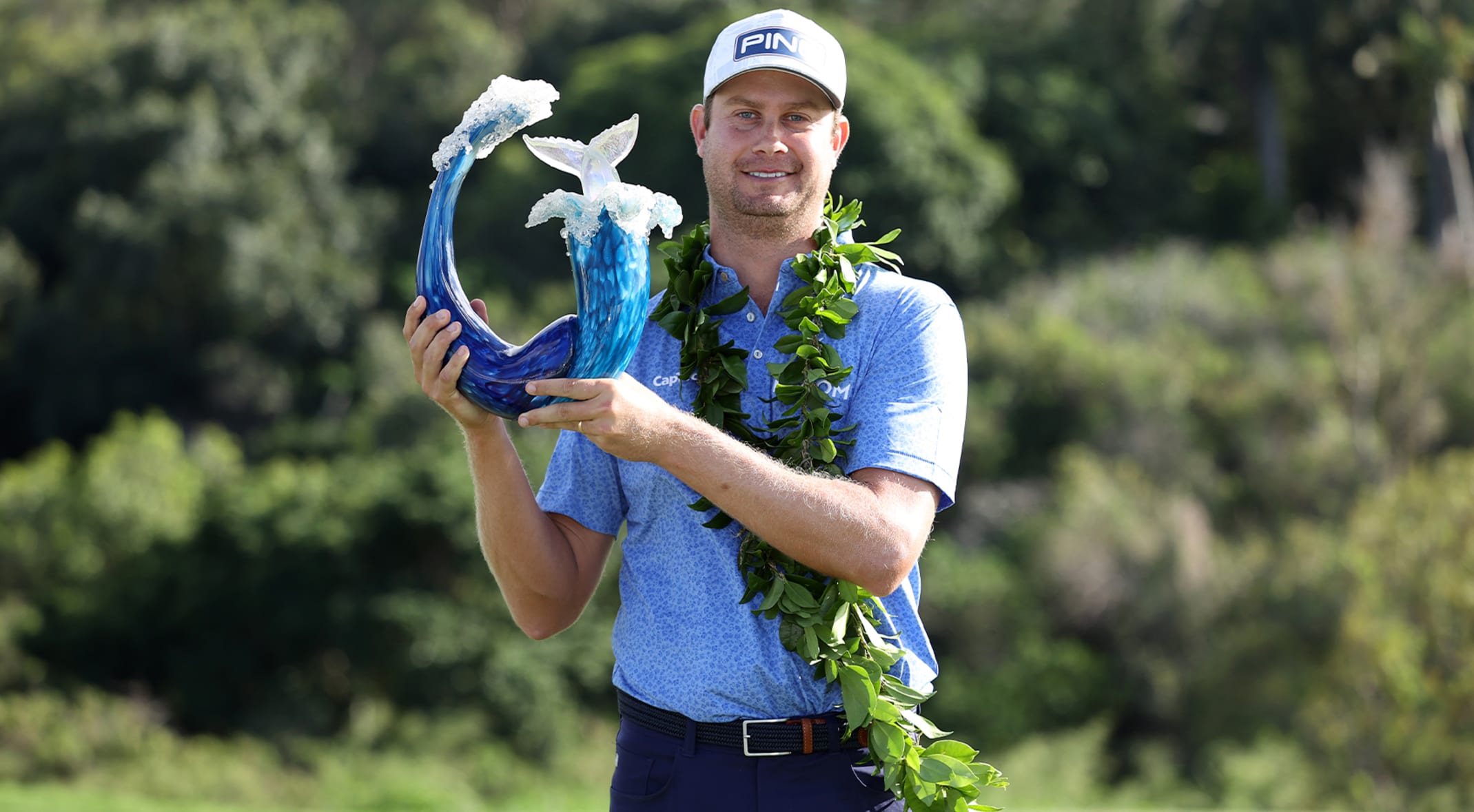 Last year was a strange Tournament of "Champions", and an anomaly in many ways. We'd come to expect an elite winner at this event looking historically at the past champions, and obviously players with a winning pedigree, but down the stretch on Sunday, we saw a group of players in Harris English, Joaquin Niemann, and Ryan Palmer who were looking for their own statement victory after going winless in 2020. Despite the likelihood of this becoming another 20-under+ birdie fest this year, I think we see an elite player with a combination of length off the tee and skilled short game emerge from 2022 Sentry Tournament of Champions odds.
With all the course-fit profiles in mind this week, I'm leaning early towards the below player pool, broken out by projected pricing/odds tier.
For my model in Fantasy National this week, I'm using a balanced mix of SG: Par-4, SG: APP, BoB Gained, and Driving Distance, followed by a secondary tier of Scrambling, SG: Par-5, SG: P (Bermuda), Course History, and 3-Putt Avoidance. Jon Rahm emerged as No. 1 in the model, which is no surprise and really should be the case any time he's in the field. After Rahm, my model's top 10 is rounded out by Cameron Smith, Sam Burns, Justin Thomas, Talor Gooch, Patrick Cantlay, Rory McIlroy, Bryson DeChambeau, Viktor Hovland, and Sungjae Im.
Since Sentry Tournament of Champions odds have already begun to leak out for this tournament, I can say with 99% certainty that I will have outright bets on Justin Thomas, Patrick Reed, Marc Leishman, and Garrick Higgo. With that said, I'll be keeping a close eye out for the best odds and will be following up later this week with additional insights on the best value players this week in both DFS and betting.
Thanks for reading, and good luck navigating 2022 Sentry Tournament of Champions odds!