After a 2022 John Deere Classic that featured zero top-40 OWGR players and the worst strength of field for a primary event of the season, the revival of quality golf competition has arrived with the 2022 Genesis Scottish Open. Fittingly, it comes at The Renaissance Club. Let's take a look at the Scottish Open odds as we preview this week's event.
This event makes its debut on the PGA TOUR, established for 2022 as a co-sanctioned event along with the DP World Tour. The partnership seemed logical as the Scottish has always fallen the week prior to the Open Championship and attracted major contenders for a tune-up in similar links conditions. Since the start of the season, LIV has pushed these two tours to form a strategic alliance. This won't be the last cross-over event with an equitable field of both PGA TOUR and DP World Tour players.
I use @PGATout on Twitter. Anything going on in golf outside of the PGA TOUR is not exactly my forte. The 75 DP World Tour players in this week's field feel like a bit of a blind spot, especially considering their stats won't populate in any of my models. That said, with three years of course history at the Scottish Open here, plenty of trends exist to guide us toward a player pool that spans both tours.
In true Scottish links style, the elements will dictate just how difficult the course will play. But all things being equal, we should expect in-form ball-strikers with plus distance, links experience, and crafty short games to rise to the top. Ahead, we'll run through the key facts and info about The Renaissance Club ahead of the 2022 Genesis Scottish Open.
GENESIS SCOTTISH OPEN ODDS: THE FAVORITES
Scroll to the bottom of this post to compare complete golf odds across legal sportsbooks for the Scottish Open.
GENESIS SCOTTISH OPEN FIELD AT A GLANCE
A loaded field sits in store, unlike anything we've seen before at the Scottish or any other DP World Tour event. Now co-sanctioned by two prominent professional tours, the field is composed of the top-75 qualified players from each. Excepting the LIV golfers and Rory McIlroy, who's chosen an extra week off, every other top name in golf will play.
World No. 1 Scottie Scheffler highlights the field, and he's joined by a loaded cast of eight OWGR top-10 players. Jon Rahm, Collin Morikawa, Justin Thomas, Cameron Smith, Patrick Cantlay, Viktor Hovland, Sam Burns and Matt Fitzpatrick will all go. Of the top-20 players in the world, 17 will tee it up.
From the DP World Tour side, Ryan Fox, Thomas Detry, Edoardo Molinari, Robert MacIntyre and Guido Migliozzi highlight the top trending names.
Past winners of this event in the field this week include Min Woo Lee, Aaron Rai and Bernd Weisberger. The first two return to the field for an attempted repeat, while Weisberger sits at home facing a ban after his commitment to LIV golf.
Like the John Deere Classic, the Scottish Open serves as a final qualifying opportunity for the Open Championship. That creates an interesting mix of those here to tune-up for the last major of the year and those fully motivated to get themselves into the major field.
INTRODUCTION TO THE RENAISSANCE CLUB
The Renaissance Club is a modern Scottish links course established in North Berwick in 2008. The Tom Doak design has quickly become home of the Scottish Open on the DP World Tour, the Scottish Senior Open on the European Senior Tour and the Ladies Scottish Open on the Ladies European Tour. This year, The Renaissance Club will host its strongest field yet thanks to the PGA co-sanctioning.
The Renaissance Club is one of the crowning achievements of Doak's famed architectural career. On the PGA TOUR, we've grown familiar with his work on the re-designs of Memorial Park GC and St. George's Golf of Country Club. Subtle intricacies of the greens define Doak's design philosophy. That should in theory reward players with the sharpest short games. At The Renaissance Club, PGA TOUR players will face a unique test that their DP World Tour counterparts should be all too familiar with: the randomness and unknown of the elements.
Just outside of Edinburgh, The Renaissance Club sits exposed on the North Sea coastline. That makes it susceptible to significant swings in conditions from day to day, similar to what we've seen at the Open Championship. During calm weather, in-form players can easily score low here, as evidenced by Weisberger's -22 in 2019. When wind and rain become a factor, however, we've seen that winning mark slashed in half, as Rai showed the very next year. Predict the weather's influence this early in the week is a challenge. But, it's crucial to monitor the severity of the conditions, particularly if they create a wave advantage over the first two days.
How It Breaks Down
The Renaissance Club is a pure links course set in golf's birthplace. It differs from the usual PGA TOUR setup, but brings a refreshing change of pace. The course measures 7,293 yards (6,669 meters for you European purists) and plays to a par 71 with a unique mix of four par 5s, five par 3s, and nine par 4s. Links-style courses are designed to play firmer in the fairways, tempting players to use the ground more often for increased rollout. Especially so when winds are up. That should give an advantage to players familiar with high winds and extreme weather who are generally comfortable flighting the ball to different trajectories depending on the conditions.
The rollouts have kept shorter hitters like Rai and Ian Poulter in contention over the last three years. But the presence of four reachable par 5s, a drivable par 4, and five additional par 4s over 450 yards should give an advantage to the longer hitters. At the 2021 Scottish Open, all three players in the playoff (Min Woo Lee, Matt Fitzpatrick and Thomas Detry) ranked top 30 in Driving Distance entering the week. The top-10 players in Driving Distance entering this week are Wyndham Clark, Ryan Fox, Cameron Young, Min Woo Lee, Kurt Kitayama, Jhonattan Vegas, Jon Rahm, Adri Arnaus, Luke List and Callum Tarren.
Looking at the total hole distribution, which concentrates in the ranges of Par 3: 200+, Par 4: 450-500, and Par 5: 550-600, the top-10 players in overall course fit across all 18 hole ranges are Justin Thomas, Young, Patrick Cantlay, Scottie Scheffler, Matt Fitzpatrick, Xander Schauffele, KH Lee, Max Homa, Sam Burns and Tommy Fleetwood.
THE RENAISSANCE CLUB COURSE SPECS
Yards: 7,293
Par: 71 (5x 3s / 9x 4s / 4x 5s)
Greens: Fescue
Architect: Tom Doak
Historic Cut Line: -2 ('21), -1 ('20), -5 ('19)
Median Four-Round Score: -9 ('21), -3 ('20), -13 ('18)
Comp Courses: Royal St. George's, Royal Portrush, Royal Birkdale, Carnoustie, The Old Course, Chambers Bay, Memorial Park GC, Trinity Forest, Liberty National
Past Winners: Min Woo Lee -18 ('21), Aaron Rai -11 ('20), Bernd Wiesberger -22 ('19)
Hole-by-hole Breakdown:
COURSE HISTORY AND COURSE COMPS
A new addition to the PGA TOUR, we can best understand how this course will play by looking backwards. While the Scottish Open has drawn a smattering of the PGA TOUR's best in 2019 and 2021 to prep for the Open Championship, DP World Tour players have comprised most of the fields. That makes for a great reference point for which "unknowns" from across the pond have found success. While leaderboards have been littered with the top DP World Tour names, OWGR would suggest that a field evenly split with PGA TOUR players will produce more contenders from there. DP World Tour players do have the course history and familiarity with these conditions, though.
Thirteen players have multiple top-40 finishes at this event over its first three years at The Renaissance Club: Min Woo Lee, Erik Van Rooyen, Matt Fitzpatrick, Justin Thomas, Tommy Fleetwood, Victor Perez, Tyrrell Hatton, George Coetzee, Thomas Detry, Lucas Herbert, Matt Wallace, Adrian Otaegui and Edoardo Molinari.
Just 12 players in the field have recorded at least one top-10 finish in prior years at this event: Lee, Ryan Palmer, Andrew Putnam, Jon Rahm, Van Rooyen, Matt Fitzpatrick, Johannes Veerman, Rafa Cabrera Bello, Xander Schauffele, Thomas, Tommy Fleetwood and Detry. Notables in the field with poor Course History include Russell Knox and Si Woo Kim. Each failed to make it through the cut in prior appearances.
Course Comps
Due to ignorance about DP World Tour course rotations and lack of data for modeling, I'll draw course comps strictly from the PGA TOUR. It's not ideal. But a cross-tour event on a links course without ShotLink data brings uncharted territory.
The easiest place to start for comps with SG: TOT data at our disposal is the Open Championship. It's played in this region each year in similar conditions and agronomy. It promotes flighting the ball through high winds, creativity from rolling undulations and fescue, using the ground in firm conditions, and strategically thinking through each shot.
While weather has produced dramatically different results from a scoring standpoint, The Renaissance Club does not impose the same test as a major. It should fall in line with some of the more docile Open Championship venues over recent years. Thus, Royal St. George's, host of the 2021 Open Championship, would seem the top comp, especially considering the recency. Royal Birkdale, Royal Portrush, Carnoustie and The Old Course are also worth a look as a reference point for players who thrive in these elements.
Stateside Comps?
Outside of the Open Championship, it's difficult to land on an exact match to these conditions on the PGA TOUR. Chambers Bay, host of the 2015 U.S. Open may come the closest we've seen to a pure coastal links set up. On the regular PGA TOUR schedule, Memorial Park GC shares influence of Doak's design and offers a similar test of windy, firm, and fast conditions. Links-style, it is not, however.
Trinity Forest served as the TOUR's attempt at introducing links golf stateside. That proved a much easier layout, producing birdie-fests in its two years hosting the AT&T Byron Nelson in 2018 and 2019. Liberty National played easy in the 2021 NORTHERN TRUST due to high rainfall and soft conditions, but it shares a similar hole layout and links-style exposure to coastal winds.
Combine performance across this list and the top-10 players in Comp Course History here are Jordan Spieth, Rahm, Justin Rose, Alex Noren, Rickie Fowler, Robert MacIntyre, Fleetwood, Rooyen, and Schauffele. Spieth brings a great reputation on links courses with his game a perfect fit to adapt to the conditions. But, he will make his debut at The Renaissance Club.
KEY STATS TO CONSIDER
SG: APP / SG: Ball Striking
SG: OTT
Driving Distance
SG: ARG / SG: Short Game
Birdies or Better Gained
Par-4: 450-500
Par-5 Scoring
SG: Putting (Total) / SG: Putting (Slow Greens) / 3-Putt Avoidance
Course & Comp Course History
The top of the leaderboards from the three prior years influence the key stats at this event. Since the stat modeling comes from PGA TOUR data, I will make note of DP World Tour players who profile well in the same areas even if they may fall outside the true top 10.
Kicking things off with SG: APP, this stat will continue to dictate the contenders this week. Extreme conditions will accentuate the importance of pure ball striking and creative flighting through the wind. Given the firm conditions and larger greens, lesser approach players can still make do. But they'll play at a disadvantage. The top-10 players in SG: APP are Xander Schauffele, Max Homa, Cameron Smith, Sam Burns, Harold Varner III, Hideki Matsuyama, Scottie Scheffler, Viktor Hovland, Antoine Rozner and Will Zalatoris.
From the DP World Tour, Ryan Fox rates in his own class. Edoardo Molinari, Marcus Armitage, Victor Perez, and Haotong Li round out the top five. For context, Fox's approach metrics fall between Daniel Berger and Rahm this 2022 season, while Molinari falls between Spieth and Lucas Glover.
Whenever we enter a new course (at least by PGA TOUR standard), it's always safest to look more broadly at the all-encompassing stats as a baseline for trending form. The top-10 players in SG: T2G over the last 24 rounds are Jordan Spieth, Mito Pereira, Cameron Young, Scheffler, Justin Thomas, Homa, Schauffele, Zalatoris, Matt Fitzpatrick and Chris Kirk.
OTT And Hole Length Stats
The fairways at The Renaissance Club sit wide and generous. But in firm, fast links conditions with penal fescue and pot bunkers looming, players must position well off the tee. The top-10 players in SG: OTT are Jon Rahm, Young, Joaquin Niemann, Zalatoris, Fitzpatrick, Corey Conners, Pereira, Luke List, Spieth, and Keith Mitchell. The top-five players from the DP World Tour: Jordan Smith, Adrian Meronk, Dean Burmester, Nicolai Hojgaard and John Catlin.
With 50% of the holes this week funneling to the Par 4: 450-500 and Par 5: 550-600 range, players who score best in those two isolated groups should have a leg up. Eleven players rated out top 25 from both scoring ranges: Burns, Thomas, Rahm, Homa, Zalatoris, Jhonattan Vegas, Scheffler, Fitzpatrick, Mitchell, Conners, and Keegan Bradley.
Looking at more customizable stats, I'm targeting a mix of players above average in Driving Distance, SG: Ball Striking, Birdie or Better Gained, SG: Short Game and SG: TOT on Comp Courses. Nine players rank above average in each category: Thomas, Scheffler, Spieth, Homa, Fitzpatrick, Patrick Cantlay, Schauffele, Cameron Smith and Alex Noren. Sahith Theegala, Young and Pereira also rate out well in each category but lack prior experience at the Open.
Trending Form Between the PGA TOUR and DP World Tour
Looking at recent form in terms of results over the last five events on the DP World Tour, the top-10 players entering this week are Fox, Meronk, Jordan Smith, Li, Perez, Adri Arnaus, Molinari, Mikko Korhonen, Jason Scrivener and Alexander Bjork. To put the depth of talent and form in perspective, Sam Burns ranks No. 10 in Recent Results L5 events on the PGA TOUR; Bjork, who ranks No. 10 from the DP World Tour, falls in line with Joel Dahmen and Tyler Duncan from an overall trend index standpoint.
Fox, the class of the DP World Tour currently, ranks No. 34 in SG: TOT on the 2022 season, just behind Tyrrell Hatton and ahead of Denny McCarthy.
PLAYER SPOTLIGHT: ADRI ARNAUS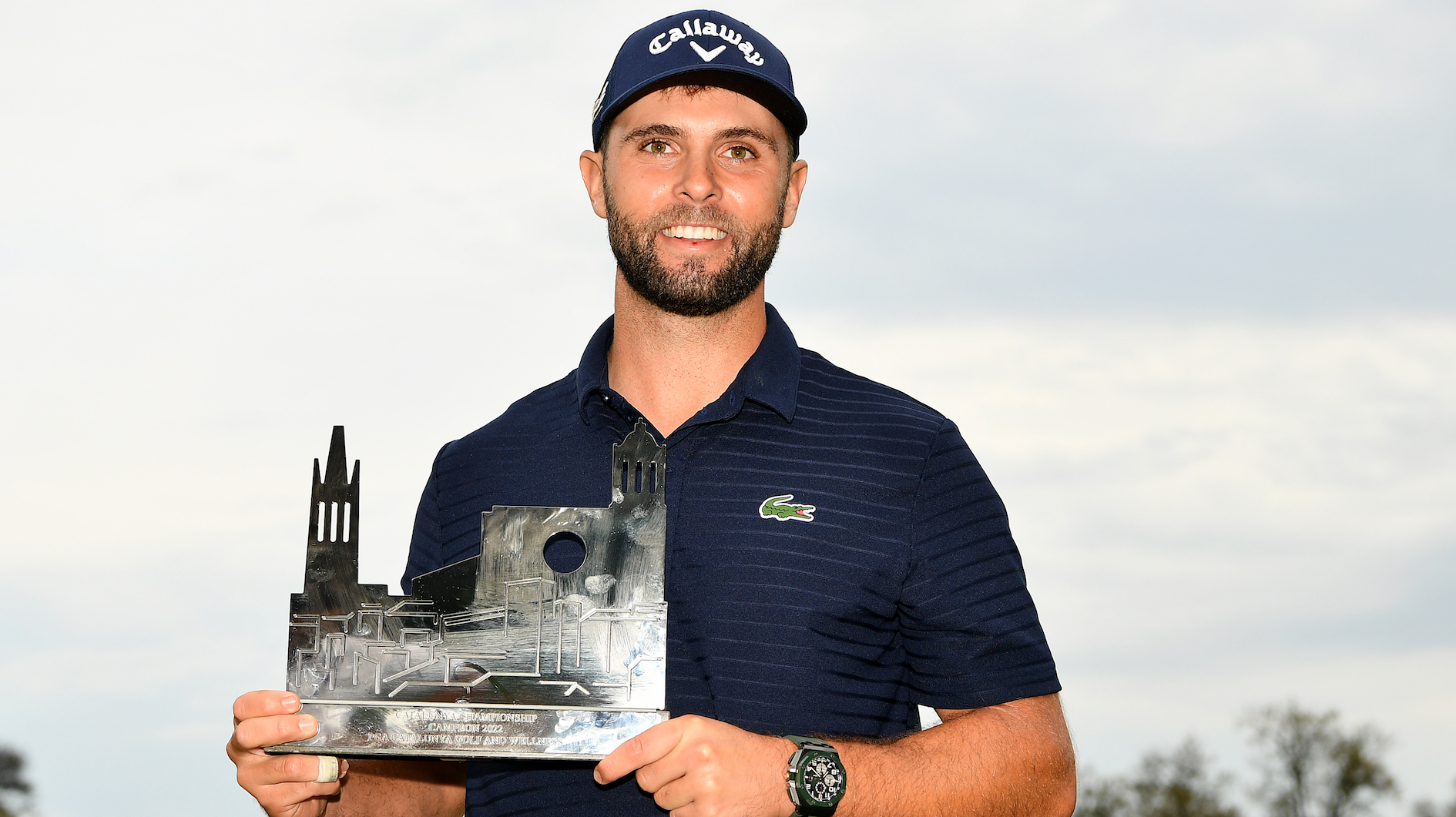 Well, when else am I going to have the opportunity to spotlight Adri Arnaus? In the spirit of strategic alliances and crossover fields, I'm giving the spotlight treatment to somebody who probably needs a little more shine for those who live inside the PGA TOUR bubble.
Arnaus will make his third straight appearance to the Scottish Open at The Renaissance Club. He made it through the cut on both prior occasions, highlighted by a T27 in 2020. The 2021 Scottish Open champion Min Woo Lee also finished top 35 in the 2020 Scottish Open, which seems a strong enough omen for the Spaniard.
Arnaus has played exclusively on the DP World Tour. So, we've only gotten glimpses of him in crossover fields at major championships. To that end, it's encouraging that his best major performance came at the 2022 PGA Championship at Southern Hills (T30). While Southern Hills is not a proper links course, it does embody characteristics we want. Arnaus gained nine strokes T2G there, top 10 in the field. A cold putter relegated him further down the leaderboard.
On the DP World Tour, the putter has actually told a better story. He ranks top 25 in SG: P this season. He picked up his first professional victory earlier this year at the Catalunya Championship and has already stockpiled seven top-20 finishes in 13 starts. The 27-year-old has quickly climbed inside the OWGR top-60 despite a lack of OWGR points at stake each week on the DP World Tour.
Arnaus profiles as a bomber who can putt the lights out with average approach play. That profile reminds of Min Woo Lee's, but with high approach upside. So Arnaus is a player to watch at likely long and palatable odds coming off an early exit at the Irish Open.
WHAT TO WATCH FOR AT THE 2022 GENESIS SCOTTISH OPEN
Truthfully, I've never watched the Scottish Open before this year. But, I'm really excited to get my first taste of The Renaissance Club this week. The top of the board has a major — or at least WGC — feel to it even if the depth of the field tapers off quickly with so many middling DP World Tour players qualified. The Europeans should in theory have an advantage due to their familiarity with the terrain and conditions, but the PGA TOUR players carry a clear advantage from an overall skill standpoint. That makes for a compelling clash. In the end, I expect a top-20 player to win this week and carry momentum into the Open Championship.
With all the course-fit profiles in mind, I'm leaning early towards the below player pool. Naturally, I'm looking their way in the 2022 Genesis Scottish Open odds as well. I've broken the list down by projected pricing/odds tier for DraftKings.
In my model, I'm emphasizing SG: T2G, Par-5 Scoring, SG: ARG, SG: OTT, SG: APP and Par 4: 450-500 followed by a more balanced mix of Birdies or Better Gained, Comp Course History, Driving Distance and SG: P (TOT & Slow Greens).
Model Favorites
In this star-studded field, Justin Thomas rates out No. 1 in my model this week. Thomas ranks top-five in SG: T2G, P4:450-500, Birdies or Better Gained, Comp Course History and SG: Short Game. He also has a top 10 under his belt at this event last year to validate the course fit even further.
After Thomas, the rest of my model's top 10 features Scottie Scheffler, Jordan Spieth, Max Homa, Matt Fitzpatrick, Patrick Cantlay, Xander Schauffele, Mito Pereira, Sam Burns and Jon Rahm. The model inherently skews towards the PGA TOUR data, but it is worth noting that Adri Arnaus rated out highest among DP World Tour players at No. 40.
It's going to be a tricky week to project Scottish Open odds, with sportsbooks handicapping the field across multiple tours. I expect a ton of variance on odds across the marketplace. Check back here on Monday when odds are released so you can line shop for best prices. For now, I'm leaning towards Spieth, Cameron Smith, Viktor Hovland and Arnaus. But this will likely be a week to chase value and go after the players whose odds slip the longest. Check back in later this week for more updates, and best of luck navigating the 2022 Genesis Scottish Open odds!
COMPARE 2022 Scottish Open ODDS
Two tournament outright boards to choose from this week. Choose Euro Golf Tour from the dropdown to view odds for the DP World Tour's Scottish Open this week. Choose PGA TOUR on to view odds for the Barbasol Championship.