The RBC Heritage is always tasked with the hardest act to follow in golf, slated for the week after the Masters each year. To its credit, this event has still done an excellent job historically attracting a competitive, star-studded field to one of the nicest resort retreats within the continental US in Hilton Head, S.C. As always, we go over the RBC Heritage odds in our tournament preview.
I've never had a chance to play here, and positional tree-lined courses that put a premium on accuracy fall at the very bottom of course fits for my game. But it is one of the more storied and recognizable public courses on TOUR, one I'd love to play.
We wish our casual golf betting friends farewell until the PGA Championship in May, and the weekly grind continues. We'll see an emphasis on course and comp course history at Harbour Town. After that, a very repeatable formula of Driving Accuracy, SG: APP, and SG: ARG key this event. Here's a look ahead at everything you can expect from Harbour Town Golf Links ahead of the 2022 RBC Heritage.
RBC HERITAGE ODDS: THE FAVORITES
Scroll to the bottom for complete outright odds and to compare prices across legal U.S. sportsbooks in your state.
THE FIELD AT A GLANCE
Just 142 miles southeast of Augusta, Hilton Head has done a great job enticing the world's best to stick around the week after the Masters. We would naturally expect many of the game's best to take a breather after the most physically and mentally exhausting week of golf.
This year, we have 11 players in the OWGR rankings top 20 currently slated to tee it up. That list is highlighted by Collin Morikawa, the world No. 3, and also includes Patrick Cantlay, Cameron Smith, Justin Thomas and Dustin Johnson for a total of five OWGR top-10 players. Other top names include Billy Horschel, Abraham Ancer, Tyrrell Hatton, Jordan Spieth, Joaquin Niemann and Daniel Berger.
Three-time RBC Heritage winner Stewart Cink returns to defend his dominant 2021 victory. Two-time winner Jim Furyk joins along with Webb Simpson, CT Pan, Satoshi Kodaira, Wesley Bryan, Branden Grace, Matt Kuchar, Graeme McDowell, Brandt Snedeker and Brian Gay as past RBC Heritage champions in the 2022 field.
INTRODUCTION TO HARBOUR TOWN GOLF LINKS
I was perhaps a bit harsh on TPC San Antonio in calling it my least favorite course on TOUR. That disdain was rooted in the fact that there is no clear profile for success at that course between bombers, plotters, ball strikers or short game specialists.
By contrast, Harbour Town Golf Links rates as an easier course to handicap. A very clear trend has dominated: drive it straight, strike your irons at an elite level and scramble well around the greens.
This formula has opened contention up to more grizzled veterans, essentially removing any distance advantage. The last 10 winners averaged 32 years old, with six winning at 35-plus. No winners checked in under the age of 27.
With that said, it sets up as a week where course fit prevails over recent form. Experience at Harbour Town and other comparable positional courses may provide a more distinct advantage than raw ball striking ability.
Harbour Town GL is your quintessential short, target golf course, embodying all of Pete Dye's most famous characteristics with pesky green-side bunkering and an emphasis on positional tee shots. It penalizes players who attempt to overpower with the driver.
Technically, water looms in play on all 18 holes to add an extra emphasis on driving accuracy. But, the water doesn't threaten as persistently as a course like PGA National. Even still, it's a claustrophobic course that requires players to stay in control of their golf ball off the tee. Trees line it and will often stymie players who run off the fairway into forced punch outs and layups.
The average driving distance at Harbour Town GL is about 15 yards under the TOUR average, showing that players will often take less than driver. That ensures they have set correct angles for approach shots.
How It Breaks Down
Harbour Town is a short course by PGA TOUR standards, playing at about 7,100 yards as a par 71 with three par 5s and an added par 4 compared to the typical par-72 set up. Of the par 4s, seven holes play under 450 yards, making Par-4 Scoring: 400-450 a crucial stat.
The par 3s have plenty of bite, as all four set up at 190 yards or longer. The 14th hole is one of my favorite par 3s on TOUR. Listed at 194 yards, it features a threatening water hazard on the right of the green, with the green sloping left to funnel conservative bailouts into a tricky green-side pot-bunker. That makes par saves nearly impossible. Track this hole down the closing stretch to see how aggressively players approach to take on this flag.
The average green size at Harbour Town is 3,700 square feet, the second smallest on TOUR behind only Pebble Beach. That makes for a particular emphasis on approach play, with players only hitting greens in regulation at a 58% clip (TOUR average: 66%). It also calls for an added emphasis on SG: ARG, and Scrambling.
Traits And Recent Notable Facts
Comparing Harbour Town with all other yearly PGA TOUR courses, it rates out bottom three in average driving distance and OTT difficulty. With the emphasis on setting up your second shots from the fairway, players can't truly separate from the field with driver alone. So many forced layups makes a good opportunity to buy low on some of the weaker drivers.
The rough at Harbour Town is relatively non-existent. So, there is little penalty for slight run-offs past the fairway or chip shots from just off the green, as long as players avoid the bunkers and are not blocked out from the trees.
The greens have typically played as pure Bermuda. However, in 2021 they were overseeded with Poa to withstand a cold and wet winter, so it may be worth monitoring if they will overseed once again in 2022. I don't expect a notable difference either way.
The 2020 RBC Heritage, won by Webb Simpson at -22, was a bit of an anomaly from a course conditions standpoint. Due to COVID rescheduling, the event played in June. Public golf rounds from March through June beat up the course, changing the dynamics.
HARBOUR TOWN COURSE SPECS
Yards: 7,121
Par: 71 (4x 3's / 11x 4's / 3x 5's)
Greens: Bermuda (overseeded with Poa)
Architect: Pete Dye
Historic Cut Line: +1 to +3
Median Four-Round Score: -7 ('21), -12 ('20), -3 ('19), -5 ('18), -4 ('17)
Comp Courses: Waialae CC, Sedgefield CC, Sea Island Resort, Colonial CC, TPC Sawgrass, TPC River Highlands, Stadium Course, El Camaleon, Pebble Beach
Past Winners: Stewart Cink -19 ('21), Webb Simpson -22 ('20), CT Pan -12 ('19), Satoshi Kodaira -12 ('18), Wesley Bryan -13 ('17)
Hole-by-hole Breakdown:
EVENT HISTORY AND COURSE COMPS
Looking at recent course history, 12 players have multiple T15 finishes over the last five years: Webb Simpson, Matt Kuchar, Ian Poulter, Patrick Cantlay, Matt Fitzpatrick, Daniel Berger, Kevin Streelman, Brian Harman, Michael Thompson, Shane Lowry, JT Poston and Kevin Kisner.
Eleven players have made the cut in each appearance over the last five years (min. three starts): Simpson, Kuchar, Poulter, Berger, Dustin Johnson, Alex Noren, Wesley Bryan, Brian Stuard, Dylan Frittelli, Branden Grace and Wyndham Clark.
Webb Simpson And Matt Kuchar
Simpson sits clearly head and shoulders above the rest of the field this week in terms of Course History. This has always slotted in each year as a certified "Webb Track." It's a short course that mitigates distance advantage, rewards accuracy with both the driver and irons, and requires a strong short game to navigate tricky green-side bunkers and some of the smallest greens on TOUR.
Over the last five years, Simpson has not finished worse than T16 here, highlighted by his win in 2020. He's gained an aggregate of 45 total strokes versus the field over those last 5 years. Matt Kuchar ranks second over that span with 33.
If we look more holistically at total course history beyond the last five years, Kuchar rises to the top spot. Since 2012, Kuchar has played this event every year and never lost strokes tee-to-green or ball-striking. He won in 2014 and has finished T11 or better in five of his last eight appearances. He'll be an interesting look at what I'd expect to be uncomfortably short odds, considering he's finished T18 and T2 in his last two starts.
Course Comps
We know this type of course by now. Short, target golf, positional. A rare opportunity for shorter hitters to contend, and the type of course where Webb Simpson archetypes have repeatedly found success.
With so many repeat names on the RBC Heritage leaderboard over the years, I'm going to be leaning on Course & Comp Course History about as heavily here as at any other event in modeling.
Pete Dye courses tend to mimic a consistent design philosophy that rewards a tactical approach off the tee and penalize misfires on approach. Rather than running total Pete Dye Course History this week which would include behemoths like Whistling Straits and Kiawah Island, I have cherry picked TPC Sawgrass, TPC River Highlands, and Stadium Course as the best comp Dye courses.
Courses that force the field to take driver out of their hands and reward accuracy both off the tee and on approach should serve as great comp reference points. Pebble Beach, Colonial CC, Waialae CC, Sedgefield CC, Sea Island Resort and El Camaleon embody those characteristics well.
Combine performance across this long list of shorter, positional comp courses together, and the top-10 players in Comp Course History from this week's field are Webb Simpson, Patrick Cantlay, Dustin Johnson, Abraham Ancer, Corey Conners, Kevin Na, Russell Henley, Daniel Berger, Si Woo Kim and Kevin Kisner.
KEY STATS TO CONSIDER
SG: APP / GIRs Gained
SG: ARG / Scrambling
Fairways Gained
P4: 400-450
Prox 125-200
SG: Putting (Bermuda)
SG: T2G (<7,200 Yard Courses)
Course & Comp Course History
The executive summary to approaching the RBC Heritage odds would suggest refining to players who are elite in SG: APP, SG: ARG, and Fairways Gained. It really has been that cut and dry of a formula to predict success at this event. Just four players rate out top 30 in SG: APP & SG: ARG and above-average in Fairways Gained: Daniel Berger, Russell Henley, Adam Hadwin and Chris Kirk.
Taking a deeper dive into each of the key stats this week, the top-10 players in SG: APP, the most critical stat of the week, are Henley, Berger, Shane Lowry, Luke Donald, Tom Hoge, Justin Thomas, Cameron Smith, Russell Knox, Erik Van Rooyen and Hadwin.
Approach shots funnel within the 125-200 yard range at Harbour Town, with nearly 30% of approaches coming from 175-200 yards. The top-10 players in weighted proximity from 125-200 yards are Justin Thomas, Lowry, Van Rooyen, Emiliano Grillo, Satoshi Kodaira, Abraham Ancer, Webb Simpson, Smith, Knox and Donald. Nine of these top-10 players have a T10 finish at the RBC Heritage, and the one exception (Van Rooyen) finished T21 in his 2020 debut. Success from this range has proven a great indicator of performance at Harbour Town.
Small Greens, Easy Fairways
With these greens being among the smallest on TOUR, short game will prove increasingly important to scramble for pars on errant approaches. The top-10 players in weighted SG: ARG & Scrambling are Matt Kuchar, Kevin Streelman, Kevin Na, Berger, Ian Poulter, Harold Varner III, Patrick Cantlay, Beau Hossler, Sungjae Im and Johnathan Byrd.
It's not entirely necessary to model Fairways Gained this week, considering the field at large should inherently find more accuracy when clubbing down for these forced layups. With that said, the most reliable fairway finders in this week's field are Brian Stuard, Brendon Todd, Jim Furyk, Chez Reavie, Joel Dahmen, Streelman, Tyler Duncan, Jim Herman, Hadwin, and JJ Spaun.
Looking at the correlation charts this week, we see a notable dip in the importance of SG: OTT and P4: 450-500 relative to TOUR average. Driving Distance and Prox 200+ also rate out as the two least correlated stats with success for this event. Instead, P4: 400-450, SG: Short Game / SG: ARG, and SG: APP climb this week.
Twelve players in the field rank above average in each of the above key stat categories: Patrick Cantlay, Justin Thomas, Cameron Smith, Tom Hoge, Daniel Berger, Shane Lowry, Sungjae Im, Tyrrell Hatton, Matthew Fitzpatrick, Adam Hadwin, Charles Howell III and Harold Varner III.
PLAYER SPOTLIGHT: JOAQUIN NIEMANN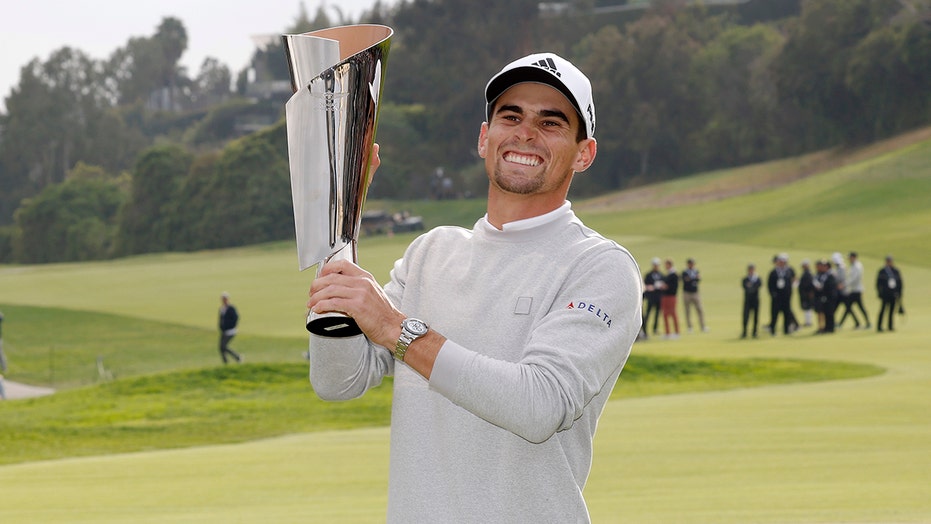 This spotlight feature was written in stone three months ago when Joaquin Niemann personally assured me that he loves this course. In his words, "Hilton Head I think is one of my favorite courses. It fits my game pretty good because you've got to move it a lot around the course and I think Bermuda is my favorite grass to putt with." So there you have it, I'm an insider journalist now.
These anecdotes aside, it does make sense that a positional course that rewards strong approach play and short game on Bermuda greens should suit him well. Niemann ranks 9th in this field SG: T2G over the last 36 rounds. His two best putting performances over the last six months have come on Bermuda. He's only made one appearance at the RBC Heritage but finished T5 in his 2020 debut. He finished third in the field with 11.1 strokes gained T2G, four more than eventual winner Simpson.
Although Niemann ranks 110th in this field in Driving Accuracy over the last 36 rounds, that drops to 54th when filtering for courses under 7,200 yards. That suggests he is in more control of his tee shot on courses that call for less than driver. He also ranks 13th in this field SG: T2G on short courses.
His form continues to trend well in 2022 with three top-6 finishes over his last seven starts entering the Masters, highlighted by his dominant wire-to-wire victory at the Genesis.
Niemann rates 16th overall in my model this week, ranking top 30 in the key stat categories of Comp Course History, SG: T2G, SG: APP, SG: ARG, GIRs Gained, Scrambling Gained and Short Course History. In such a top-heavy field, I expect to see Niemann slip to the 30-to-1 range when RBC Heritage odds open.
WHAT TO WATCH FOR AT THE 2022 RBC HERITAGE
It's always interesting to see how players respond in the week immediately following a major. There were no concerns for Stewart Cink last year, and Scottie Scheffler effectively eliminating 99% of the field by Friday might make it easier than past years for players to turn the page.
It's also a good week to place bets early. Expect at least one or two top names to de-commit from the RBC Heritage after the Masters concludes.
With all the course-fit profiles in mind, I'm leaning early towards the below player pool. Naturally, I'm looking their way in the 2022 RBC Heritage odds as well. I've broken the list down by projected pricing/odds tier for DraftKings.
In my model this week, I'm emphasizing Comp Course History, Recent Form (SG: T2G), SG: APP, and SG: ARG, followed by a more balanced mix of P4: 400-450, SG: P (Bermuda), Fairways Gained, GIRs Gained, Scrambling Gained, and SG: T2G (<7,200 Yard Courses).
Daniel Berger rates as the top dog. Assuming he stays healthy, he'll be on a short list of targets at the top of the RBC Heritage odds. Berger ranks top 10 in Comp Course History, SG: T2G, SG: APP, and SG: ARG. He's gotten off to a slow start putting this season, but a return to Bermuda greens for the Florida native should help kickstart him back into form. Russell Henley, Justin Thomas, Shane Lowry, Sungjae Im, Patrick Cantlay, Adam Hadwin, Tom Hoge, Corey Conners and Cameron Smith round out the model's top 10.
When 2022 RBC Heritage odds open, I'm looking for Berger and Joaquin Niemann first and foremost, with the makings of a relatively tight betting card. Check back in later this week for more updates. Best of luck navigating 2022 RBC Heritage odds!
COMPARE 2022 RBC HERITAGE ODDS