The Washington Wizards (17-31) are underdogs () in their attempt to stop a three-game losing streak when they visit the Toronto Raptors (19-30) at 7:00 PM ET on Monday, April 5 at Amalie Arena. The game airs on NBCS-DC. The matchup's point total is set at .
The betting insights in this article reflect odds data from DraftKings Sportsbook as of April 5, 2021, 6:40 AM ET. See table below for current betting odds.
Raptors vs Wizards Betting Odds
Raptors vs Wizards Props
Looking to bet on props for this game? Use our prop search tool to find the best odds across legal sportsbooks in the US.
Injury Report as of April 5
Raptors:
Patrick McCaw: Out (Knee),
Rodney Hood: Out (Hip),
Fred VanVleet: Day To Day (Hip),
Kyle Lowry: Out (Foot),
Paul Watson: Out (Health and Safety Protocols),
Jalen Harris: Out (Hip)
Wizards:
Bradley Beal: Day To Day (Hip),
Rui Hachimura: Day To Day (Shoulder),
Daniel Gafford: Out (Ankle),
Thomas Bryant: Out For Season (Left knee)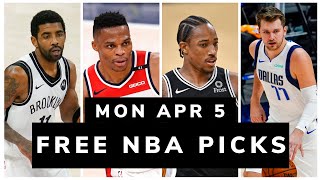 Raptors and Wizards Records ATS
Toronto has covered the spread in less than half its games this season, putting together a record of 21-28 against the spread.
When favored by at least 5 points, the Raptors are 6-10 against the spread in 2020-21.
26 of 49 Toronto games this season (53.1%) resulted in a total greater than the contest's over/under.
Washington holds a losing record ATS this season with 23 wins and 24 losses ATS.
When they play as at least a 5-point underdog, the Wizards frequently have trouble covering with only a 1-2 record against the spread.
Washington and its opponents have regularly been held under the total points bet this season, only reaching the over in 48.9% (23) of their 47 games played.
Click here to get the best DraftKings Sportsbook deposit bonus!
Head to Head
Norman Powell scored a team-high 28 points to lead the Raptors over Bradley Beal (24 points) and the Wizards 137-115 in their most recent matchup on February 10, 2021. The Raptors were favored by 5.5 points in the game and covered the spread in the win. The teams combined to score 252 total points to cover the 235.5-point over/under.
| Date | Favorite | Home Team | Spread | Total | Favorite Moneyline | Underdog Moneyline | Game Type | Result |
| --- | --- | --- | --- | --- | --- | --- | --- | --- |
| 2/10/2021 | Raptors | Wizards | -5.5 | 235.5 | -220 | 178 | Regular Season | 137-115 TOR |
Claim Your $1,050 Bonus at DraftKings Sportsbook

Up to $1,050 FREE
New User Bonus. T&Cs Apply.
$50 Free On Deposit

Up to $1,000 Deposit Bonus

To Claim: Click Play Now
Scoring Trends
Toronto's games this year have gone over the point total for Monday's matchup total (228.5 points) in 40.8% of opportunities (20 out of 49 matchups).
In Washington's games this year, the competing teams added up to a higher point total than Monday's matchup point total in 27 out of 48 matchups (56.2%).
On average, the over/under in Raptors games is 4.4 points fewer than the over/under of 228.5 points in this matchup.
A difference of 4.0 points separates the average total points bet in Wizards' games (232.5 points) and this game's over/under (228.5 points).
The Raptors have an average implied point total of 114.1 this season, which is 2.9 points lower than their implied total in Monday's game (117).
So far this season, Toronto has outscored its implied point total for this matchup (117) 14 times.
The Wizards' average implied point total on the season (120 points) is eight points higher than their implied total in this matchup (112 points).
Washington has scored more than this game's implied total of 112 points 26 times this season.
The Raptors are the league's 16th-highest scoring team (112.3 PPG), while the Wizards allow the most points per game (119.1) in NBA play.
The Raptors have out-scored their opponents by a total of 25 points this season (0.5 points per game on average), and opponents of the Wizards have out-scored them by 268 more points on the year (5.6 per game).
Raptors Leaders
Pascal Siakam leads the Raptors in points and rebounds. He averages 20.4 points per game while also adding 7.4 rebounds.
Siakam's rebounding prop over/under for the game is listed at 9.5 rebounds, 2.1 rebounds greater than his season average of 7.4.
Toronto's assists leader is Kyle Lowry, who averages 7.3 per game.
Lowry's PRA prop over/under for the game is set at 30.5, 0.8 higher than his season average of 29.7.
Fred VanVleet is the top three-point shooter for the Raptors, knocking down 3.3 per game.
VanVleet's three pointers made prop total for the game is set at 4.5, 1.2 shots greater than his season average of 3.3.
OG Anunoby leads the team with 1.7 steals per game. Chris Boucher collects 1.9 blocks a contest to pace Toronto.
Boucher's blocks prop total for the contest is set at 2.5, 0.6 blocks higher than his season average of 1.9.
Wizards Leaders
Russell Westbrook has the top spot on the Wizards rebounds and assists leaderboard, with 10.4 rebounds per game and 10.5 assists per game.
Westbrook's PRA prop total for the contest is posted at 47.5 combined points, rebounds, and assists, 4.9 higher than his season average of 42.6.
Beal scores 31.3 points per game to pace Washington.
Beal's points prop over/under for the contest is set at 25.5, 5.8 points less than his season average of 31.3.
Davis Bertans is tops from three-point range for the Wizards, knocking down 2.8 threes per game.
Bertans' three pointers made prop over/under for the game is set at 1.5, 1.3 shots less than his season average of 2.8.
Nobody on Washington grabs more steals than Beal (1.2 per game) or blocks more shots than Daniel Gafford (1.2 per game).
Beal's steals prop over/under for the game is set at 1.5, 0.3 steals greater than his season average of 1.2.
Predictions
Click here for today's NBA betting picks from our team of experts.
Powered By Data Skrive using data from