Medina Spirit will attempt to win the second jewel in horse racing's Triple Crown Saturday, May 15 at Pimlico Race Horse. Our Preakness tracker will keep you up to date with all the latest news leading up to post time from the rest of the potential field of Preakness horses.
Trainer Bob Baffert captured a record seventh Kentucky Derby on the first Saturday in May, the same number of victories on his resume in the Preakness. Capturing the garland of black-eyed Susans for an eighth time would break a record that has held for more than 130 years. Seven Preakness wins is tied for the most by a trainer with R. Wyndham Walden, who won his between 1875 and 1888.
Baffert could very will have two chances to do it in this Preakness, not only with his Kentucky Derby winner but also with Concert Tour. Concert Tour had ranked ninth on the Kentucky Derby leaderboard with 70 points, one spot behind Medina Spirit.
Could another contender from Bob Baffert's own barn be the one to spoil a run at a third Triple Crown for the legendary trainer?
2021 Preakness: Odds, Analysis and Picks

Get Up to $200 Back If Your First Bet Loses
$200 Bonus
If Your Bet Loses
Get Your First Single-Horse Win Wager Back
Up to $200 If You Lose

Use Promo Code: 200TVG

TheLines.com 2021 Preakness Cheat Sheet
Post positions and morning line odds are out for the 2021 Preakness. Results for the pre-race drug testing of Medina Spirit and Concert Tour are scheduled to be in Friday before the race Saturday. Click here for our 2021 Preakness Cheat Sheet.
Preakness Horses: New Shooters in the 21st Century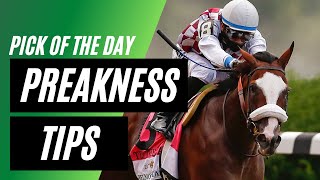 Preakness Horses: Latest Updates
Tuesday, May 11
– Bob Baffert's attorney says an agreement has been reached with Pimlico to allow his horses, Medina Spirit and Concert Tour, to run in the Preakness. Each must pass pre-race drug testing. "There are several conditions in place, including pre-race testing that the horses will have to pass and clear, which (Pimlico) wanted and we wanted too, to remove any cloud of suspicion over the Preakness. So there are conditions in place, but we have reached an agreement for both to race this weekend," said Craig Robertson, Baffert's attorney.
– In a statement from Bob Baffert via his attorney, Baffert admitted Medina Spirit was treated for weeks with an ointment that contained the banned substance Betamethasone. With the admission, it seems a likely the second post-race split sample test will come back positive. That would disqualify Medina Spirit from the Kentucky Derby, pending appeal, and install Mandaloun as the winner. No bet payouts would change. The last time a Kentucky Derby winner was dethroned for a prohibited substance was Dancer's Image in 1968. So much for the staff member on cough medicine peeing on hay excuse from Monday.
Monday, May 10
– The Preakness draw has been moved from noon Monday to 4 p.m. Tuesday. No word on whether this is related at all to Medina Spirit's failed drug test at Churchill Downs.
– Pimlico Race Course released a statement in response to Churchill Downs suspension of Bob Baffert and investigation of Medina Spirit: "Integrity in the sport of Thoroughbred horse racing is the ultimate priority for 1/ST Racing and the Maryland Jockey Club … 1/ST RACING and Maryland Jockey Club intend to review the relevant facts and information relating to the reported medication positive as a result of the post-race blood sample testing completed by Churchill Downs following the 147th Kentucky Derby involving Medina Spirit trained by Bob Baffert. We are consulting with the Maryland Racing Commission and any decision regarding the entry of Medina Spirit in the 146th Preakness Stakes will be made after review of the facts."
Sunday, May 9
– Kentucky Derby winner Medina Spirit has tested positive post-race for a banned substance. Bob Baffert is denying his team administered the banned substance. "It is a complete injustice and I'm going to fight it tooth and nail," Baffert said. Baffert had two high-profile horses test positive a year ago but won a court challenge to drop sanctions in Arkansas. A disqualification of Medina Spirit would be just the second substance-related DQ of a winner in Derby history, but the second overall disqualification in three years. Medina Spirit breezed at Churchill Downs Sunday morning, and Baffert said he still plans to enter the colt in Saturday's Preakness. Bettors who bet on Medina Spirit keep their money. The owner, trainer and jockey must return winnings if they lose an appeal.
– Churchill Downs has released a statement on Medina Spirit's failed drug test: "It is our understanding that Kentucky Derby winner Medina Spirit's post-race blood sample indicated a violation of the Commonwealth of Kentucky's equine medication protocols. The connections of Medina Spirit have the right to request a test of a split sample and we understand they intend to do so. To be clear, if the findings are upheld, Medina Spirit's results in the Kentucky Derby will be invalidated and Mandaloun will be declared the winner. Failure to comply with the rules and medication protocols jeopardizes the safety of the horses and jockeys, the integrity of our sport and the reputation of the Kentucky Derby and all who participate. Churchill Downs will not tolerate it. Given the seriousness of the alleged offense, Churchill Downs will immediately suspend Bob Baffert, the trainer of Medina Spirit, from entering any horses at Churchill Downs Racetrack. We will await the conclusion of the Kentucky Horse Racing Commissions' investigation before taking further steps."
– Japanese new shooter France Go De Ina has arrived safely to Pimlico after his long journey across the Pacific. He would become the first Japanese horse to contest a Triple Crown race since Master Fencer ran fifth in the 2019 Belmont Stakes and a sixth-place finish in the Kentucky Derby.
Wednesday, May 5th
– Medina Spirit was on the track for the first time since winning the Kentucky Derby. He jogged a mile Wednesday morning at at Churchill Downs without issue.
Tuesday, May 4th
– Trainer Brad Cox went on Sirius radio and said Essential Quality, fourth in the Kentucky Derby, would skip the Preakness. He has two other horses in the mix for the Preakness though. Mandaloun, the second-place finisher in the Derby, and Caddo River, withdrawn from the Derby about a week before the race, are pointing towards the Preakness.
– Trainer Kenny McPeek has taken King Fury out of consideration, after more medical issues. McPeek tweeted he'll be pointed towards the Travers now.
– It looks like there could be as many as six 'new shooters' that did not run in the Derby. Concert Tour, Caddo River, Crowded Trade, France Go de Ina, Ram, Rombauer, and Unbridled Honor.
Monday, May 3rd
-Another new shooter has been confirmed for the Preakness. Rombauer, third last time out in the Blue Grass Stakes behind Essential Quality and Highly Motivated, will run in the second leg of the Triple Crown. He automatically qualified for a starting berth in the 146th Preakness with his victory in the El Camino Real Derby on Feb. 13 at Golden Gate Fields. Rombauer has been most effective running from off the pace. There was no early speed in the Blue Grass Stakes, when he finished third, which leads to the question of whether the pace in the Preakness will also be as mild as the Kentucky Derby, when Medina Spirit went wire to wire.
– Medina Spirit had a second walk day Monday. "He'll probably walk three days – that's our typical deal," assistant trainer Jimmy Barnes said. "Maybe Wednesday he'll jog. We'll see how the weather is. It's hard to give them too many days off when we're coming right around. But all systems look good right now. Everything is good."
-Trainer Kenny McPeek is hoping to start King Fury. The Lexington Stakes winner was scratched from the Kentucky Derby after spiking a temperature. "It will be one of those call-an-audible-at-the-line-of-scrimmage [things]. We'll take it into Friday, and see what kind of week he has," said McPeek. "Everything will have to fall into line. He'll have to show there are no ill after-effects on him. He'll have to have good blood work and a good scope."
– A son of Triple Crown winner American Pharoah is under consideration to start in the Preakness. Hall of Fame trainer D. Wayne Lukas said Monday that Ram, who has won his last two starts, could be entered. The 85-year-old Lukas is a six-time winner of the Preakness. He has saddled a record 44 horses in the race. Ram won the opening race on Saturday's Kentucky Derby program at Churchill Downs. Lukas said he is considering other races for Ram as well and probably won't make a decision on the Preakness until next weekend.
– Trainer Steve Asmussen said Midnight Bourbon is under consideration for the Preakness. He finished sixth in the Derby.
Sunday, May 2nd
– In the morning following the Kentucky Derby, Baffert said he'd make a final decision on whether Medina Spirit will run in the Preakness one week after the Derby and one week before the Preakness. "He's handling it quite well. He wasn't as tired as I thought he might be. A big race like that, but he handled it quite well," Baffert told the media outside his Churchill Downs barn Sunday morning." Baffert said he didn't see anything Sunday that would discourage Medina Spirit starting in the Preakness.
– Baffert's new shooter, as they call Preakness horses that did not race in the Kentucky Derby, worked Sunday morning. Concert Tour went five furlongs in 1:00.60 before dawn. "Concert Tour worked well this morning. I'll sit down and talk to Mr. (Gary) West. He wants that horse to develop, and we're not rushing things. We know he's a good horse, so we'll see next week how he is. The thing is how they're training. They both would have to be training well." It's an interesting situation for Baffert having two horses in the race with different owners, especially with one being the Triple Crown hopeful.
– Trainer Brad Cox did not specifically say whether Derby runner-up Mandaloun and fourth-place finisher and pre-race favorite Essential Quality will run in the Preakness. "We were so grateful that both of our horses ran as well as they did. Essential Quality got a tough trip being so wide but coming that close to a Derby win makes me want more. We'll be back."
-Trainer Doug O'Neill confirmed the third-place finisher in the Derby, Hot Rod Charlie, will point towards the Belmont Stakes and skip the Preakness. "We'll get him back to California and start planning for that."
– Fifth-place finisher O Besos is TBD for the Preakness. "We're so proud of our horse," trainer Greg Foley said. "He came out of things good and we'll see what the plans are next. It's been a fun road to get to the Derby. We had a real chance and our horse showed up."
– Trainer Mark Casse tweeted Soup and Sandwich displaced his soft palate during the race, causing a partial obstruction of his airway at the half-mile pole. "We are thankful to (jockey Tyler Gaffalione) for putting his safety first and not persevering from that point on." Casse said Soup and Sandwich was doing well Sunday morning.
– Trainer Todd Pletcher dropped an intriguing nugget Sunday morning for this year's Triple Crown, involving filly and Kentucky Oaks winner Malathaat. Pletcher was asked about her possibly taking on the boys in the 1 ½-mile Belmont Stakes on June 5. Imagine the possibility of a filly attempting to spoil the Triple Crown! "We're not sure about that one yet," he said. "She's a special filly and appears quite capable of running the distance. At some point this year she's likely to take on the boys, but we're still not sure where or when that might be." In 2007 Pletcher won the Kentucky Oaks with Rags to Riches, before beating future two-time Horse of the Year Curlin in the Belmont Stakes by a head. As it turns out, Curlin is the sire of Malathaat.
– No other possible Preakness horses were confirmed by trainers, as of Sunday morning.
*Quotes provided by Churchill Downs and Pimlico Race Course media relations