Team Liquid has announced a sponsorship deal with the world's biggest online poker room, PokerStars.
"PokerStars is now an official sponsor of Liquid, and some of our players will begin streaming poker between their regular programming," announced Team Liquid founder Victor "Nazgul" Goossens.
The sponsorship will involve Team Liquid esports players live streaming games on the PokerStars Twitch channel, and team members Janne "Savjz" Mikkonen and Jeffrey "SjoW" Brusi will be playing in several of the PokerStars European Poker Tour (EPT) live poker tournaments.
How the sponsorship will develop is open. Goossens commented:
"I'm confident that my close ties with poker will allow us to provide the right value and conceive engaging projects that will create a lasting and worthwhile relationship for years to come. Not only are we doing a regular sponsorship, some of our players will be playing poker on their streams, learning from some of the best."
Team Liquid has close connections with poker and PokerStars
Victor Goossens was himself a professional poker player, which is how he managed to fund TeamLiquid.net during its start-up phase.
The company's earliest revenue generator was the respected liquidpoker.net affiliate poker site.
Fomer esports pro, Bertrand "ElkY" Grospellier, who moved on to become one of the world's top professional poker players, returned to esports last November when he signed up to play Hearthstone for Team Liquid.
ElkY was overjoyed at the sponsorship decision:
ElkY is the first of PokerStars' Team Pros to concurrently enjoy esports sponsorship. He may well have played an important role in PokerStars' decision.
Goossens said that Team Liquid first discussed sponsorship with PokerStars in 2012, "but our initial approach came a little too early. However, I'm glad we are finally able to introduce this poker giant to the world of esports through Team Liquid."
PokerStars Pros will help Team Liquid learn poker
Team Liquid plans to provide video coverage of its players practicing their poker skills. "ElkY, RaSZi, nanonoko (and maybe even Negreanu) will be showing some of our players the ropes, and you can watch and learn along with them."
Daniel Negreanu is the most successful live tournament player in the world. He has over $32 million in live tournament winnings, and he has recently become a convert to Hearthstone.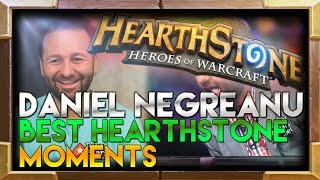 Negreanu can be expected to be very keen to share his poker insights in exchange for some professional Hearthstone advice.
PokerStars wants to tap the esports demographic
At the beginning of 2015, Amaya CEO David Baazov—Amaya owns PokerStars—told investors that he planned to double the company's online poker business within five years.
Key to that objective is attracting new players from a wider demographic base. The esports player base is one of the most attractive potential markets for real money online poker.
Amaya's VP for Corporate Communications, Eric Hollreiser, told eSBR:
"You might say that online poker was the original eSport. Sponsoring Team Liquid is a natural extension of PokerStars' outreach to new audiences, especially ones that are likely to be interested in online poker given their love of other eSports."
Amaya began active esports involvement in 2015
Amaya has mentioned esports several times in its corporate statements, but like many casino and real money gaming companies they have been hesitant to get too involved in a new industry.
This attitude began to change last year. Amaya's other top poker brand, Full Tilt, submitted its freeplay poker app to Valve Corporation's Steam platform. The app got the votes it needed through the Greenlight system and is now available for download to Steam's 125 million users.
Shortly after the Steam approval, Amaya's Q3 2015 results announced that PokerStars was developing "a new poker variant targeting the large and growing skilled video gaming community." The product hasn't yet appeared, but the investment highlights the importance of the esports demographic to the company's plans.
As a first step into professional esports, sponsoring Team Liquid must have looked like a no-brainer.