The 2019 Academy Awards will see some of the biggest box office successes honored by the Academy of Motion Picture Arts and Sciences. This year, With several big, crowd-pleasing hits up for Best Picture, all seemingly have a chance to win the top honor of the evening. In this article we look at the betting odds for each of the nominees, what they have won leading up to the Oscars, and why they could win Best Picture.
2019 Oscars Best Picture Odds
[table "" not found /]
Sign up for DraftKings today and get a 100/1 odds boost on your pick for Best Picture!
Roma
This long, black-and-white, Spanish-language drama with no big-name celebs is also one of the year's most critically acclaimed films. Roma is tied with The Favourite as the most-nominated film (10). Already, it has won:
Golden Globes for Best Director and Best Foreign Language Film; Critics Choice Best Picture, Best Director and Best Foreign Film Awards;
Best Film, Best Director and Best non-English film BAFTAs
Directors Guild Award for Feature Film
AFI Special Award (the Mexican film does not qualify for its movie list)
Golden Lion Award at the Venice International Film Festival
It will be interesting to see if this movie can overcome the perceived Netflix bias and the fact that only 10 foreign language films have been nominated for Best Picture and none have won. However, it has momentum in its favor with its recent BAFTA victories. Plus, the DGA winner goes on to win Best Picture 77 percent of the time.
GoldDerby Odds: +400
Green Book
This film started out strong winning the People's Choice Award for its world premiere at the Toronto International Film Festival (TIFF). Green Book was named Best Picture by the NBR and has already won numerous awards including a Golden Globe for Best Motion Picture – Musical or Comedy and is listed as an AFI movie of the year. This crowd pleaser also took home the Producers Guild of America Award for Best Theatrical Motion Picture, of which seven of the last 10 winners have gone on to win a Best Picture Oscar. Despite some controversy, this film has managed to maintain its front-runner status. This is a movie older Academy voters love, but with an influx of new, younger members, it probably lacks the support to end up on top.
GoldDerby Odds: +600
The Favourite
The Favourite is another highly nominated film, tying Roma for most Oscar nominations with 10. The movie has done well with guild nominations, won a BAFTA for Outstanding British Film and made it to the AFI Top 10 list. The star-studded cast has already won numerous awards including a Critics Choice Award for Best Ensemble. It has good chances for acting and directing awards, but taking home the Best Picture Award may be a stretch given its quirky tone.
GoldDerby Odds: +700
A Star is Born
A Star is Born was the early favorite after winning hearts and filling theaters. Bradley Cooper's romantic drama-musical has support, star power and an award-winning song that made it an American Film Institute (AFI) movie of the year. Despite being nominated in nearly every industry guild and award, the film has won no Best Picture awards of significance and is a long shot for Best Picture. It appears it is a classic case of "peaked too soon."
GoldDerby Odds:+800
BlacKkKlansman
This film has been popular with movie guilds since it premiered at Cannes, earning it a spot as an AFI movie of the year. BlacKkKlansman has amassed a surprising number of fans and significant support, with many heralding this film as Spike Lee's best work. There is buzz that with directing and editing nominations, this may be the year Lee gets the recognition that escaped him with past nominations. The Academy tends to take advantage of opportunities to honor top artists who have no Oscars, but Lee will likely get his first in Adapted Screenplay instead of Best Picture.
GoldDerby Odds: +650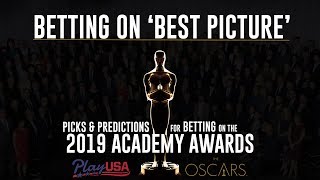 Black Panther
The first superhero movie ever nominated in the Best Picture category, Black Panther is a massive box-office success. Released early last year in February, the film has managed to continue captivating audiences and critics alike. Exceeding expectations with nominations, the film made the National Board of Review (NBR) and AFI top film lists. The big-name cast has already won the Screen Actors Guild for Outstanding Cast. One can't ignore the lack of award nominations in other key categories like Directing, Acting and Editing. For Black Panther, being a superhero film nominated may be the prize.
GoldDerby Odds: +900
Bohemian Rhapsody
Opening with less than favorable reviews, Bohemian Rhapsody is a box office hit that overcame controversy to win a Golden Globe for Best Picture – Drama and accolades from the guilds. Although it was ignored by the NBR and didn't get love from the Directors Guild of America, it did make the AFI Top 10. Being nominated for the Film Editing award, which has strong ties to nominees also winning Best Picture, gives this film hope. But the continuing controversy around fired director Bryan Singer might make this film too toxic to receive top honors.
GoldDerby Odds: +950
Vice
The big-name cast meant this movie had potential. Premiering later than other nominees, Vice was absent from NBR and AFI lists. It did earn the most Golden Globes nominees (including the important Film Editing Award) and was a favorite Critics Choice nominee, too. Based on award and guild nominations and what Vice actually won, this Oscar long shot may have more merit in Christian Bale winning Best Actor than taking home Best Picture. It grabbed a ton of nominations based on hype, but once people saw the finished product, many were disappointed.
GoldDerby Odds: +900