When Oscar nominations first came out, I told myself I would stay away from betting them this year. It is such an unusual year for movies in general with essentially no big film releases save for Tenet. For awards season, the shake-up of doing all these awards over Zoom without the face-to-face campaigning meant everything was up in the air, including for Oscars betting.
As awards season goes on, however, this may be one of the chalkier Oscars years in recent memory. With no more three-month slog of events, there appears to be no backlash. There is no time for the sentiment against a 1917 to result in a Parasite victory.
Additionally, let's just be honest and admit the movies just weren't as good this year. With fewer films to choose from, separating the wheat from the chaff got a little easier. The actor categories, for example, are essentially foregone conclusions. Meanwhile, Nomadland continues to roll through to what appears to be Best Picture and Director victories.
That does not mean there is no value in this year's ceremony. Here's a look at three strong candidates for an upset and what odds they are on DraftKings Sportsbook.
Claim Your $1,050 Bonus at DraftKings Sportsbook

Up to $1,050 FREE
New User Bonus. T&Cs Apply.
NFL Promo: Bet $5 Win $200
PLUS $50 Free On Deposit

PLUS Up to $1,000 Deposit Bonus

To Claim: Click Play Now
Best Supporting Actress underdog: Glenn Close (+1000)
I should preface this section by noting I banged the drum hard for Glenn Close two years ago in Oscars betting as a "stone cold mortal lock" for The Wife only to be proven very, very wrong. Olivia Colman taking the trophy for The Favourite after a season of Close winning every trophy imaginable but the British Academy of Film and Television (BAFTA) was one of the bigger Oscar acting surprises this century.
Funny enough, Close and Colman are competing again in this category, but Close's competition this time around is actually Minari's Youn Yuh-jung, who has finished awards season strong with Screen Actors Guild (SAG) and BAFTA wins, among others.
Actors are who vote for actors at the Oscars, so the SAG does carry some weight. However, the membership of SAG is much larger than the Academy. There are 160,000 members of the union. There are 7,000 voting members of the Academy total, roughly 1,300 of which are actors.
Free DraftKings Oscars Pool – $25,000 Prize Pool
Close is the Susan Lucci of the Oscars. This is her eighth nomination without a victory. It is also worth noting, she is also 74 years old and not getting any younger. Historically, the Academy has frequently used the supporting categories to award longtime consistent performers without an award. Take some of these examples from the past 20 years:
2017: Viola Davis for Fences
2012: Christopher Plummer for The Beginners
2007: Alan Arkin for Little Miss Sunshine
2005: Morgan Freeman for Million Dollar Baby
Lately, Best Supporting Actress has been more of a category for ingenues, but this field does not really have anyone in that category. While the composition of members has changed quite a bit in the past five years with many new members, there are still a strong contingent of old guard who have watched Close lose over and over, most painfully two years ago.
While plenty of people hated Hillbilly Elegy, the fact that Close made the cut in basically every Supporting Actress contest indicates she has support. Can she overtake Yuh-jung? In this year championing diversity in the movies, it may be tough, but the odds are certainly a lot shorter than +1,000.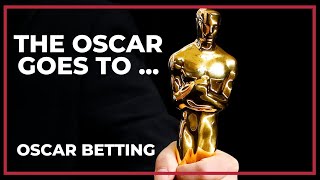 Best Adapted Screenplay underdog: The Father (+300)
When it comes to naming the Best Picture nominees, the one that people tend to forget is the British production The Father. It is definitely a film lacking in pizazz. It is strong on star power though, with nominated turns by both Olivia Colman and Anthony Hopkins.
The reason I am leaning towards The Father in this Oscars betting prop is a mix of two factors: previous history and the idea that each Best Picture nominee is primed to win something. Neither acting performance has netted much attention beyond the BAFTA award for Hopkins earlier this month. The fact both of these performers already have Academy Awards doesn't help their Oscars betting case.
Of the other nominations aside from Picture, Best Editing and Best Production Design feel like longshots. That leaves Adapted Screenplay.
In the past five years, the Writers Guild of America Awards (WGA) and other key writing awards have been a bit all over the map. Some of this stems from categorization, as some movies end up in the adapted category in some races and original work in others.
If you look at Adapted Screenplay though, the past three years this award has gone to a writer-director nominated for Best Picture as a consolation prize. Take a look:
2020: Taika Waititi for Jojo Rabbit
2019: Spike Lee for BlacKKKlansmaan
2018: James Ivory for Call Me By Your Name
2017: Barry Jenkins for Moonlight
2016: Adam McKay and Charles Randolph for The Big Short
Moonlight aside, these were all the sole award for a film that was also nominated for Best Picture. Moreover, other than James Ivory, all of the winners were the writer-director of the film. The same can be said of The Father's Florian Zeller.
Best Cinematography underdog: Mank (+350)
I have been trumpeting diversity throughout this story. However, let's remember that there are still plenty of parts of filmmaking that are a total boy's club still. Want proof? The first and only woman nominated for this award, Rachel Morrison, competed in 2018.
The field of 2021 nominees is, once again, a bunch of guys. However, the current frontrunner, Joshua James Richards, is lacking the same kind of pedigree as his peers. The Nomadland shooter's resume consists of short films and indies. In other words, he is on the fringe of the Hollywood system.
Meanwhile, Mank's DP Erik Msserchmidt has years of working with the likes of David Fincher and two-time Oscar nominee Jeff Cronenweth. He has been nominated for an Emmy for his work on the TV show Mindhunter. Other cinematographers and directors know who he is. Other cinematographers also love Fincher's work, but have yet to give it an Oscar. They also appreciate the technical achievement of mimicking one of the all-time great cinematographers, Gregg Toland, to recreate the visual vibe of Citizen Kane in Mank.
Mank also won the American Society of Cinematographers (ASC) Award, which is a solid indicator of who will win the Oscar. Five of the past seven years, the ASC winner took the Oscar for Best Cinematography.
Finally, we have to ask ourselves what award Mank, one of the least-liked Best Picture nominees could actually win? Really, the only option seems to be Best Cinematography. Nomadland is favored and is a beautiful film, but given Meeserschmidt's relationships and the titanic status of Citizen Kane's cinematography, this feels mispriced at +350.
—
*Note – Oscars betting is only available on DraftKings Sportsbook in New Jersey and Indiana