The Mario Cristobal era set up Oregon for long-term success. Though departed, Cristobal established himself as one of the elite recruiters in college football and constructed a roster that he now hands over to Georgia DC Dan Lanning. Offensively, most of the skill talent is out the door, but the strength of this team comes on defense. A disappointing end to 2021 sets up the Ducks for a season of unfinished business. Below, we'll look at Oregon odds for the Pac-12 and more.
This page will serve as a one-stop shop for everything you need to know about the Oregon Ducks for the 2022 season. Where do they stand on college football odds tables and what can we expect from the team this year?
Week 1 Odds: Oregon vs. Georgia
Lanning won't be waiting long to make a reunion with his former employer. Chick-Fil-A's College Kickoff shakes out at "neutral" Mercedes-Benz Stadium in Atlanta, surely to be well-represented by Georgia Bulldogs fans. Oregon is a steep underdog in this game. It's easy to see why– they travel backwards three time zones and face the defending champions in their own backyard.
Fortunately for Oregon, transfer QB Bo Nix has plenty of experience against Georgia, though he's 0-3. The best matchup of this entire game comes at the line of scrimmage. Oregon returns all five OL starters, a unit that's promised to be one of the best in the nation. They take on Georgia's defensive front that was historically great last year, returns almost no one, but reloads with an endless conveyer belt of five-star talent. (Note: Nix is presumed to be the starter though Lanning made it clear that he and freshman Ty Thompson would compete.)
Defensively, Oregon has the chops to run with Georgia. They return just two OL from last year, a group that has to face preseason all conference pass rusher Brandon Dorlus and All-American LB Noah Sewell. Oregon finished with their lowest sack total since 2000 last year, a metric they need to turn around against pocket passer Stetson Bennett. Oregon's inexperienced but talented secondary will have their hands full against an extremely talented pass catching corps from Georgia.
Forecast
If there's a play here, it's under the point total, . Oregon's explosive run game last year (sixth in EPA/rush) is a thing of the past without CJ Verdell and Travis Dye. WKU transfer Noah Whittington is a good fill, but asking that offense to run on the Dawgs is tough. On the other side, I question whether Georgia has the offensive chops to beat up Oregon's defense. This unit, though it lagged last season, is extremely good and is under the direction of Georgia's own.
Georgia vs. Oregon full Week 1 betting preview
TheLines Podcast: Win Totals, Week 1 Odds & Bets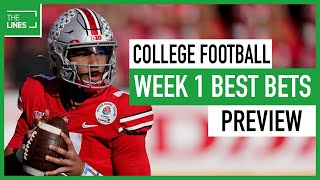 Oregon odds, 2022 team preview
After three weeks of immense excitement, Oregon's 2021 season turned into a massive disappointment. Injuries to Verdell and star linebacker Justin Flowe were devastating to the Ducks that played like the Ohio State game was their Super Bowl. After climbing to third in the CFP rankings, Oregon was beaten by Stanford and Utah twice by a combined 59 points. Cristobal left the team for Miami late in the game and they hired Lanning.
Quarterback was the biggest liability for Oregon last year, so they bring in experienced transfer Nix from Auburn. Nix never quite lived up to the immense hype around him; he was a serviceable yet wildly inconsistent game manager expected to be a superstar. His durability is also in question after he suffered a season-ending injury last year. The receiving corps rising this year is talented, but has virtually no college experience (all three projected starters are sophomores). The Ducks also look to fill the hole in the backfield, with two sophomores and the transfer Whittington expected to take most of the carries.
The defensive side of the football is where Oregon will hang their hat this year. Sewell– brother of former Oregon star Penei– is one of the best linebackers in the country and racked up a team-high 114 tackles in 2021. Flowe returns to the rotation after missing all but one game and will be a dangerous complement to Sewell.
They play behind a stout defensive line– led by All-American candidate Dorlus– and in front of a talented albeit inexperienced secondary.
After their opening game against Georgia, Oregon's schedule is favorable. They handle Utah late in the year in Eugene and avoid USC from across the conference. There's no reason the Ducks shouldn't contend for a Pac-12 title and a top-10 seat by year's end.
Players to watch
LB Noah Sewell: Athlon Sports and Phil Steele name Sewell to their first-team preseason All-American list. He's an athletic disrupter that recorded 114 tackles in 2021– 35 more than the next Oregon player and a top-20 mark nationally. The most impressive part is Sewell did that as a true freshman– Oregon gets even another year after this one with him.
OL Alex Forsyth: Forsyth lands on the preseason all-conference roster after missing much of 2021 with a back injury. He's the vocal leader of the offensive line, dialing up protections and getting everyone in sync. Forsyth has the benefit of playing with the four other returning starters and will help Oregon be one of the top OL units in the country.
DL Brandon Dorlus: Dorlus recorded 2.5 sacks last season opposite of Kayvon Thiboeaux. He sat out spring ball nursing an injury, but is expected to be full-go this coming season. While Lanning had the luxury of one of the most talented defenses of all time, he orchestrated players like Travon Walker in the same position as Dorlus. Expect him to take a massive step forward this coming season.
Follow TheLines on Twitter for more college football content
Oregon schedule and betting odds
| Date | Game | Time (ET) | Spread |
| --- | --- | --- | --- |
| 9/3/22 | vs. Georgia | 3:30 p.m. | +17 |
| 9/10/22 | vs. Eastern Washington (FCS) | 8:30 p.m. | OTB |
| 9/17/22 | vs. BYU | 3:30 p.m. | -6.5 |
| 9/24/22 | at Washington State | TBA | OTB |
| 10/1/22 | vs. Stanford | TBA | -10.5 |
| 10/8/22 | at Arizona | TBA | OTB |
| 10/15/22 | BYE | BYE | |
| 10/22/22 | vs. UCLA | TBA | -4 |
| 10/29/22 | at Cal | TBA | OTB |
| 11/5/22 | at Colorado | TBA | OTB |
| 11/12/22 | vs. Washington | TBA | -9 |
| 11/19/22 | vs. Utah | TBA | -1 |
| 11/25/22 | at Oregon State | TBA | -7 |
| 12/2/22 | Pac-12 Championship | 8:00 p.m. | |
Oregon Ducks futures odds
College football futures odds will continue to shift as the season progresses. Because of the length of college football schedules, futures odds may shift dramatically week-to-week.
Oregon win total
Oregon is penned for over wins this season. Games vs. Georgia, BYU, UCLA, and Utah are all handled at home and Oregon has an extremely favorable road split.
Odds to win 2023 National Championship
Oregon is a longshot to win the National Championship. Though their Pac-12 membership paves a more favorable path to a conference title, they've had image issues getting into the College Football Playoff (their last was Washington in 2016).
Odds to win Pac-12 Championship
The Ducks are the favorites in the Pac-12 North, but are to win the Pac-12 as a whole– behind Utah and USC. High expectations for USC have drove Oregon's price up, potentially making them a value in the conference.
Bet on the Oregon Ducks
Click on PLAY NOW in the banner below to take advantage of sportsbook promos curated to your state.
RANK
OPERATOR
BONUS
INFO
ACTION