It was a tough season to endure for Eagles fans; a last-place finish in the worst division in football was paired with a litany of injuries to players like Miles Sanders and Lane Johnson. Super Bowl-winning head coach Doug Pederson was fired after being accused of throwing their Week 17 game against the Washington Football Team and Carson Wentz was shipped to the Indianapolis Colts. The Colts' tie-in continued as Philly named Indianapolis offensive coordinator Nick Sirrani as their new head coach. It's nearly a clean sweep and a hard reset for the Eagles.
However, plenty of questions remain, chiefly surrounding the Eagles' quarterback moving forward. Rookie Jalen Hurts showed serious playmaking ability in his limited snaps, but the offensive line and lack of pass catchers prevented him from getting a true opportunity. To address this, Philadelphia traded up in the NFL Draft to select Heisman Trophy winner DeVonta Smith. The focus for the Eagles this offseason will surely be centered on securing receiving weapons and strengthening their offensive line no matter who is the starting quarterback in 2021.
Philadelphia Eagles Week 1 odds
The Philadelphia Eagles begin their 2021 season on the road against the Atlanta Falcons. It's the first Week 1 that Carson Wentz will not be starting at quarterback since he was drafted in 2016; instead, sophomore Jalen Hurts is the presumed starter. The Eagles have a projected win total of 6.5 this season, tied for fourth-lowest in the league this year. For another season, Philly struggled with injuries to their team. They finished bottom-four in EPA and middle-of-the-road in EPA allowed.
The Eagles finished a league-worst 1-7 against the spread on the road a season ago and 7-9 against the point total. They opened as 3.5-point underdogs against the Falcons (currently ). This Week 1 matchup features two teams with new head coaches, Nick Siranni for the Eagles and Arthur Smith for the Falcons.
Complete Week 1 betting preview: Falcons vs. Eagles
Philadelphia Eagles futures odds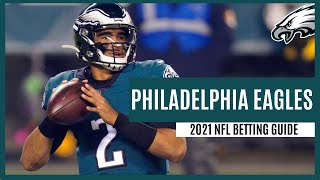 Futures are long-term bets that can range from an offseason to a full season (or beyond). Team win totals, award winners, and player performance are common futures.
Eagles Super Bowl odds and other futures markets 2021
Odds last updated August 5
Eagles prop bets
Prop bets are based on individual performance, typically surrounding players. While healthy in 2020, Miles Sanders was one of the most popular players when it came to prop bets for the Eagles. For example, in Philly's Week 14 game against the New Orleans Saints, Sanders was projected to have just 43.5 rushing yards. He went off for 115 rushing yards against the league's number-one rush defense, giving those who bet the over on his rushing prop the win.
Search below for Philadelphia Eagles team or player props currently being offered at sportsbooks. You can also look around at other teams and players using this tool. Happy shopping!
Philadelphia Eagles 2021 schedule and betting odds
| Week | Date | Opponent | Kickoff Time | Opening Line |
| --- | --- | --- | --- | --- |
| Week 1 | Sunday, Sept. 12 | at Atlanta Falcons | 1:00 p.m. ET | Falcons -3.5 |
| Week 2 | Sunday, Sept. 19 | vs San Francisco 49ers | 1:00 p.m. ET | 49ers -5 |
| Week 3 | Monday, Sept. 27 | at Dallas Cowboys | 8:15 p.m. ET | Cowboys -6.5 |
| Week 4 | Sunday, Oct. 3 | vs Kansas City Chiefs | 1:00 p.m. ET | OTB |
| Week 5 | Sunday, Oct. 10 | at Carolina Panthers | 1:00 p.m. ET | OTB |
| Week 6 | Thursday, Oct. 14 | vs Tampa Bay Buccaneers | 8:20 p.m. ET | OTB |
| Week 7 | Sunday, Oct. 24 | at Las Vegas Raiders | 4:05 p.m. ET | OTB |
| Week 8 | Sunday, Oct. 31 | at Detroit Lions | 1:00 p.m. ET | OTB |
| Week 9 | Sunday, Nov. 7 | vs Los Angeles Chargers | 4:05 p.m. ET | OTB |
| Week 10 | Sunday, Nov. 14 | at Denver Broncos | 4:25 p.m. ET | OTB |
| Week 11 | Sunday, Nov. 21 | vs New Orleans Saints | 1:00 p.m. ET | OTB |
| Week 12 | Sunday, Nov. 28 | at New York Giants | 1:00 p.m. ET | OTB |
| Week 13 | Sunday, Dec. 5 | at New York Jets | 1:00 p.m. ET | OTB |
| Week 14 | Sunday, Dec. 12 | BYE | N/A | N/A |
| Week 15 | Saturday, Dec. 18 | vs Washington Football Team | TBA | OTB |
| Week 16 | Sunday, Dec. 26 | vs New York Giants | 1:00 p.m. ET | OTB |
| Week 17 | Sunday, Jan. 2 | at Washington Football Team | 1:00 p.m. ET | OTB |
| Week 18 | Sunday, Jan. 9 | vs Dallas Cowboys | 1:00 p.m. ET | OTB |
Best Eagles betting site(s)
RANK
OPERATOR
BONUS
INFO
ACTION
How to bet on the Philadelphia Eagles
Moneyline
The moneyline is the simplest of bets, decided by the straight-up winner and loser of each game. Consider the following example:
Chargers -185
Eagles +310
The Eagles are considered heavy underdogs in this matchup (indicated by -185), paying out $410 total for a $100 bet ($310 in winnings). The Chargers are the favorite in this matchup, requiring a $185 bet to win $100 (plus the initial bet back). How much either team wins or loses by does not matter in moneyline betting, the payout remains the same.
Point spread
Betting on the point spread is determinant on how many points a team wins or loses by. Take the following example:
Eagles -3.5 (-110)
Panthers +3.5 (-110)
In this example, Philadelphia is favored by 3.5 points, indicated by "-3.5." If the Eagles win the game 26-20, the Eagles (-3.5) win the bet and would have a total payout of $19.09 on a $10 bet ($9.09 in profit). If the Panthers keep the game within four and lose 26-23, the Panthers (+3.5) would win, and the payout would be the same as listed above.
Point total (over/under)
The point total refers to the over/under line set by books. This number projects the total number of points scored in a game and, like prop betting, is bet whether one thinks the score will go over or under the set point total. For example, the Eagles' Week 8 matchup against the Dallas Cowboys had a projected point total of 56.5 points. The Eagles won that game 23-9, resulting in 32 combined points. Those who bet the under in this game would have cashed out.
In 2020, the Eagles played in plenty of both high- and low-scoring games. This caused oddsmakers to set average point totals for the Eagles that were often swayed by their opponent. For instance, games against potent offenses like Baltimore and Green Bay had a higher point total (between 53 and 56 points) while games against New York and Washington resulted in lower point totals (between 45 and 49 points).
In-play and live betting
Sometimes, the most thrilling and rewarding bets are bets made while games are being played. These are referred to as live bets or in-play bets. Odds are ever-changing during games, which would prove to be fruitful for sharp and prepared bettors. For example, if the Eagles (-225) were heavily favored against the Raiders (+190) before kickoff, a payout on a $10 bet on the Eagles to win would win just $4.44.
However, say the Eagles fell to a big 17-3 deficit in the first half despite controlling the overall game (due to a costly turnover or special teams gaffe). Odds may swing in favor of the Raiders, who may be a -110 favorite at halftime. Taking the Eagles to come back and win the game could present plus-odds (say, +130). Should a bettor take Philadelphia (+130) at halftime and the Eagles pull off the comeback, winners would win $13 instead of $4.44 (plus the initial $10 bet).
This could also be an effective way to "hedge" your bet; say a bettor took the Raiders (+190) in that game, but Philadelphia jumps out to a 10-0 first quarter lead and is controlling the overall feel of the game, bettors could hedge by throwing some money down on Philadelphia (-270) to return some of the inevitably-lost bet.
Parlays and teasers
You can always string bets together in the form of parlays or teasers. Usually during busy Sundays, bettors can parlay several teams to win or cover against the spread and if all bets are successful, the payouts are multiplied. Teasers function similarly, except they allow bettors to move each point spread to a more favorable line in exchange for diminished odds.
Eagles 2020 recap
Record: 4-11-1
Record ATS: 6-10
Over/under record: 7-9
It wasn't a year that Eagles fans want to remember, riddled with injuries and quarterback uncertainty. The potential NFC contenders showed their colors early on in the season when they started 1-4-1 (the tie came against the Bengals). Carson Wentz struggled to find a rhythm while, once again, his top weapons were decimated due to injury. Philly led the NFL in sacks allowed (4.1 was an entire sack more than the next most in Houston) and the defensive secondary was carved time and time again.
As mentioned, the Eagles were expected to contend for not only the NFC East, but the NFC's spot in the Super Bowl; this resulted in most of their early season games being in favor of the Eagles. After dropping Week 1 to the Washington Football Team and tying the Bengals in Week 3, serious questions arose and oddsmakers adjusted their expectations for the Eagles.
Eagles 2021 offseason moves
Trades: None
Re-signings: C Jason Kelce (one year, $9 million), RB Boston Scott (one year, $1 million), LB Alex Singleton (one year, $850,000), EDGE Brandon Graham (two years, $20 million), S Rodney McCloud (two years, $8.7 million)
Free agent losses: S Jalen Mills (to Patriots), LB Duke Riley (to Dolphins)
Free agent signings: S Anthony Harris (one year, $4 million), LB Eric Wilson (one year, $2.75 million), LB Ryan Kerrigan (one year, $2.5 million), CB Steven Nelson (one year, $3 million)
Draft picks: WR DeVonta Smith, C Landon Dickerson, DT Milton Williams, RB Kenneth Gainwell