The Houston Texans (1-5) were trounced in their Week 6 matchup against the Colts, giving up 10.4 per carry and a pair of touchdowns. The 31-3 loss was their second blowout in three weeks, and now Houston travels to face the Arizona Cardinals (6-0). The Texans are a bottom-five team in nearly every offensive category, including 28th in yards per play (5.0). The Cardinals, conversely, are top five in both scoring offense and defense.
The Texans are massive underdogs on the road and the game has an over/under of . The game line gives the Texans an implied point total of just 15.5 points– once again one of the lowest marks on the week.
This page serves as a one-stop shop to Houston Texans odds and betting for the 2021 season. Below, you'll find weekly odds, the latest Texans betting news, and prop betting.
Houston Texans Week 7 odds
Texans betting news
This feed is updated automatically when something happens.
Houston Texans futures odds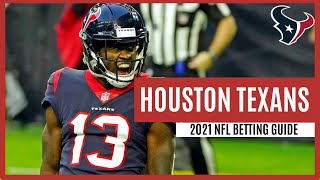 Futures are long-term bets that can range from an offseason to a full season (or beyond). Team win totals, award winners, and player performance are common futures.
Texans Super Bowl odds and other futures markets 2021
| | Current Odds | Preseason Odds |
| --- | --- | --- |
| Texans odds to win Super Bowl LVI | +200000 | +30000 |
| Texans odds to win AFC | +100000 | +15000 |
| Texans odds to win AFC South | +8000 | +2800 |
| Texans odds to make playoffs | +3500 | +800 |
| Houston Texans win total | 3.5 (+120) | 4 (-105) |
Texans prop bets
Prop bets are based on individual performance, typically surrounding players. For example, oddsmakers set Will Fuller's projected receiving total in his Week 4 matchup against the Minnesota Vikings at 66.5 yards. Fuller went off for 108 yards that game, giving those who bet the over on his receiving totals the win. Other players to see significant prop play in 2020 included David Johnson and Brandin Cooks.
Search below for Houston Texans team or player props currently offered at sportsbooks. You can also look around at other teams and players using this tool. Happy shopping!
Houston Texans 2021 schedule and betting odds
| Week | Date | Opponent | Kickoff Time |
| --- | --- | --- | --- |
| Week 1 | Sunday, Sept. 12 | vs. Jacksonville Jaguars | 1 p.m. ET |
| Week 2 | Sunday, Sept. 19 | at Cleveland Browns | 1 p.m. ET |
| Week 3 | Thursday, Sept. 23 | vs. Carolina Panthers | 8:20 p.m. ET |
| Week 4 | Sunday, Oct. 3 | at Buffalo Bills | 1 p.m. ET |
| Week 5 | Sunday, Oct. 10 | vs. New England Patriots | 1 p.m. ET |
| Week 6 | Sunday, Oct. 17 | at Indianapolis Colts | 1 p.m. ET |
| Week 7 | Sunday, Oct. 24 | at Arizona Cardinals | 4:25 p.m. ET |
| Week 8 | Sunday, Oct. 31 | vs. LA Rams | 1 p.m. ET |
| Week 9 | Sunday, Nov. 7 | at Miami Dolphins | TBA |
| Week 10 | BYE | N/A | N/A |
| Week 11 | Sunday, Nov. 21 | at Tennessee Titans | 1 p.m. ET |
| Week 12 | Sunday, Nov. 28 | vs. New York Jets | 1 p.m. ET |
| Week 13 | Sunday, Dec. 5 | vs. Indianapolis Colts | 1 p.m. ET |
| Week 14 | Sunday, Dec. 12 | vs. Seattle Seahawks | 1 p.m. ET |
| Week 15 | Sunday, Dec. 19 | at Jacksonville Jaguars | 1 p.m. ET |
| Week 16 | Sunday, Dec. 26 | vs. LA Chargers | 1 p.m. ET |
| Week 17 | Sunday, Jan. 2 | at San Francisco 49ers | 4:05 p.m. ET |
| Week 18 | Sunday, Jan. 9 | vs. Tennessee Titans | 1 p.m. ET |
Best Texans betting site(s)
RANK
OPERATOR
BONUS
INFO
ACTION
How to bet on the Houston Texans
Moneyline
The moneyline is the simplest of bets, decided by the straight-up winner and loser of each game. Consider the following example:
The Texans are considered slight underdogs in this matchup (indicated by +110), paying out $210 total for a $100 bet ($110 in winnings). The Vikings are the favorites in this matchup, requiring a $105 bet to win $100 (plus the initial bet back). How much either team wins or loses by does not matter in moneyline betting, the payout remains the same.
Point spread
Betting on the point spread is determinant on how many points a team wins or loses by. Take the following example:
Texans -4.5 (-110)
Jaguars +4.5 (-110)
In this example, Houston is favored by 4.5 points, indicated by "-4.5." If the Texans win the game 27-20, the Texans (-4.5) win the bet and would have a total payout of $19.09 on a $10 bet ($9.09 in profit). If the Jaguars keep the game within five and lose 34-30, the Jaguars (+4.5) would win, and the payout would be the same as listed above.
Point total (over/under)
The point total refers to the over/under line set by books. This number projects the total number of points scored in a game and, like prop betting, is bet whether one thinks the score will go over or under the set point total. For example, the Texans matchup with the Cleveland Browns had a projected point total of 53.5 points. The Texans lost that game 10-7, which resulted in just 17 total points. Those who bet the under on the over/under would have cashed out.
Houston had some serious defensive issues in 2020, ranking 27th in the NFL in points allowed per game (29). Coupled with an explosive offense led by Deshaun Watson, the Texans frequently saw lofty projected point totals. Over/unders set between 58 and 62 points weren't uncommon for Houston this past season. Should Watson leave for another team, their projected point totals could dip in 2021.
In-play and live betting
Sometimes, the most thrilling and rewarding bets are bets made while games are being played. These are referred to as live bets or in-play bets. Odds are ever-changing during games, which would prove to be fruitful for sharp and prepared bettors. For example, if the Texans (-225) were heavily favored against the Bengals (+190) before kickoff, a payout on a $10 bet on the Texans to win would win just $4.44.
However, say the Texans fell to a big 17-3 deficit in the first half despite controlling the overall game (due to a costly turnover or special teams gaffe). Odds may swing in favor of the Bengals, who may be a -110 favorite at halftime. Taking the Texans to come back and win the game could present plus-odds (say, +130). Should a bettor take Houston (+130) at halftime and the Texans pull off the comeback, winners would win $13 instead of $4.44 (plus the initial $10 bet).
This could also be an effective way to "hedge" your bet; say a bettor took the Bengals (+190) in that game, but Houston jumps out to a 13-0 first quarter lead and is controlling the overall feel of the game, bettors could hedge by throwing some money down on Houston (-270) to return some of the inevitably-lost bet.
Parlays and teasers
You can always string bets together in the form of parlays or teasers. Usually during busy Sundays, bettors can parlay several teams to win or cover against the spread and if all bets are successful, the payouts are multiplied. Teasers function similarly, except they allow bettors to move each point spread to a more favorable line in exchange for diminished odds.
Texans 2020 recap
Record: 4-12
Record ATS: 6-10
Over/under record: 8-8
4-12 is the worst mark for the Texans since drafting Deshaun Watson. After an 0-4 start, the Texans axed head coach and general manager Bill O'Brien and Romeo Crennel finished out the season as the oldest coach in the league. The issue wasn't often the offense; Watson had plenty of weapons like Will Fuller and Brandin Cooks to score plenty of points. Even veteran David Johnson, who Houston acquired from Arizona in a much-maligned trade involving DeAndre Hopkins, had a standout season. The issue was in the defense (or lack thereof) that surrendered at least 35 points five times this season.
After making their way to back-to-back AFC Playoffs, the expectation for the Texans was to make the playoffs and compete for the division. Houston faced a downright brutal early season schedule, including six 2019 playoff teams in their first seven games. The Texans didn't stand a chance in many of those games and dropped others they were favored in like against the Vikings and Bengals.
Texans 2021 offseason moves
Trades: T Marcus Cannon (from Patriots), TE Ryan Izzo (from Patriots), WR Anthony Miller (from Bears)
Re-signings: RB David Johnson (one year, $6 million), CB Vernon Hargreaves (one year, $2 million)
Free agent losses: WR Will Fuller (to Dolphins), DL Carlos Watkins (to Cowboys), C Nick Martin (to Raiders), G Zach Fulton (to Giants), EDGE J.J. Watt (to Cardinals), LB Tyrell Adams (to Bills)
Free agent signings: RB Mark Ingram (one year, $2.5 million), DL Maliek Collins (one year, $6 million), Terrance Mitchell (two years, $6.5 million), LB Kevin Pierre-Louis (two years, $4 million), LB Joe Thomas (one year, $2 million), CB Desmond King (one year, $3.5 million), LB Neville Hewitt (one year, $1.7 million)
Draft picks: QB Davis Mills, WR Nico Collins, TE Brevin Jordan