The Denver Nuggets (34-20) take on the Miami Heat (28-26) as favorites on Wednesday, April 14 at 10:00 PM ET on ALT2. The point total for the matchup is .
The betting insights in this article reflect odds data from DraftKings Sportsbook as of April 14, 2021, 12:40 AM ET. See table below for current betting odds.
Nuggets vs Heat Betting Odds
Nuggets vs Heat Props
Looking to bet on props for this game? Use our prop search tool to find the best odds across legal sportsbooks in the US.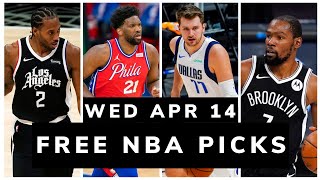 Injury Report as of April 14
Nuggets:
Shaquille Harrison: Out (Health and Safety Protocols),
Jamal Murray: Out For Season (Knee)
Heat:
Victor Oladipo: Out (Knee)
Nuggets and Heat Records ATS
Denver's record against the spread is 26-28 this season.
When favored by at least 4 points, the Nuggets are 17-14 against the spread this season.
30 of 54 Denver games this season (55.6%) resulted in a total greater than the contest's over/under.
Miami has a 23-31 record ATS this season.
The Heat only hold a 6-14 record against the spread this season when they play as at least a 4-point underdog.
Miami and its opponents have regularly been held under the total points bet this season, only claiming the over in 46.3% (25) of their 54 games played.
Click here to get the best DraftKings Sportsbook deposit bonus!
Head to Head
Nikola Jokic (21 points) led the Nuggets over Kendrick Nunn (17 points) and the Heat 109-82 in their most recent matchup on January 27, 2021. The Nuggets were favored by 6.5 points in the game, and covered the spread. The 191 total points in the matchup fell short of the 216-point over/under.
| Date | Favorite | Home Team | Spread | Total | Favorite Moneyline | Underdog Moneyline | Game Type | Result |
| --- | --- | --- | --- | --- | --- | --- | --- | --- |
| 1/27/2021 | Nuggets | Heat | -6.5 | 216 | -263 | 213 | Regular Season | 109-82 DEN |
Claim Your $1,050 Bonus at DraftKings Sportsbook

Up to $1,050 FREE
New User Bonus. T&Cs Apply.
$50 Free On Deposit

Up to $1,000 Deposit Bonus

To Claim: Click Play Now
Scoring Trends
Denver and its opponents have hit the over on Wednesday's 213 total in 42 out of 54 games (77.8%) this season.
In Miami's games this season, the competing teams added up to a higher point total than Wednesday's matchup total in 27 out of 54 matchups (50%).
The Nuggets have seen a 225 average over/under in their games this season, 12 points more than the over/under in this matchup.
The over/under for this contest is 0.4 points fewer than the average over/under in Heat's games this season (213.4 points).
The average implied total for the Nuggets this season is 114.6 points, 5.6 more points than their implied total of 109 points in Wednesday's game.
Denver has outscored this matchup's implied point total (109) 40 times.
The average implied point total on the season for the Heat (111.7) is 6.7 more points than the team's implied total in this matchup (105).
This season, Miami has scored more than this game's implied total of 105 points 34 times.
The Nuggets are at the fifth spot in the NBA's scoring charts (114.9 PPG), while the Heat allow the third-fewest points per game (107.2) in the league.
The Nuggets have totaled a total of 260 more points than their opponents this year (an average of 4.8 per game), while the Heat have been out-scored by opponents on average this year (by 51 total points, -1 per game).
Nuggets Leaders
The Nuggets points, rebounds and assists leader is Jokic. He averages 26.2 points per game and adds 10.9 rebounds and 8.8 assists.
Jokic's points prop over/under for the contest is set at 22.5, 3.7 points lower than his season average of 26.2.
The Nuggets are led by Jamal Murray from long distance. He makes 2.7 shots from deep per game.
Murray's three pointers made prop total for the contest is set at 2.5, 0.2 shots less than his season average of 2.7.
Denver's blocks leader is JaVale McGee, who records 1.1 per game. Jokic leads the team averaging 1.4 steals a game.
Jokic's steals prop over/under for the contest is set at 0.5, 0.9 steals lower than his season average of 1.4.
Heat Leaders
The Heat go-to guy, Jimmy Butler, leads the team in both scoring (21.4 points per game) and assists (7.2 assists per game).
Butler's assists prop total for the game is listed at 6.5 assists, 0.7 less than his season average of 7.2.
When it comes to rebounds, Bam Adebayo is the Miami leader with 9.4 per game.
Adebayo's PRA prop over/under for the contest is set at 30.5, 3.2 less than his season average of 33.7.
Duncan Robinson is tops from three-point range for the Heat, hitting 3.5 threes per game.
Robinson's three pointers made prop total for the contest is set at 4.5, 1.0 shot greater than his season average of 3.5.
Miami's Butler has the top spot on the team's steals leaderboard with 2.1 per game and Adebayo is first in blocks with 1.1 per game.
Butler's steals prop total for the contest is set at 1.5, 0.6 steals less than his season average of 2.1.
Predictions
Click here for today's NBA betting picks from our team of experts.
Powered By Data Skrive using data from