The 2019-20 NHL regular season was finally put to bed Tuesday as a 24-team playoff was announced to begin at some point later this summer. Commissioner Gary Bettman revealed the league's plan to have the top 12 teams from each conference, as of March 12, compete for the Stanley Cup. The first of the major North American sporting leagues to announce a planned return, sportsbooks have scrambled to settle and/or adjust all outstanding NHL futures bets.
The season was put on pause after the Los Angeles Kings beat the Ottawa Senators 3-2 on Wednesday, March 11, due to the COVID-19 pandemic. The Kings and Senators, and the next five teams at the bottom of the NHL standings will be left out of the postseason. Their next date to look forward to is the 2020 NHL draft lottery, set for Friday, June 26.
RANK
OPERATOR
BONUS
INFO
ACTION
What will the NHL's return look like?
It's important to note nothing is yet officially official and few dates have been set in stone, but here is what we know about the proposed NHL playoff structure and key dates for the remainder of the league year:
NHL draft lottery (Friday, June 26): Fifteen teams – the seven teams eliminated from postseason contention and eight "placeholder" teams – will draw for each of the first three picks in the 2020 NHL Draft. Odds will follow previous years and reflect the reverse order of the league standings. Should a placeholder team win one (or more) of the first three selections, a second draft lottery will be held following the qualification round of the playoffs to see which one of the first eight eliminated teams will take that spot.
2020 NHL Draft (unknown date): Will be held sometime after the end of the full playoffs.
Phase 2 (Phase 1 has been the pause which began on March 12): Teams expected to begin small group, voluntary training on- and off-ice ice in their home facilities.
Phase 3 (no earlier than early to mid-July): Formal training camps will begin under guidance from medical or civil authorities. Expected to last three weeks.
Phase 4 (Timing unknown): Twenty-four teams will take to two to-be-determined "hub" cities (Chicago, Columbus, Dallas, Edmonton, Las Vegas, Los Angeles, Minneapolis/St. Paul, Pittsburgh, Toronto, or Vancouver). Each city will host all 12 teams from one conference.
2020 NHL playoffs format
Teams from each conference will be seeded by their regular-season points percentage. The top four teams from each conference will compete in a Round Robin to determine First-Round seeding with regular-season overtime rules in effect.
The bottom eight teams from each conference will play the aforementioned qualification round. These will be played in best-of-five series to see which four teams from each conference will advance to the first round. The losers may be bumped into phase two of the draft lottery. Standard playoff overtime rules will be in effect.
The first and second rounds of the playoffs will be seeded and follow a bracket. The series lengths are yet to be determined. Conference Finals and the Stanley Cup Final will follow the traditional best-of-seven format.
2020 first-round matchups
City 1 (Eastern Conference)
Boston Bruins (BYE)
Tampa Bay Lightning (BYE)
Washington Capitals (BYE)
Philadelphia Flyers (BYE)
Pittsburgh Penguins (No. 5) vs. Montreal Canadiens (No. 12)
Carolina Hurricanes (No. 6) vs. New York Rangers (No. 11)
New York Islanders (No. 7) vs. Florida Panthers (No. 10)
Toronto Maple Leafs (No. 8) vs. Columbus Blue Jackets (No. 9)
City 2 (Western Conference)
St. Louis Blues (BYE)
Colorado Avalanche (BYE)
Vegas Golden Knights (BYE)
Dallas Stars (BYE)
Edmonton Oilers (No. 5) vs. Chicago Blackhawks (No. 12)
Nashville Predators (No. 6) vs. Arizona Coyotes (No. 11)
Vancouver Canucks (No. 7) vs. Minnesota Wild (No. 10)
Calgary Flames (No. 8) vs. Winnipeg Jets (No. 9)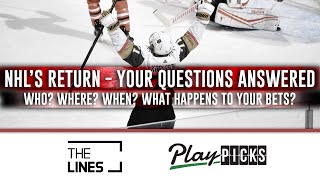 What do new NHL futures markets look like?
FanDuel Sportsbook and DraftKings Sportsbook quickly released updated odds to win the 2020 Stanley Cup under the new 24-team format.
What happens to open NHL futures tickets?
Be sure to check with your preferred sportsbook for the status of your NHL futures bets. Each will have its own rules and regulations for which wagers will be voided or remain outstanding.
BetMGM, for example, voided all Division winners and Season win totals bets as it wasn't an 82-game regular season. They will still honor all Stanley Cup Champions, Conference Champions, and Season Award Winners. All of those tickets remain open.
Westgate Superbook, Circa Sports, William Hill, and South Point in Las Vegas are also refunding regular-season point totals bets because 82 games weren't played. Westgate has also refunded all player props, playoffs Yes/No and Rocket Richard Award (top goal scorer) bets because it wasn't an 82-game season and the playoffs were expanded.
NHL Playoffs series odds
The new NHL futures market is sure to be updated and filled-out across all sportsbooks in the coming days, weeks, and months. Look for new odds for conference champions, top-four seeding, and player awards.
Westgate got the early lead by releasing series odds for the qualification round:
Eastern Conference
Maple Leafs (-160) vs. Blue Jackets (+140)
Penguins (-190) vs. Canadiens (+170)
Hurricanes (-150) vs. Rangers (+130)
Islanders (+100) vs. Panthers (-120)
Western Conference
Flames (-110) vs. Jets (-110)
Oilers (-150) vs. Blackhawks (+130)
Predators -(125) vs. Coyotes (+105)
Canucks (-140) vs. Wild (+120)