NFL Week 8 Odds: Spreads, Moneylines And Totals For Each Game
Betting for this coming weekend's games has started. Bet on NFL Week 9 odds now.
Late October has arrived in pro football. NFL Week 8 odds are currently available to bet on at the top sportsbooks. The best games include the Jacksonville Jaguars (-2.5) at Pittsburgh Steelers (+2.5) and the LA Rams (+6.5) at Dallas Cowboys (-6.5). Some other big matchups include the Cleveland Browns (+4.5) at Seattle Seahawks (-4.5) and the Cincinnati Bengals (+4.5) at San Francisco 49ers (-4.5).
View more expert betting information on NFL Week 8 lines below.
NFL Week 8 odds
Compare NFL Week 8 odds from the top sports betting sites below. Toggle between point spread, moneyline, and over-under prices for each game.
Week 8 in the 2023 NFL season will kick off with the Tampa Bay Buccaneers (+8.5) at Buffalo Bills (-8.5). It will conclude on Halloween Eve with the Las Vegas Raiders (+7.5) at Detroit Lions (-7.5).
New Users Get up to $1,000 Bonus at Bet365
UP TO $1,000

In Bonus Bets
First Bet Safety Net up to $1,000, or Bet $5, Get $150 in Bonus Bets
Sign Up, Deposit and Play Today in VA!
Gambling Problem? Call or TEXT 1-800-Gambler 21+

Use Bonus Code: THELINESVA
Here is a betting preview of the week ahead.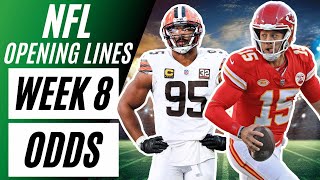 NFL Week 8 betting lines
Underdogs went 5-1 outright in the early slate this past Sunday. The biggest to cash at the betting window was New England. The Patriots were set at roughly +300 on the moneyline. Despite blowing a 22-10 fourth-quarter lead, Mac Jones carried his offense down the field in the waning minutes, culminating in a one-yard touchdown pass to tight end Mike Gesicki.
Since we're almost onto NFL Week 8 odds, let's examine four matchups in this breakdown and compare the point spreads to the look-ahead line. If you're unfamiliar with the second of the two terms, it gives bettors a peek at projected point spreads for the following week's games.
Limits on look-ahead lines tend to be less than a "normal" week. Still, that shouldn't be the purpose of how gamblers perceive them. Since bettors normally have initial recency bias, look-ahead lines offer a clear, impartial snapshot of teams, according to the oddsmakers.
Without further ado, here are point spreads to keep an eye on.
Buccaneers (+7.5) at Bills (-7.5)
Both teams are reeling in their own right, but Buffalo losing two of its last three contests is certainly more surprising. Then again, Sean McDermott's defense is decimated by injuries. On top of that, Josh Allen was slightly outplayed by the much-maligned Mac Jones in EPA per dropback.
It wasn't a poor performance from Allen by any stretch, but he was inconsistent during the first 45 minutes, including an ugly interception on his first throw. He must bounce back against an above-average pass defense across numerous metrics.
For context, the look-ahead line for this game had the Bills priced as an 8.5-point favorite. Therefore, there's been a slight adjustment in favor of the Buccaneers.
Jaguars (-1.5) at Steelers (+1.5)
The Jaguars at Steelers point spread opened as Jacksonville -1.5 and briefly got up to Jags -2.5 before settling back at JAX -1.5. The lookahead total was 41.5 and is now 40.5.
Eagles (-6.5) at Commanders (+6.5)
The Eagles were -6 betting favorites on the look-ahead line and the number has sat at Philadelphia -6.5 most of this week. The over under was 47 points on the look-ahead and is now at 43.5 at most sportsbooks.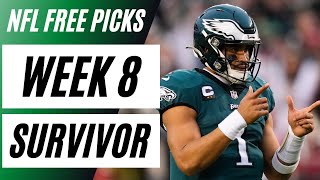 Patriots (+9.5) at Dolphins (-9.5)
New England showed flashes of a capable offense in last week's win over the Bills. Mac Jones and crew mustered just 17 points against Vic Fangio's defense in their first meeting of the season, however.
Tua Tagovailoa and the Dolphins were a whopping -12.5 favorite on the look-ahead line but it is now Miami -9.5 in most spots.
Browns (+4.5) at Seahawks (-4.5)
After receiving the benefit on the whistle on the game-winning touchdown drive in Week 7, Myles Garrett & Co. face a 4-2 Seattle team that hasn't received nearly as much luck, especially in the Week 6 loss at Cincinnati.
Moreover, this spread hasn't budged from the look-ahead line — even with Deshaun Watson (shoulder) likely starting. He exited in the first quarter at the Colts and didn't return, yet Browns coach Kevin Stefanski called it a precautionary measure.
Chiefs (-8.5) at Broncos (-8.5)
Kansas City has covered five of its last six games. That includes one by the hook against Denver in Week 6. Nevertheless, the Chiefs could be caught looking ahead with the Dolphins on deck. If the Broncos don't swing any impactful deals by Sunday, I'd expect a desperate effort with a healthy defense and a ground game that can exploit Steve Spagnolo's defense again.
Bears (+9) at Chargers (-9)
Kansas City most recently covered against Los Angeles, which has dropped consecutive games ATS. Justin Herbert's struggles, tallying 0.90 total EPA at the Chiefs, are at the forefront of the Chargers' issues. Fortunately, the Chargers take on Division II product Tyler Bagnet and the lowly Bears on Sunday night.
This spread is another one that hasn't seen any movement from the look-ahead line.
How the Week 8 point spreads are changing
Below we will examine how NFL Week 8 odds are changing. View the point spread and moneyline for every game below.
| Game | Spread | Moneyline | Over Under |
| --- | --- | --- | --- |
| Buccaneers at Bills | Bills (-8.5) | Buccaneers (+350) at Bills (-450) | 43.5 |
| Eagles at Commanders | Eagles (-6) | Eagles (-270) at Commanders (+220) | 47 |
| Jaguars at Steelers | Jaguars (-1.5) | Jaguars (-134) at Steelers (+114) | 41.5 |
| Saints at Colts | Saints (-1.5) | Saints (-112) at Colts (-104) | 40.5 |
| Texans at Panthers | Texans (-3) | Texans (-152) at Panthers (+128) | 41.5 |
| Rams at Cowboys | Cowboys (-6) | Rams (+215) at Cowboys (-260) | 45 |
| Falcons at Titans | Falcons (-1.5) | Falcons (-118) at Titans (+100) | 38.5 |
| Jets at Giants | Jets (-3) | Jets (-154) at Giants (+130) | 38.5 |
| Patriots at Dolphins | Dolphins (-12.5) | Patriots (+500) at Dolphins (-700) | 47 |
| Vikings at Packers | Packers (-1.5) | Vikings (+106) at Packers (-124) | 45.5 |
| Browns at Seahawks | Seahawks (-1.5) | Browns (+100) at Seahawks (-118) | 41.5 |
| Bengals at 49ers | 49ers (-6) | Bengals (+198) at 49ers (-240) | 45.5 |
| Ravens at Cardinals | Ravens (-7.5) | Ravens (-370) at Cardinals (+295) | 43.5 |
| Chiefs at Broncos | Chiefs (-8.5) | Chiefs (-460) at Broncos (+360) | 47.5 |
| Bears at Chargers | Chargers (-9.5) | Bears (+360) at Chargers (-460) | 48.5 |
| Raiders at Lions | Lions (-7.5) | Raiders (+275) at Lions (-340) | 44.5 |
Here are updated NFL Week 8 lines.
| Game | Spread | Moneyline | Over Under |
| --- | --- | --- | --- |
| Buccaneers at Bills | Bills (-9.5) | Buccaneers (+380) at Bills (-490) | 43.5 |
| Eagles at Commanders | Eagles (-7) | Eagles (-330) at Commanders (+265) | 43.5 |
| Jaguars at Steelers | Jaguars (-2.5) | Jaguars (-144) at Steelers (+122) | 40.5 |
| Saints at Colts | Colts (-1) | Saints (-104) at Colts (-112) | 43.5 |
| Texans at Panthers | Texans (-3.5) | Texans (-176) at Panthers (+148) | 43.5 |
| Rams at Cowboys | Cowboys (-6.5) | Rams (+220) at Cowboys (-270) | 45.5 |
| Falcons at Titans | Falcons (-2.5) | Falcons (-146) at Titans (+124) | 35.5 |
| Jets at Giants | Jets (-3) | Jets (-146) at Giants (+124) | 36.5 |
| Patriots at Dolphins | Dolphins (-9.5) | Patriots (+350) at Dolphins (-450) | 45.5 |
| Vikings at Packers | Vikings (-1.5) | Vikings (-126) at Packers (+108) | 41.5 |
| Browns at Seahawks | Seahawks (-3.5) | Browns (+164) at Seahawks (-196) | 38.5 |
| Bengals at 49ers | 49ers (-3.5) | Bengals (+140) at 49ers (-166) | 43.5 |
| Ravens at Cardinals | Ravens (-9.5) | Ravens (-480) at Cardinals (+370) | 44.5 |
| Chiefs at Broncos | Chiefs (-7.5) | Chiefs (-335) at Broncos +270 | 45.5 |
| Bears at Chargers | Chargers (-8.5) | Bears (+350) at Chargers -450 | 46.5 |
| Raiders at Lions | Lions (-7.5) | Raiders (+285) at Lions (-355) | 45.5 |
RELATED ARTICLES
---