Week 8 in the 2020 NFL season kicked off Thursday night with the Falcons taking down the Panthers, 25-17. Here we look at the remainder of the slate, breaking down NFL Week 8 odds as the season enters the month of November.
The early Sunday games in Week 8 feature several intriguing storylines, headlined by the undefeated Steelers facing the 5-1 Ravens in Baltimore.
In addition, Tua Tagovailoa will log his first NFL start against the Rams, the Titans will tangle with the suddenly prolific Joe Burrow and the Bengals, and the Chiefs will try to cover one of the largest point spreads in modern NFL history against the New York Jets.
The latter portion of the slate includes some matchups worth monitoring as well. The Saints and Bears face off at Solider Field, and the 49ers and Seahawks tangle in Seattle, where San Fran squeezed out a Week 17 win last season.
Here's a live look at NFL Week 8 odds at sportsbooks in the US.
NFL Week 8 odds
NFL Week 8 odds from the top legal sportsbooks in the US:
RANK
OPERATOR
BONUS
INFO
ACTION
Thursday, Oct. 29
Atlanta Falcons at Carolina Panthers (-1.5) – 8:20 p.m. ET
The Falcons continued to corner the market on heartbreaking losses in Week 7, dropping a 23-22 decision to the Lions on the game's last play. The Panthers dropped a second straight decision, falling to the Saints by a 27-24 score on the road.
Atlanta is unquestionably showing more heart and fight through two games with Raheem Morris at the helm. However, Sunday served as a reminder the team still seems to have a proverbial dark cloud hanging over it this season. Perhaps no one play better sums up the bizarre quality of the Atlanta season than Todd Gurley's unintentional touchdown late in Sunday's game that ultimately gave Detroit enough time to mount a final scoring drive. On the brighter side, the Falcons' passing game is in good shape as Matt Ryan posted another 300-yard effort, while Julio Jones and Calvin Ridley are living up to expectations.
Carolina has also been plagued by close losses thus far. Three of their four defeats have come by a combined 14 points. Sunday's was the closest, but Teddy Bridgewater and company failed to come up with points on their only drive in the final 7:55 of the contest. Bridgewater bears the brunt of the responsibility, as he took a third-down sack with 2:25 remaining that lost eight yards and forced Joey Slye to attempt a 65-yard field goal that fell just short.
The Panthers opened as 3-point favorites at FanDuel Sportsbook last week, were -2 Wednesday night, and were -1.5 at FD by Thursday morning.
Sunday, Nov. 1
New England Patriots at Buffalo Bills – 1 p.m. ET
Cam Newton continued to invite doubt about his ability to keep the Patriots () in contention with an utterly forgettable performance in a 33-6 dismantling at the hands of the 49ers. The Bills certainly did look better than New England, but if grading on an opponent-based curve, they were underwhelming in their own right. Buffalo had to unexpectedly scuffle for four quarters with the winless Jets before emerging with an 18-10 win.
Newton threw three interceptions and only totaled 98 yards against the Niners before giving way to Jarrett Stidham late. The former Panthers star admitted Monday he was embarrassed by his performance and acknowledged his hold on the starting job could be especially thin at this point. Cam's poor play has unsurprisingly dragged the rest of the offense down, and the lackluster play of a previously dependable stalwart like Julian Edelman certainly isn't helping matters either.
The Bills appeared to be asleep early against the Jets, coming off a short week. While Buffalo eventually rebounded, the inability to get the ball in the end zone versus a Jets defense that had previously put up little resistance was somewhat concerning. There was good news to be had despite the closer-than-expected outcome as Josh Allen (307 passing yards) avoided any interceptions and also proved he could thrive without John Brown (knee) and with limited contributions from Stefon Diggs (6-48), by hitting Cole Beasley for 11 completions and 112 yards.
Los Angeles Rams at Miami Dolphins – 1 p.m.
The Dolphins () are coming off a Week 7 bye, one that served as the impetus for promoting heralded rookie Tua Tagovailoa to the starting job.
Miami took care of their business against the Jets in Week 6 before going into their off week. The tail end of the contest featured the pro debut of Tagovailoa, who notched a pair of quick completions in garbage time. Miami is surprisingly 3-3 and right in the thick of the AFC East race. Turning things over to the rookie is a move that certainly carries some risk, especially considering Ryan Fitzpatrick was performing well overall during the first six games. This interconference matchup presents as an intriguing first start for Tagovailoa, but the fact Miami will catch Los Angeles on a short week likely also played a part in coach Brian Flores' decision.
The Rams, meanwhile, took care of business at home against the Bears – allowing just 10 points to Chicago.
Pittsburgh Steelers at Baltimore Ravens – 1 p.m. ET
The Steelers () managed to emerge from Week 7 as the NFL's last undefeated squad, jumping out to a fast start versus the Titans and then hanging on for dear life as Stephen Gostkowski missed a late field goal that allowed Pittsburgh to escape Tennessee with a 27-24 win. The Ravens were off in Week 7 after narrowly escaping Philadelphia in Week 6 with a 30-28 win, a game in which they nearly blew a 16-point second half lead.
The Steelers got Diontae Johnson back into action Sunday, and that made a significant impact against the Titans. Coordinator Randy Fichtner went with a pass-heavy attack early against Tennessee, with Johnson playing a significant role and recording an 11-yard touchdown to open the scoring. Pittsburgh's offense bogged down frequently in the second half, however, an issue they'll have to avoid a repeat of versus Baltimore. The Steelers secondary also had a couple of breakdowns, which included a 73-yard touchdown reception by A.J. Brown in the third quarter that greatly aided Tennessee's comeback. With the game-breaking speed of Marquise Brown now on tap, they'll need to be mindful of avoiding a similar breakdown.
As previously alluded to, Baltimore had a scare against an undermanned Philadelphia team in the Ravens' most recent contest. The game was a microcosm of the defensive deficiencies that they've endured on occasion this season. Baltimore is allowing 339.8 yards per game, up from 300.5 last season. The Ravens have especially seen a downgrade in pass defense. They're yielding 230.8 passing yards per contest, up from 199.9 in 2019.
The line saw significant movement over the course of the day Monday at DraftKings Sportsbook, with Baltimore's projected advantage being whittled down from 5.5 to 4.0 points.
Tennessee Titans at Cincinnati Bengals – 1 p.m. ET
The Titans () dug themselves a hole too deep to get out of against the Steelers in Week 7, falling by a 27-24 margin on a missed Stephen Gostkowski 46-yard field-goal attempt with 19 seconds remaining. Meanwhile, the legend of Joe Burrow continued to grow in a losing effort for the Bengals, as the first overall draft pick threw for a personal-best 406 yards and racked up four total touchdowns.
Tennessee continued to leave plenty to be desired on defense against Pittsburgh. The Steelers racked up 23 first downs and 362 total yards. The Titans have given up 30 points or more three times in addition to Sunday's 27-point tally. The offense is in fine shape with Ryan Tannehill, Derrick Henry, A.J. Brown and the returning Corey Davis, and they may need all of those weapons against the prolific Bengals.
Cincinnati has the looks of an offensive juggernaut in the making that just needs the caliber of their defense to catch up. Burrow does have ball-security issues to work on – he threw one interception and committed three fumbles Sunday against Cleveland – but his chemistry with Tyler Boyd, fellow rookie Tee Higgins and A.J. Green is elite. The latter's play over the last two games (15-178) after an awful Week 4-5 sample only makes Cincy more dangerous. The potential return of Joe Mixon (foot) for this potential back-and-forth affair would naturally make the Bengals even more well- rounded.
In a sign of how rehabilitated Cincinnati's reputation already is, the Bengals started the week as only 5.5-point underdogs.
Saturday, 10/31 Update: Mixon has now been confirmed out for Cincinnati, and the number for Tennessee is up to six points after initially opening at 4.5.
Las Vegas Raiders at Cleveland Browns – 1 p.m. ET
The Raiders () checked into an interconference clash with the Buccaneers coming off a bye week, but a COVID scare that encompassed multiple offensive lineman shook up their week and may have helped lead to their 45-20 loss. The Browns went through a wire-to-wire battle against the feisty Bengals that featured an unexpected duel between Baker Mayfield and Joe Burrow. Cleveland escaped with a 37-34 win but also lost Odell Beckham, Jr. for the season due to a knee injury.
The Raiders train had seemingly been rolling along going into the bye, but Tom Brady and company derailed it with the walloping it handed Las Vegas. The Raiders secondary was missing safety Johnathan Abram due to his placement on the COVID list, and his absence was felt. Brady ripped Vegas' secondary for 369 yards and four touchdown passes. Given that a suddenly red-hot Mayfield is now on tap, there certainly has to be concern on defense for Jon Gruden's squad.
Cleveland managed to get by without Beckham Sunday, but that could prove to be much more of a challenge moving forward against better secondaries than Cincinnati's. The good news for coach Kevin Stefanski is that Mayfield was outstanding versus the Bengals without the star receiver and with the help of an encouraging performance from Rashard Higgins (6-110) in his stead. With Nick Chubb (knee) still on injured reserve as well, the Browns will need to continue drawing on contributions from unexpected sources to stay afloat in the AFC North.
Despite the Browns having two more wins than the Raiders and serving as the hosts, Cleveland is only a modest 2.5-point favorite to start the week.
Indianapolis Colts at Detroit Lions – 1 p.m. ET
The Colts () had their bye in Week 7 after having their own knockdown, drag-out fight with the Bengals in Week 6. Indianapolis was able to claw back from an early 14-0 deficit to notch the 31-27 win, although it was a second consecutive ugly defensive performance. Meanwhile, the Lions saw a never-say-die attitude pay off for them in Week 7, as they toppled the Atlanta Falcons by a single point and on the last play of the game.
There were some rumblings about how much Philip Rivers had left in the tank going into Week 6, but he helped stave off the doubters for a bit with a 371-yard, three-touchdown performance against Cincinnati. Rivers has a certain amount of pressure, due not only to his lucrative one-year deal, but because he also has a proven starter in Jacoby Brissett behind him on the depth chart. Perhaps part of the reason for Rivers' struggles has been the lackluster play of T.Y Hilton, who's looked like a shadow of himself this season.
The Lions' unlikely victory over the Falcons came with the unexpected help of Atlanta's Todd Gurley, who couldn't quite restrain himself from crossing the goal line – leaving Detroit with time. Matthew Stafford made good on the opportunity to give Detroit its third win. Additional good news came in the form of the play of rookie D'Andre Swift, who notched a rushing touchdown.
While Indy's defense still boasts some elite metrics, oddsmakers are expecting a fair amount of points to be scored at Ford Field as the total sat at 50 (FanDuel Sportsbook) and 50.5 (DraftKings Sportsbook) on Monday.
Minnesota Vikings at Green Bay Packers – 1 p.m. ET
The Vikings () had their bye week in Week 7 as well following an encounter with a Falcons team that played highly inspired ball in Week 6. Kirk Cousins continued to feed the flames of doubt about his ability to lead the team by throwing three interceptions. For their part, the Packers, left no doubt about their ability to bounce back from a dud of a performance, blasting the Texans by a 35-20 score this past Sunday.
The biggest news for Minnesota coming out of the bye is the health of Dalvin Cook. The star back sat out against the Falcons due to a groin injury suffered in Week 5. Cook reportedly has a very good chance to suit up for this contest, a development that would naturally boost Cousins' chances of success by helping keep the Packers defense honest. The matchup against Green Bay's run defense is also typically a favorable one, although game script in Minnesota' s 43-34 Week 1 loss to the Pack limited Cook's rushing workload.
Green Bay had been uncharacteristically poor on both sides of the ball after the first quarter versus the Bucs in Week 6. Accordingly, they looked like a team firmly determined to put that behind them in Week 7. The Pack tore through the Texans for three quarters before Houston made the final score deceptively respectable late. Davante Adams (13-196-2 vs. the Texans) is in peak form at the moment, obscuring the fact Aaron Rodgers has no true dependable No. 2 option – at least not while Allen Lazard (abdomen) remains injured.
Notably, while the Packers were nearly a touchdown favorite at both DraftKings Sportsbook and FanDuel Sportsbook to kick off the week, both teams are projected for some heavy scoring.
Saturday 10/31 Update: Aaron Jones is confirmed out for one more week due to his calf injury, while Cook is off the injury report and will fill his usual starting role. Nevertheless, the Packers retain their status as solid 5.5-6-point favorites.
New York Jets at Kansas City Chiefs – 1 p.m. ET
Coach Adam Gase gave up play-calling duties for the Jets () ahead of Sunday's Week 7 battle against the Bills, and although there were some signs of improvement early in the game, the ultimate outcome was an all-too-familiar loss for New York. The Chiefs dealt with inclement weather quite well against the Broncos, leaving snowy Denver with a 43-16 win that marked the team debut of Le'Veon Bell.
New York welcomed Sam Darnold back Sunday after a two-game absence due to a shoulder injury. The 2018 first round pick's fast start against Buffalo ultimately evaporated, and New York's offense continued to be stuck in quicksand. The defense did put forth a much better effort than recent games, however. They sacked Josh Allen twice, forced a fumble from him, and held Buffalo to six field goals while allowing the fewest amount of points they have all season.
KC ran away with the game against the Broncos to the extent that Chad Henne actually saw some late action in place of Patrick Mahomes. The reigning Super Bowl MVP was quiet statistically for the second straight game, but the Chiefs continue to roll along without the need for him to produce eye-popping numbers. Bell saw a decent workload in his first game in coach Andy Reid's offense, logging all six of his touches (to Clyde Edwards-Helaire's nine) in the ground game. Bell's role figures to expand weekly, and this matchup offers him an immediate opportunity to face the team he just escaped via trade.
This spread got some attention last week when it opened at a jaw-dropping 21 points.
Los Angeles Chargers at Denver Broncos – 4:05 p.m. ET
The Chargers () likely got a bit more than they bargained for with the visiting Jacksonville Jaguars on Sunday. However, they were able to finally get rookie quarterback Justin Herbert his first NFL victory with a 39-29 score. The Broncos were overwhelmed by the Chiefs, who overcame snowy conditions to throttle Denver by a 43-16 score.
L.A. continued to operate without Austin Ekeler (hamstring) in Week 7. The tandem of Justin Jackson and Joshua Kelley mustered just 41 rushing yards on 17 carries against Jacksonville's weak run defense. However, Herbert continued to wow and even served as the team's most efficient runner. He complemented his 347 passing yards and three touchdowns with 66 additional yards and another score on the ground. Keenan Allen demonstrated no ill effects from the back spasms that forced an early Week 5 exit by posting a 10-125 line.
Denver couldn't get any real rhythm going on offense despite Drew Lock finishing with a solid 254 passing yards and a rushing touchdown. The issue for the young quarterback is he also threw two interceptions, including a pick-six, and took three sacks. Phillip Lindsay's efficient 9-79 line on the ground was sullied by a concussion that now puts his Week 8 status in doubt. On the brighter side of things, Melvin Gordon came back in strong form from the strep throat that had wiped out his Week 6, posting 80 total yards on 19 touches.
Oddsmakers made the Bolts three-point road favorites at most books to start the week, a number that grew by two points since Sunday afternoon.
New Orleans Saints at Chicago Bears – 4:25 p.m. ET
The Bears suffered a sluggish 24-10 loss to the Rams on Monday night that also saw Allen Robinson exit late with a concussion.
The Saints () overcame the absences of both Michael Thomas (ankle/hamstring) and Emmanuel Sanders (COVID-19) to notch a narrow and key NFC South win over the Panthers in Week 7. It was an outing that saw Drew Brees step up by connecting with a couple of less heralded pass catchers on numerous occasions.
New Orleans caught the Panthers off guard early with a couple of aggressive first-quarter drives that resulted in a pair of touchdowns. While the offensive momentum slowed some after that, coach Sean Payton had to be encouraged by the fact Brees totaled 287 yards and two passing touchdowns without Thomas and Sanders available. Thomas apparently has a very good chance of missing Week 8 as well. It would be particularly important for undrafted rookie Marquez Callaway, who posted eight receptions for 75 yards in Week 7 before leaving early with a leg injury, to be available for this contest.
Saturday, 10/31 Update: Thomas, Sanders and Calloway are all confirmed out for New Orleans, while Robinson emerged from concussion protocol Saturday and will start. The flurry of developments has lowered New Orleans' projected advantage from 5.5 to as low as 4.0 as of Saturday night.
San Francisco 49ers at Seattle Seahawks – 4:25 p.m. ET
The 49ers () followed up an impressive Week 6 Sunday night win against the 49ers by outclassing an overmatched Patriots team on the road, 33-6. It was a game that marked a triumphant return for Jimmy Garoppolo to New England. The Seahawks were tripped up at home in overtime by the Cardinals in a game that Chris Carson suffered a mid-foot sprain in. Carson is now "week to week," according to head coach Pete Carroll.
Garoppolo has been solid in the two games following his disastrous first half versus the Dolphins in Week 5. Since that truncated start, Garoppolo has completed 63.2% of his attempts for 545 yards with three touchdowns and two interceptions against the Rams and Patriots, respectively. The news isn't as good with Deebo Samuel or the ground attack, however. Samuel suffered what is believed to be a multi-game hamstring injury Sunday. Raheem Mostert (ankle) is already on injured reserve, and Jeff Wilson, who'd posted 112 yards and three touchdowns on 17 carries against the Pats before leaving with an ankle issue of his own, will likely miss some time.
The Seahawks were once again betrayed by their defense in their loss to the Cardinals. Seattle gave up 427 total yards (360 passing, 67 rushing) and four total touchdowns to Kyler Murray alone, along with 10 points over the final 2:28 of regulation. Russell Wilson atypically threw three interceptions to help Arizona's cause as well. The injury to Carson is mitigated to a significant degree by capable veteran Carlos Hyde (15-68-1 in Week 7), and Tyler Lockett (15-200-1).
Dallas Cowboys at Philadelphia Eagles – 8:20 p.m. ET
The season that's quickly gone down the tubes got only darker for the Cowboys () in Week 7. Not only did Dallas drop a 25-3 decision to the Washington Football Team, but Andy Dalton – already struggling to find a rhythm as the Cowboys starting quarterback – suffered a concussion on a penalized hit by linebacker Jon Bostic. Meanwhile, the Eagles escaped with a miracle 22-21 win over the Giants on Thursday night in a contest that saw them overcome a 21-10 fourth quarter deficit.
Dallas is in such dire straits as even the ultra-talented likes of Ezekiel Elliott, CeeDee Lamb and Michael Gallup looked out of sorts Sunday. The Cowboys were forced to turn rookie Ben DiNucci once Dalton went down, but as the final score indicates, it was to no avail. In fact, DiNucci tallied as many sacks taken (three) as pass attempts. Dalton is questionable for this contest as the week begins, given he'll have to clear league-mandated protocol.
Carson Wentz finished with a season-best 359 yards and three total touchdowns against New York, and he was able to lead a pair of 70-yard-plus fourth-quarter scoring marches to position Philly for a victory it sealed with a forced fumble on Daniel Jones in the waning seconds. The downside of things for the Eagles included DeSean Jackson suffering a late-game ankle injury on a punt return. He's now on IR, but the potential return to action of both Miles Sanders (knee) and Alshon Jeffery (foot) for this game could certainly help offset his absence.
Saturday, 10/31 Update: The Eagles have removed both Jalen Reagor (thumb) and Dallas Goedert (ankle) from injured reserve, while Jeffery and Sanders will both remain out. Meanwhile, Dalton has been ruled out, leaving DiNucci as the starter. Consequently, Philadelphia's projected advantage is up to as high as 11.5 points as of Saturday night.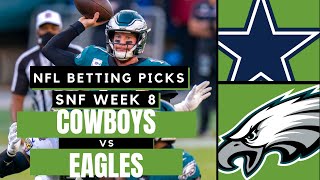 Monday, Nov. 2
Tampa Bay Buccaneers at New York Giants – 8:15 p.m. ET
Tom Brady continued to demonstrate his mastery of coach Bruce Arians' offense in Week 7 against the Raiders, posting his second 369-yard, five-touchdown game of the campaign in a 45-20 rout. The Giants lost another heartbreaker with a 22-21 loss to the Eagles that featured a blown 11-point fourth quarter lead.
Tampa Bay () isn't set to welcome Antonio Brown to the field until Week 9 – at the earliest – due to the terms of his league suspension. However, the Bucs' air attack is already fearsome and diversified without him. Mike Evans is struggling to get over a nagging ankle injury, yet Brady is able to continue thriving with an assist from the likes of Scotty Miller, Chris Godwin and long-time battery mate Rob Gronkowski. The trio combined for 20 receptions, 259 yards and three touchdowns against Las Vegas. Meanwhile, Leonard Fournette returned from his multi-week absence due to an ankle injury with 97 total yards.
It's true the Giants have had some tough luck while losing four games by a total of 16 points. Yet their inability to separate enough on offense earlier in games to prevent those narrow defeats has a lot to do with their 1-6 record. Daniel Jones continued to mostly look like a quarterback mired in a fairly deep sophomore slump against Philadelphia. He did throw for a couple of touchdowns, but even what should have been his shining moment of the night – a long would-be touchdown run that showed off his impressive wheels – went awry when Jones tripped over his own feet inside the red zone. His fourth-quarter fumble on a sack also snuffed out any chance of New York positioning Graham Gano for a game-winning field goal.
Oddsmakers seem to fully buy into the disparity between the records and quarterbacks here, as Tampa Bay was a double-digit road favorite to start the week.
NFL Week 8 opening lines vs. current lines
A look at NFL Week 8 odds from FanDuel Sportsbook:
| Matchup | Lookahead line | Current line (Oct. 30) |
| --- | --- | --- |
| Atlanta at Carolina | Panthers -3 | Panthers -1.5 |
| Indianapolis at Detroit | Colts -3 | Colts -2.5 |
| Las Vegas at Cleveland | Browns -3 | Browns -2.5 |
| LA Rams at Miami | Rams -3.5 | Rams -3 |
| Minnesota at Green Bay | Packers -5.5 | Packers -5.5 |
| New England at Buffalo | Bills -3 | Bills -3.5 |
| New York Jets at Kansas City | Chiefs -21 | Chiefs -19.5 |
| Pittsburgh at Baltimore | Ravens -5.5 | Ravens -3.5 |
| Tennessee at Cincinnati | Titans -4.5 | Titans -6 |
| LA Chargers at Denver | Chargers -1 | Chargers -3 |
| New Orleans at Chicago | Saints -3 | Saints -5.5 |
| San Francisco at Seattle | Seahawks -4.5 | Seahawks -2.5 |
| Dallas at Philadelphia | Eagles -3.5 | Eagles -9.5 |
| Tampa Bay at New York Giants | Buccaneers -9.5 | Buccaneers -11.5 |