NFL Week 7 Odds | Point Spreads, Moneylines And Totals For Every Game
See NFL Week 8 betting lines here.
Elite pro football matchups are on tap for this weekend. There are some top-notch betting games when looking at NFL Week 7 odds including Chargers (+6) at Chiefs (-6) and Dolphins (+2.5) at Eagles (-2.5). Other key games on the schedule are the Steelers (+3) at Rams (-3) and Lions (+2.5) at Ravens (-2.5).
Compare more lines for Week 7 below.
NFL Week 7 odds
View NFL Week 7 odds below. There are point spreads, moneylines, and totals available to bet on.
Here is a betting preview for NFL Week 7 betting lines.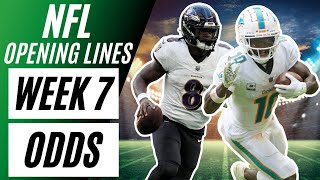 Week 7 of the 2023 NFL season began with the Jaguars beating the Saints, 31-24, in New Orleans. The week will conclude with the 49ers playing at the Vikings.
NFL Week 7 betting lines
Among this past weekend's games, there were two six-point dogs or more that won straight up. First up, the Browns (+9.5) defeated the 49ers — with journeyman signal caller P.J. Walker in for the banged-up Deshaun Watson. Subsequently, the Jets (+6.5) took advantage of Jalen Hurts' errant pick with less than two minutes left to pull off their own "shocking" victory.
Since we're on to NFL Week 7 odds, let's examine four matchups in this breakdown and compare the point spreads to the look-ahead line. If you're unfamiliar with the second of the two terms, it gives bettors a peek at projected point spreads for the following week's games.
Limits on look-ahead lines tend to be slimmer than in a normal week. However, that shouldn't be the purpose of how gamblers perceive them. Considering bettors normally have initial recency bias, look-ahead lines offer a clear, impartial snapshot of teams, according to the oddsmakers.
Without further ado, here are spreads to keep an eye on.
Raiders (-3) at Bears (+3)
A single point on the look-ahead line favored Las Vegas. But couple Chicago's loss with Justin Fields' dislocated thumb, and the spread has shifted in Las Vegas' direction. While Jimmy Garroppolo suffered a back injury in the victory against the Patriots, oddsmakers don't foresee a significant dropoff between him and veteran Brian Hoyer.
That said, Raiders coach Josh McDaniels hasn't seen his offense string together much efficiency on the ground. They're up against a defense that has surrendered a below-league-average EPA per carry and rushing success rate, respectively. Could Bears backup QB Tyler Bagent play well enough — with a week's worth of prep if Fields is forced to the bench — and allow Chicago to hang around?
Browns (-2) at Colts (+2)
Despite Cleveland's upset win versus San Francisco, this spread reopened a half-point shorter. Even with Indy's blowout loss against the Jaguars in mind, Watson's uncertainty for this contest justifies the market movement.
Browns defensive coordinator Jim Schwartz sees his unit perched atop both EPA per play allowed and opposing success rate. Although the Colts' offensive line has exceeded expectations thus far, they'll be in for a stiff test against edge rusher Myles Garrett & Co.
Bills (-8.5) at Patriots (+8.5)
The Bills opened as -8.5 betting favorites against the Patriots. New England actually looked competitive in its road loss to the Raiders this past Sunday following two consecutive blowout losses. Josh Allen and the Bills will surely be focused heading into this one after squeaking by the Giants on Sunday Night Football.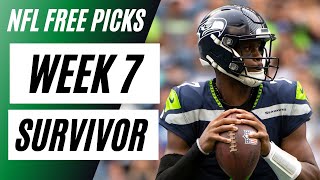 Lions (+2.5) at Ravens (-2.5)
With both squads earning a win in Week 6, this spread has not budged from the look-ahead line. Typically, teams that played in London haven't beaten the market's expectations without a bye week to follow suit. Baltimore fits that mold on the surface, and it could be without safety Marcus Williams (hamstring).
Meanwhile, each of Detroit's opponents has showcased a fairly limited offense during its four-game winning streak. Lamar Jackson & Co. are a different beast, tallying the eighth-rated EPA per carry in the NFL. The battle in the trenches will be a significant one to watch.
Commanders (-1.5) at Giants (+1.5)
Both the Commanders and Giants turned in strong efforts on Sunday as New York nearly upset the Bills while Washington beat the Falcons in Atlanta, 24-16. Tyrod Taylor avoided turning the ball over for a conservative Giants offense on Sunday. It will be interesting to see if Brian Daboll sticks with Taylor or re-inserts Daniel Jones, who is still banged up with a neck injury.
Washington was a -1.5 favorite on the look-ahead line and remained the favorite by that same margin after this past weekend's games. The Commanders vs. Giants total is 40.5 at most sportsbooks.
Cardinals (+7.5) at Seahawks (-7.5)
Cardinals at Seahawks opened with Jonathan Gannon's team as a +7.5 underdog. Defenses have started to figure out quarterback Josh Dobbs as he has three interceptions total in the past two games. Dobbs had gone the first four games of the season without throwing a pick.
Dolphins (+2.5) at Eagles (-2.5)
Naturally, we saved the best for last. Hurts and Tua Tagovailoa boast two of the league's premier offenses, yet the injury front represents an underrated storyline. Philly may not have defensive tackle Jalen Carter, corner Darius Slay, and safety Reed Blankenship in the lineup.
On the flip side, Miami center Conner Williams and defensive back Xavien Howard aren't guaranteed to be on the field, either. Nevertheless, my numbers have the Dolphins power rated slightly higher than the Eagles. Therefore, this spread could be a tad off.
For context, this line has yet to move in either direction from the look-ahead line.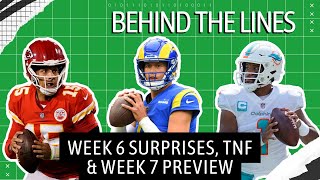 How the Week 7 lines are changing
Here is a look at how NFL Week 7 odds are changing. Lookahead lines are shown first, and the point spread, moneyline, and total for every game will be monitored over the course of the next week and a half.
| Game | Spread | Moneyline | Total |
| --- | --- | --- | --- |
| Jaguars at Saints | Jaguars -1.5 | Jaguars -110, Saints -106 | 42.5 |
| Falcons at Buccaneers | Buccaneers -1.5 | Falcons +100, Buccaneers -118 | 41 |
| Bills at Patriots | Bills -7 | Bills -335, Patriots +270 | 43.5 |
| Browns at Colts | Browns -2.5 | Browns -136, Colts +116 | 42.5 |
| Lions at Ravens | Ravens -2.5 | Lions +114, Ravens -134 | 45 |
| Raiders at Bears | Raiders -1.5 | Raiders -118, Bears +100 | 46.5 |
| Commanders at Giants | Commanders -1.5 | Commanders -116, Giants -102 | 43 |
| Cardinals at Seahawks | Seahawks -7 | Cardinals +265, Seahawks -330 | 46.5 |
| Steelers at Rams | Rams -2.5 | Steelers +122, Rams -144 | 43 |
| Packers at Broncos | Packers -1.5 | Packers -110, Broncos -106 | 46.5 |
| Chargers at Chiefs | Chiefs -6 | Chargers +205, Chiefs -245 | 52 |
| Dolphins at Eagles | Eagles -2.5 | Dolphins +114, Eagles -134 | 52.5 |
| 49ers at Vikings | 49ers -7 | 49ers -350, Vikings +275 | 46.5 |
And here are the NFL Week 7 lines as of October 21.
| Game | Point Spread | Moneyline | Total |
| --- | --- | --- | --- |
| Browns at Colts | Browns (-3.5) | Browns (-186) at Colts (+156) | 40.5 |
| Commanders at Giants | Commanders (-2.5) | Commanders (-146) at Giants (+124) | 37.5 |
| Falcons at Buccaneers | Buccaneers (-2.5) | Falcons (+126) at Buccaneers (-148) | 37.5 |
| Bills at Patriots | Bills (-7.5) | Bills (-400) at Patriots (+315) | 40.5 |
| Raiders at Bears | Raiders (-2.5) | Raiders (-152) at Bears (+128) | 37.5 |
| Lions at Ravens | Ravens (-3) | Lions (+140) at Ravens (-166) | 43.5 |
| Steelers at Rams | Rams (-3) | Steelers (+148) at Rams (-176) | 43.5 |
| Cardinals at Seahawks | Seahawks (-8.5) | Cardinals (+340) at Seahawks (-430) | 44.5 |
| Chargers at Chiefs | Chiefs (-5.5) | Chargers (+194) at Chiefs (-235) | 47.5 |
| Packers at Broncos | Packers (-1.5) | Packers (-118) at Chiefs (-235) | 45 |
| Dolphins at Eagles | Eagles (-2.5) | Dolphins (+122) at Eagles (-144) | 51.5 |
| 49ers at Vikings | 49ers (-7) | 49ers (-330) at Vikings (+265) | 44 |
RELATED ARTICLES
---