Another week, another slew of injuries in what has been a nightmarish start to the 2019 campaign for several big-name stars. The teams that lost key players Sunday – the Patriots, Giants, Chiefs and Colts – actually all finished in the Week 3 win column. However, the potential absences of Julian Edelman (chest), Saquon Barkley (ankle), LeSean McCoy (ankle) and T.Y. Hilton (quadriceps) will throw early Week 4 lines into a tailspin, or keep those players' games off the boards at most sportsbooks for now.
Nevertheless, as we do each week, we'll offer a perspective on each game while examining the different scenarios that could play out, ranging from those players missing altogether to being able to suit up without limitations. The latter may certainly not be realistic for at least some of the sidelined stars, so the potential impact their backups and fellow healthy offensive teammates can have will be delved into as well.
Additionally, there are pre-Week 3 injuries that could linger into Week 4, and the ongoing effect of those have to be factored into the betting perspective for each of the applicable games. Slates with plenty of uncertainty such as Week 4 can sometimes offer sharp bettors an edge, as big-name injuries can often spook those not well-versed in a particular team's depth or ability to compensate for the absence of a key player.
Without further ado, let's dive into the business of trying to sort through the various potential Week 4 betting landmines that are out there by digging deeper into each contest.
NFL Week 4 lines
[odds-feed sport=nfl week=2019REG_4 controls=FALSE odds=pointspread sportsbooks=DraftKings,FanDuel,888SportNJ,SugarHouseNJ,SugarHousePA,ParxPA,RiversCasinoPA,GoldenNuggetNV,PlayMgmNV,WestgateSuperbookNV,WilliamHillNV,WynnNV]
Week 4 analysis and predictions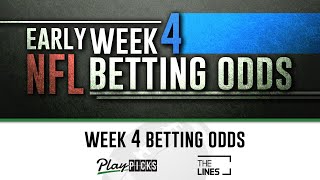 Philadelphia Eagles at Green Bay Packers (-4) — Thursday night
A short-handed Eagles team reeling from a rather surprising home loss to the Lions has no time to wallow ahead of a visit to storied Lambeau Field on Thursday night. Philadelphia could well be without Alshon Jeffery (calf) for a second straight game, and it will definitely be taking the field without DeSean Jackson (groin). Carson Wentz seemed out of sorts sans his pair of pass catchers Sunday, completing just under 53.0 percent of his passes. The Eagles have the added challenge of having to travel on what is already a short week as well.
The Packers are riding high after a third straight win to open the season. They triumphed by a 27-16 margin over the Denver Broncos at home in Week 3 and have the luxury of already being at the site of Thursday's game. Green Bay has also enjoyed considerably good health over the first three weeks. The Pack will walk into the Week 4 showdown with a full first-team offense and no new absences on defense, a remarkable feat during a season that's already seen multiple star players fall victim to the injury bug.
The Eagles as four-point underdogs isn't surprising now that the first three games have been played out. It would have been a different story prior to the season. If Jeffery is announced as available, this number could go down at least a point. For the season, Philly is 0-1 ATS as a road team and 12-14 (46.2 percent) when traveling during the Carson Wentz era (2016-present). The latter tally includes an 8-7 mark (53.3 percent) versus the number as a road underdog specifically. The Packers are already a quick 2-0 ATS as home favorites this season, a sharp contrast from their pedestrian 3-4 mark (42.9 percent) against the number as the favored team at Lambeau in 2018.
At 1-2, the Eagles are undoubtedly disappointed and already facing plenty of heat from their unforgiving hometown fans. I can see Philadelphia sliding under the number here in a hard-fought matchup, particularly if Jeffery returns.
New England Patriots (-7) at Buffalo Bills
The Patriots are single-digit favorites again for the first time since opener after being projected to blow the doors off both the Dolphins and Jets the last two weeks. The combination of Antonio Brown's departure, a less-than-expected blowout of the Jets in Week 3 and the uncertain status of Julian Edelman (ribs) are playing a part in the "modest" seven-point spread, which amounts to 10 for all practical purposes with New England the road squad in this contest.
There's also the matter of the Bills checking in at 3-0 in their own right. Buffalo has impressed with improved quarterback play from Josh Allen and a stingy defense that came up with a game-winning interception in Week 3 against the Bengals. Still, Buffalo may have some reckoning on tap. All three of their opponents thus far – the Jets, Giants and Bengals – have losing records. New England has also regularly given Buffalo a miserable time in the series. The Pats hold a 74-43-1 all-time advantage; have won each of the last five meetings; and have incredibly lost to the Bills on only four occasions since Tom Brady became the full-time starting quarterback in 2002.
Granted, the Patriots' strength of schedule has been laughable thus far, too; in fact, all three of their opponents thus far are still waiting on their first win. However, the defense seems a couple of levels better than last year's Super Bowl-winning edition and Brady still has plenty of weapons if Edelman were to miss or be limited. However, in terms of a cover, it's worth noting New England is only 4-5 ATS as a road favorite since the start of last season, although they are a much better 5-3 versus the number in division games over that span.
Tennessee Titans at Atlanta Falcons (-4.5)
This number remains steady even as the Falcons dropped a close 27-24 decision to the Colts in Week 3. Atlanta's offense, especially their "Big Three", looked to be in good form against a tough Indianapolis defense. Matt Ryan exceeded 300 yards passing, Julio Jones went over the century mark in receiving yardage, and Devonta Freeman finally looked like himself with a solid 88-yard rushing day. However, the defense surrendered Jacoby Brissett's second-best career passing yardage tally and saw a gimpy Marlon Mack total 74 rushing yards and a touchdown. Just as concerning is the loss of stud safety Keanu Neal for the season due to his second Achilles tear in as many years.
Even with Tennessee's dismal showing against the Jaguars to kick off Week 3 last Thursday, there's some under-the-radar reasons to believe a cover at minimum may be possible. To begin with, the Titans will come in well-rested due to the extra couple of days off. That also has given them time to review what has the offense stuck in molasses over the last two games after a strong Week 1 versus the Browns. Then, the two teams have been at the opposite ends of the spectrum in terms of their track record against the number in interconference games recently. The Titans were 3-1 ATS in such matchups in 2018 and 11-5 versus the number overall against NFC foes in during Marcus Mariota's four-season-plus tenure as the starting quarterback. Meanwhile, the Falcons are now 0-5 ATS against AFC opponents since the beginning of last season. Take that for what it's worth.
Mariota's play has been anything but trustworthy thus far. However, the Titans have the type of power back in Derrick Henry that could overwhelm Atlanta's defense while also boasting a complementary option in Dion Lewis that has the skill to exploit the Falcons' penchant for giving up receptions to running backs.
Cleveland Browns at Baltimore Ravens (-6)
It took all of three games for there to be a playcalling controversy in Cleveland. Following another lackluster showing against the Rams in a Week 3 Sunday night battle, there's already some calls for head coach Freddie Kitchens to perhaps hand over the reins of the offense after several snafus late in the loss. The adversity should lead to even more of a refocusing this week for Baker Mayfield and company. However, they draw the short straw in terms of what team they'll be trying to right the ship against.
Then again, it's hard to gauge exactly how complete this current edition of the Ravens defense might be. Baltimore hardly broke a sweat against the hapless Dolphins in Week 1. They then have arguably faced the most unorthodox (Cardinals) and explosive (Chiefs) offenses in the NFL, and did so without star cornerback Jimmy Smith (knee). Cleveland thus shapes up as Baltimore's first "normal" matchup. There's plenty of star power and upside on that Browns offense. They could certainly detonate with the right execution and scheme, but the Ravens aren't likely to lay out the welcome mat in that regard, especially at home.
Lamar Jackson also has some questions of his own to answer after some of his inaccuracy/inefficiency as a passer that was frequently on display in his rookie season resurfaced versus Kansas City in Week 3. Then, it's also worth noting the Browns gave the Ravens fits last season, with a 12-9 overtime win in Cleveland and a narrow 26-24 loss in Baltimore, a game in which Mayfield threw for 376 yards and three touchdowns (along with three INTs).
Kansas City Chiefs (-6.5) at Detroit Lions
Speaking of the Chiefs, it increasingly appears Tyreek Hill's multi-week absence is nothing but a minor annoyance/ development opportunity for their juggernaut of an offense. Most teams would naturally take several steps back, at minimum, if they lost a player of Hill's caliber. Kansas City shrugs it off to the tune of 28 and 33 points over the next two games (not to mention a 40-spot in Week 1 when they lost Hill). What's more, they're affording valuable reps to a player many assumed was a journeyman who'd more or less reached his ceiling (Demarcus Robinson) and a dynamic rookie who wouldn't be seeing his current level of opportunity were Hill healthy (Mecole Hardman).
There are running back health concerns right now in the form of LeSean McCoy (ankle) and Damien Williams (knee). Andy Reid and his staff are amply prepared for that eventuality, too. Darrel Williams (109 total yards from scrimmage on 14 carries) proved as much in Week 3. Promising rookie Darwin Thompson is at the ready as his backup should both McCoy and Williams miss Week 4.
Kansas City may have somewhat of a challenge on its hands in the form of a Lions team that loves to slow down the pace of games under normal circumstances. Detroit might well be more focused on that this week than it will at any other point this season in order to keep the ball out of Mahomes' hands as much as possible. But the Lions defense sprung enough leaks against the Cardinals and Eagles in Weeks 1 and 3 to confirm they could be plenty vulnerable to Kansas City's lethal quick-strike prowess. Meanwhile. Matthew Stafford will likely have to prove he's still got some of the prolific games he was known for on occasion earlier in his career to keep up with Mahomes. That might be made more difficult if Kerryon Johnson and company continue to run into brick walls in the run game, making the Detroit offense one-dimensional.
Carolina Panthers at Houston Texans (-4.5)
The sphinx-like Panthers continued to befuddle in Week 3. Backup quarterback Kyle Allen handled himself like a 10-year veteran while stepping in for Cam Newton, throwing for 261 yards and four touchdowns. Granted, it was the Cardinals' suspect defense. However, the confidence level of Carolina's offense has to be exponentially higher than it was prior to that performance. In fact, whether it's the foot sprain that's currently affecting him, a slight age-related decline, or a combination of both, the fact is Newton didn't look anywhere near as good over his two starts as Allen did Sunday.
Newton is already ruled out for Sunday's game. That removes any ambiguity from the situation and allows Allen to prepare the entire week as the starter. However, the challenge this week will be on an entirely different level. About the only similarity between Week 3 and Week 4 will be the fact both games are on the road. Otherwise, the Texans' ferocious front seven promises to make Allen's life a lot more difficult. Then, on the other side of the ball, Carolina's defense will enjoy a respite after facing the non-stop Air Raid offense in Week 3. However, they hardly have a Sunday afternoon picnic on the ledger with the likes of Deshaun Watson and DeAndre Hopkins on the docket. Plus, the conventional pace of the Houston offense will mean considerably less plays for Allen on his end.
Carolina is a respectable 17-15-1 ATS in interconference games during head coach Ron Rivera's tenure, including 2-2 last season. The Texans have fared worse when facing NFC foes with Bill O'Brien as their head coach (2014-present). They're 9-12 ATS under those circumstances. They've been much more successful versus the number as home favorites during that span (17-14-1), however, and this manageable number and the inexperienced quarterback on the other side could lead to another successful cover.
Oakland Raiders at Indianapolis Colts (-6.5)
It now seems like a lifetime ago the Raiders were riding high on a wave of offseason/early training camp hype. Most of that buzz emanated from the acquisition of one Antonio Brown and Oakland's global showcase via HBO's Hard Knocks. A mere three weeks into the season, Jon Gruden's charges are 1-2 (with their Week 1 victory over the Broncos looking like a combination of prove-we-can-win-without-Antonio bluster and a Denver offense that doesn't scare anyone); Brown is enrolling in online college courses after already wearing out his welcome on a third team in less than a calendar year; and these look like the same 'ol pre-Gruden 2.0 Raiders.
Contrast that doom and gloom with the on-the-rise Colts. Indianapolis suffered its own significant personnel loss, albeit to a sudden retirement, when Andrew Luck hung up the cleats this preseason. Jacoby Brissett has put his 16-game baptism by fire in 2017 to excellent use by parlaying those lessons learned into an excellent start to 2019. We even saw Brissett cut loose some in Week 3 versus the Falcons after being held to under 200 passing yards in each of his first two games. And just as impressive is the young signal-caller's ability to avoid mistakes – he's thrown just one interception and lost one fumble over the first three games.
The Raiders just can't seem to stand out on either side of the ball. Even their rush defense – impressive in the first two games – was pierced by the Vikings' Dalvin Cook on more than one occasion in Week 3. Naturally, an absence by Hilton would make this game a bit more interesting. But Indy has a deeper roster than many might suspect and has defended home turf well since Frank Reich assumed the reins of the club at the start of last season. They're 7-2 straight up and 4-2-1 ATS as home favorites since the beginning of the 2018 campaign. In turn, the Raiders check in with a 2-6 tally versus the number as away underdogs during that same span.
Los Angeles Chargers (-16.5) at Miami Dolphins
The Dolphins can claim a moral victory in the betting sense already this week; they're actually less than 20-point underdogs. Miami did actually show flashes of a competitive NFL team in the first half against the Cowboys in Week 3. The gutted Fins defense was playing with some pride and made life difficult at times for Dak Prescott and his teammates on that side of the ball. Ultimately, an offense that just can't seem to sustain drives and therefore often leaves the defense out to dry took its toll, as did the difference in talent between the two clubs.
The Chargers don't quite bring the same depth of overall offensive talent that Dallas does. But, they're not far from that level, either. The only potential fly in the ointment this week is Los Angeles traveling across the country for a 1 pm Eastern start and entering the special kind of September humidity that only sunny/muggy South Florida can offer. Los Angeles also continues to sport a highly one-dimensional passing game in that Keenan Allen is currently far and away Philip Rivers' most consistent target. Mike Williams has no shortage of physical ability but has struggled early, while Hunter Henry finds himself on the sidelines for several more weeks with yet another leg injury.
Ultimately, a dynamic running game led by Austin Ekeler is likely to make the difference here, along with the fact the Bolts are in serious need of a victory after a 1-2 start that came dangerously close to 0-3. Look out for the possibility of a surprising Dolphins cover here, however. Miami has covered in their last two games against Rivers (2016 and 2017) and number is elevated enough where the Dolphins could slide under it in a lackluster affair.
Washington Redskins at New York Giants (-3)
This game actually began to get a lot more interesting beginning at about 4:25 p.m. ET in Week 3. That's when the Daniel Jones Era officially kicked off several hundred miles away in Tampa. By the time Jones' seven-yard touchdown scramble on fourth down capped off his storybook first start and set up Big Blue for a thrilling victory, the rookie's legacy in sports-idolizing New York was cemented. Until his first bad game, that is. In the meantime, even what is now confirmed to be a multi-week ankle injury for star running back Saquon Barkley can't completely temper the enthusiasm surrounding the young gunslinger.
With Barkley out in Week 4, however, Jones' road could get a bit tougher, even at home. The Redskins know the Giants offense well, even if the electrifying Jones will operate it in a considerably different manner than the statuesque Eli Manning. Washington will also have the luxury of prepping primarily for the likes of Jones, Sterling Shepard and Evan Engram with Wayne Gallman in the backfield and Golden Tate still one game away from finishing a suspension.
Washington will be on a short week (playing Monday night against the Bears in Week 3) and traveling. Of note here in terms of past trends is the 'Skins' 18-15 record ATS as away underdogs during Jay Gruden's tenure (2014-present).
New Players get up to $1,000 bonus at FanDuel Sportsbook
Up to $1,000 No Sweat First Bet
Available on Desktop, Android & iOS  

To Claim: Click Play Now

Seattle Seahawks (-4) at Arizona Cardinals
The late-game desert fireworks will be in full swing again in Week 4. The Air Raid offense's tireless assault on defense draws the Seahawks for the first of two 2019 meetings. Through three games, Seattle's once-proud unit on that side of the ball looks ill-equipped to handle the breakneck pace it will be forced into. The Seahawks haven't been able to slow down the more conventional attacks of the Bengals, Steelers (without Ben Roethlisberger in the second half) and the Teddy Bridgewater-helmed Saints.
Like most teams, Seattle will likely be taken at least somewhat aback by Kyler Murray and company once they're actually in a game situation. Granted, they'll have the advantage of three weeks of game film at this point to go on. But that doesn't necessarily mean they'll be any better equipped to slow down the likes of Christian Kirk, David Johnson and Larry Fitzgerald. To a varying degree, each looks like a good fit for the current system. And while the 16 sacks Murray has taken through three games are a concern, there are a couple of aspects of that to keep in context.
One is the fact that Murray's elite mobility will keep him moving around behind the line of scrimmage on more occasions than the average quarterback. He can extend plays into the 7-to-10-second range at times. That in and of itself will lead to at least a slight uptick in sacks. The other is the Seahawks' defense hasn't necessarily proven to the most capable of taking advantage of such a weakness – through three games, Seattle has a modest six sacks despite the presence of Jadeveon Clowney and the season debut of Ezekiel Ansah in Week 3.
The good news for Pete Carroll and his staff is the Arizona defense is likely in even more dire straits. With Patrick Peterson still on a six-game ban, it's been open season on the Cardinals secondary. This, despite presence of a couple of theoretically competent safeties in Budda Baker and D.J. Swearinger. Carroll has been forced to abandon his curious run-at-all-costs mentality from 2018 this season due to his defense's inability to stop the opposition consistently. That could work in his favor Week 4 with a likely shootout looming and Russell Wilson and his teammates slated to get a bunch of extra possessions because of the pace of the Cards' attack.
The moneyline and spread in this game could get tricky. The Seahawks are looking to put an embarrassing home loss behind them and the Cardinals are looking to avoid an 0-3-1 start. But what's with this projected total? A 47-point threshold seems like it could be fairly easy for these two teams to achieve…in the first half! The Over is 2-1 in each squad's first three games as well.
Tampa Bay Buccaneers at Los Angeles Rams (-9.5)
The mostly inauspicious start to the Bruce Arians era continued with a 32-31 heartbreaking Week 3 home loss at the hands of Daniel Jones and the Giants, which played a sizable chunk of the game without Saquon Barkley (ankle). The last-second defeat – which officially came courtesy of a missed field goal by rookie kicker Matt Gay — dumped a bucket of cold water on the significant progress Jameis Winston seemed to make in Arians' offense. The inconsistent 2015 first overall pick threw for a season-high 380 yards and three touchdowns, with eight of his 23 completions, exactly half of his yards and all three of his scores going to Mike Evans.
Tampa has to quickly dust itself off with a trip to Los Angeles on the docket. The Rams discouragingly (for the rest of the NFL) showed signs of a passing game that's starting to come to life in a Week 3 win over the Browns. Cooper Kupp and Brandin Cooks combined for 19 catches, 214 yards and two touchdowns (Kupp) against Cleveland. Even though there are still rough edges to be smoothed out and Todd Gurley isn't back to being Todd Gurley, a Los Angeles team on its home turf that's also playing strong defense could pull away in the second half.
The oddsmakers are expecting a good share of points to be scored here, with a 50.5-51.5-point total as of Monday afternoon. Nevertheless, it's worth noting the Under is 2-1 in each team's first three games this season.
Minnesota Vikings at Chicago Bears (-2.5)
The Bears will take the field Monday night in Week 3 on the road at Washington in a game that they're effectively favored by a touchdown in. Assuming Chicago prevails and emerges without any major injuries, they'll be at full strength while gunning for a third straight win against a bitter division rival. Minnesota has been an odd team thus far in 2019. They won against the Falcons while only passing 10 times in Week 1 and were dismissed handily by the Bears in Week 2, before prevailing in a game they were supposed to dominate at home versus the Raiders in Week 3.
About the only sure thing on Minnesota at the moment appears to be Dalvin Cook. The superstar running back is unquestionably all the way back from his 2017 ACL tear and averaging an absurd 6.6 yards per carry through three games. The passing game certainly is nowhere near his caliber and now will arguably face its toughest test in Chicago. The Bears held Kirk Cousins to 132 yards in their first meeting last season before picking him off twice in the second game as part of a 2018 sweep of Minnesota.
Not that the Bears' air attack has been any great shakes heading into Week 3, either. Their matchup versus the Redskins may prompt some improvement on that front. It's a bit more challenging to prognosticate point spreads between division rivals with two above-average defenses like these. Consequently, a wager on the Under for two teams that have fallen short of the projected 39.0-point total in three of their last four meetings might be a much more prudent proposition.
Jacksonville Jaguars at Denver Broncos (-3)
For about 48 hours there following a Week 3 Thursday night win over the Titans, the Jaguars' Gardner Minshew had a monopoly on the rookie quarterback shine. The Giants' Daniel Jones ripped that right out of his hands with a spectacular comeback win in his debut Sunday. Yet there's no denying Minshew seems to have a little of his own magic working (692 yards, 5:1 TD:INT through two-plus games) and enjoys impressive rapport with explosive wideout D.J. Chark.
However, there could be a bit of a fall to earth in store in Week 4. The Broncos defense will be ornery following yet another loss in Week 3, and after surrendering a game-winning march by Mitchell Trubisky in their only other home game of the season back in Week 2. Then there's the challenge of playing in the thinner Colorado air. Denver's offense will have to step up its game, however. Their mostly pedestrian performance under the leadership of Joe Flacco helps keep them as just a default three-point favorite in this spot even as they face the rookie quarterback.
Jacksonville will have the advantage of the 10-day rest period after having played the first Week 3 game and are 2-1 ATS in the early going this season. Their defense appears capable of keeping the underachieving Flacco and his offense sufficiently contained to keep this close. Therefore, a +100 wager on them as +3 underdogs at FanDuel Sportsbook looks like one worth contemplating.
Dallas Cowboys (-2.5) at New Orleans Saints
A week ago, there were plenty of question marks about the viability of the Saints offense without Drew Brees at the helm. Yet after a surprisingly dominating performance on the road against the Seahawks in Week 3, New Orleans is less of an underdog than one might assume. Teddy Bridgewater has at least looked serviceable thus far under center and Alvin Kamara offered a reminder of how lethal he can be irrespective of who's at quarterback with 161 total yards and a touchdown.
However, the Cowboys are on quite the roll themselves and should only continue getting better in coordinator Kellen Moore's offense. The recent loss of Michael Gallup (knee) could hurt against any team not named the Dolphins, however. Dallas skated by against Miami with Amari Cooper and Ezekiel Elliott constituting a significant part of the offense. A viable, consistent second receiver would be a welcome bonus against a team like the Saints. However, the 'Boys won't have that luxury in Week 4.
Dallas' defense is certainly solid enough to give Bridgewater trouble and limit the continuity of the Saints' attack. Kamara is naturally an X-factor, though, and it's also worth noting the Cowboys have allowed the fourth-most receptions (20) to running backs through the first three games. Not having to worry about Brees does allow them to heap a lot more attention on Kamara, especially if they're also confident that Bridgewater will get the ball into Michael Thomas' hands a lot less consistently and/or for lower-upside targets than Brees would.
The oddsmakers clearly place a fair amount of stock in New Orleans' homefield advantage. Yet it's at least worth noting the Saints are just 4-7 ATS at home since the start of last season with much of this same roster and Brees at the controls. A Dallas win here therefore isn't out of the question by any stretch.
Cincinnati Bengals at Pittsburgh Steelers (-4) — Monday night
Two AFC North teams in some pretty serious tumult butt heads and helmets to cap off Week 4. The Bengals will not have A.J. Green back for this contest as he continues to recover from ligament damage to his ankle. They've been close to their first win on two separate occasions thus far this season but have yet get over the hump. Although he fell mostly flat in Week 3 from a yardage standpoint, John Ross has finally started to deliver like the first-round draft choice he is. The speedster has already exceeded his 13-game yardage total from 2018 in just a trio of contests and is on pace for approximately 70 catches.
While Ross underwhelmed in the tough Week 3 matchup against the Bills, Joe Mixon came through with his first solid game of the campaign. The 2017 second-round pick gained 95 total yards versus Buffalo and could finally be shaking the ankle issue that had been bothering him. Mixon gained 169 rushing yards across two games versus Pittsburgh last season and should be featured a solid amount in this matchup as well. Cincy's defense will have to step up its play for any of the offense's efforts to matter. They were better in Week 3 against Josh Allen and company but still surrendered 416 total yards to the Bills.
The Steelers almost pulled out a win in their first installment of Life Without Ben out west in San Francisco. Pittsburgh ultimately fell, 24-20, to the 49ers. Their defense couldn't prevent Jimmy Garoppolo and his squad from answering every time the Steelers pulled ahead. That's not to say they didn't make life difficult on a San Fran offense that had just put up 41 points on the Bengals a week prior. Pittsburgh intercepted Garoppolo twice and also recovered three fumbles.
Mason Rudolph will have a chance to improve on a so-so showing in his first start in Roethlisberger's stead. The second-year signal-caller finished with 174 passing yards and two touchdowns, but 118 of that yardage tally came via the two scoring throws (JuJu Smith-Schuster and Diontae Johnson). Then, James Conner gained just 3.3 yards per carry and lost a fumble at his own 22-yard line with 5:29 remaining, setting up the Niners' winning touchdown.
The Steelers get just one point over the default three-point edge for a home squad here. Pittsburgh is on an eight-game winning streak in this series but was just 3-4 ATS as a home favorite last season with Big Ben at the controls (and 0-1 this season in the Week 2 game where he was hurt). Cincy has kept it close more often than not during Pittsburgh's aforementioned 8-0 run and presents as an interesting cover candidate at minimum. Considering they'll also have the far more experienced quarterback in the game, a moneyline bet at an appealing price isn't out of the question, either.