NFL Week 12 Odds | Point Spreads, Moneylines And Totals For Every Game
A football feast is taking place during this long Thanksgiving weekend. NFL Week 12 odds with point spreads, moneylines and totals are available to bet on now. Top games on the Sunday schedule include the Chiefs (-10) at Raiders (+10) and the Steelers (-1.5) at Bengals (+1.5). Jaguars (-1.5) at Texans (+1.5) and Bills (+3.5) at Eagles (-3.5) are a couple of the other big games on the docket.
Betting information on all of these games and more is available below.
NFL Week 12 odds
View updated NFL Week 12 odds below. The point spread, moneyline and total for each game from the best sports betting sites are available.
NFL Week 12 odds begin with three games on Thanksgiving. The Packers (+7.5) are at the Lions (-7.5), the Commanders (+9.5) are at the Cowboys (-9.5) and the 49ers (-4.5) will face the Seahawks (+4.5).
The largest opening Week 12 NFL point spreads were as follows.
Commanders (+9.5) at Cowboys (-9.5)
Dolphins (-6.5) at Jets (+6.5)
Chiefs (-8.5) at Raiders (+8.5)
Rank
Sportsbooks
Bonus
Features
Play
Week 12 NFL betting lines
Underdogs went 8-6 ATS ahead of Monday Night Football. Although that's nearly a split, the Giants delivered one of the more "surprising" upsets on the slate, cashing in at roughly +295 among moneyline odds. That's equivalent to a 25.3% implied probability.
Since we're almost onto NFL Week 12 odds, let's analyze four matchups in this breakdown and compare the point spreads to the look-ahead line. If you're unfamiliar with the second of the two terms, it gives bettors a peek at projected point spreads for the following week's games.
Considering bettors typically have initial recency bias, look-ahead lines offer a clear snapshot of teams, according to the oddsmakers.
Packers (+7.5) at Lions (-7.5)
This spread hasn't budged an inch from the look-ahead line — for good reason. Not only did Detroit fail to cover against Chicago, but its pass defense also dropped to No. 23 in dropback success rate allowed.
In the end, the Lions overcame a 12-point deficit with two touchdowns in the final minutes. Nevertheless, Jordan Love could exploit this secondary enough on Turkey Day to keep the final score within a possession. The Packers' signal caller tallied 6.9 yards per pass attempt (YPA) in their victory over the Chargers.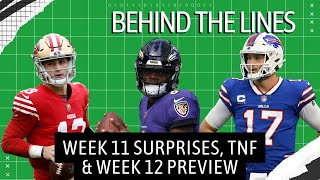 Commanders (+11) at Cowboys (-11)
Initially stationed as a 9.5-point favorite on the look-ahead line, Dallas shifted to the current number because of the Commanders' loss above — combined with the Cowboys' blowout victory over Carolina. Asking Washington quarterback Sam Howell to navigate Dallas' third-rated defense, per EPA per play allowed, and stay within two scores is as daunting as it sounds on Thanksgiving.
Browns (+1) at Broncos (-1)
Similar to the first matchup, there's been no movement from the look-ahead line. Denver has received positive variance in the last three games, finishing a combined plus-10 in the turnover department. All of them resulted in wins. Yet, betting on whoever starts under center for Cleveland, especially if it's rookie Dorian Thompson-Robinson, doesn't sound too appetizing.
Bills (+3.5) at Eagles (-3.5)
Do I need to repeat myself? Hopefully, you get the hint. With Buffalo priced around the key number of a field goal, Bills QB Josh Allen will certainly make for a trendy underdog against the defending NFC champs. Like Detroit, Philadelphia's secondary has taken a sizable step back from its NFL-best rating last season.
How Week 12 NFL lines are changing
Here is a look at how NFL Week 12 lines are changing. First we take stock of how Week 12 NFL lines looked when released on November 15.
| Matchup | Point Spread | Total | Moneyline |
| --- | --- | --- | --- |
| Green Bay Packers at Detroit Lions | Packers (+7.5) at Lions (-7.5) | 44.5 | Packers (+300) at Lions (-375) |
| Washington Commanders at Dallas Cowboys | Commanders (+9.5) at Cowboys (-9.5) | 45.5 | Commanders (+340) at Cowboys (-430) |
| San Francisco 49ers at Seattle Seahawks | 49ers (-4.5) at Seahawks (+4.5) | 44.5 | 49ers (-205) at Seahawks (+172) |
| Miami Dolphins at New York Jets | Dolphins (-6) at Jets (+6) | 43 | Dolphins (-260) at Jets (+215) |
| New England Patriots at New York Giants | Patriots (-5.5) at Giants (+5.5) | 35.5 | Patriots (-235) at Giants (+194) |
| Pittsburgh Steelers at Cincinnati Bengals | Steelers (+6) at Bengals (-6) | 41.5 | Steelers (+220) at Bengals (-270) |
| Carolina Panthers at Tennessee Titans | Panthers (+4.5) at Titans (-4.5) | 38.5 | Panthers (+180) at Titans (-215) |
| Jacksonville Jaguars at Houston Texans | Jaguars (-1.5) at Texans (+1.5) | 45.5 | Jaguars (-132) at Texans (+112) |
| New Orleans Saints at Atlanta Falcons | Saints (+1.5) at Falcons (-1.5) | 41.5 | Saints (-104) at Falcons (-112) |
| Tampa Bay Buccaneers at Indianapolis Colts | Buccaneers (+1.5) at Colts (-1.5) | 42.5 | Buccaneers (+100) at Colts (-118) |
| LA Rams at Arizona Cardinals | Rams (-2.5) at Cardinals (+2.5) | 46.5 | Rams (-134) at Cardinals (+114) |
| Cleveland Browns at Denver Broncos | Browns (+1.5) at Broncos (-1.5) | 37.5 | Browns (+100) at Broncos (-118) |
| Kansas City Chiefs at Las Vegas Raiders | Chiefs (-8.5) at Raiders (+8.5) | 44.5 | Chiefs (-400) at Raiders (+315) |
| Buffalo Bills at Philadelphia Eagles | Bills (+3.5) at Eagles (-3.5) | 47.5 | Bills (+162) at Eagles (-194) |
| Baltimore Ravens at LA Chargers | Ravens (-3.5) at Chargers (+3.5) | 44.5 | Ravens (-166) at Chargers (+140) |
| Chicago Bears at Minnesota Vikings | Bears (+4.5) at Vikings (-4.5) | 44.5 | Bears (+168) at Vikings (-200) |
RELATED ARTICLES
---