NFL Week 11 Odds | Point Spreads, Moneylines And Totals For Every Game
Playoff pushes are in full swing now that we are in the second half of the NFL season. There are already NFL Week 11 odds available to bet on. Top games for this late November slate include the Chargers (-3) at Packers (+3) and the Eagles (+3) at Chiefs (-3). The Steelers (+1.5) at Browns (-1.5) is a pivotal matchup in the AFC North. Jets (+6.5) at Bills (-6.5) is a huge showdown in the AFC East.
View betting information on all of these games and more below.
NFL Week 11 odds
View updated NFL Week 11 odds below. Live pro football spreads, moneylines, and totals from the best sports betting sites in the country are available to wager on here.
NFL Week 11 odds will be bookended by two tremendous primetime games. Bengals versus Ravens kicked things off in the Thursday night slot with Baltimore winning, 34-20. Following a full day of pro football games on Sunday, November 19, a Super Bowl rematch will occur on Monday Night Football. Eagles versus Chiefs will close the NFL Week 11 schedule and Kansas City opened as the betting favorite.
New Users Get up to $1,000 Bonus at Bet365
UP TO $1,000

In Bonus Bets
First Bet Safety Net up to $1,000, or Bet $5, Get $150 in Bonus Bets
Sign Up, Deposit and Play Today in VA!
Gambling Problem? Call or TEXT 1-800-Gambler 21+

Use Bonus Code: THELINESVA
The largest NFL Week 11 point spreads are the following.
Tampa Bay Buccaneers (+10.5) at San Francisco 49ers (-10.5)
Chicago Bears (+10) at Detroit Lions (-10)
New York Giants (+9.5) at Washington Commanders (-9.5)
Dallas Cowboys (-10.5) at Carolina Panthers (+10.5)
Las Vegas Raiders (+11.5) at Miami Dolphins (-11.5)
NFL Week 11 betting lines
Ahead of Sunday Night Football, favorites went 7-5 outright among Week 10 odds. However, the Browns and Texans won as 5.5-point underdogs or greater. Cleveland was as high as +1500 in the live betting market. Therefore, Deshaun Watson & Co. were given a 6.25% in-game probability to attain a comeback victory in Baltimore.
Since we're almost onto NFL Week 11 odds, let's analyze four matchups in this breakdown and compare the point spreads to the look-ahead line. If you're unfamiliar with the second of the two terms, it gives bettors a peek at projected point spreads for the following week's games.
Considering bettors normally have initial recency bias, look-ahead lines offer a clear snapshot of teams, according to the oddsmakers.
Bengals (+3.5) at Ravens (-3.5)
Update: The Ravens beat the Bengals, 34-20. Baltimore easily covered the -3.5 point spread with Bengals QB Joe Burrow unable to finish the game. The game went over the 45.5 total.
As noted, Baltimore blew a 14-point, fourth-quarter lead. Cincinnati fell to Texans quarterback C.J. Stroud, the soon-to-be NFL Offensive Rookie of the Year. The betting market has quickly jumped on the Ravens after the spread reopened with Lamar Jackson's squad as a 3.5-point home favorite. For context, the look-ahead line had Baltimore favored by a field goal.
Monitor the injury report, no matter which side you're considering. Baltimore may be without All-Pro cornerback Marlon Humphrey, plus offensive linemen Ronnie Stanley and Morgan Moses. On the flip side, Bengals wideout Tee Higgins and defensive end Trey Hendrickson could miss this one.
Steelers (+4) at Browns (-4)
Pittsburgh is the first team in NFL history to notch an over .500 record despite being outgained in each of their nine contests. Combine their fraudulent record with Cleveland eyeing revenge, falling to the Steelers in Week 2. Hence, one would anticipate that the market would initially back the Browns. Nevertheless, this number has drifted in the other direction after the look-ahead line was -4.5.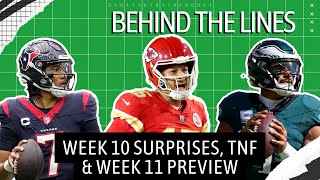 Bears (+9) at Lions (-9)
Following Detroit's walk-off win over the Chargers, the 7.5-point look-ahead line is nearing double figures. Even though Lions offensive coordinator Ben Johnson and the rest of this bunch deserve praise, the pass defense ranks below the league average. Plus, Chicago signal caller Justin Fields is expected to return from a thumb injury.
Eagles (+2.5) at Chiefs (-2.5)
The spread for this Super Bowl 57 rematch hasn't seen any movement. On top of Philadelphia seeking revenge, both teams are fighting for a No. 1 seed in their respective playoff seeding. But unlike Kansas City, Nick Sirianni's team may be slightly outperforming expectations, as the defense has taken a big step back. It ranks No. 19 in EPA per play allowed.
https://www.youtube.com/watch?v=rykvhSB0FmA
How NFL Week 11 lines are changing
Here is a look at how lines are changing. First we look at NFL Week 11 lines with how they looked when they were released on November 8.
| Matchup | Point Spread | Total | Moneyline |
| --- | --- | --- | --- |
| Cincinnati Bengals at Baltimore Ravens | Bengals (+2.5) at Ravens (-2.5) | 44 | Bengals (+120) at Ravens (-142) |
| LA Chargers at Green Bay Packers | Chargers (-3) at Packers +3) | 41.4 | Chargers (-142) at Packers (+120) |
| Tennessee Titans at Jacksonville Jaguars | Titans (+6) at Jaguars (-6) | 40.5 | Titans (+205) at Jaguars (-250) |
| Las Vegas Raiders at Miami Dolphins | Raiders (+9.5) at Dolphins (-9.5) | 48 | Raiders (+370) at Dolphins (-480) |
| Dallas Cowboys at Carolina Panthers | Cowboys (-8.5) at Panthers (+8.5) | 40.5 | Cowboys (-390) at Panthers (+310) |
| Arizona Cardinals at Houston Texans | Cardinals (+3.5) at Texans (-3.5) | 46.5 | Cardinals (+162) at Texans (-194) |
| Pittsburgh Steelers at Cleveland Browns | Steelers (+4.5) at Browns (-4.5) | 38 | Steelers (+180) at Browns (-215) |
| New York Giants at Washington Commanders | Giants (+7.5) at Commanders (-7.5) | 36.5 | Giants (+330) at Commanders (-420) |
| Chicago Bears at Detroit Lions | Bears (+8.5) at Lions (-8.5) | 45.5 | Bears (+310) at Lions (-390) |
| Tampa Bay Buccaneers at San Francisco 49ers | Buccaneers (+10) at 49ers (-10) | 42.5 | Buccaneers (+420) at 49ers (-560) |
| New York Jets at Buffalo Bills | Jets (+7) at Bills (-7) | 40.5 | Jets (+265) at Bills (-320) |
| Seattle Seahawks at LA Rams | Seahawks (-2.5) at Rams (+2.5) | 44 | Seahawks (-148) at Rams (+126) |
| Minnesota Vikings at Denver Broncos | Vikings (+2.5) at Broncos (-2.5) | 43 | Vikings (+120) at Broncos (-142) |
| Philadelphia Eagles at Kansas City Chiefs | Eagles (+2.5) at Chiefs (-2.5) | 48 | Eagles (+120) at Chiefs (-142) |
RELATED ARTICLES
---