Survivor pools have become one of the most popular gambling options for NFL fans in recent years. Big brands like DraftKings and Circa are among those offering monster prizes in 2021. Each week, TheLines will run through some of the best survivor options to help you win your pool. Read on for NFL survivor Week 6 plays.
Remember that you must plan for the long term, and you must take into account the size of your pool. The larger the pool, the more contrarian a path you should plan. It's not as simple as clicking the biggest favorite every week.
Reaching the end and splitting the pool 50 ways kills much of your expected value. Plus, avoiding the top pick of the week gives you a chance of seeing the biggest chunk of your rivals knocked out.
Open an Account in NY and Bet in NJ
1
UP TO $1,050 FREE
New User Bonus. T&Cs Apply.
Special for Bets on NFL
Bet $5 & Win $200

$50 Free Bet on Deposit

Up to $1,000 Deposit Bonus
To Claim: Click Play Now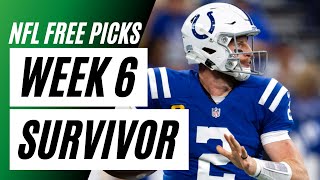 NFL Survivor Week 6: The Two Big Favorites
Moneylines below from DraftKings Sportsbook. Pick percentages via SurvivorGrid. Note that pick percentages are not available early Monday and will be added to this piece at a later time.
There's a clear top tier of two teams that represent the likeliest way for Week 6 survivor players to advance. Distill them down further, and it seems clear one will be much more popular than the other.
Start with the Rams. This didn't originally look like a layup, but a few things have conspired to push them up the board. Primarily, the Giants endured a rash of injuries this Sunday against the Cowboys. They lost QB Daniel Jones and RB Saquon Barkley and neither seems all that likely to return this week, with Jones probably more likely than Barkley to pull a fast recovery. WR Kenny Golladay also sustained a non-serious knee injury. That would ordinarily not be a huge deal since the Giants have plenty of capable pass catchers, but Darius Slayton and Sterling Shepard had already gone down.
Oh, and the team was already missing three rotation offensive linemen as well.
A Rams team on extra rest after an easy Thursday win looks like far too tall a task. So, why will more survivor players pick the Colts?
Two factors come into play here. First, while hardly anyone has probably clicked on the Colts, a decent chunk of many survivor pools probably used the Rams in Week 1 when they rolled over the Bears.
Second, the Colts have far less future value. They still have some easy games down the road — home to Jags and Jets — but so do the Rams and they're just a much better team. If you've saved the Rams, this looks like a good spot to pivot off probably the top play while still having a great chance to advance.
The Scary Tier Of Medium, Mostly Road, Favorites
If you're looking to avoid the two slam dunk plays — and Vikings vs. Lions should serve as a cautionary tale about the potential for missed dunks — a bevy of options exists in the middle tier of favorites.
Tampa Bay, Kansas City, Green Bay and Buffalo are fairly self-explanatory. Even if the Chiefs have sucked thus far compared to expectations, these are three powerhouses heading on the road to face mediocre to decent teams. Washington might even fall below that description, depending on your opinion of their start.
All should win, but firing the big guns too early leaves you at risk down the line. Plus, you never know on the road in this league.
Dallas and Pittsburgh present potentially more interesting options for NFL survivor Week 6.
The Steelers all of a sudden find themselves on the radar thanks entirely to a QB injury. Russell Wilson will miss several weeks at least after injuring his hand on Thursday. Geno Smith on the road against one of the nastier pass rushes — the Steelers rank top 10 in pressure rate despite almost never blitzing — should pique the interest of survivor players. The Steelers figure to be underdogs in most of their remaining games. They do host Detroit in Week 10, though.
Circa players probably shouldn't consider Dallas, but those playing more traditional formats can take a look here. No doubt, the Cowboys have looked extremely strong so far, and spanking the Giants provides still more evidence of their turnaround.
But, the Patriots at home will be no picnic. Keep an eye on the injury report here. If the Pats get their offensive line back in order, they'll present a much tougher challenge.
Two Sneaky, Contrarian Options for NFL Survivor Week 6
| Team | ML | Implied Win% | Opp. | Pick% |
| --- | --- | --- | --- | --- |
| Dolphins | -195 | ~64% | vs. JAC (London) | 1.3 |
| Bengals | -190 | ~63% | @ DET | 2.4 |
Yep, London again. The Falcons came through pretty easily for anyone brave enough to click them last week. Can the Dolphins do the same?
Yes, the Dolphins. If you can stomach clicking on this team, they're in a decent spot against the Jags.
It sounds fairly promising that QB Tua Tagovailoa could return this week, the first in which he's eligible to come off of IR. That should boost the offense, as they've been simply abysmal since Jacoby Brissett took over the reins. Even the modest production of Tagovailoa should give them an upgrade.
The Jags find themselves with locker room turmoil now to add to the on-the-field issues. Only the Chiefs have a worse defense in terms of EPA per play, and Lawrence has been a bottom-five QB by the same metric.
If you can't bear to watch the Dolphins try to inch their way to victory, perhaps we could interest you in the Bengals. They only figure to be favored in two or three games the rest of the season, so at Detroit looks like a good spot to use what appears to be a solid football team.
Detroit has looked a plucky underdog, giving thousands of survivor players very real scares as big underdogs against the Ravens and Vikings.
Still, the Bengals have as dangerous a set of receivers as anyone. Line them up against a Detroit secondary allowing a ghastly 9.3 yards per pass — worst in the league — and even a potentially trailing Bengals team would have a solid shot at victory.