Before landing a gig on CBS's NFL Today in 1976, Jimmy "The Greek" Snyder had a famed career as a Vegas bookmaker. He'd run afoul of U.S. gambling law along the way, with President Gerald Ford eventually pardoning his 1963 conviction of "interstate transportation of bets and wagering information" 11 years later.
Despite that checkered past and the league's supposed staunch anti-gambling stance, take a wild guess as to who supposedly gave final blessing for the Greek to be featured in a nationally broadcast, thinly veiled homage to sports betting each week — then-NFL commissioner Pete Rozelle.
The only concession on CBS' part was for the Greek to refrain from specifically talking point spreads.
Instead, he and NFL Today host Brent Musburger would go over who the Greek felt would win each game straight up. The rub was that he also threw out a score prediction – a wink-wink way of discussing who'd cover without ever mentioning the spread.
Across the dial on NBC, Pete "The Ax" Axthelm had even more freedom. This 1984 clip with him openly discussing the Dolphins being favored by 3.5 points over the Raiders in a key matchup and how a "gambler" would approach the game serves as some tangible evidence.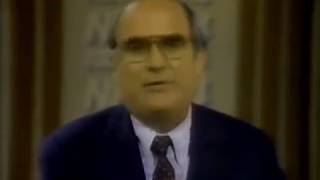 One of many contradictions
The point is, the league allowing its two biggest broadcast partners at the time to devote precious weekly TV time to the subject is just one of countless examples of what's long been a conflicting approach.
The existence of a weekly injury report for each team is yet another, and its creation actually stems from a gambling-related scandal dating back to the 1946 NFL Championship Game.
NFL potentially moving from denial to (allegedly) grudging acceptance
Some of this sordid history came to mind when examining the latest public pronouncements from NFL Commissioner Roger Goodell regarding the issue of sports gambling. Those unfolded last month at the NFL owners' meetings when Goodell conceded time had been devoted to discussing a potential future legalized sports betting environment.
This time around, Goodell refrained from affirming that the NFL was "very much opposed to gambling on sports", a line that has often been trotted out in various iterations over the years whenever the subject has come up. In fact, there finally seems to be a tacit admission from the league that sports betting is something they should be preparing for, as opposed to continually pushing back against.
NFL profits handsomely from money-based gaming on its product
The collective "about damn time" that you hear comes from anyone who's been paying attention. Despite their decades-long public railing against sports betting, the NFL would be extremely hard-pressed to deny a significant part of its popularity and subsequent profitability is intertwined with the following:
And naturally, the NFL's approval of the Raiders relocation to Las Vegas – where they'll play in a stadium in which fans will presumably be able to wager on games through any of the state's sportsbooks' mobile apps – is likely the biggest contradiction yet.
Ironically, it may require taking a loss as a defendant in Murphy vs. NCAA to finally unburden the NFL from persisting with an act that wore thin decades ago.