The NFL season draws nearer with just one more week of preseason football to go. Through all the reports and rumors, what players are seeing their stock rise and what players are seeing it fall? Here is our NFL preseason Week 2 trends roundup.
This stock up/stock down NFL preseason Week 2 trends report lists eight players who are on the move.
Claim Your $1,050 Bonus at DraftKings Sportsbook

1
Up to $1,050 FREE
New User Bonus. T&Cs Apply.
NFL Promo: Bet $5 Win $200
PLUS $50 Free On Deposit

PLUS Up to $1,000 Deposit Bonus

To Claim: Click Play Now
NFL Preseason Week 2 Trends: Stock Up
Indianapolis Colts Offense
On Monday, Carson Wentz returned to practice. The return came much earlier than expected and feared by Colts fans and bettors alike. The initial timetable was 5-12 weeks; this will be Week 3 for both players. While Quenton Nelson remains out, coach Frank Reich remains optimistic about him, too. Week 1 might be in the cards for both players, which would provide a huge boost to players like Jonathan Taylor, Michael Pittman Jr. and T.Y. Hilton.
The Colts offense under Jacob Eason and Sam Ehlinger has been stagnant. Neither player has recorded a touchdown pass this preseason and Ehlinger has thrown three picks on 28 attempts. The last time we saw Wentz, he too struggled after reportedly being shaken by the Eagles drafting Jalen Hurts. However, Wentz was reunited with Reich in Indianapolis, the offensive coordinator who led Wentz to near-MVP numbers in 2017.
Indianapolis opened as -2.5 favorites in Week 1 over the Seahawks, but that number moved as far as Colts +3. Now, it's on the move again to Colts .
Calvin Ridley, WR, Atlanta Falcons
After the Falcons traded Julio Jones this offseason, Calvin Ridley became a favorite for many to jump into superstardom. In his third season, Ridley saw a 37% jump in receiving yards (1,374) and a 35% increase in targets (143). Jones left 68 targets vacated from last season (nine games) to divide up between Ridley and the rest of the pass catchers that include potential WR2 Russell Gage and rookie tight end Kyle Pitts. If even a third of those head Ridley's way, we're looking at a 166-target receiver, which would have tied the league lead in 2020 (Stefon Diggs).
Videos are emerging from camp and joint practices of Ridley cooking defensive backs including 2020 First Team All-Pro Xavien Howard. Currently, Ridley is projected for over yards this season, a per-game pace of 79.4 yards per game, and touchdowns.
With Ridley likely competing for the NFL lead in targets this season, he could take an even bigger step forward than 2020, where he finished fantasy leagues as the WR4.
Rhamondre Stevenson, RB, New England Patriots
Rhamondre Stevenson had our curiosity after he ripped off a 91-yard touchdown run against Washington in the Patriots' preseason opener, but now he has our attention. Stevenson's recorded four rushing touchdowns in two showings while also leading the team in carries. First-team reps haven't come, but Belichick is famous for running a by-committee backfield.
In 2020, Damien Harris and Cam Newton tied for the team lead in carries (137) but that was just 27.3% of the team total each. Sony Michel (79, 15.7%) and Rex Burkhead (67, 13.3%) broke up more of the carries while James White led the backfield in snaps. Burkhead left for Houston, leaving 270 snaps open potentially for Stevenson.
While he's not a game breaker, don't be surprised if he becomes the two in a one-two punch in New England.
Buffalo Bills Offense
There were fears this offseason that offensive coordinator Brian Daboll would bolt for a head coaching offer. That offer, however, didn't come and Daboll remains in charge of the Bills' offense. Maligned quarterback Mitchell Trubisky took a majority of the snaps in Buffalo's 41-15 Preseason Week 2 win over the Chicago Bears. Against his former team, Trubisky completed 71.4% of his passes for 221 yards.
Obviously, Trubisky isn't the starter for the Bills this season, but Daboll really flexed his muscles this week. Trubisky's career completion rate is 64%– 7.4% lower than his showing Saturday. Starter Josh Allen made a similar jump in completion percentage a year ago in one of the NFL's most dramatic turnarounds ever.
An overreaction to a small sample size? Not likely. The Bills' offense is going be one of the league's most dangerous again with Buffalo having real Super Bowl aspirations.
NFL Preseason Trends: Stock Down
Marquise Brown, WR, Baltimore Ravens
Lamar Jackson's go-to receiver continues to miss practice, which now marks four weeks of absence. When news came out that first-round pick Rashod Bateman would likely be out through September, it looked like Hollywood Brown was going to be very valuable for the team. But, instead, he continues to battle a hamstring issue, which often plagues receivers throughout the season.
Brown's receiving totals for the season are , a very slight per-game decrease from last season (48.1 ypg in 2020 to projected 47.1 ypg in 2021). The Ravens led the NFL in rushing play percentage in 2020 by a large margin– 55%, 3.7% more than Tennessee, who placed second. With the Ravens' receiving corps marred by injury, expect them to continue their high rushing rate this season. As long as Brown battles his hamstring issue, the season outlook isn't trending in the right direction.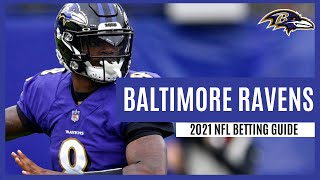 Ja'Marr Chase, WR, Cincinnati Bengals
With Joe Burrow at LSU in 2019, Ja'Marr Chase led college football in receiving yards (1,780) and receiving touchdowns (20). With Burrow on the Bengals in 2021, headlines dominate camp that Chase is struggling with drops. High hopes remain for the No. 5 overall pick and Chase himself responded by saying, "Rome wasn't built in a day." Bettors and fans, however, might take caution with him this season.
Ja'Marr Chase is slated for a lofty over receiving touchdowns. That's the highest mark on the team, leading teammates Tyler Boyd at over and Tee Higgins over . With Burrow last year, Boyd and Higgins combined for 1,339 yards (148.8 ypg) and seven touchdowns.
New York Jets Defense
The past week has been a series of blows to the Jets defense, beginning with a devastating Achilles injury to recently-acquired Carl Lawson. After losing Lawson for the season, linebacker Jarrad Davis – who was also signed this offseason– was lost for two months with an ankle injury. In 2020, the Jets finished 29th in dropback EPA per play and 24th in pressure rate.
New York is now left with two rookies, Jamein Sherwood and nickel safety Hamsah Nasirildeen, to fill Davis' void until November. The defensive front, which was elite against the run last season, loses much-needed depth. This season; the Jets face the Bills twice, the Titans, and the Buccaneers; all of which finished in the top five in pass offense DVOA a season ago.
Michael Carter, RB, New York Jets
Among the NFL media, rookie Michael Carter was being hailed as a potential Offensive Rookie of the Year candidate. He rushed for over 1,000 yards in two consecutive seasons at North Carolina before being taken in the second round of this past draft. It seemed like Carter was on pace to be the Jets' lead back and a sharp pickup in fantasy football leagues.
In the Jets' Week 2 preseason win over the Packers, Carter played almost the entire second half, recording ten carries for 52 yards. Despite a solid showing, he has yet to run with the Jets' first team this preseason. Instead, Tevin Coleman and Ty Johnson saw first-team reps while Carter split carries with La'Mical Perine. It's an ominous sign for those invested in Carter in the early 2021 season.
Oddsmakers currently have Carter at over rushing yards this season, around 33 rushing yards per game.