The 2021 offseason was filled with plenty of splash trades, signings and rumors with no shortage of headlines. However, the ones that got trending most don't always translate to better Super Bowl futures.
For example, the Cardinals signing J.J. Watt or the Chiefs landing Joe Thuney has not translated into substantial Super Bowl odds movement at this point. Sportsbooks initially shortened Arizona's odds when Watt was traded but have since settled back into the 40-1 to 45-1 range.
Let's take a look at five of the most impactful signings of the 2021 NFL offseason in terms of how those signings moved the teams' Super Bowl LVI odds.
Claim Your $1,050 Bonus at DraftKings Sportsbook

1
Up to $1,050 FREE
New User Bonus. T&Cs Apply.
UFC 276 Optin Promo: Bet $5, Get $100

PLUS $50 Free On Deposit

PLUS Up to $1,000 Deposit Bonus

To Claim: Click Play Now
Cleveland Browns Sign S John Johnson III, DE Jadeveon Clowney
Odds to win Super Bowl LVI before signings: +2500
Odds to win Super Bowl LVI after signings:
The Achilles' heel for the Cleveland Browns in 2020 was their defensive secondary. The rest of their roster was loaded with talent, including Defensive Player of the Year candidate Myles Garrett. However, Cleveland looked to swiftly put an end to their secondary struggles by signing Rams' safety John Johnson III.
Johnson was the third-highest overall graded safety of 2020 by PFF and trailed just Adrian Amos and Jessie Bates III in coverage grade. With patches in their defensive weaknesses, oddsmakers saw this signing as a serious improvement to the team.
Pairing Jadeveon Clowney with Garrett should also help the Browns' front four and pressure rate.
Indianapolis Colts Trade For QB Carson Wentz
Odds to win Super Bowl LVI before the trade: +2500
Odds to win Super Bowl LVI after the trade: +2000
Before the Colts landed Carson Wentz in a trade with the Philadelphia Eagles, they were without a quarterback. Most analysts predicted Indianapolis to be a landing spot for a big-name guy and finally landing one solidified them as a contender in the AFC.
Wentz struggled big time last season, but is reunited with former offensive coordinator Frank Reich. Reich was a part of the 2017 Super Bowl winning Eagles and led Wentz to a near-MVP season before a torn ACL. The rest of the pieces are in place: a young star running back (Jonathan Taylor), a strong offensive line, and a stud defensive secondary.
Some books have shifted this price back after moves by other teams. The best available price right now on the Colts to win the Super Bowl is .
Los Angeles Rams Trade For QB Matthew Stafford
Odds to win Super Bowl LVI before the trade: +2000
Odds to win Super Bowl LVI after the trade:
This one may not come as a surprise to many, but landing Matthew Stafford in a trade with the Lions instantly vaulted the Rams into one of the NFC's leaders in Super Bowl futures. For years, Jared Goff was the butt of jokes and criticisms that he was the only thing holding the Rams from capturing a Lombardi Trophy.
Stafford was viewed as the final Infinity Stone added to an already-stacked roster. Now one of the NFL's most diverse receiving corps has one of the most dynamic quarterbacks whose career has been buried by Detroit's mediocrity.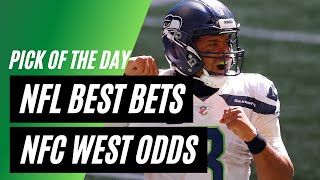 Tennessee Titans Trade For WR Julio Jones
Odds to win Super Bowl LVI before the trade: +4000
Odds to win Super Bowl LVI after the trade:
From unsurprising to very surprising, trading for Julio Jones really moved the needle on Super Bowl futures for the Titans. Behind the Patriots' famous trade of Randy Moss, Jones is one of the most prolific receiver ever traded in NFL history. Oddsmakers agree, moving the Titans right back into the thick of contention.
Tennessee also signed stars like Bud Dupree and Denico Autry, but Julio's landing with the team gave them a bump.
Denver Broncos Rumored To Land Aaron Rodgers
Odds to win Super Bowl LVI before the rumor: +6500
Odds to win Super Bowl LVI after the trade: +2000
This one isn't really a move, but it certainly still moved the needle. On the day of the first round of the NFL Draft, Adam Schefter reported that Aaron Rodgers did not want to play for the Packers anymore. Later, the Broncos were rumored to be on the short list of Rodgers' places to play and it looked like the Broncos were going to land Rodgers.
It gave them an incredible boost to their Super Bowl futures at the time. However, after the heat surrounding the Rodgers-Packers saga, it looks Green Bay won't trade him. Denver's Super Bowl LVI odds have settled back to .