We are inside one week until the 2021 NFL Draft, and this season, it appears the intrigue around NFL Draft betting begins with the third overall pick, acquired via trade by the San Francisco 49ers. Will the Niners draft Justin Fields, Mac Jones or Trey Lance? Most expect the Jacksonville Jaguars to select Clemson quarterback Trevor Lawrence first overall and the New York Jets to take BYU QB Zack Wilson with the second pick.
At pick three, odds have shifted from opening North Dakota State quarterback Trey Lance as the favorite to be the pick in late March at DraftKings Sportsbook to Alabama quarterback Mac Jones after his pro day in early April and then to Ohio State quarterabck Justin Fields after 49ers brass attended his second pro day.
Despite the fact that Mac Jones was back to being -167 favorite at DraftKings Sportsbook Thursday afternoon to be the third overall pick, DK offered a new prop Thursday that seems to conflict with that outcome. That 'Team to Draft Player Prop' has the 49ers as a +160 favorite to select Fields.
This may tell us DK has taken enough money on Mac Jones in the 'Third Overall Pick' prop to keep him the favorite, but based on recent information, they are opening the 49ers as the favorite to take Fields in its latest prop offering.
However, DK is also now offering a prop on the exact outcome of picks three, four and five in the draft. The triad of Mac Jones-Kyle Pitts-Ja'Marr Chase opened as the favorite at +325.
The odds across several props may just be telling us nobody has a clue what the 49ers will do, as they are one of the most tight-lipped teams in the NFL. A new report that Fields is managing epilepsy has also thrown another curveball into the process.
Meanwhile, a Trey Lance draft special is also now on the board, with the Broncos opening as +200 favorite to land the raw but extremely talent quarterback, with the 49ers a second choice at +350. Denver has the ninth pick in the first round but could move up as well via trade, as the Niners did.
TheLines.com Podcast – Episode 163 – Favorite NFL Draft Bets
The intriguing team in the odds for which team will land Lance is the third choice – Bill Belichick and the New England Patriots. The Patriots have the 15th pick in the draft. One would imagine they would have to move up to have a chance at Lance, something Belichick is not known to do. Past draft history shows he's been one to move down and acquire more picks, but the Patriots only have Cam Newton at quarterback on a one-year contract.
Take a look below to see the odds for each team to draft Justin Fields and Trey Lance:

Claim Your $1,050 Bonus at DraftKings Sportsbook

Up to $1,050 FREE
New User Bonus. T&Cs Apply.
NFL Promo: Bet $5 Win $200
PLUS $50 Free On Deposit

PLUS Up to $1,000 Deposit Bonus

To Claim: Click Play Now
Team to draft Justin Fields
*Note – all other teams have odds that opened at +5000 or longer

Team to draft Trey Lance
*Note – all other teams have odds that opened at +3300 or longer
Video: Most accurate mock drafters split on No. 3 Pick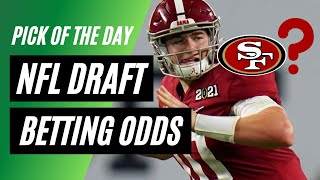 First to be drafted at each position