The 2022 NFL season kicks off in less than one month. When it comes to season-long NFL props, football bettors are already on the clock. Some of the league's most talented players were injured or underperformed last year, making some 2022 candidates for NFL Comeback Player of the Year. Why did those players with undeniable talent struggle in 2021, and are 2022 season-long props lined too conservatively?
TheLines' contributor Will Carroll provides context to those injuries below. He's covered injuries in sports for more than 20 years, written four books on the topic – including the upcoming "Science of Football" and consults with several pro teams. He is currently the Director of Bioanalytics for Northstarr, a sports science startup company.
Best Available NFL Comeback Player Odds In Your State
Click on the odds anywhere in this article to bet now. If you do not have an account at that sportsbook, you will also receive an exclusive sign-up bonus.
QB Lamar Jackson – Baltimore Ravens
Passing yards: Over
Passing TDs: Over
Rushing yards: Over
Rushing TDs: Over
Two seasons after winning MVP, Lamar Jackson has become one of the most polarizing quarterbacks in football. Jackson's passing and rushing numbers both took a hit last year. His 50.7 QBR ranked 17th, sandwiched in between Mac Jones and Tua Tagovailoa. Among quarterbacks with 300 or more passing attempts, Jackson had an NFL-worst interception rate of 3.4 percent. His ground game was equally disappointing, with a career low in yards per attempt and just two rushing touchdowns.
Baltimore's passing game remains a question mark heading into the 2022 season. With Marquise Brown traded away and Rashod Bateman leading the depth chart at wide receiver, Jackson doesn't have a true WR1. That said, several factors should help him return to dominance running the football.
First, the Ravens overhauled their offensive line. Lamar was constantly under pressure last year, getting sacked a career-high 38 times in less than 12 games. Plus, the backfield is finally healthy after a slew of injuries in 2021. J.K. Dobbins and Gus Edwards both tore their ACLs early in the season, and the Ravens' rushing game never recovered. Opposing defenses were able to stay laser-focused on Jackson, never having to worry about a true threat at running back.
Baltimore ran the ball at a historic pace in 2019 and 2020, with Lamar Jackson leading the way as the game's ultimate dual-threat quarterback. He averaged 1,105 rush yards and 7 touchdowns over those two seasons. If he stays healthy, Lamar should be able to hit the over on both rushing totals of 849.5 yards and 5.5 touchdowns.
As for awards markets, it's hard to say whether voters will consider Jackson as an NFL Comeback Player of the Year candidate, given he didn't miss most of last season.
The Injury Expert Analysis
If injury and illness spurred Lamar Jackson to bulk up this offseason – he's added 15 pounds of muscle and it shows – then the knock on a too-small, too-oft-hit quarterback should fade, right? Jackson is a lightning rod for criticism and last years' misunderstood ankle injury – it was a severe high ankle sprain that almost required reconstruction – didn't stop him from playing 12 games and putting up numbers without much support.

If the ankle is healthy – and it should be – and he has more talent around him – and he does – then he should go back to being one of the most impactful quarterbacks in the game. Don't look now, but he was worth almost 10 points (49.5/40) over the second half, when he was injured, sick, or out.

Will Carroll
RB Ezekiel Elliott – Dallas Cowboys
Rushing yards: Over
Rushing TDs: Over
Zeke led the NFL in rushing yards per game each of his first three seasons. Since then, the Cowboys lead back has been on a downward spiral in usage and effectiveness. Elliott bottomed out last season, averaging 14 attempts and 59 yards per game, nearly half of the output when he finished third in MVP voting as a rookie.
Oddsmakers are expecting those numbers to fall yet again in 2022. Elliott played in every game last year, finishing with 1002 rushing yards and 10 touchdowns. Yet for this season, his props sit at 850.5 and 7.5 respectively. Why are Elliott's projected totals significantly lower than even his worst year in the NFL?
The simple answer is Tony Pollard. The Cowboys leaned more and more on their younger back as the 2021 season progressed, with Pollard only getting stronger every time he touched the ball. He led all qualified running backs with 5.5 yards per carry, slightly ahead of first-team All-Pro Nick Chubb.
Pollard is on the verge of a breakout season. Oddsmakers see it and know Elliott's numbers could suffer as a result. Zeke's totals of 850.5 yards and 7.5 touchdowns are both well below his career average, but they are realistic if not optimistic if Pollard's possible emergence comes to fruition.
The Injury Expert Analysis
If we didn't have Zebra data that showed speed and more importantly burst, there might not be a hope that Ezekiel Elliott would be more than a volume guy. Even worse, it might lead us to believe he's a guy worn down by the big volume early in his career.

While he was good behind the line, the minor knee sprain (PCL) he played through last year got cleaned up in the offseason. That gives a spark of hope that he can come back and show that burst. The occasional big run adds up, but with Tony Pollard better in every category but bank account, relying on volume is dangerous.

Elliott won't play much in preseason, but look for no extra rest needed in camp and any sign of that burst being back.

Will Carroll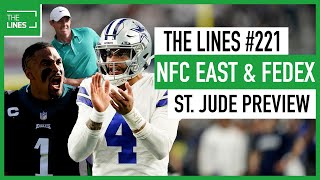 WR Michael Thomas – New Orleans Saints
When Michael Thomas is healthy, he is an absolute game-changer. Here's the problem: his last full season was 2019, when he led the NFL in receptions and yards, winning Offensive Player of the Year.
Thomas averaged nearly 1400 yards over his first four years in the league. Then he missed 26 games over the last two seasons, including all 17 last year.
Betting on a player's health certainly has its risks, but Michael Thomas is one of the game's most dominant wideouts whenever he is on the field. Thomas could shatter his projected receiving totals if he plays close to a full season in 2022. He'd also be a prime NFL Comeback Player of the Year candidate. He is the fourth choice on the board at DraftKings Sportsbook at +800.
The Injury Expert Analysis
New coach, new quarterback and an ankle that's as good as new. That's a lot of change for Michael Thomas and questions of him getting back to elite WR status at age 29 are real. He can run, as he's shown early in camp, and he can cut, but his elite physicality and ability to seemingly read Drew Brees' mind (or vice versa) aren't going to magically show up with Jameis Winston.

Don't forget he missed much of 2020 as well. Using fantasy points as a proxy for production, he's only had three games with 25 PPR points since we kicked off 2018. Ja'Marr Chase did that last year. Thomas can be good again, but elite might be a reach unless Drew Brees gets sick of doing PointsBet commercials.

Will Carroll
WR Allen Robinson – Los Angeles Rams
The curious case of Allen Robinson has bewildered football bettors, analysts, and fantasy owners alike. Here's a receiver, seemingly in the prime of his career, coming off a dominant 2020 season where he set multiple career highs … and in 2021, he completely disappeared. The comparison is astounding:
2020: 16 games, 102 receptions, 1250 yards, 6 TD
2021: 12 games, 38 receptions, 410 yards, 1 TD
Robinson never clicked with any of his three starting quarterbacks throughout the year, as Darnell Mooney broke out to become the Bears' top receiver. Chicago's quarterback carousel certainly didn't help. His team finished as a bottom-three passing offense. But Robinson lacked explosiveness, missed time due to a hamstring injury, and limped his way to career-lows in every notable receiving category.
Life should be a whole lot better for Allen Robinson in 2022. Not only has he moved to sunny Southern California, playing for the reigning Super Bowl champions, but Robinson has also shifted into a different role with lower expectations. He will start opposite Cooper Kupp, last year's Offensive Player of the Year and the primary focus of any rival defense.
Although Kupp seems nearly impossible to contain, Robinson should benefit from the opposition focusing more on his counterpart across the field. We have seen Robert Woods and Odell Beckham thrive in a similar role for the Rams. Allen Robinson could be the next beneficiary. He is finally in a better situation with a better quarterback, and it could help Robinson finish over his projected total for receiving yards.
The Injury Expert Analysis
Allen Robinson finally gets a good quarterback and Matthew Stafford is dealing with an elbow issue already. Robinson essentially comes in to take the spot of Odell Beckham Jr. – a guy who might show up in the locker room mid-season once he's over his own ACL rehab.

Robinson dealt with COVID, bad coaching, a QB carousel and a hamstring that zapped him of his speed in the second half. That appears to be dealt with, looking smooth in drills early in Rams camp. If he stays the WR2, he'll get plenty of volume and value. Hamstring strains can be recurrent, even chronic, but the Rams medical staff does really well with maintenance. Robinson's going to be a sneaky 100-yard receiving prop play more often than not.

Will Carroll
Follow TheLines
RANK
OPERATOR
BONUS
INFO
ACTION