Unsurprisingly, NFL betting interest continues to spike amid sports betting legalization across the country. In February 2022, our teammates at Legal Sports Report estimated a Super Bowl betting handle of $964 million — equivalent to an 88.3% increase from the year prior.
So what concepts should you be aware of before wagering on NFL markets — whether you're a novice or experienced bettor? Let's dig in, as the regular season is underway on Thursday.
Free Pick'Em Contests! Compete for prizes every day by entering our free betting games. NFL, NBA, college basketball and more!
1
$1,000 Risk Free Bet
$10 Free Weekly Bet
Use Bonus Code: PLAYBONUS
2022 NFL Betting: The Dos And Don'ts
1. Understand Basic Terminology
There are plenty of advanced sports betting phrases, but grasping these are vital before engaging in NFL betting.
2. Utilize Bankroll Mangement
If you are wagering on the NFL for entertainment purposes only, this notion may not be necessary. However, that isn't the case if you're looking to build upon your winnings over time.
Let's introduce another term: flat betting. The game plan is to dictate the amount of money you have to bet. It also revolves betting a fixed amount per wager, no matter the confidence level, for an allotted amount of time (one month to a year) before methodically increasing your bankroll if that point rises.
In theory, you should limit yourself to 1% to 5% of your bankroll per wager. For starters, if you deposit $1,000 into your DraftKings Sportsbook account, you'll use $10 to $50 for each wager. This way, you're not jumping the gun if you go on a hot streak or lose an abundance of your bankroll if you fall into a rut.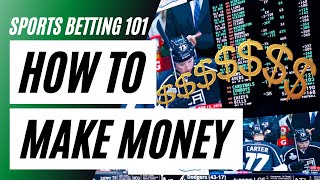 On top of that, line shopping is a critical facet of this NFL betting approach, and TheLines is here to help. Our NFL odds comparison tool provides bettors with an opportunity to bet the best number available, setting yourself up to increase your EV. To that point, having numerous sportsbooks at your arsenal (and receiving sign-up bonuses in the process) is critical, especially if you're waiting to bet until Sunday morning.
Nevertheless, quick way to destruct your NFL betting bankroll is by engaging in the parlay fandom (same game parlays in particular) that's sweeping the sports betting industry. In May alone, 48.2% of Louisiana sports betting revenue came from parlays. They're more than likely to be considered negative EV bets, so don't let sportsbooks sway you in this direction just because one bettor "won" $100,000 with a $5 wager.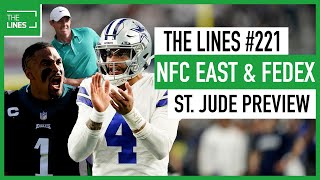 3. Avoid Chasing During NFL Betting
In June, I spoke with a bettor who dramatically escalated his unit size (or flat-betting blueprint) during the 2022 NCAA Tournament. Not only is this an example of steering clear of flat betting, but it highlights the significance of losing control as well.
No matter how unfortunate an outcome — even if it arises in the final seconds — extending the damage with a careless bet can represent a detrimental betting behavior.
Essentially, stick to your initial plan of action in most cases. Don't manage to blow away your bankroll, and potentially some of your bank account, because you couldn't stop yourself from doubling or tripling down in live betting markets since it didn't go according to the script.
That isn't to say that live betting doesn't provide profitable windows of opportunity, but those instances are typically unforced. Keep in mind, there's plenty of help available if you're struggling with problem gambling.
4. Monitor Buy-Low And Sell-High Opportunities
From Week 2 overreactions to injury-related movement in the market, there is an assortment of +EV wagers to be made over the course of the season.
Take Ravens-Chiefs from Week 2 of the last calendar year. Kansas City was a one-point favorite on the look-ahead line, but the spread closed as high as -4 — both a product of Baltimore's overtime loss to the Raiders in Week 1 and a slew of defensive wounds. In the end, Lamar Jackson & Co. won outright, overcoming an 11-point second-half deficit.
That doesn't mean it was also a clear-cut, sell-high spot on the Chiefs, but their defensive liabilities made them a bit overvalued in the first half of the season.
This notion comes into play for Super Bowl 57 odds among other futures markets, too. For instance, the Bills, are currently accruing a hefty portion of the Super Bowl handle at Caesars Sportsbook. Buffalo as high as +1600 before Week 15 of the 2021 campaign. For comparison's sake, they were tied for the shortest odds (+500) right around the halfway point.
Even though they eventually lost to the Chiefs in the AFC divisional round, they were 13 seconds away from hosting the conference championship game before Patrick Mahomes worked a minor miracle. Hence, this example stresses the importance of tackling the best of the number — rather than attempting to pounce on a team when the market positions its odds at the correct or overvalued price tag.
5. Review Your NFL Betting Approach
While this action is the last one on the list, it's highly effective. The most efficient routes to go about this NFL betting strategy are by using one of the many trackers available or via creating your own spreadsheet. Recognizing where your bets went wrong, or simply fell short because of negative variance, is critical in order to adjust or be content with the result(s).
Continue the discussion in our Discord betting chat, where bettors discuss their favorite NFL bets, strategies and research. Follow TheLines on Twitter, too.
Best NFL Betting Promos In Your State
RANK
OPERATOR
BONUS
INFO
ACTION