As of Saturday morning, New York online sports betting will be added to its sparse retail sports betting options marking the 19th state — plus Washington D.C. — to legally offer some form of mobile sports wagering. However, New York college football and basketball fans must understand the rules for NY college sports bets in the state.
Below, you'll find which sportsbooks are a part of the launch and the leagues that are deemed legal to bet on.
Rank
Sportsbook
Bonus
Feature
Play
What Isn't Legal To Bet On In The Empire State?
Although bettors can place wagers on most college football and basketball teams, in-state teams are off the board.
On the gridiron, that includes the likes of Syracuse and Buffalo. The Orange, St. John's and Iona — which has the group's best chance to make the 2022 NCAA Tournament — highlight the list that are unavailable on the hardwood.
Moreover, the runner-up school will be settled as the winner in championship NY college sports bets if an in-state team wins it all.
Which Other Betting Markets Is New York Offering?
Among the more popular options, New York showcases legal wagering on the NBA, MLB, NHL and collegiate sports. Regarding the Association, FanDuel has the Brooklyn Nets positioned at +260 to win the title — ahead of the Warriors (+460), Bucks (+700) and Suns (+800).
With that in mind, the PGA TOUR is back up and running, and there's plenty of value in that legal market as well.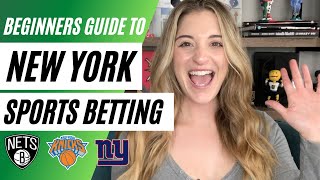 What Are The Biggest Mobile Sportsbooks In New York?
DraftKings NY Sportsbook: DraftKings will establish itself as one of the first legal operators in the Empire State after New York originally authorized mobile and online sports betting in April 2021. The sportsbook has partnered with the New York Giants for both betting and daily fantasy while its local deal will be with del Lago Resort & Casino.
FanDuel NY Sportsbook: Similar to DraftKings, the Buffalo Bills named FanDuel its mobile sports betting partner on a multi-year agreement. FanDuel will acquire access to a variety of the Bills' media assets, including television and radio spots.
Caesars NY Sportsbook: Caesars went bigger than just one franchise, going with the New York Knicks, New York Rangers, Madison Square Garden Arena and MSG Networks. Caesars will be branded with signage on the court's backboards at the stadium. It will also receive exposure from MSG's media platforms.
BetMGM NY Sportsbook: Originally left out of Saturday's launch, BetMGM will soon be in the fold with the three aforementioned books. Like Caesars, BetMGM will partner with the Knicks, Rangers and Madison Square Garden, including signage around the court and rink. It will even be included within the two franchises' digital promotion on Twitter, Instagram and Facebook. Sportsbook costumers will obtain opportunities to engage in premium experiences at both Knicks and Rangers games.
New York Sports Betting: Bills On Bills!
According to TheLines, the NFL handle was estimated at $10 billion through a slice of November 2021. Unsurprisingly, it was one of the most popular legal sports to bet in what was almost the last calendar year.
Ironically, a possible Bills Super Bowl run coincides with the state's sports betting launch. Both Caesars and BetMGM are offering Buffalo at +800 to win it all — a better price than many legal operators.
Normally, a futures bet wouldn't be determined in such a short span. But with the NFL playoffs on the horizon, the Bills could cash your ticket in a little over a month. Our power rankings can also help your decision-making for sides, moneyline and totals.