Mobile sports betting in New York launches Saturday, Jan. 8. New bettors and seasoned bettors alike will now have fast, convenient ways of placing wagers in the state, but what if you already registered for an account in another state? Do you have to do another New York sportsbook sign-up?
That depends on the operator and app.
Rank
Sportsbook
Bonus
Feature
Play
Do I Need To Sign Up For A New Sportsbook Account?
The New York State Gaming Commission released a statement on Jan. 6 announcing that four operators are approved to begin accepting wagers as early as Jan. 8. Those operators include big names in the space, such as:
Many bettors in the state have been crossing over to New Jersey or Pennsylvania to place wagers on these apps while waiting for them to launch in New York.
If you are one of those people, you do not need to do another New York sportsbook sign up for a new account when these apps go live.
DraftKings, Caesars, and FanDuel all have what's known as a universal app. This means their sports betting app is the same across each jurisdiction they operate in.
So if you have been hoofing it to New Jersey, opening up the DraftKings app, placing a bet, and then heading back to New York … you're good to go when DraftKings New York launches.
Just fire up your app, log in with your existing credentials, and start wagering once the sportsbook geolocates you within New York state lines.
The same goes if you are an existing customer with FanDuel or Caesars.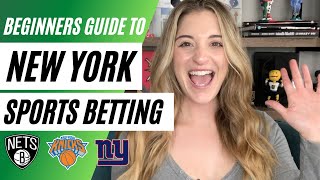 Signing up for a New York online sports betting app
If you don't already have an account with one of these operators, signing up should take a matter of minutes. First, follow the links on this page to the operator of your choice.
This will ensure you are getting the best new-user bonuses available, and many of them are very generous for first-time customers.
Then, provide the sportsbook with your personal details, including;
Name
Phone number
Address
Email
Date of birth
Last four of your SSN
You will also create a username and password for the site.
Once you are registered, you will be able to deposit into your sportsbook account and place wagers when the apps go live.
Rank
Sportsbook
Bonus
Feature
Play