New York is about to become the latest state with legal online sportsbooks. The New York State Gaming Commission announced that some online sportsbooks are permitted to begin accepting wagers on Saturday, Jan. 8. With the launch here, these are some important New York sports betting rules to keep in mind.
In addition to the standard geolocation and age restrictions present in most legal betting markets, New York mobile sportsbooks have some unique rules of their own.
Rank
Sportsbook
Bonus
Feature
Play
New York sports betting minimum age
In-person betting began in New York in 2019, but online sports wagering launching on Jan. 8 will make placing a wager much more convenient for those in the state.
Setting up an account and placing an online wager in New York should take a matter of minutes. You can do so either through the operator's website or its app. In order to register and bet, you will need to be at least 21 years of age.
NY sports betting geolocation rules
You also must be physically located within the state in order to wager. Your sportsbook of choice will use your device's signal or wifi to locate where you are, ensuring you are within state lines before allowing you to bet.
Please note that sometimes geolocation will fail if you have a weak signal or are located very close to the state's border.
While you can still manage your account from outside state lines, this software restricts you from wagering unless you are located in New York state.
To complete your online sportsbook registration, you will also need to provide the sportsbook with the following details:
Name
Address (should match your ID)
Date of birth
Last four of your SSN
Email
Phone number
Create username and password
Once your account is created, use an approved deposit method to fund it, and you're ready to go. Make sure you use the sign-up links on this page to ensure you are getting the best new-user offers available.
New York limits wagering on college athletics
When it comes to sports betting rules, each state sets its own, meaning they differ from market to market.
New York's regulations state that while you can wager on collegiate athletics, all bets on New York collegiate teams are banned.
That means while you will be able to bet on March Madness this year, you're not going to be able to put money down on Syracuse or St. Bonaventure.
The same rings true for New York college football teams and other in-state collegiate athletic programs.
That being said, you can still wager on all of your favorite New York professional sports teams.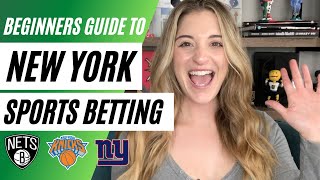 What Else Is Illegal To Bet on in New York?
When it comes to what you can and can't wager on, there's a lot of uniformity across states with legal sports betting, but also some state-specific restrictions. Here are some of the key items in NY, beyond the college sports caveat mentioned above.
You cannot bet on high school sports. Wagering is also restricted to actual athletic competitions. Therefore, no wagering on elections, entertainment, etc.
Those with ties to a sport in a professional capacity are prohibited from wagering on those competitions. For more information on this, read about the New York banned sports bettors list.
Overall, New York sports betting rules are pretty standard in the Empire State.